Wine tourism is growing in popularity. There is something adventurous and, dare I say, good for the heart about visiting wineries, vineyards and their surroundings as a way to explore a country. For some nations, such as France and Italy, wine is at the heart of their culture, history and national identity (France even has a wine museum).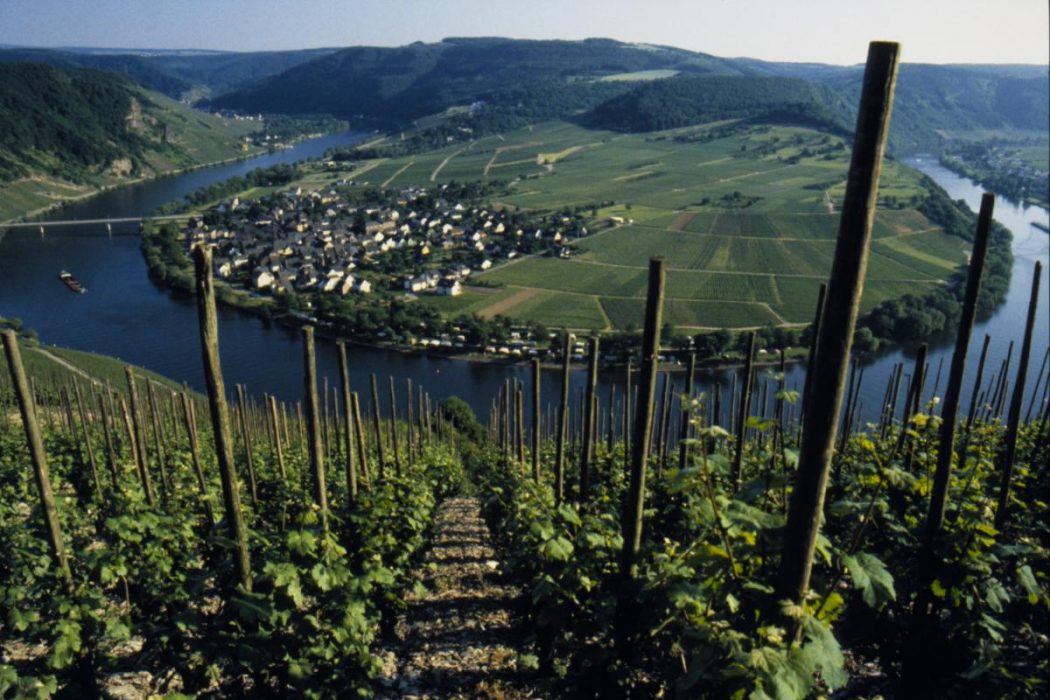 Mosel wine region of Germany, on the Moselle River (photo: German Wine Institute)
Many of the great wine regions of the world are located near major rivers, such as Portugal's Douro Valley. When you combine a stunning view with a glass, or bottle, of a fine vino, it is no wonder wine tourism (enotourism) is a growing industry segment.
River valleys, such as the Loire, are ideal for grape growing. While soil type, sun and water are important elements in the vineyard, a river naturally moderates the climate, acting as a reservoir of heat or a cooling agent. This allows grapes to fully ripen and develop a balance of acids and sugars. Acidity is important. After all, it makes the difference between drinking a glass of wine or grape juice. When the vineyards are located near a river, it is easier to achieve desired acidity levels.
Not all wine regions have a river or are near a large body of water, such as La Mancha in Spain. But do not let that stop you from trying wine from arid areas, or from visiting. The wines can be good, although maybe not quite as notable as wines from regions with a river that moderates the climate.
Lastly, rivers are a terrific way for travellers to access the most spectacular wine regions, particularly by riverboat, and taste some of the finest wines in the world.
"Take me to the river." ~ Al Green
If learning about wine and wine tourism is of interest to you, here are some ideas to get you going:
1. World-famous French wine regions: The prestigious Bordeaux, Burgundy, Champagne and Loire Valley (all UNESCO World Heritage Sites) are filled with charm and history; and their winemakers produce some of the finest wines in the world.
2. City of Wine (La Cité du Vin): Located on the banks of the Garonne River in Bordeaux wine country (approximately 5 hours from Paris), this museum is really a theme park for wine lovers.
3. Mosel Valley, Germany:  Enjoy a relaxing pace in the picturesque Mosel Valley (UNESCO), with its quaint villages, medieval streets, steep vineyards, fairytale castles and, of course, world-famous Rieslings.
4. Duoro Valley, Portugal: Douro Valley (UENSCO) is the oldest demarcated wine region in the world and is the home of Port wine. It is a spectacular region and many vineyards are open as hotels.
5. Piedmont, Italy: One of Italy's most acclaimed wine regions, situated in the Po Valley, between the Alps and Apennines. Famed for Nebbiolo noble grape. Italian cuisine and Barolo – what's not to love?
6. Napa, United States: Napa is making some notable cabernet sauvignon, chardonnay and merlot wines, and is a hop-skip-jump from Toronto. Indulge yourself in a cooking class at the Culinary Institute of America.
7. Australia's Margaret River: If you have plans to go Down Under anytime soon, check out Margaret River, Australia's most famous wine region, located south of Perth. It is home to many world-class wineries and award-winning restaurants, and there are plenty of food events throughout the year.
8. Niagara, Ontario: Closer to home, Niagara wine region is always worth a day trip or weekend getaway to explore its wineries and vineyards, and the quaint shops and restaurants in Niagara-on-the-Lake.
9. Riverboat Cruising: A practical way to see many European wine regions in one trip is to take a river cruise, such as the world-class Viking River Cruises.
10. Study and Learn: One of the best ways to learn about and "travel" the wine regions of the world, without breaking the bank, is to take a class. George Brown College has a terrific wine specialist program (I'm a graduate myself). Also consider hosting a wine tasting party for your friends by doing a tasting of wines from around the world, and you can learn together. Check out my website for more ideas.
What is your next wine adventure? I would love to hear from you. Tweet to me at @Shannon_Skinner.
Shannon Skinner is an award-winning broadcaster, international speaker, author and writer, who lives to travel and discover fine wines. She is also a graduate of George Brown College's Wine Specialist Certificate program. She is based in Toronto. For information on her speaking engagements and interviews, visit: www.ShannonSkinner.com and www.ExtrarodinaryWomenTV.com.
* This article originally was published in Toronto Waterfront Magazine (Summer 2017).