Vienna might be best known as the home of Mozart, but one of its best kept secrets may be that it is also a green city with many parks. This past week I visited Vienna for the second time ever, while on a Viking River Cruise along the "Blue" Danube River.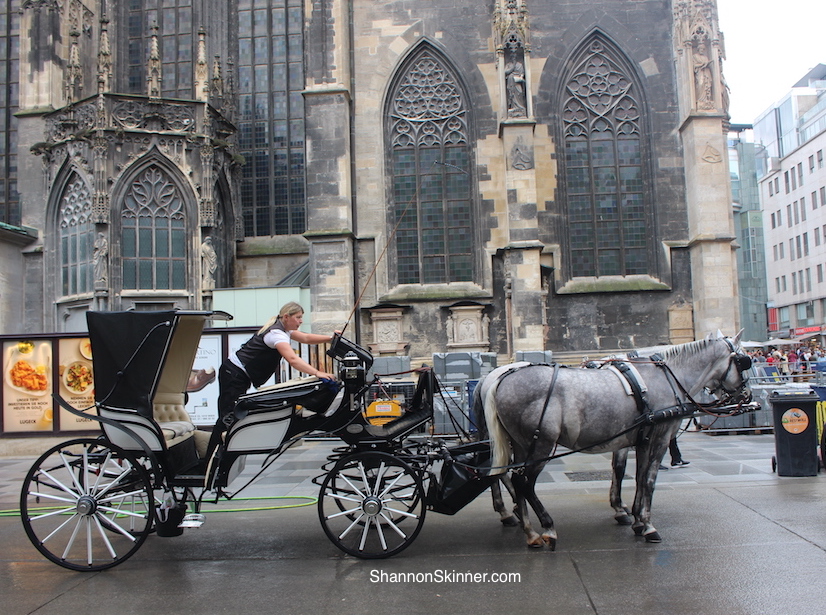 Horse-drawn carriage outside St. Stephen's Cathedral
Unfortunately, it poured during our short visit, although after a hot summer in Europe it was a welcome reprieve for the Viennese.
What I discovered is that with some planning ahead, you can experience a lot in Vienna if you have only a short time. Here are my top three things to do:
1.  Vienna City Tour 
Start the day with a tour of Vienna by riding along the Ringstrasse ("Ring Road"), an elegant artery that encircles several historic sites and Vienna's rich cultural heritage, and a lively area filled with cafés, restaurants, shops, gardens and nightlife. The most efficient way to tour the city is by coach with a private tour company.
You will see historic buildings such as the Imperial Palace, Vienna State Opera, Parliament, Volksgarten and the University of Vienna, where Sigmund Freud worked. See the home of Mozart, the Jewish Quarter, and wonder the streets and narrow medieval alleys.
Alternatively, do a walking tour that gives you an up-close look at the city of Vienna, while utilizing the city's exceptional public transportation system of trams and subway.
A highlight is St. Stephen's Cathedral, the most prominent in Austria. Walk around the square, pop into the chocolate shops, such as Manner, a favourite of locals.
Finally, enjoy some relaxed time at a traditional Viennese coffeehouse, renowned for their elegance. The first Viennese coffeehouse opened in 1683 after the Battle of Vienna when an Austrian officer found coffee beans left behind by the Turks. The most popular ones are Café Landtmann, Café Sperl and Café Braunerhof. Along with coffee, try the traditional Austrian chocolate cake, Sachertorte.
Plan for about 4-5 hours.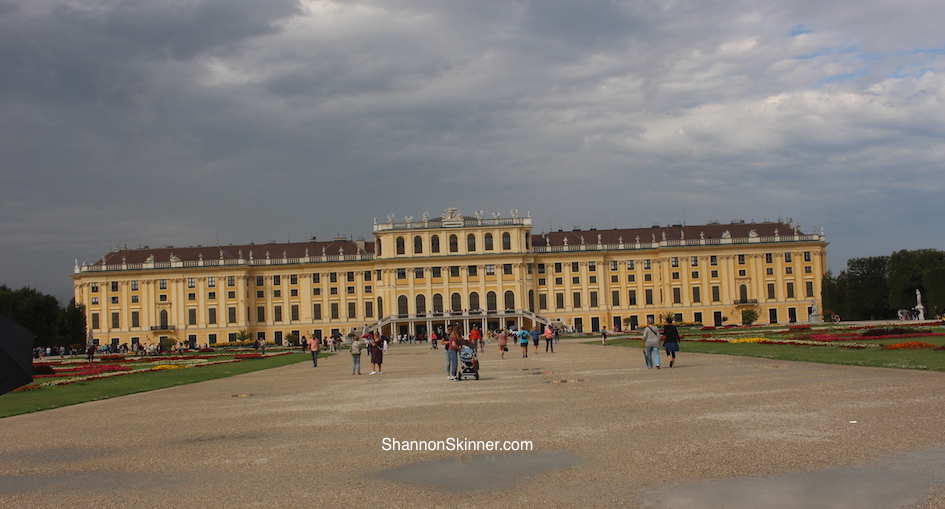 Schönbrunn Palace
2. Schönbrunn Palace
The massive summer home of the Hapsburgs, fondly known as the "Versailles of Austria," is well-worth a visit. Just be sure to get your tickets online in advance (it is a 7 hour wait to get tickets on-site).
Schönbrunn was built in 1643 by Maria Theresa, the last Hapsburg, who had claimed many titles of their Austro-Hungarian Empire, including: Duchess, Queen and, remarkably, King of Hungary, since the Hungarians at the time did not have a Queen as a ruling title (Hungarian Queens were only spouses of a King).
All rooms are uniquely decorated and different from each other (my person favourite is the blue room, for its calming effect).
After visiting inside the palace, walk around the immense gardens. Pace yourself and have some patience for the crowds. And be sure to plan ahead for transportation to get out to and from the palace.
Plan for about 3 ½ hours.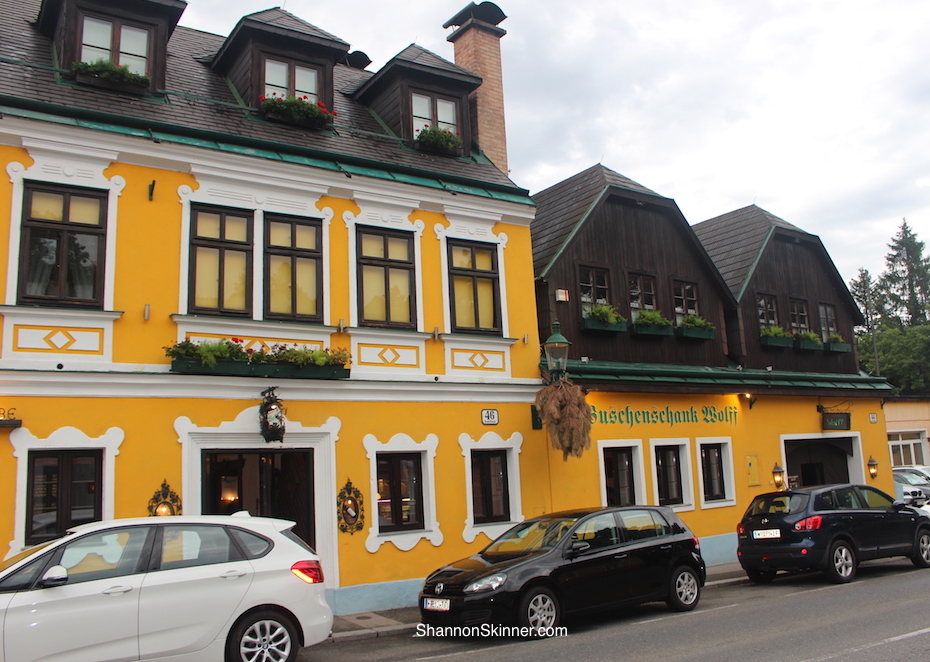 Heurige Wolff
3. Heurigen 
 When in Austria, do as the locals do. Although attending a classical music performance is so-Vienna, instead consider experiencing the folksy side of Austrian culture for an evening out. Visit a local vineyard for the annual Austrian tradition that marks the bottling of the season's vintage. Many vintners have their own wine tavern for the festivities that includes lots of authentic food, music and of course, wine.
One of the most notable is Heurige Wolff, a short drive outside Vienna in Neustift am Walde. Wolff is one of the best, owned by Peter Wolff and family. Their family-friendly tavern sits on a lovely property of vineyards where they make and sell their own wines. The tavern is huge with several rooms and gardens.
The menu has traditional Austrian cuisine (heavily meat-based), and there is also a buffet. As for vegetarians, they were happily accommodating for my vegetarian needs. And the sweets, or Kleine Koestlichkeiten (little delights) were delicious.
Also, we were entertained by traditional Austrian musicians who serenaded us at our tables.
Oh, and the wines….marvellous. We tasted 5 of the Wolff wines (2016). Typical Austrian varietals include Grüner Veltliner, Riesling, as well as a lovely red cuvée.
Plan for about 3 hours. Depending on the weather, you can walk out in the vineyards.
(note: I will be writing more about my Heurige experience in a future blog post).
And so, if you only have 12 hours (or less than a full day) in Vienna, and plan properly, you can cover a lot of ground. By touring in the morning, visiting the palace in the afternoon, and going to a Heurige for dinner and live entertainment, you can experience an authentic Vienna.
What are your favourite things to do in Vienna? I would love to hear from you. Tweet to me at @Shannon_Skinner.
Accommodations, ground transportation and tours courtesy of Viking River Cruises.
Shannon Skinner is an award-winning broadcaster, international speaker, author and travel writer. She is based in Toronto. Watch her interviews at www.ExtrarodinaryWomenTV.com. For information on her speaking engagements, contact her at Shannon (at) ShannonSkinner.com.