It was a great evening Tuesday night at the Women & Philanthropy fundraising event, hosted by 85 Broads-Toronto. Held at the wonderful La Maquette restaurant, dozens of Toronto's female trailblazers, influencers, entrepreneurs and business leaders joined us to hear Rosemary McCarney, president/CEO of Plan Canada speak about her career journey, about Plan Canada and the importance of philanthropy — how it "starts at home but doesn't end there."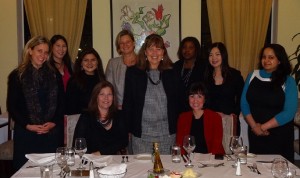 The event started with a lovely cocktail reception and mingling. After Rosemary's talk, the Board Members, hosted Rosemary to an intimate dinner. 85 Broads- Toronto Board Members include: Tara Dawood, Aileen Mens, Jaspuneet Mohie, Linli Chee,  Avil Beckford and me.
Sponsors and supporters include:  Extraordinary Women TV, La Maquette restaurant, Captura Photography & Imaging, LADIESFUND, CityEvents, The Art of Public Relations, Sony Music Canada, Marcelle, Preview Your Life, Americo Original Inc., Scentsy, Velata, Work for Widows and Grace Adele.
Proceeds from the event goes to Plan Canada to support two little girls — Banji and Misbah — that the chapter sponsors through Plan's Because I am a Girl program.
Photo: 85 Broads-Toronto Board Member dinner with guest speaker Rosemary McCarney (centre) and a few invited guests
photo credit: courtesy Captura Photography & Imaging