You might have missed me. Or maybe you haven't realized that it's been a while since my last post. A much needed blogging break was to be had, given all the changes and activity going on in my life the past several weeks.
First, the sale of my house, which I did privately and although there are obvious benefits for doing so, it became far more time-consuming than expected. From what I have experienced, buying and selling houses, and the inevitable logistics of moving, are unbelievably time-sucking activities and you truly cannot focus fully other things going on in your life while doing so.
Next was moving into a cool live-work loft, and while it has always been a dream of mine (check this one off my list), my sheepdog, Bob, has not adapted as well as I'd hoped. His constant, unabated barking during the times he is left home by himself has been "noticed," shall we say, by my neighbours (I didn't know he was barking while I was away). Although they have not been unkind, for which I am grateful, it means that I've had to do a lot of training with Bob, while living with the constant stress of having a stressed-out, barking dog whose separation anxiety-filled voice can be heard throughout the building, not just through the walls. Although it infringes on my freedom during this time because I need to be with him more right now — and at 8 years old, he has always been an easy dog — the benefit is that I now take Bob with me wherever I can, and therefore Bob is having some great adventures because of it — like being on the set of Extraordinary Women TV!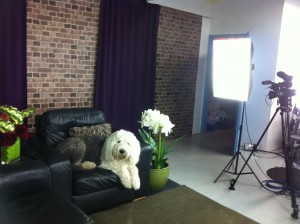 Members of my family were in Toronto visiting during this time of change, as my niece received a post-secondary scholarship from Canada Company. My mom stayed with me and helped with getting settled in my new place (thank you, mom!), which included doing things like turning off lights that would go on by themselves in the middle of the night.
It is also production time for my Fall season of my show Extraordinary Women TV, which begins airing on Rogers TV on Monday, August 16th at 7pmET. Lining up guests, sorting out production details, managing the crew, wardrobe considerations, promotion, developing relationships with sponsors…so many elements to manage at this time. One of my highlights thus far has been interviewing the lovely and witty, Debbie Travis, one of Canada's most successful women. I'm excited about the new season and what's to come as I go into this new chapter of my life – and my career.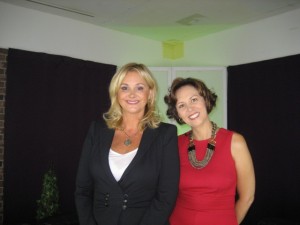 It has also been a time of re-branding my core consulting business and setting new goals and vision for myself. More to come!
So while I was feeling guilty for not writing during this crazy-busy time, I have realized that blogging breaks are necessary for harnessing energy for other activities and, above all, are good for the soul. Ahh, time to breathe for a bit…