I know how the story ends. We all do, sadly.
On this Tuesday night, I am waiting for the critically-acclaimed touring production of Nirbhaya, presented by Nightwood Theature, to begin on stage at Toronto's Harbourfront Centre, and without having done my homework, I wonder how the playwright is going to handle such a disturbing subject matter. Nirbhaya, written and directed by South African dramatist, Yaël Farber, is the story of the brutal rape, and subsequent death, of a young woman in December 2012 on a bus in Delhi, India, which shocked the world. Nirbhaya, Hindi for "fearless," is the name given to the 23 year-old medical student, whose real name is Jyoti Singh Pandey, for her bravery in those last hours of her life, and who has become an iconic catalyst for change.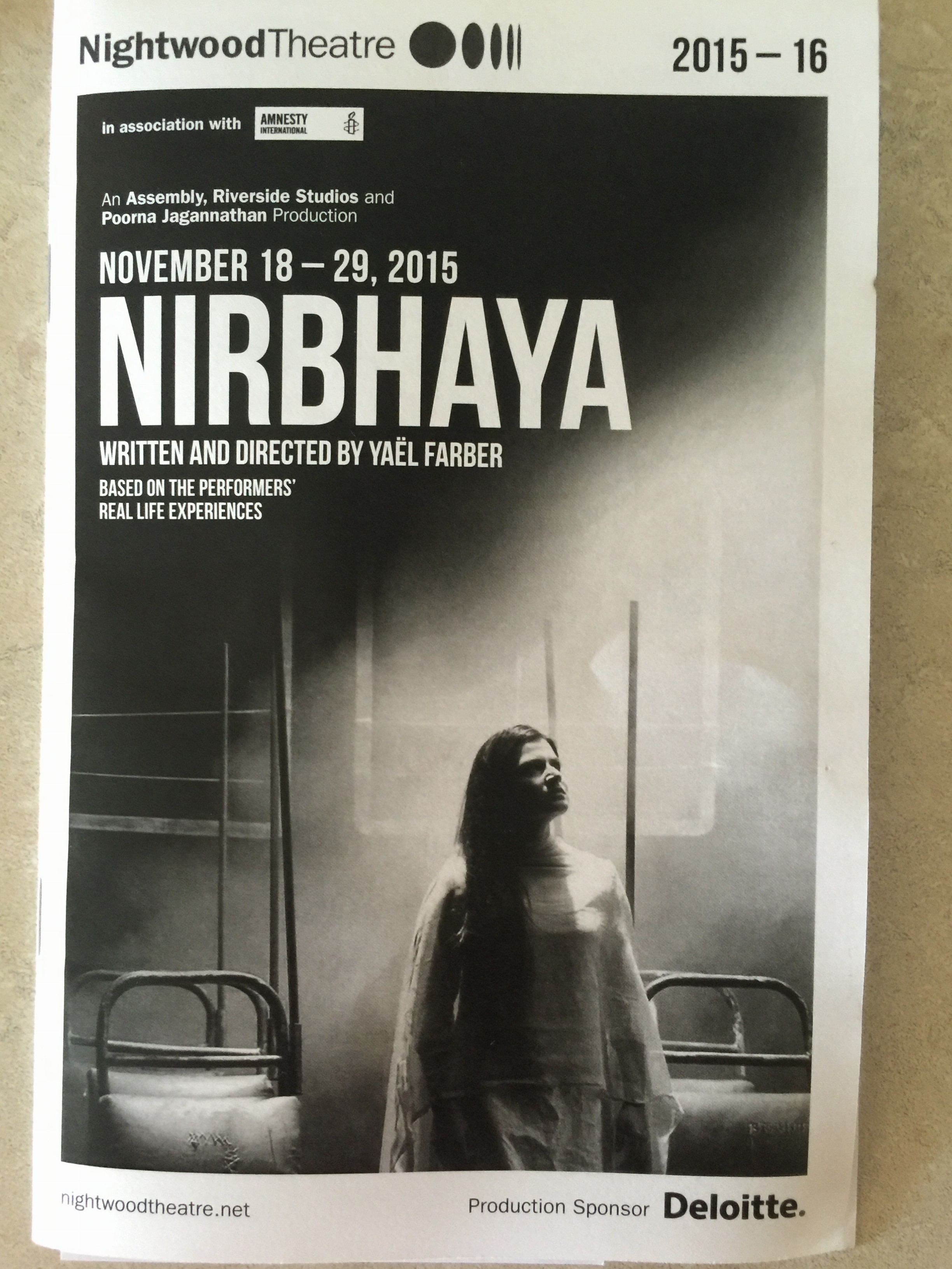 The ensemble, six Indian female performers and one male actor, play out Jyoti's attack, hospital care, and eventually her funeral. The main narrative is peppered with the performers' real life personal stories of sexual violence, from the annoyance of being groped daily riding the city bus, to stories of assault and rape as women and children, ranging in severity. One performer tells us of being raped by her husband night after night. Another tells the story of being a young girl who is repeatedly molested by a trusted family friend. Another is brutally beaten by her father. We get a dreadful description of being burned by kerosene, ignited by the husband. Then there is the story of being savagely raped by an intruder.
As a lover of storytelling, I am reminded of the importance of live theatre as an invaluable, and sometimes necessary, means of telling difficult stories — raw and gut-wrenching stories — that can resonate and transform lives. I am uneasily transported into the performer's worlds, into their brutally honest stories that are difficult to hear. My senses do not like them. I squirm in my seat. I fidget. But the imagination, artistic choreography, talent and moving music of this live theatre has memorized me.
Then, at the end of the performance, one of the actors shouts, "We can be silent no more," and all of the performers come together to show defiance and solidarity for women who have endured sexual violence and the shame they have lived with, and to stand up for Jyoti so her death is not in vain.
In this moment, my inner rebel kicks in. My energy rises within me. At the core of my being, I find myself in solidarity with these women, with their pain, their sorrow, their new-found hope.
Not because I am a woman. But because I am a human being.
Nirbhaya is a beautiful production of a difficult subject matter, and one that I hope will help make a positive impact around the world. It is running in Toronto through until November 29th, 2015 at the Harbourfront Centre.