Last night, I attended the Verity Club's Veritylink fundraising event "Wine, Women & Song." The terrific event was the first fundraising event to support the Veritylink $100,000 technology drive for the Nelson Mandela Park School in Toronto's Regent Park.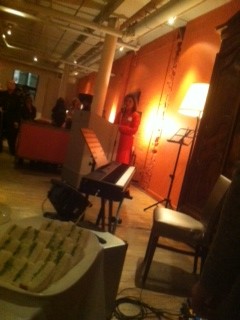 Located just down the street from Verity, Toronto's premiere private women's club founded by Mary Aitken, the school is filled with kids curious to learn, but does not have the technology that so many other schools and children have access to for learning. Toronto's Regent Park is Canada's oldest and largest social housing project, and home to a number of low-income families and many children living in poverty.
The goal is to bring computers and smart boards to the school this year. The technology will also help produce a school newspaper and assist with learning for students with learning disabilities.
The evening program included lovely opening remarks from Verity founder, Mary Aitken, a markeplace, silent auction and raffles, and remarks from Nicole Pearson, the principal at Nelson Mandela Park School; plus entertainment by Hammerband and singer Jessica Chaikowsky.
Oh, and the tea sandwiches, supplied by George, were out of this world!
Photo: Mary Aitken gives her opening remarks.