It was the day I dreaded all my life arrived. On November 9, 2018, my beloved grandmother, Doris Napora, passed away peacefully at the age of 94 years.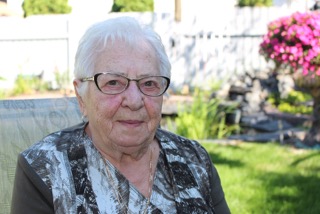 Doris was born near Yorkton, Saskatchewan and spent most of her life in the small prairie city. As a child, I spent a lot of time with my grandmother as I was growing up in Yorkton, Saskatchewan. All through my adult life, I remained close to her, even when physical distances didn't allow me to see her as often as I would have liked. She has been a blessing in my life.
She married her first husband, Fred Adam, as a young woman and they had 2 daughters: my mother, Darlene and my aunt, Sonia.
She loved to knit and crochet, polka music from back in the day, dress up for occasions and tend to her gardens when she was living in Yorkton prior to moving to her adult living facility in Medicine Hat. Above all, she loved her family.
During the war, as a young girl, she had a desire to be a pilot. She even took steps to take flying lessons at the radar base. It wasn't her destiny. Now, many decades later, after 2 marriages, 2 children, and a plethora of grandchildren and great-grandchildren, she has her well-earned wings.
Love never dies.
Love,
Shannon