What I love about being a talk show host is that it gives me the opportunity to chat with extraordinary women about their lives. To me, it's an honour that my guests share with me aspects of their lives in what is sometimes like a having a conversation with a girlfriend over a cuppa tea. They all have an inspired message – or several — worthwhile sharing with the world and I see my job as being a conduit to broadcasting these messages to the world.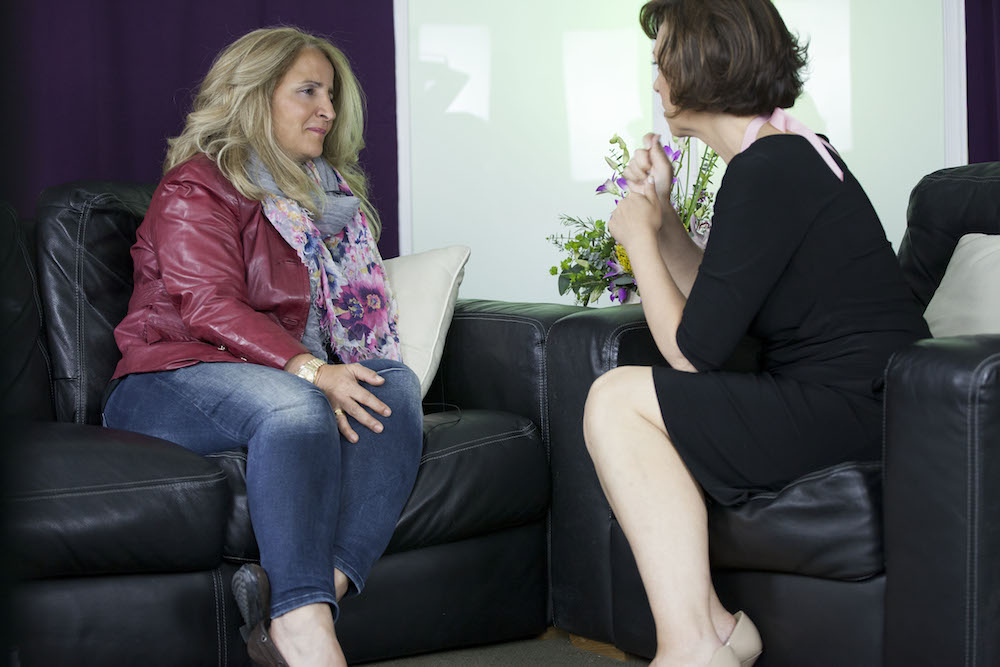 (on the set of 'Extraordinary Women TV' with Joelle Adler, CEO, Diesel Canada, and Founder, OneXOne Foundation)
In my previous career, I had worked as a public relations consultant, which has, in part, helped me with my skills necessary to be a media host. From my years of 20+ years of experience, I have learned and coached my clients, mostly high-profile spokespersons from many of Canada's most prestigious companies, on what it takes to give not only good, but great, media interviews. From what I have experienced, women are not as good at "getting out there" as men are. And so, given my passion for helping women get their inspired or crucial messages out, I have decided I would like to help change that.
With this in mind, I have launched a media coaching and training program — How to Shine in Media Interviews — to help women executive and entrepreneur spokespersons be best prepared for media interviews to raise their profile in a credible way, and to genuinely connect with their audiences. More details about my program will soon follow. In the meantime, I wanted to share some media interview tips  since "the best media interview is the prepared interview."
Here are some tips to shine in media interviews:
Be clear on your objective: To be successful, you must know what your objective is for doing any media interview. What is it that you hope to achieve? What is your intention? You need not share this with the world, but you must know it for yourself.
Know your top 3 key messages:  What are the 3 (at least) most important messages you want people to know about you and your business? Get crystal clear on them, memorize them, and then review them prior to every media interview you do.
Have your key messages in front of you when doing telephone interviews: Most radio and print interviews are conducted these days over the telephone, so have your messages on your desk in front of you to help you stay on track.
Be clear on how you want to be positioned: In advance of your interview, let your interviewer know how you would like to be positioned, including your title and contact information for the public.
Familiarization yourself with the journalist and news outlet: Whether you are being interviewed on a talk show or for a print article, take the time to research your interviewer and the outlet they work for. What kind of stories do they like? What are their hot buttons? What are they saying about your competitors?
Be on time: If you are late for a media interview, you must might lose the opportunity entirely. In the case of live TV, it's best to be early.
Be clear on the topic of the interview: It's fair to ask the journalist in advance what the focus of the interview will be. This way, you can be best prepared and even help the journalist prepare in advance.
Wear camera-friendly attire for TV: Bold, solid colours are best, especially jewel tones. Women should not wear short shirts/dresses, or jewellery that is too shiny or distracting.
Stay tuned for more tips and advice…so watch this space!