The healing and therapeutic benefits of hot springs has long been known. While hot springs and thermal baths can be found around the world, Switzerland has a unique hotel and thermal park for those travellers interested in taking the plunge.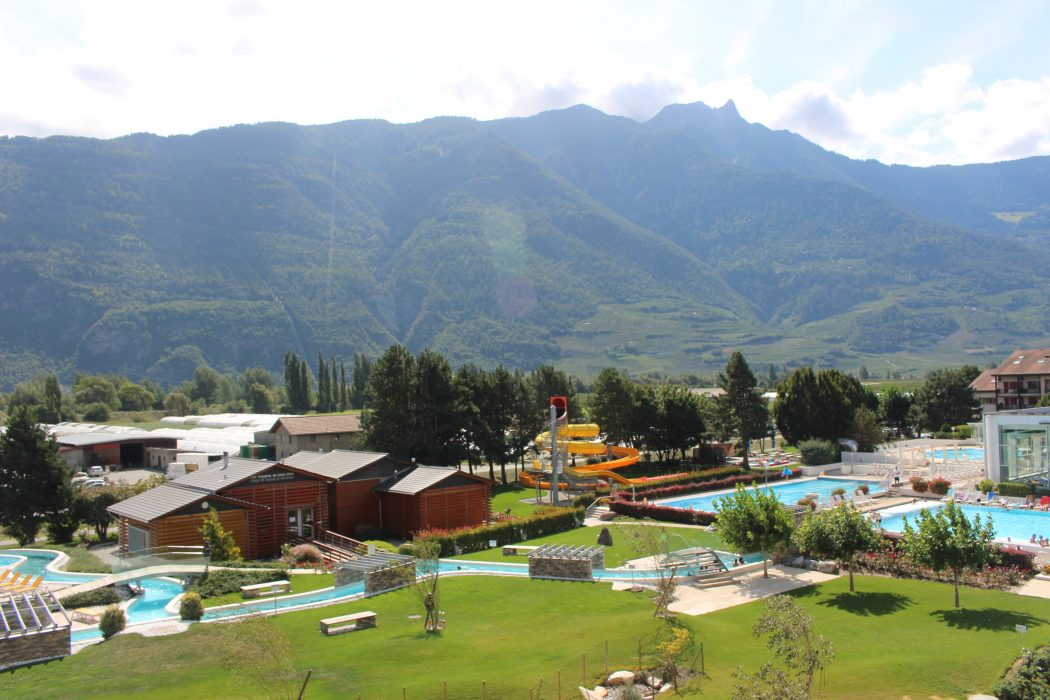 View from the hotel rooms overlooking the thermal park and spa buildings. All rooms have a terrace and southern exposure, for a breathtaking view of the Alps.
Les Bains de Saillon (the Baths of Saillon) hotel and thermal park is a large complex, located in Saillon in Switzerland's Valais region (between Sion and Martigny), in the heart of the Swiss Alps. It is set on a visually stunning property set alongside the famous Rhône river and surrounded by many vineyards and fruit orchards. It is mild enough that almonds and figs grow here.
"We are famous here in Switzerland," says Céline Antonioli, hotel manager, a friendly and energetic woman who oozes passion about the property and life in this warm yet slightly windy area of the Valais region. "And, of course, we also attract many international guests."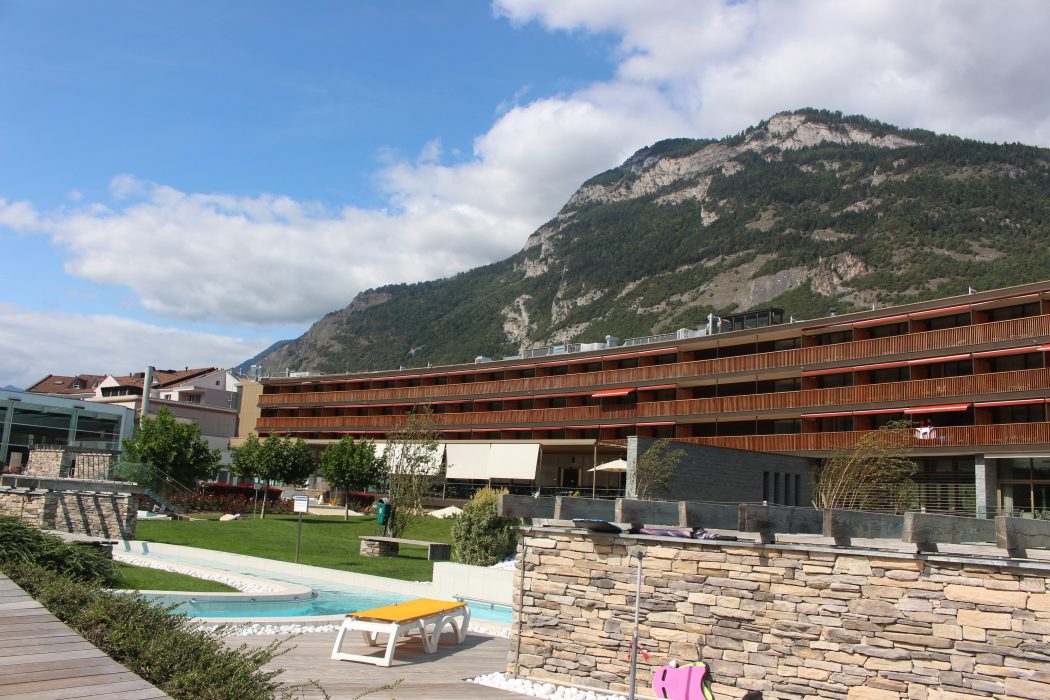 The newer building was designed with a curve to it
The hotel is comprised of 2 buildings; one is a new hotel that opened a year ago. There are a number of heated pools, both indoor and outdoor. It has a thermal "river," and an almost Olympic-sized outdoor swimming pool. There is an area for children that includes a waterslide and small pool, for some family fun.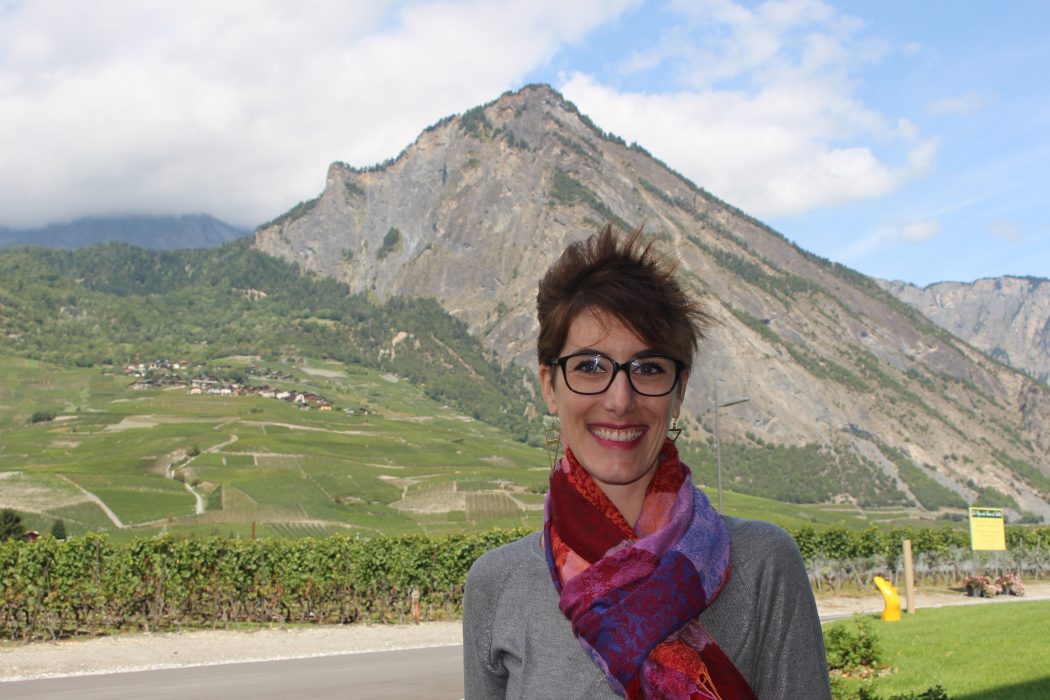 Céline Antonioli, hotel manager
And of course, there are several sauna options and a hammam, and a wide-range of spa services and fitness facilities. (Note: a "spa" in Switzerland means nude, so be prepared). Local Swiss products are used for spa treatments. Athletic visitors have access to a state-of-the-art fitness equipment and classes.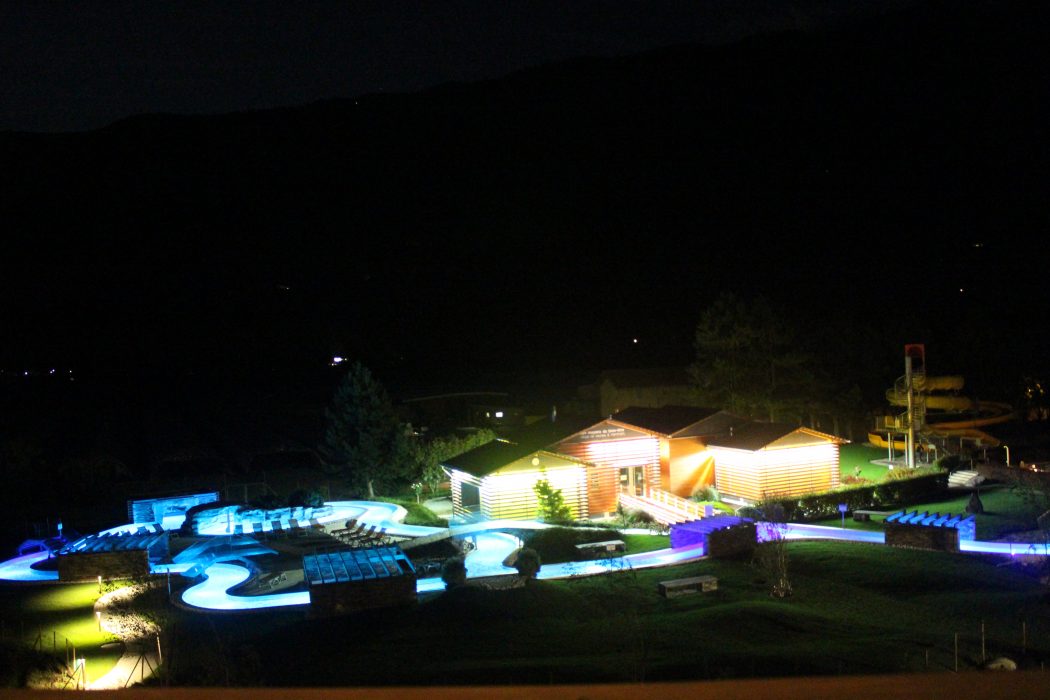 Night view of the thermal park and spa centre
The thermal park is available for use for the entire day, for both the public and hotel guests. Many visitors, from professional athletes to families to tourists, come to enjoy the enormous thermal park. The property sees more than 1,000 guests per day (at the minimum). Guests are provided with a wrist-band with an electronic "chip" to access the facilities.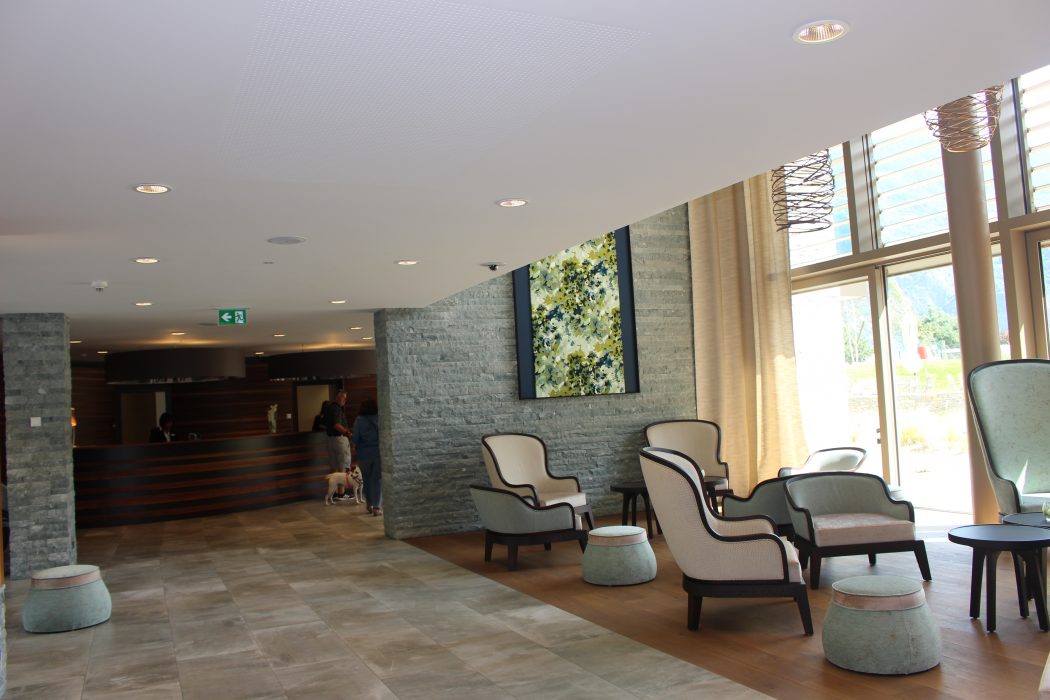 Hotel lobby is bright and contemporary
The hotel complex has 148 rooms, 6 themed restaurants (from pizza to burgers; one is self-serve with direct access to the swimming area) and free outdoor parking. There are also rental studios and apartments. Best of all, it has a breathtaking view of the Swiss Alps.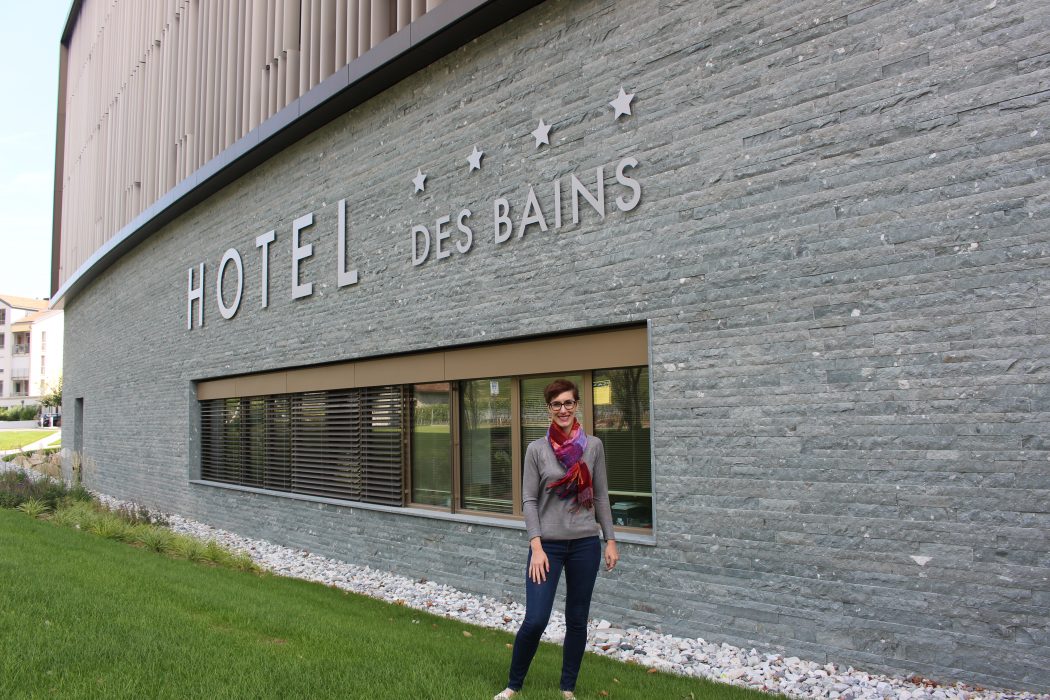 Céline Antonioli, in front of the new hotel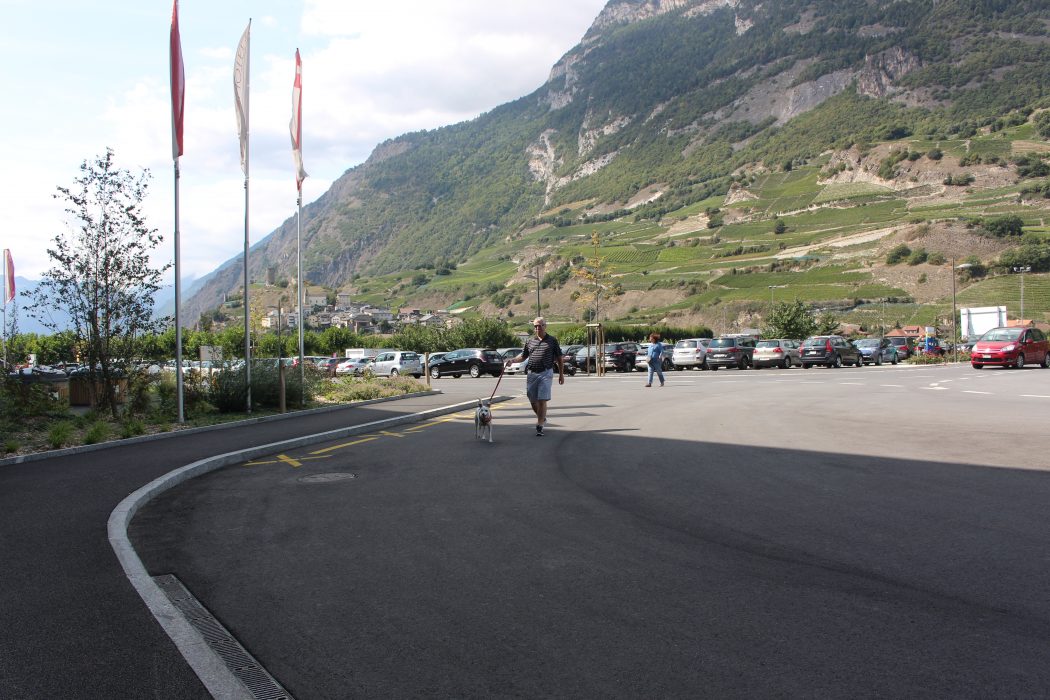 Guest arriving with a friendly dog for their stay at the hotel
Lastly, dogs are welcomed here, as the property is pet-friendly. "They can go anywhere, anytime," adds Antonioli.
Overall, Les Bains de Saillon is contemporary and comfortable, and relaxing, and its facilities were designed for guests to destress and family fun. It worked for this writer!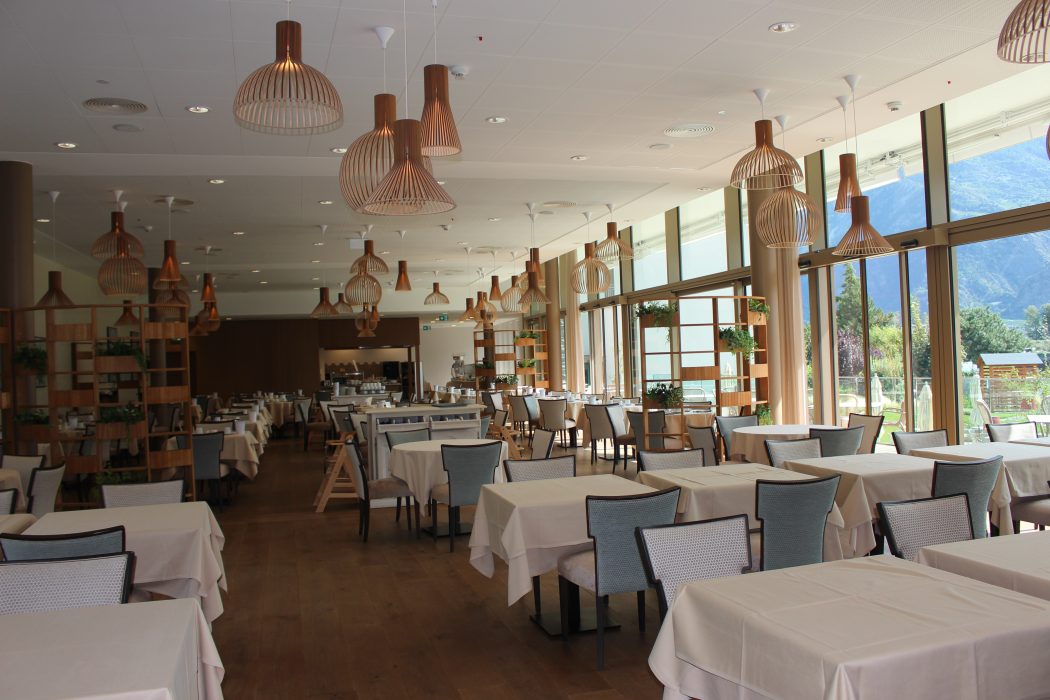 Large and bright dining and breakfast room. This room is available to rent for events.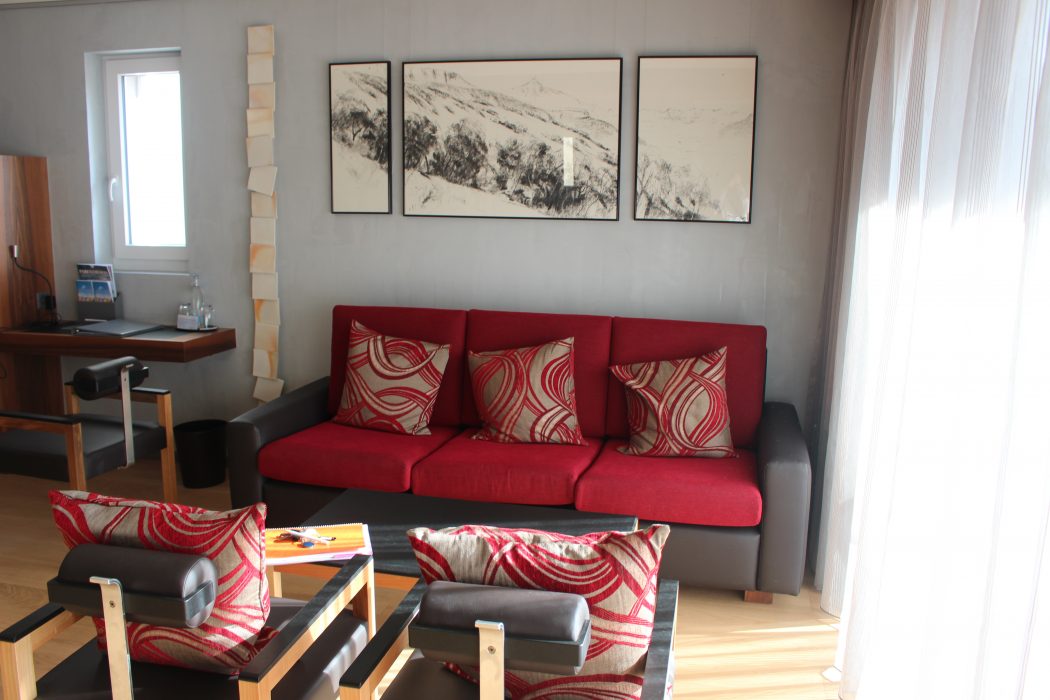 Family suite in the older hotel. Nice & functional.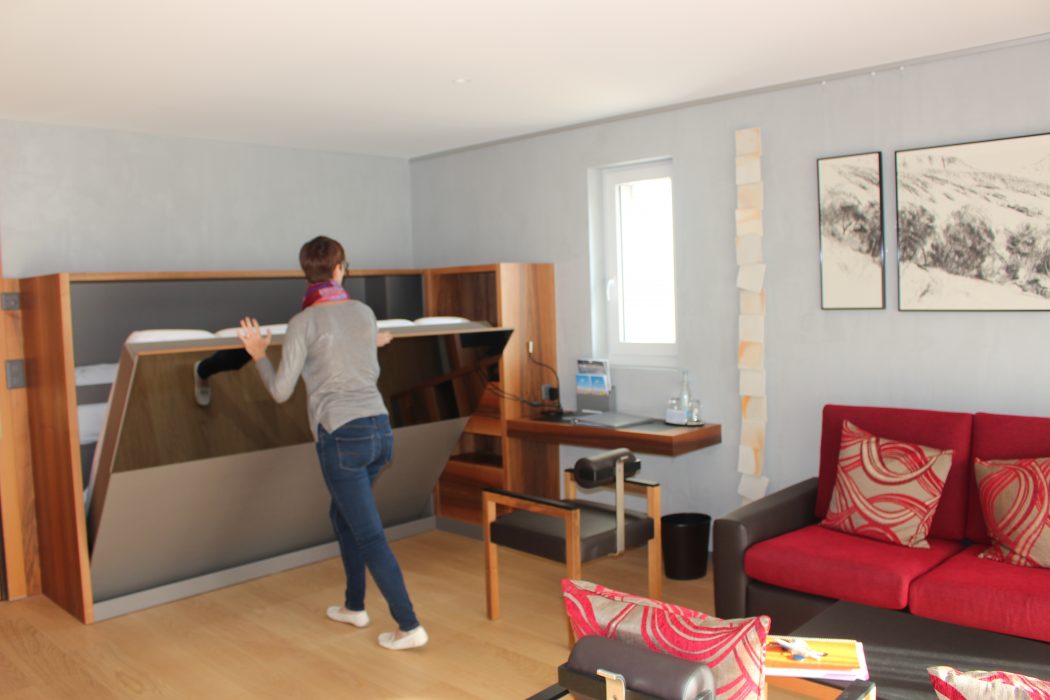 Functional furniture that is also a hidden bed.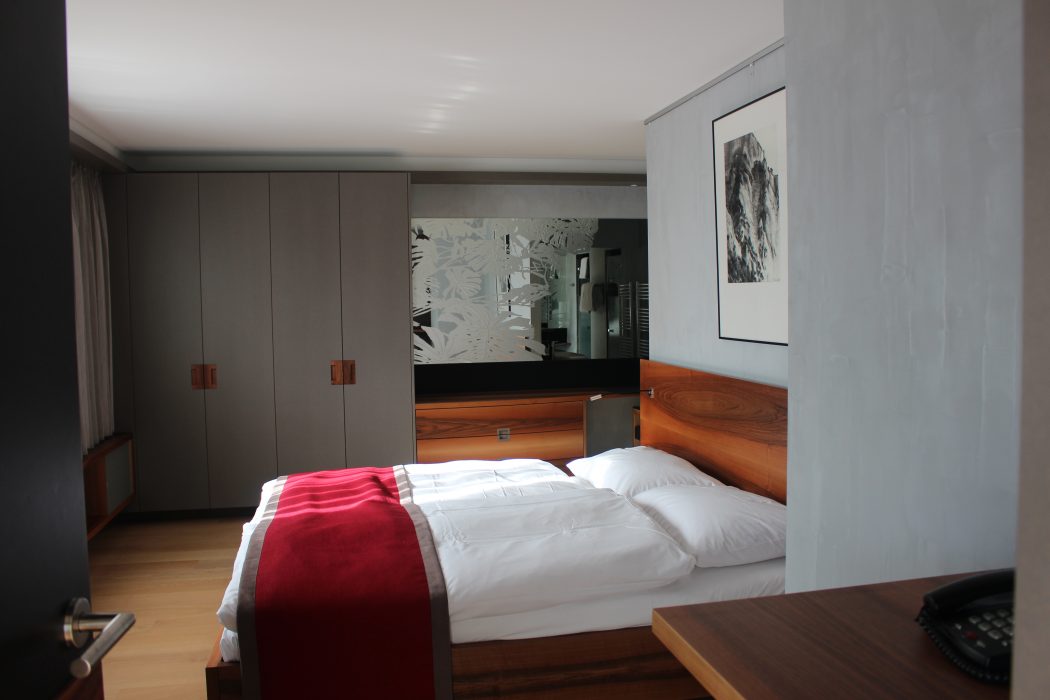 Suites have lots of space for parents and kids to share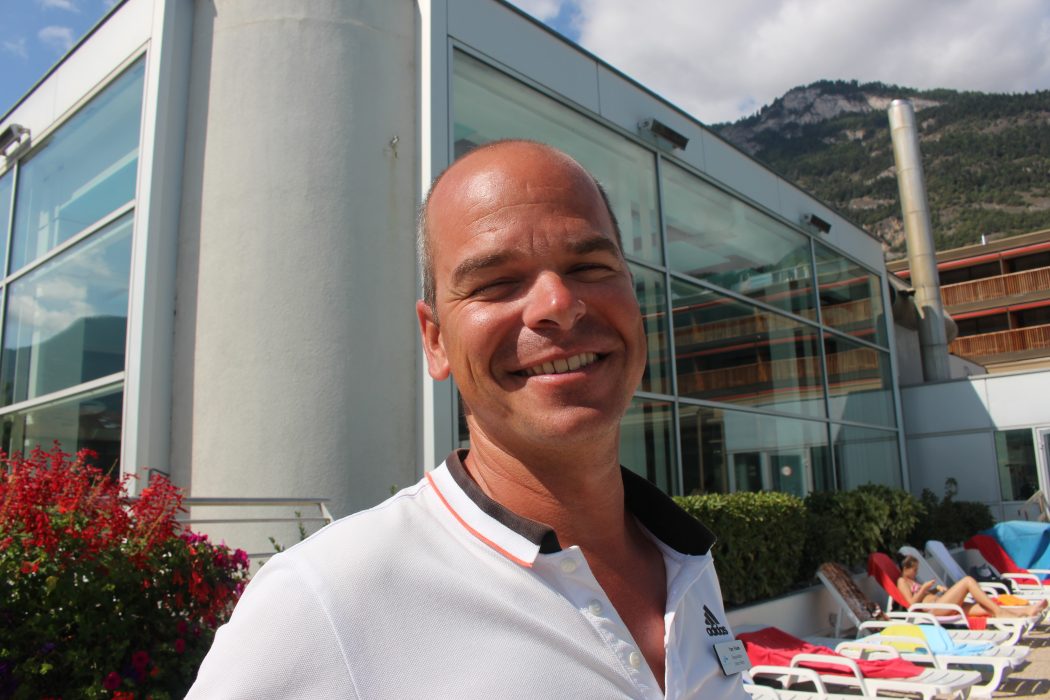 Thermal park manager extraordinaire
—
DETAILS:
Price From: $ 240 Cdn for standard rooms; and $330 Cdn for suites (approximate; inquire about rates and specials)
Who goes? It well-known in Switzerland, so it attracts many local Swiss guests; business travellers, as well as couples, singles and families.
Style/Character: A stylish, luxury hotel, 4-star, contemporary. It is owned by the BOAS-Swiss Hotel Group.
Service/Staff: Courteous, helpful and professional staff, and excellent service. Restaurants were speedy with meals.
Rooms: 148 rooms and suites; all contemporary, stylish, luxurious and comfortable. All rooms (range from standard to family suites) have a terrace and offer magnificent views of the Alps. Includes a small coffee machine, room cleaning service, large bathrooms that are well-lit, bathrobes and slippers for going to the spa, and lots of closet space. WiFi is free in the rooms.
Food/Drink:  There are six on-site options:
e Restaurant des Baigneurs: self-service with direct access to swimming pools
La brasserie: a nod to the famous "Café de Flore" in Paris
La Carnotzet: Valais specialties in a "chalet" ambience
La Pizzeria "Piazza Granda:" pizza/pasta on an "All'Italiana" village square
La Treille: snacks and relaxation in the shade of a pergola
Le Swiss Burger Bar: delicious homemade burgers
L'Espace Gourmand: the Chef's specialties for connoisseurs
Salle "Pierre à voir:" for small and large banquets
The wine list has Swiss wine options; available for viewing on the website, along with the restaurant menus.
Amenities:  On-site fitness centre, business centre (fax/photocopy), hair salon, podiatrist/pedicurist, physiotherapist, and rooms are available for rental for special events.
Women traveling solo-friendly: Yes.
Family-friendly: Yes
Disabled Access: Yes
Pet-Friendly: Yes (dogs can go anywhere, anytime, even in the restaurants). A small, extra charge applies.
Local shopping: Not a shopping destination. Nearby is the tiny historical old town, about 20 mins. walking distance. There is a small boutique in the complex.
What not to miss: a Spa treatment.
Nightlife: If you are seeking nightlife, you will need to find another spot.
Value for Money: At a minimum room cost of approximately $ 240 Cdn, you get excellent services, comfort, convenience of spa and fitness services, in a new facility and a peaceful setting.
Reservations: https://www.bainsdesaillon.ch/en/
Location: In Saillon, Valais, 146 km from Geneva (between Sion and Martigny). Address: Route du Centre Thermal 16, 1913 Saillon, VS – Suisse, Switzerland | +41 (0)27 602 11 11 | +41 (0)27 602 11 52
Resources: Valais Tourism and Switzerland Tourism.  Hotel chain: BOAS-Swiss Hotels.
I was a guest of Les Bains de Saillon and Valais Tourism. Opinions are my own.