Anyone who knows me well knows that cooking ranks up there with extracting fingernails. As a woman who is in a constant state of "busy-ness," I often eat on the fly. Sure, I can assemble a salad, or re-heat healthy, prepared foods. Plus, I have learned how to feed my dog raw or whole food. Despite the fact that I rarely cook, I do strive to lead a healthy lifestyle.
What has become clear to me, though, is that to be as healthy as possible you need to make your own meals to have control over what you put in your body. As I began facing changes in my body due to stress, hormones and the inevitable — aging — I knew I had to do something. And I knew it had to begin with nutrition.
So one night, I opened my fridge, only to find it nearly empty, with the exception of food for my sheepdog, Bob. I opened my cupboards, not unlike Old Mother Hubbard, which were also nearly empty, except for ingredients for my dog's food. I realized my dog eats healthier than I do. At that lucid moment, I was reminded of a Chinese proverb:
Teachers open the door, but you must enter by yourself. ~ Proverb
Enter my teachers…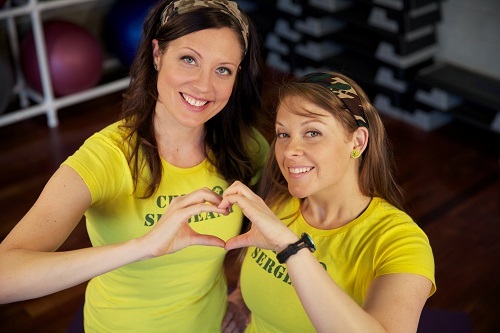 (Fit Chicks Laura Jackson and Amanda Quinn)
I met Laura Jackson and Amanda Quinn, known as
Fit Chicks
, this spring at a
weekend retreat
held at
Horseshoe Resort
, located one hour north of Toronto. Based on their bootcamp-style programing that Fit Chicks have become renowned for, I knew I would get butt-kicking exercise, fun activities as well as nutrition information – and in a location surrounded by beautiful nature.
What I did not know I would walk away with was a miracle of miracles: inspiration to – gasp – start cooking for myself.
It is changing my life.
The people who inspire me the most are those who have transformed their lives. Fit Chicks Jackson and Quinn have done just that. The two have been close friends since Grade 9 when they, like many other teens, both began to experience body image issues. Then years later, the two friends both felt the need to do something about it. They embraced a healthy living style and changed their lives — from the inside-out.
Both women became certified personal trainers. Quinn also got certified as a yoga teacher and Jackson branched out as a nutrition wellness specialist. Later, an "aha" moment would have them leaving corporate jobs for an inspired journey of helping thousands of women change their lives.
And so, they created Fit Chicks, a company that is dedicated to "spreading healthy love" and provides a range of award-winning bootcamp-style programs at more than 20 locations across Canada, as well as weekend fitness retreats, personal training, nutrition counseling and more. They are also hosts of Shape Up with Fit Chicks on Rogers TV.
It was during one of Jackson's nutrition workshops that I had my 'aha' moment, which inspired me to want to learn more about cooking. "Cooking is probably the biggest lost art in our society," said Jackson as she demonstrated how to make almond milk. "It used to be about celebration, but now it's about counting calories. You need to start with a food philosophy." That food philosophy, according to Jackson, is as simple as eating food that is "grown and made with love."
Today, as I (slowly) embrace cooking, I am experiencing a difference in my energy and seeing positive changes in my body. While I have yet to open a cookbook, I have been creating my own concoctions of food that is "grown and made with love."
And so, thank you, Laura Jackson and Amanda Quinn, for being the teachers who opened the door.
Read my post about the weekend retreat at Horseshoe Resort here.