The bus is moving fast toward me. Too fast.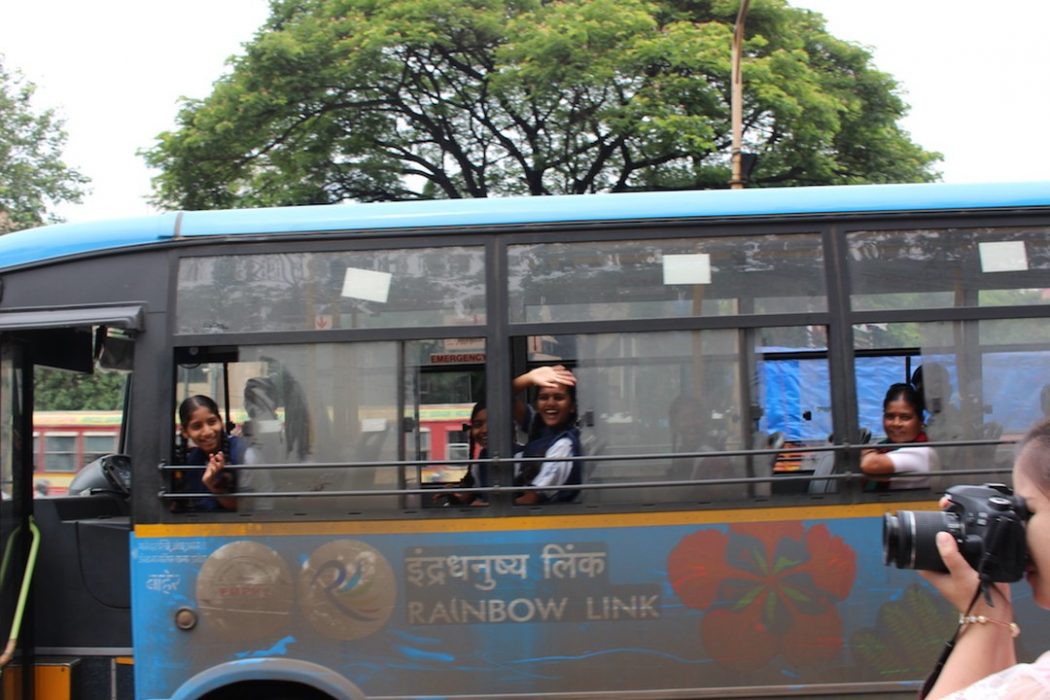 I'm in Pune, India, on the western side of the country; India's answer to Silicon Valley. At 40C, it's boiling outside and I can't seem to stop the perspiration from trickling down my brow. My mind is filled with the life of the legendary BKS Iyengar, the father of modern yoga, whose famous ashram I just visited.Vehicle horns are blasting.
On the street outside, traffic is nuts. But, hey, that's India.
On the bus are a few school girls smiling and shouting as the bus, caked with mud (it's monsoon season), whizzes past me. I am fiddling with my Canon, frantically trying to capture the photograph. Then, the bus disappears.
Now, fast-forward …
Yesterday, I took a look at this photo that I had taken of the girls on the bus and realized that I missed out on something.
Something important.
……Oh, hello there!
There is a girl waving at me. But, I did not have the chance to wave back. No, I missed that important moment.
That precious moment of human connection.
All too often we are so busy with our cameras memorializing snapshots in time rather than being present. I mean fully present. In these moments – when we are so focused on our digital world of Instagram, Pinterest and Facebook – we are missing out on human connection. That is, connecting with another human being.
We are not appreciating the moment for what it is.
It reminds me of when I last visited the Louvre in Paris, the throngs of visitors swarmed like bees around the exhibitions, armed with cameras. What I noticed is that many of them didn't even look at the art: they were too busy memorializing it with their cameras for… later use? They missed out in something important.
Being present and enjoying the moment.
.
On this Sunday, I am reflecting on our real world and our digital world, and thinking about how important it is to put the camera down and be present with our loved ones, with nature, with ourselves.
Shannon Skinner is the creator/host of ExtraordinaryWomenTV.com, radio host, author and travel writer. Tweet to her at @Shannon_Skinner.