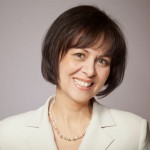 SHANNON'S TRAVEL BAG: Travel Tips for Women
Shannon Skinner writes about the holy Isle of Iona; the article originally appeared in Infinity Magazine (winter '12).
__________
* * *

If a pilgrimage to ancient spiritual sites is on your wish list, the holy Isle of Iona might have what you are seeking. With its connection to early Christianity, this tiny rocky island located off the west coast of Scotland has been attracting pilgrims since medieval times. What's more, 2013 marks the 1,450th anniversary of St. Columba's arrival on the mystical island.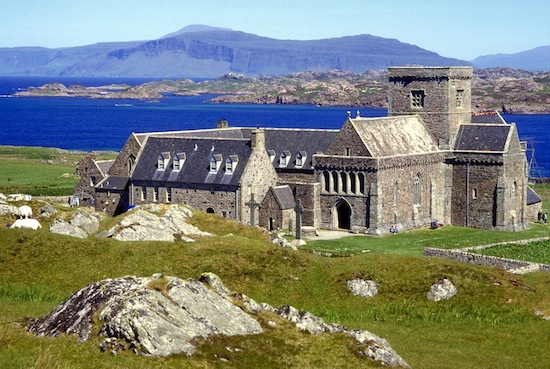 (photo courtesy of VisitBritain)
Known as the "cradle of Christianity," the Isle of Iona offers a number of ancient spiritual sites including a medieval abbey, nunnery and the legendary burial-grounds of 48 Scottish kings. It was here that St. Columba, an Irish priest and prince, founded his monastery in AD 563, which played a central role in spreading Christianity.
The Book of Kells
probably got its start here. There is even a legend that Jesus Christ visited Iona.
Thought to be formed from Earth's oldest rock (possibly 1500 million years), the remote island of Iona is easily accessible. Best of all, you get to view some of Scotland's spectacular scenery while en route. Iona has something for the whole family; as well as the solo traveler seeking a sanctuary for peace, contemplation and reflection.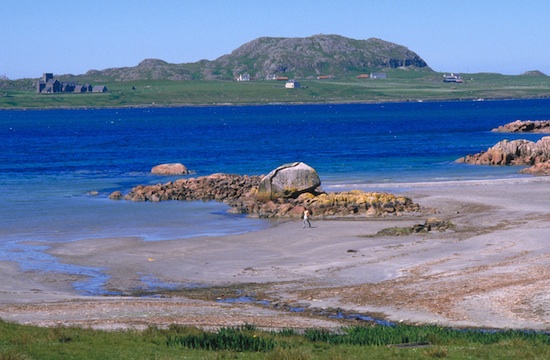 (photo courtesy of VisitBritain)
At the heart of this special island is Iona Abbey, one of the oldest and well-preserved scared sites in Scotland. It has survived Viking raids, the Protestant Reformation (1560), and years of abandonment and neglect. Having recently undergone restoration, today you can enjoy its cloisters, and it still operates as a place of Christian worship as it has done for the past 1,450 years.
Located outside the abbey church is St. Columba's Shrine, which has especially drawn many visitors to the island over the centuries.
While there is not much left to see of Columba's monastery, with the exception of its vallum that once surrounded it, you can get a sense of the mystical, inspired energy that its former inhabitants experienced.
Of special interest is St. Oran's Chapel and graveyard, the final resting place for 48 Scottish kings, including Kenneth mac Alpin and Macbeth (of Shakespeare fame), as well as other kings, nobility and clan chiefs. Their coffins were carried along the cobbled "road of the dead" from the Abbey.
Iona's nunnery, formerly a Benedictine priory, was established in 1203 and known to the locals as "the black church" because of the black habits worn by its Augustinian nuns. All that remains today of the building are pink granite walls. What is also interesting about the nunnery's history is the nuns had opened its doors to female pilgrims; and noble women, some who apparently lived a fair distance away, were laid to rest in its burial-grounds.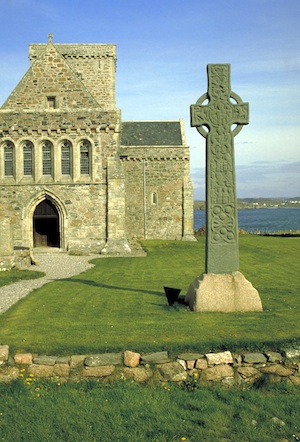 (photo courtesy of VisitBritain)
Back in its day, Iona was regarded for its spiritual/intellectual creativity, and was key in the development of the Insular art. A superb example of this style is the
Book of Kells
, the illuminated manuscript comprising the four Gospels of the New Testament, which may have been produced on Iona, or at least has its start here; though this was long after Columba's death. Other examples are the high crosses, including St. Martin's Cross, that dates back to the 8th century.
Iona's carved stone collection is impressive, which includes "Columba's Pillow," believed to be the tombstone of St. Columba made from the stone that he rested his head upon as he slept; and the rare surviving grave-slab portraying a prioress, Anna MacLean (died 1543).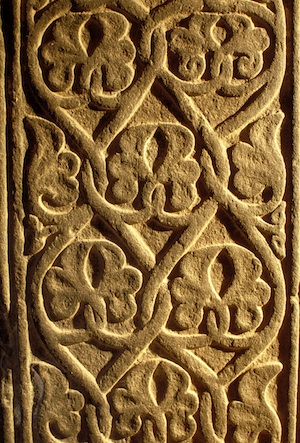 (photo courtesy of VisitBritain)
Lastly, located near the main village, Baile Mor, is Iona's oldest historic site: a 3,000 year-old stone burial cairn.
Beyond its ancient sacred sites, Iona has a small and active community, and there is much to experience and enjoy. While most visitors go for the day, there are a few hotels and B&Bs for those interested in staying longer. The island has charming restaurants, shops, tearoom, arts and crafts, and working studio. Its residents are known to be self-sufficient, using food primarily grown locally. If you wish to explore the island by bicycle, you can rent one from the general store. Additionally, the nearby beaches are also spectacular to kick back on, provided it is not raining.
If you are interested in staying on Iona and living in the abbey's cloister where you can experience a week-long pilgrimage around the island, the Iona Community runs residential centers on Iona and Mull.
Special Events: To commemorate the 1450th anniversary of St. Columba's landing, Historic Scotland and the Iona Community have planned activities throughout 2013. Check out their websites for details.
Getting there: Iona can be reached by taking a 10-mins. ferry from Fionnphort on Mull. Or via Oban in Argyll and Bute. Regularly-scheduled ferries connect to Craignure on Mull, and then a 35-mile drive to Fionnphort ferry terminal.
Resources:
Historic Scotland
Iona Visitor's Guide
Iona Community
Shannon Skinner is an author, speaker, consultant, and host and producer of Extraordinary Women TV with Shannon Skinner. She occasionally writes travel articles for women.
This article was originally published in Infinity magazine.