When more than 700 women from across Ontario get together in magical Muskoka for the Huntsville Girlfriends' Getaway Weekend, it is a time to relax, let down the hair and unleash the inner wild child. For the past seven years, during the bleak month of November (that "in-between seasons" time when the sky is often grey and air is filled with melancholy), girlfriends have been gathering for a special weekend of celebration, relationship nurturing and retail therapy, er, I mean shopping.
I had first learned of this event a couple of years ago when Canadian singer/songwriter, Jann Arden, performed — and it sparked my curiosity. This year (Nov. 8-10), I had the opportunity to attend and what a fun weekend it was.
Organized by a number of local partners including Downtown Huntsville, Huntsville/Lake of Bays Chamber of Commerce, Tourism & Events Huntsville, Paradigm Events and Deerhurst Resort, Muskoka's largest resort, there are a wide-range of well-planned activities and events geared to just women. After all, it is all about the girls. Each year, many of the downtown Huntsville businesses and shops get in on the fun, offering enticing deals and promotions. There are fashion shows; an annual "make-over" event organized by local dentistry, Dr. Drew Markham; and cooking demonstrations. As well, girlfriends had the opportunity to get their photos taken with the Toronto Firefighters' calendar models.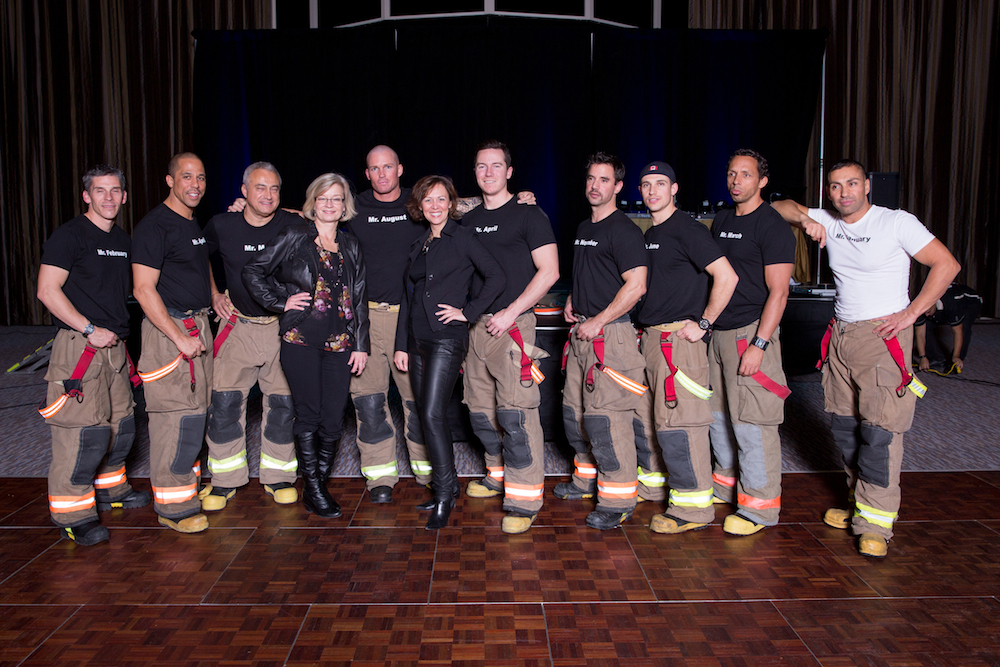 (photo: Laura Kennedy, marketing manager, Deerhurst Resort and me with Toronto Firefighters' calendar models/photo credit: Andrew Hiorth)
At the heart of all the action is Deerhurst Resort, which is located just two hours and 2 turns north of Toronto, and only minutes from tourist-oriented Huntsville, Algonquin Park and Arrowhead Park, and spread across 760 waterfront acres on Peninsula Lake/Sunset Bay in Muskoka. Guests at Deerhurst — or "girlfriend central" — who were taking part in the Girlfriends' Getaway Weekend were able to relax at the spa; purchase unique products from on-site vendors by local artisans and businesses, and grab some swag; dance and party to live music; and enjoy delicious meals together. There were also a variety of home décor and health-oriented workshops, as well as fitness activities, such as belly dancing, yoga and aqua-fit. There were free shuttles organized to take us to downtown Huntsville (only a few minutes away) for shopping and additional events, including the highlight of the weekend: a concert by rocker Pat Benatar and husband, Neil Giraldo. And with the package priced at $299, which includes accommodations at Deerhurst, a Marché dinner, workshops, fitness and a concert ticket, it is definitely well-worth it.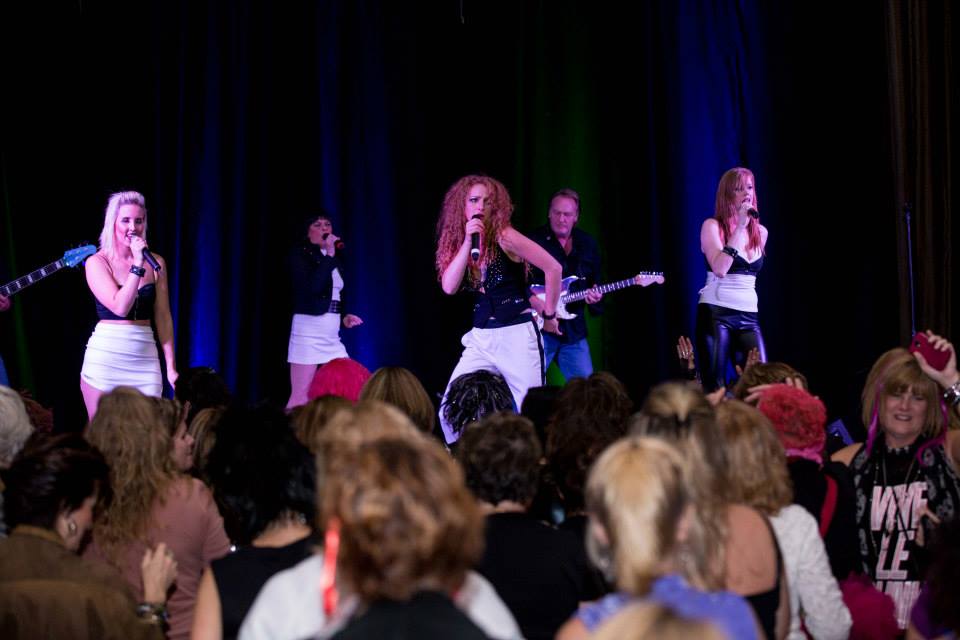 (photo: live music at Deerhurst Resort/photo credit: Andrew Hiorth)
"Deerhurst has been an enthusiastic partner of the Huntsville Girlfriends' Getaway from the get-go," says Laura Kennedy, marketing manager, Deerhurst Resort. "Not only is it fun – both for guests and our staff – but it shines the spotlight on how vibrant, exciting and warm Huntsville is as a destination, and introduces a lot of women to Muskoka outside of the traditional summer vacation period. We see women coming back year after year because they value the great time they have together."
The women who attend are from a wide-range of ages (from 30-70 years), multi-generational, and many are repeat guests. They come with extended families and groups of friends. Some of the attendees I talked to were happy to just have some "me" time away from family obligations.
One of those women is Heather Ravelle, an aesthetician, wife and mother of two grown boys from St. Catharines, Ontario, who attended with four close friends. "As I find myself in my fifties, it's more important than ever to take the time to stay close with my cherished friends, and the weekend at Deerhurst is an integral way of nurturing our friendships, and bringing love and laughter into our busy lives."
I spoke with Ravelle at Deerhurst's "Girls Rock"-themed dinner and party, where women dressed in their best "rocker chick" outfits. Ravelle and her friends, who came dressed as the "Purplettes" (pictured below in the centre of the photo), were rockin' the night away, and all plan on making this an annual event. Adds Ravelle: "We loved the idea of letting our hair down, being silly and having fun. Life at home raising our children and working is always so serious. It allows us to recharge our batteries, so when we get back to the realities of life we can be better people at those jobs."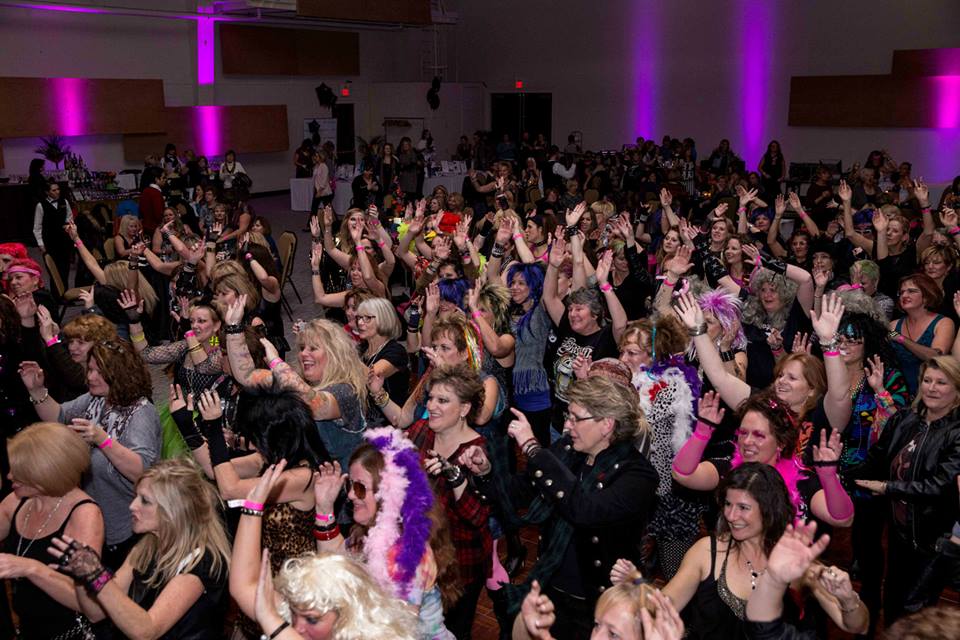 (Photo: Girlfriends including Purplettes [centre] unleash their "inner rocker" at Deerhurst Resort's Girl Rocker party/photo credit: Andrew Hiorth)
One of the features of Deerhurst Resort's special programming that I thought was great added value was its variety of workshops, which included a fun and insightful chocolate and wine pairing, hosted by Kevin Richards and Janine Dezotti. As well, there were workshops on how to make wreaths for the holidays; floral design lessons; discovering the healing powers of essential oils; discovering natural cosmetics; and mystifying weight loss.
"Girlfriends Getaway Weekend is a special weekend full of inspiring spirit and bonding," says event organizer, Michelle Planche, president, Paradigm Events, which has been bringing girlfriends together at Deerhurst for the past seven years. "This year, over 700 women came together to relax, unwind, laugh and celebrate their friendships."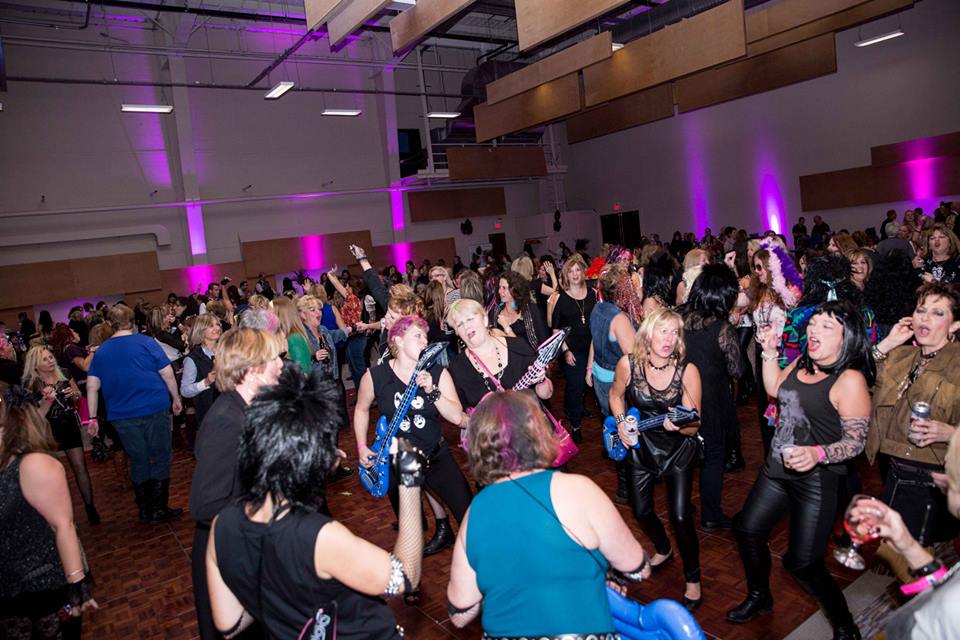 (Photo: Girlfriends rockin' it at Deerhurst Resort's Girl Rocker party/photo credit: Andrew Hiorth)
One workshop, in particular, that I attended which was thoroughly enjoyable was "how to set your table décor for any occasion," which had a timely focus on Christmas, hosted by local Muskoka resident, Tari Roossien, decorator and owner of Urban Rustic Living. Roossien, who moved from Toronto to Muskoka 12 years ago, spends her days helping locals with their home and cottage decorating needs from start to finish. And with the holidays coming up, Roossien has this to say about holiday decorating: "Add a bit of nature to your Christmas because it has a soothing effect. You don't have to buy glitz. Simply, take a rest — it's not that complicated."
The major annual highlight of the Girlfriends' Getaway Weekend is a concert by a female performer. This year it was Pat Benatar. At 60 years of age, Benatar is still going strong, and she had concert-goers singing and dancing everywhere on the floor and in the aisles. Although it had been some time since I listened to Benatar's lyrics, I managed to pull them out of a hat and sing along myself.
For some girlfriends, the weekend provides a welcoming reprieve from the realities of challenging personal times. Susan Bradley, a 52 year old single mother of a 25 year old son, who lives in Oshawa and works in Toronto as a financial analyst, attended with 30 of her closest friends. "This was the best girls' weekend ever, and believe me, we've had many," says Bradley, whose husband of 20 years left about a year ago, a time in her life that she has described as "rough." "The event was so well organized and the staff and the town of Huntsville couldn't have been more welcoming. We will definitely be back next year and I expect our number to be closer to fifty the next time."
Although not officially part of the Girlfriends' Getaway Weekend programming, coinciding with the event was the Huntsville Festival of the Arts featuring Canadian legend, Liona Boyd, in concert, who I later sat down with for an interview for a forthcoming episode of Extraordinary Women TV.
Overall, it was a fun weekend and I can not wait to see what is planned for next year.
About Deerhurst Resort: Acquired by Skyline Hotels & Resorts in January 2011, Deerhurst Resort is one of Canada's most significant historic properties. Since 1896, Deerhurst has welcomed vacationing families and couples, as well as meetings and conference guests to the lakeside retreat. Most recently, hosted to international leaders during the 2010 G8 Summit.
**Photos credit: Andrew Hiorth, Mississauga Photography Studio & Gallery Inc.