Since today is World Elephant Day, I'd to tell you a story about my encounter with an elephant in northern Thailand.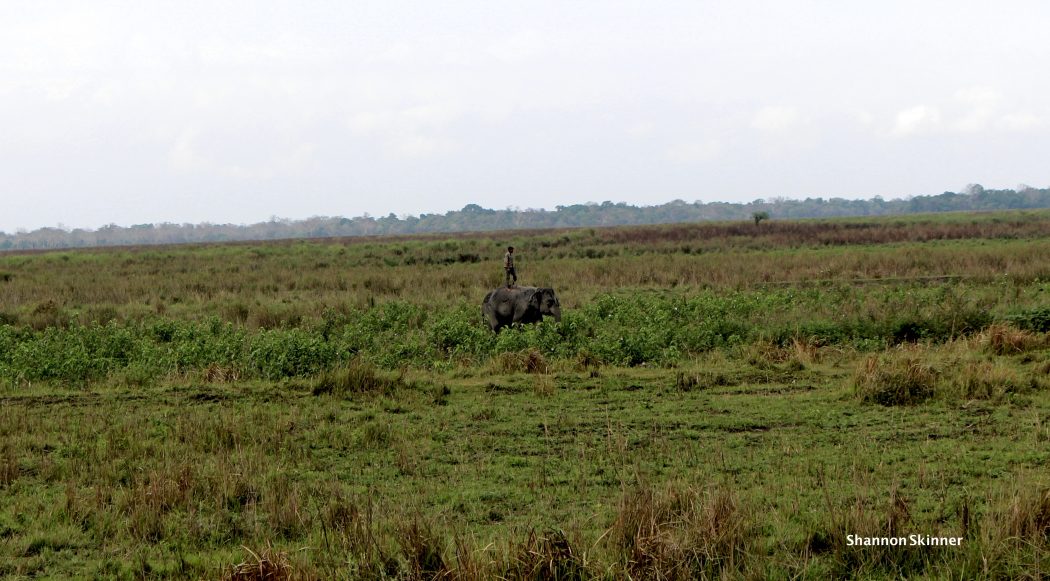 Photo taken in Kaziranga National Park, India (not Thailand)
* * *
"Elephant!" yells the guide. "Run!"
I didn't see it coming.
It is the '90s, when Thai food is still a novelty in Toronto. My boyfriend and I love the food so much that we decide to backpack across Thailand so we can eat more of it.
We plan, buy the best gear and are well researched and organized by the time we arrive in Bangkok. After a short stay, we take a train to Chang Mai (the Golden Triangle) for trekking and find a trekking company. We sign up for a four-day intensive trek, but the company decides to compress it into three days. Plus, last minute, they combine two groups into one large group. So we have a very large group with two guides for a shorter amount of time to cover the same amount of terrain.
The group comprises of people from France, Denmark and Italy, and I can't recall where else. The hike gets increasingly more challenging. One of the French women keeps holding us back, claiming health issues. This continued stopping holds up the group, too large a group for our trek, considerably and we are late getting to our stops.
So we are in the rainforest with canopies of trees. I am checking out the foliage and pineapples. It is so quiet I could hear the sound of my own heartbeat.
There is a sudden commotion with the people ahead of me, including my boyfriend and our guides.
"Elephant!" yells the guide. "Run!"
I didn't see it coming. But everyone else in my group did, including my boyfriend who is already running ahead to get away.
Boom! Boom! Boom!
The sound of the elephant's angry feet on the floor of the jungle as it charges toward me drowns out the beating of my heart. And I run. I run with all my heart, my being, my backpack, my everything. I don't know where I am going.
Boom! Boom!
Just a matter of feet away from me now, the elephant is chasing me as I run into a small river and across to the opposite bank. The elephant crashes its head into the wall of bamboo that lined the river, trying to get to me. I could not see my boyfriend, anywhere. He was well ahead and didn't wait for me. You know, "each man for himself" kinda thing.
Once I am out of danger and the elephant decides to stop, I finally catch up with my beau. I'm not even mad that he didn't wait for me to get to safety.
"Did you at least get a photo?" I ask him. I think that was the least he could do considering he was a pro photographer.
Turns out he did not. And while I will never have that ranging elephant captured on film (it was film at the time), so I cannot show you it, it is a moment I will not forget. And one day when the time is right, I will write the full story.
The lesson: no matter how much planning you do, you cannot plan for surprises.
Thank you for taking time to read my Sunday story.