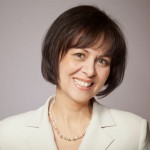 SHANNON'S TRAVEL BAG: Travel Tips for Women
Shannon Skinner takes in Horseshoe Resort's Fit Chicks fitness retreat.
_____________
This Spring, I officially became a "chick" — not a term I would associate myself with since, well, when I was sporting short skirts and Dr. Martens boots many moons ago. That all changed when I joined dozens of women at Horseshoe Resort's Fit Chicks fitness retreat, organized by Fit Chicks, a Toronto-based, women's-only fitness and healthy lifestyle company, which took place on March 21-23, 2014. The participants, or "chicks" as we would be called, came from across Ontario and were of all ages, shapes and sizes. From enthusiastic marathon runners to career women to stay-at-home moms, we all became chicks on a journey of health and wellness.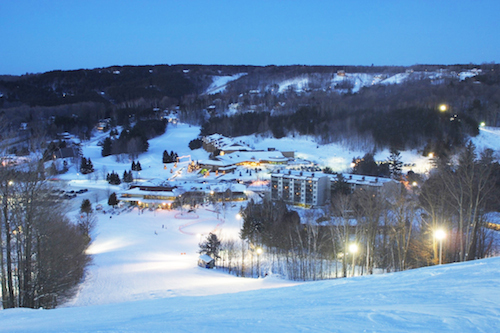 (Horseshoe Resort)
When I first learned of
Horseshoe Resort's Fit Chicks fitness retreat,
the idea of spending a weekend focusing on my health and nutrition at an adventure-oriented destination that is driving distance from my home spoke to me. And while I had skied at Horseshoe many times in years past, I had never stayed at the resort, which has recently undergone renovations and expansion (with more in the works), and it seemed like the perfect time to experience it.
"What inspired us to create weekend health retreats was that there was nothing like this out there," says Amanda Quinn, co-founder of Fit Chicks, which she founded in 2008 with friend, Laura Jackson. "There are plenty of weekend yoga retreats, but no weekend getaways focused on overall health and wellness for women that encompass a variety of fitness classes, or nutrition workshops and wellness aspects including meditation and yoga. We know from our own experiences that without embracing all areas of wellness, you be left off-balance and not able to fully reach your potential and goals."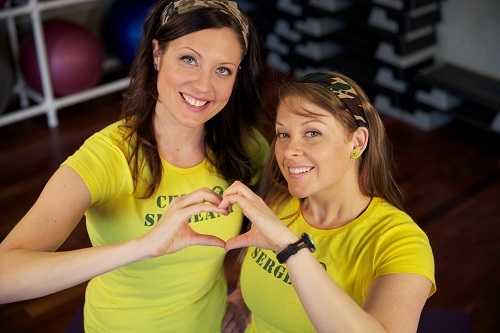 (Fit Chicks Laura Jackson and Amanda Quinn)
Located only about one hour north of Toronto,
Horseshoe Resort
, known for its multitude of four-season activities. "Horseshoe Resort approached us about using their property and outdoor offerings as our 'Canadian gym,'" says Laura Jackson, Fit Chick co-founder. "It was the perfect location for our chicks.
The Horseshoe Resort's Fit Chicks' fitness retreat package included: a Zumba fitness party, an outdoor fitness challenge, a guided snowshoe hike, a range of indoor fitness classes such as interval-training, yoga, workshops on nutrition and meditation workshops, healthy "Fit Chicks-certified" meals and snacks, and two-nights accommodations at Horseshoe Resort. At a package cost of $499 (per person), the Horseshoe Resort's Fit Chicks fitness retreat is great value.
Beyond the retreat, Horseshoe Resort offers adventurous activities such as treetop trekking, Yamaha riding and Segway adventures, Hummer tours, skiing, snow tubing, snowshoeing, mountain biking, and horseback and pony rides. As well, its Adventure Park offers family-friendly activities like a rock climbing wall, a Ogo run (like zorbing), bungy and a zip line, and more.
Says Horseshoe Resort's General Manager, Sean Billing, a man who speaks passionately about his job and lifestyle choice: "Fit Chicks' retreats not only align perfectly with the healthy, active life-style that the resort promotes, it exposes our products and services to key decision-makers. The 'chicks' who participate bring family, friends and meetings to the resort."

(Horseshoe Resort's Treetop Trekking)
Fit Chicks
' founders, Laura Jackson and Amanda Quinn, have been friends since Grade 9. Like so many teens, they both experienced body and self-esteem image issues, until an "aha" moment years later would have them leaving corporate jobs for an inspired journey of helping thousands of women change their lives – from the inside-out. Today, Fit Chicks offers 8-week, award-winning bootcamp-style programs at more than 20 locations across Canada; as well as weekend fitness retreats, at-home workout DVD's, personal training, nutrition counseling and more. They are hosts of
Shape Up with Fit Chicks on Rogers TV
, and provide free resources on their blog (
fitchicks.ca
).
"Our overall vision for Fit Chicks is to spread our healthy love around the world," says Jackson, who has been preparing for her first fitness bikini competition. "We want to help every woman feel excited and empowered to take control of their healthy journey.
I had the opportunity to speak with several 'chicks' about their experiences. Some came to lose weight; others to get back their fitness mojo after the long winter. Such as Lisa Purves, a 40-year old insurance industry professional and avid marathon runner who lives in Toronto with her husband. This was Purves's fourth Fit Chicks' retreat. "I loved the idea of a weekend devoted to fitness, healthy food and wellness, and I had never been to Horseshoe Resort before," says Purves. "It's been a great way for me to try some winter activities I hadn't tried before, like snowshoeing. Although I know a lot of the attendees come for a girls getaway, I look forward to these retreats as the perfect 'me' weekend."
Grace Lang, a Beamsville, Ontario resident who works in Toronto as a chartered accountant, was searching for a fitness retreat when she came across Fit Chicks' website. For Lang, the highlight of the retreat was the outdoor challenge. "I'll never forget the 'building a snow chick' challenge where one of my teammates used her bra for it. That was teamwork — and we won."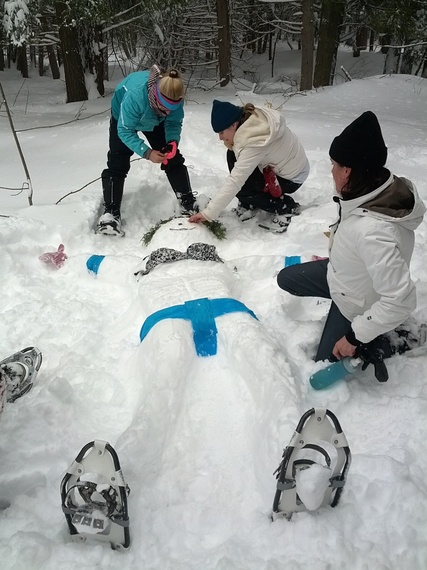 (Fit Chick retreat participants building a 'snow chick')
I personally got a lot out of the nutrition workshops, conducted by Jackson, an avid cook and lover of whole food. "Cooking is probably the biggest lost art in our society," says Jackson. "It used to be about celebration, but now it's about counting calories. You need to start with a food philosophy." That food philosophy, says Jackson, is as simple as eating food grown and made with love (think
Like Water for Chocolate
). Watching Jackson demonstrate how to make almond milk, and whipped frozen banana and peanut butter that tastes like ice-cream, but without the fat and calories, while sharing invaluable nutrition facts truly encouraged me to learn more about how to best eat whole, or "clean," food.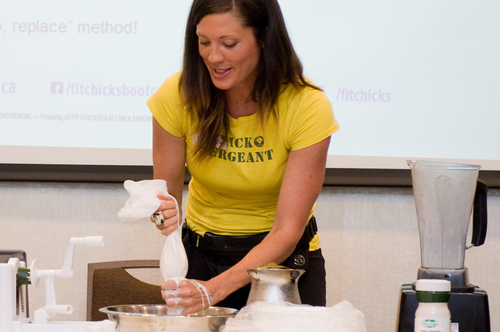 (Laura Jackson demonstrating how to make almond milk)
And fellow chick, Silvia Alonzi, a Torontonian who is self-employed and mother of 2 daughters in university, attended with her sister and had this to say: "It was a great experience with female bonding, fun workouts, positive attitudes and delicious food — what's not to love?"
To complete my fitness weekend, I experienced another gem of Horseshoe Resort: Shizen Spa, the signature spa brand of the resort's owners, Skyline Hotels and Resorts (all four properties have a Shizen Spa, the name inspired by the Japanese word for nature). I had the spa's signature pedicure that included exfoliating my skin with a lotion that contained raspberry seeds, a massage with hot stones, followed by dunking my feet in warm, squishy paraffin wax. Sitting in a chair overlooking the resort's indoor swimming pool area, it was a super relaxing 75 minutes. It is great value for $80 and the perfect ending for a fitness weekend, leaving me with happy feet indeed.
If you are interested in attending a women's fitness retreat, be sure to check-out Horseshoe Resort's website for the upcoming Fit Chicks' summer retreat in June 2014.
About Horseshoe Resort: Horseshoe Resort is an inviting Ontario destination offering four seasons of fun for thrill-seekers and adventurers alike, comprising 29 slopes and 35 km of groomed Nordic trails, two award-winning golf courses, a full-service Shizen Spa, 140 guest rooms, two restaurants, and 13,000 square feet of meeting space. Owned by Skyline Hotels and Resorts, it is conveniently located just an hour north of Toronto, and has newly renovated guest suites, eclectic dining options and outstanding outdoor activities.
Shannon Skinner is the Executive Producer and Host of Extraordinary Women TV, an author, speaker and media consultant, and writes the occasional series of travel articles for women.
* photos of Horseshoe Resort courtesy of Horseshoe Resort; all other photos courtesy of Fit Chicks