Extraordinary Women TV recently had its presence at the Toronto Women's Expo, a two-day event dedicated to helping women get empowered in their lives, both personally and professionally.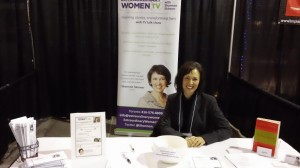 There was a terrific line-up of speakers, such as the lovely Sophie Boyko, who gave an energetic talk on getting your business online; "Fit Your Style" beauty, health and wellness expert, Jennifer Ettinger, also energized the crowd; and renowned psychotherapist, Nicole McCance, who I have interviewed in the past about her inspiring journey to success.
I had the opportunity to speak on stage on the topic: Listen to Your Heart – Follow Your Dream. This is a topic near and dear to my heart, and one I cover more extensively in my book The Whispering Heart: Your Inner Guide to Creativity.
Check out a clip from my presentation.