This March, I attended a dinner in Saskatoon where I received the University of Saskatchewan's College of Arts and Science, Alumni of Influence Award 2014. It is the first award of this nature that I have received, and I am both honoured and humbled.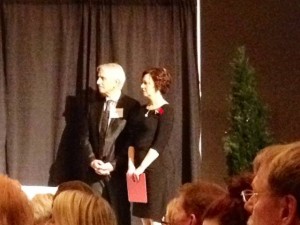 At the end of the evening, I gave an off-the-cuff speech after receiving my award. The benefit to being impromptu is that I can be natural and authentic. However, the drawback is that I now can't remember what I said, so I can't post my speech here

I talked about how I wasn't a stellar student and was more interested in the social life university offered, and for years beat myself up because I didn't get stellar grades and that, after reflection and some acquired wisdom, I now realize that was part of the education. When I graduated, I didn't know who I was, I didn't know where I was going – and I was scared. But I had a vision for a life for myself and found the courage to follow that vision, which took me to London and then Toronto – eventually creating Extraordinary Women TV.  Today, I know what my future held, but I didn't know it then.
After I spoke, a young student attending the dinner approached me to thank me for sharing my story, because the night before he felt upset that he didn't know where he was going after graduation and in his career, and my speech gave him reassurance that is it okay to not know. That touched my heart.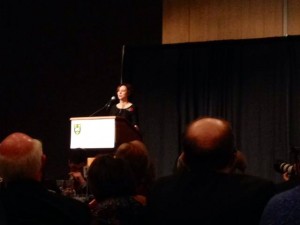 It was great to be back on campus after more than 20 years. So much has changed and so much has not in over two decades. I remember the 10-story Arts tower looking so tall when I was a student, and going back as an adult it looked so small! I was treated to a lovely lunch at the University Club with many of the Arts & Science who's who in attendance. Again, when I was 19 years old I would never have imaged I would be having lunch in the University Club. So while it was truly an honour, I was also humbled.
One of the highlights of going back to attend the awards ceremony is that I had the great pleasure of being a guest lecturer for the MFA-writing students on the topic of Unleashing Creativity, one of my favourite keynotes. It happened to be in the same room that I took many of my women's studies courses while a student there. It was so interesting to see the room from the standpoint of a speaker rather than a student.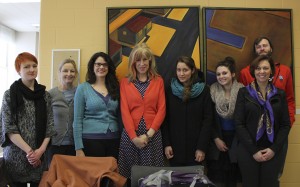 I am truly grateful for this honour and for the overall experience. It shows me that you never know where life will lead you and what's more important than having stellar grades is to have a vision for yourself and find the courage to follow that vision.
Special thanks to the Awards' committee, judges and organizers, the University of Saskatchewan and College of Arts and Science administrators, my family and to everyone else who supported me on this journey, including my broadcaster, Rogers TV Toronto, who gave me my start.