This is the first in a series of articles about my travels to India…
My unexpected fame at the Rongali Festival in Assam, India
I have been traveling across North East India for the past 10 days, with my first stop in Guwahati, the largest city in Assam, a major tea region and also home to Kaziranga National Park UNESCO heritage site. I came to Guwahati to attend a special arts & culture festival, Rongali (meaning "colours"), which honours the start of the New Year here.
A combination of a happily hectic travel schedule and limited internet access means I am only now able to post my articles and blogs – from my hotel in Kolkata.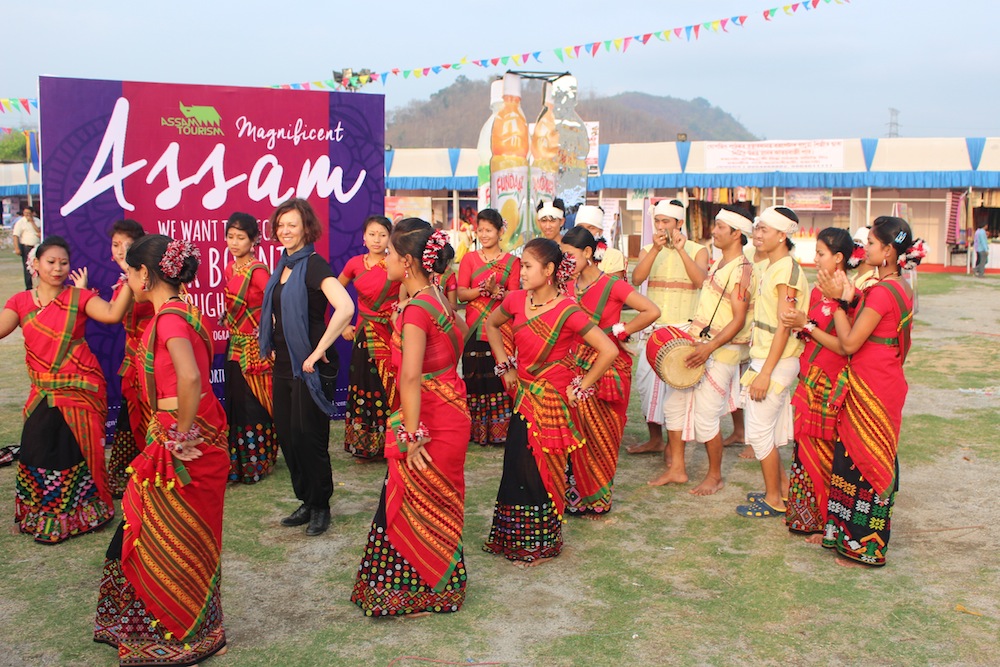 (that's me learning to dance with the Mising Tribe)
What I discovered is that attending festivals which highlight the arts and culture of a community is a great way for travellers to experience a place and people in a short period of time. In a way, it is like "one-stop-shopping." On April 17-19th, the Rangoli Festival brought together many of the regional tribes and community members to showcase their dance, music, art, crafts, food and traditional sports. It also featured a number of well-known Bollywood and Assam singers, artists, actresses, fashion designers and many other local celebrities.
Then there was my unexpected fame.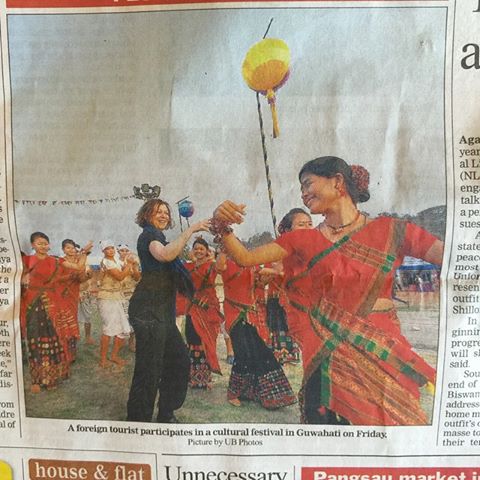 (India Telegraph)
The North East of India is an area that is relatively unexplored — and vast — and many people, particularly those living in smaller communities, are not accustomed to seeing foreigners. I found myself being celebrated and, to surprise, also became a local celebrity. Many wanted their photos taken with me, and even the media were interested, which I found myself, or my photo, in at least 3 major daily newspapers and also doing several TV interviews about my experience at the festival.
Oh, there is also the Assam Tribune:
https://www.assamtribune.com/scripts/detailsnew.asp?id=apr0415/city051
A fellow journalist, my friend Tom Peters, who also attended the festival and traveled with me from London to Gawahati, said it best: India is a place where photos best tell the stories. More to come…
And now I must get to the airport for the next leg of my trip: Delhi!