I don't know about you, but for me this has been an interesting (understatement) week filled with unexpected and sometimes unsettling events. The most unsettling of all, however, was that I had been scammed online by a real-world scam artist.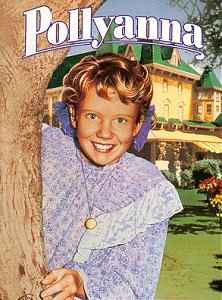 Now, after feeling a sense of invasion, and blaming myself for putting myself in that situation, I thought of Pollyanna.
If you recall from your childhood reading, Pollyanna, the character from the children's lit classic of the same name written by Eleanor H. Porter, had infectious optimism. Pollyanna's philosophy of life revolves around the "The Glad Game," which is based on finding something to be glad about in every situation. Pollyanna, who lives with a miserable aunt who is quite strict with her, is the eternal optimist. As the story unfolds, the sunny and sincere Pollyanna teaches others around her to also play the Glad Game. And that energy becomes infectious and transforms her New England town into a wonderful place for others to live.
But one day Pollyanna gets hit by a car and loses the use of her legs, and her optimism and finding something to be glad about is put to the test. The people in her life remind her of her Glad Game principle: that there is always something to be glad about. So, even though she can no longer use them, she decides she will be glad that she actually has legs.
I remember being touched by this story as a child. I could relate to Pollyanna and, in a way, I wanted to be like her. I remember my heart being torn when, as the story unfolded, she lost the use of her legs. I also recall thinking there could not possibly be anything to be glad about if you could not walk. Eventually, she regains the use of her legs and realizes what she has to be grateful for.
Back to my shyster.
After I realized I had been scammed, I reflected back on a recent conversation I had over dinner with some close friends, who told me they thought I am too nice of a person, I tend to focus on seeing the goodness in people too much, and they worry that people take advantage of me because of that. I appreciated their thoughtfulness — and I wondered if that could be true.
And then I remembered Pollyanna.
So what did I do? I played my version of the Glad Game. I realize that scam artists — I mean real scam artists, you know the kind whose intentions are to use their honed skills to manipulate you to achieve an end result, whatever that is — serve a purpose. My eyes were opened. I have since made some security adjustments and tightened up a few loose ends that had been on my mind for a long time to do. And playing the Glad Game made me feel grateful for rediscovering some things that are important to me, that I had simply forgotten about.
So, thank you, Scam Artist. There is, indeed, something to be glad about in every situation.
*photo credit: artist unknown, thank you for its use