The Portuguese archipelagos Azores, located off the coast of Portugal, are 9 volcanic islands known for lush vegetation, nearly perfect temperature all year long, hot springs with therapeutic properties, exotic fruit, cheese and seafood. While out in the Atlantic, they are surprisingly relatively easy to get to from Toronto. A direct flight with Azores Airlines from Toronto got me to Ponta Delgada, Sao Miguel, the largest of the islands, and in just 4.5 hours. And then I was in paradise.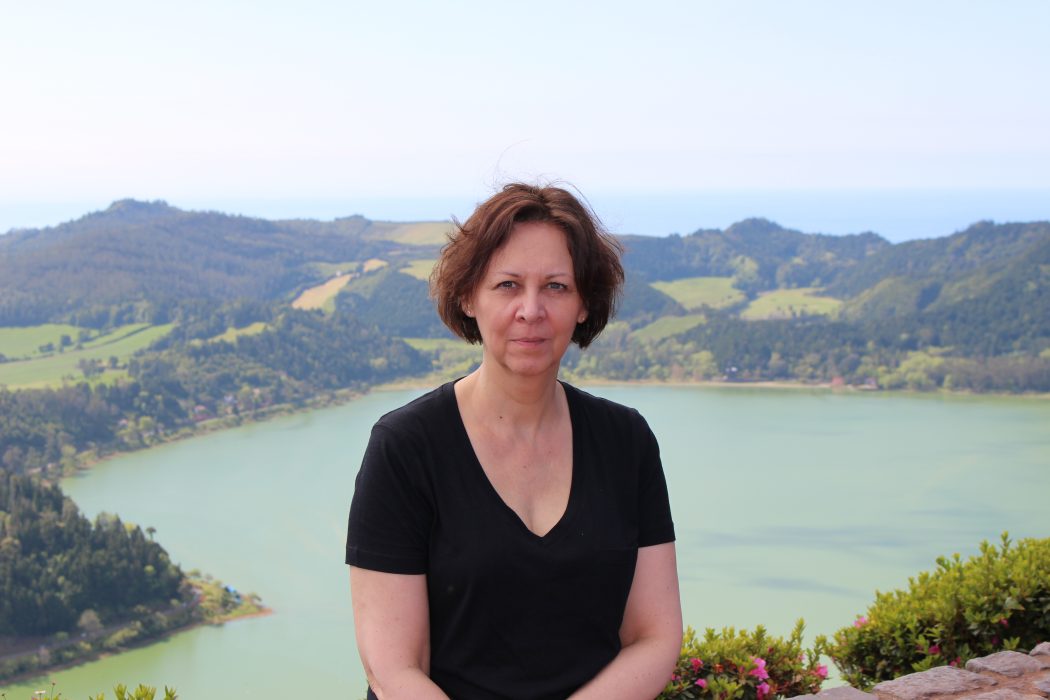 Furnas, Sao Miguel
In Furnas, a volcanic valley about an hour from Ponta Delgada, my travel pal and I checked into the relatively secluded Furnas Boutique Hotel that offered a relaxing therapeutic thermal pool and spa, and a restaurant in a market-style setting. The air was usually chilly, but that didn't stop many guests from taking a dip.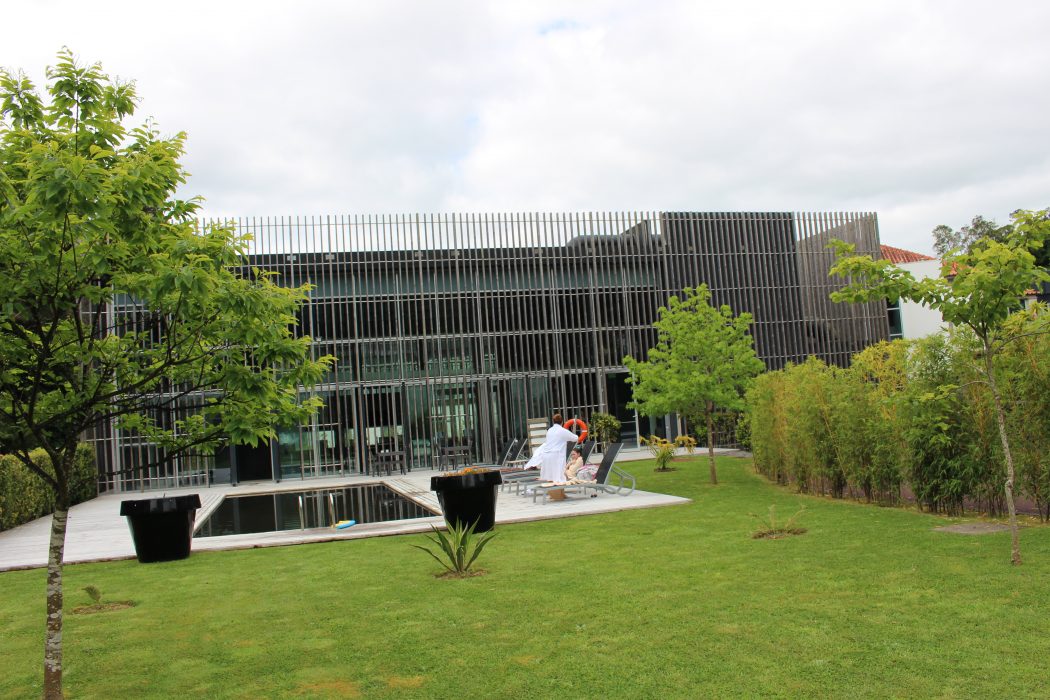 Furnas Boutique Hotel, outdoor pool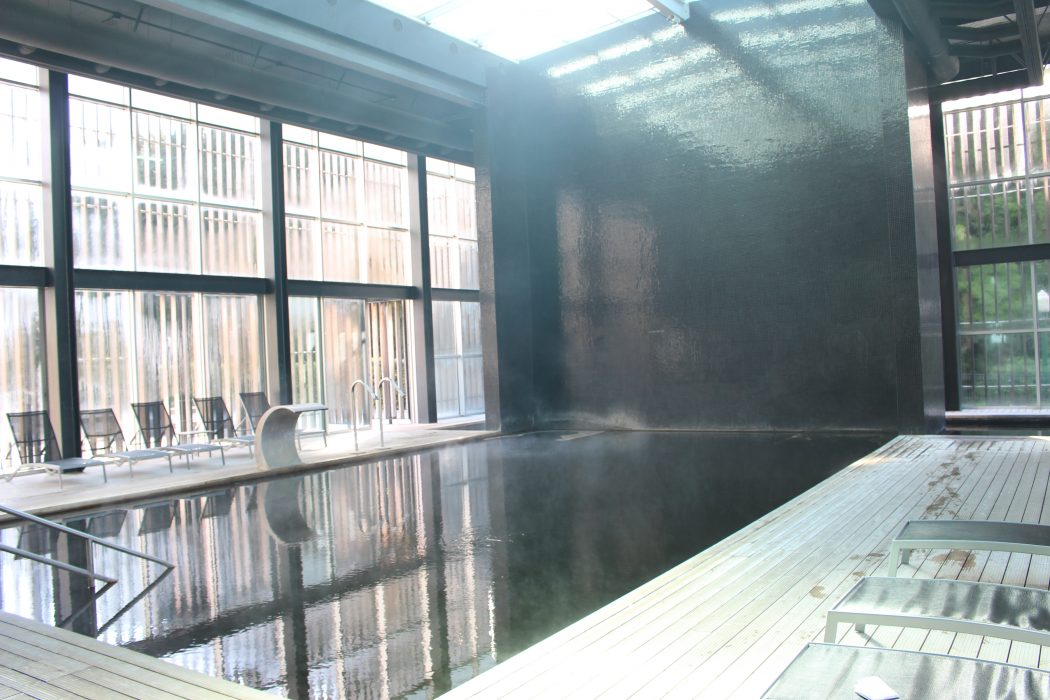 Indoor thermal bath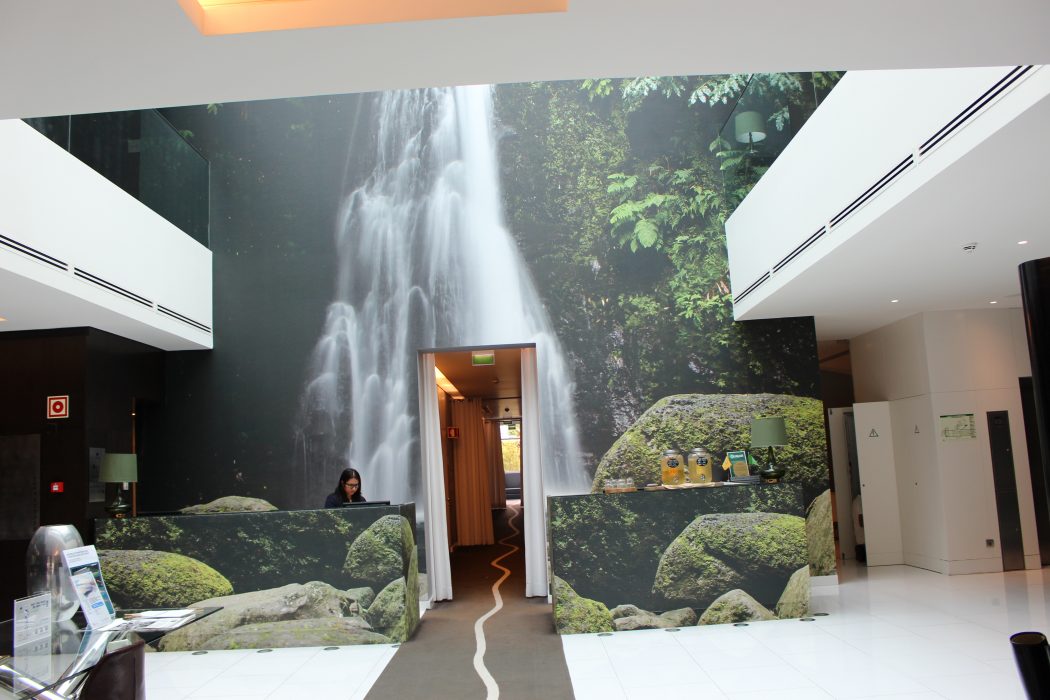 Reception
A short walk took me to the Terra Nostra Park, a beautiful private garden located at the Terra Nostra Hotel that is open to the public. It has a thermal pool (don't be thrown off by the water's brown-ish colour) that attracts people for its healing properties. After, I enjoyed an hour-long aromatherapy massage in the hotel's spa.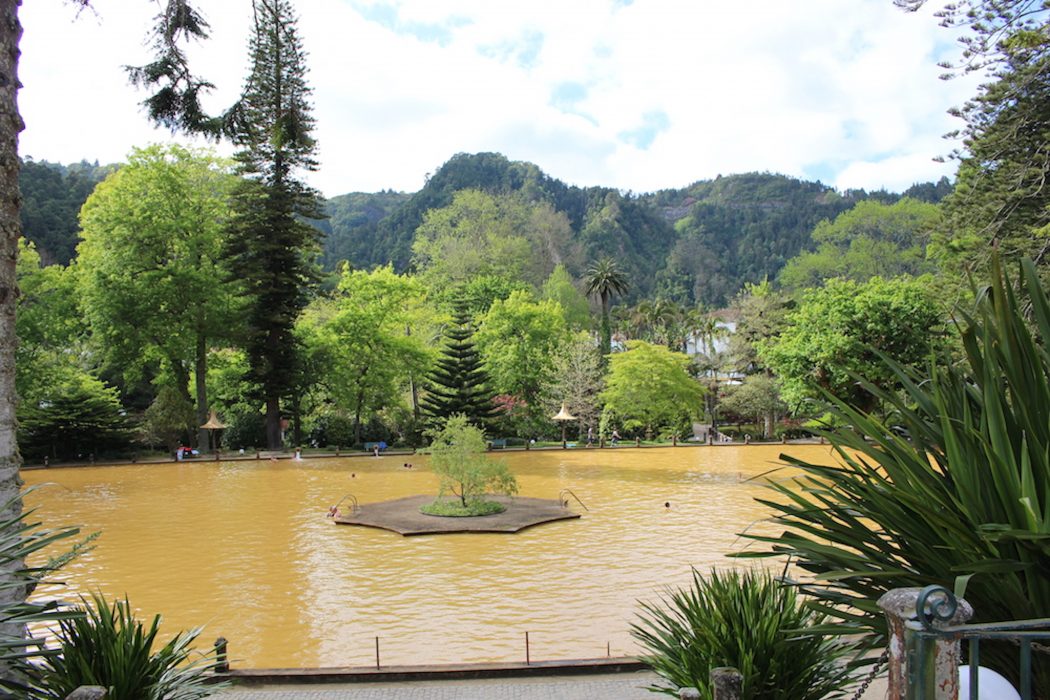 Thermal pool (water is naturally brown-ish)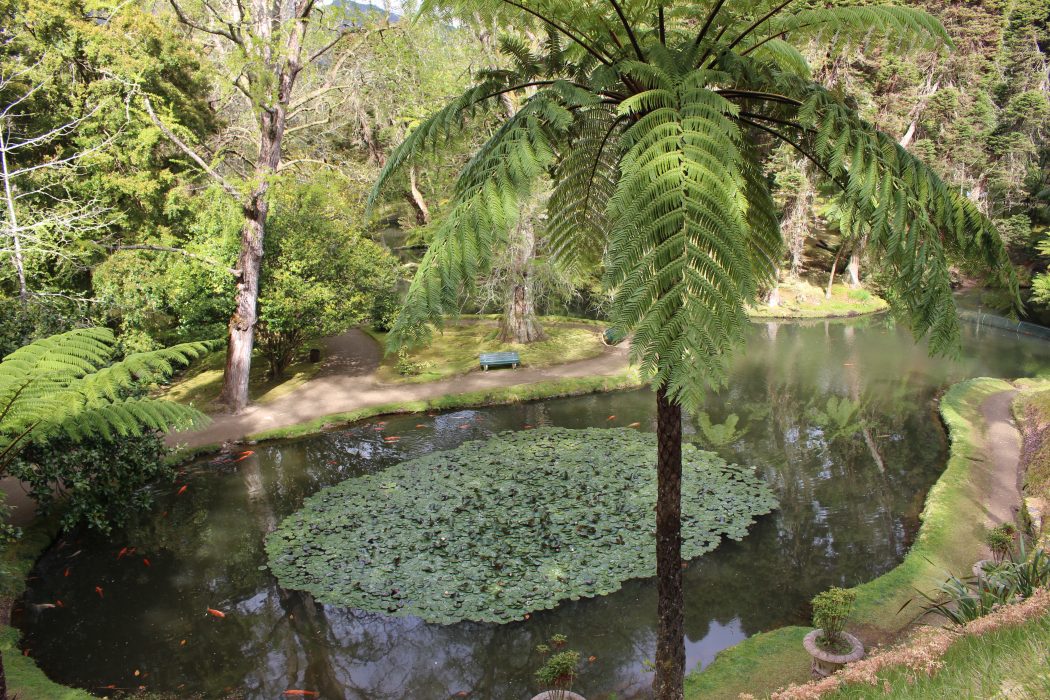 Then in was dinner back at my hotel, the Furnas Boutique Hotel's restaurant, where I enjoyed a vegetarian risotto, which was served in a hot pot.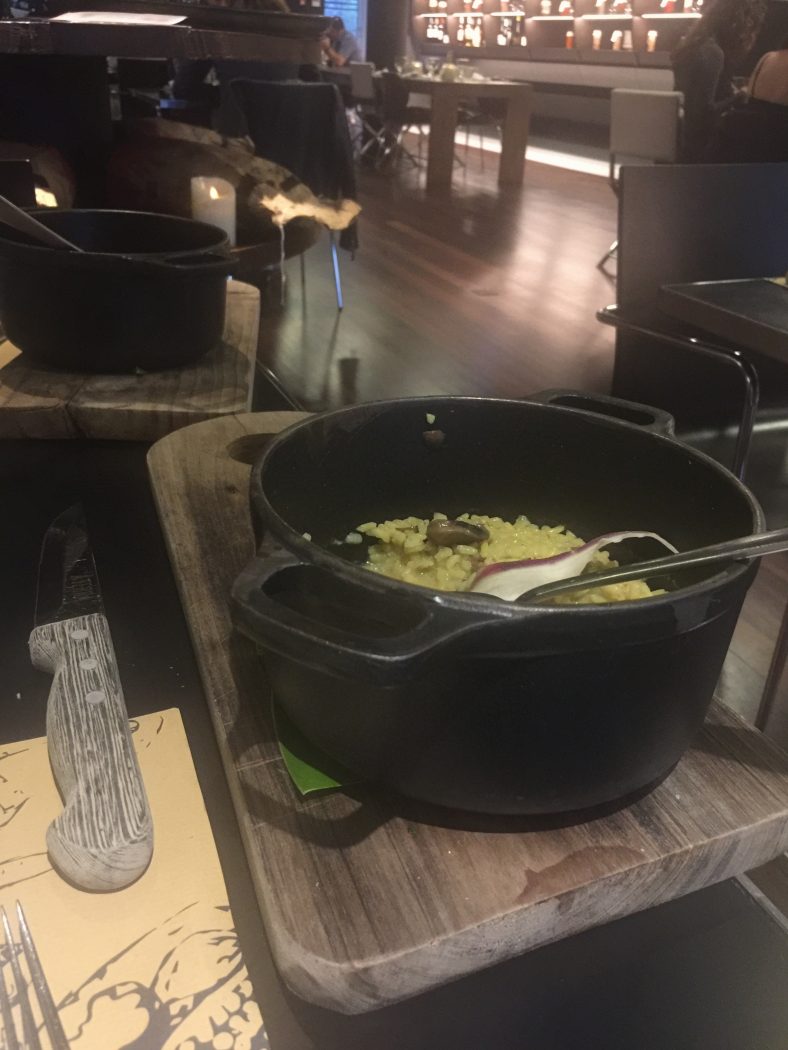 Vegetarian risotto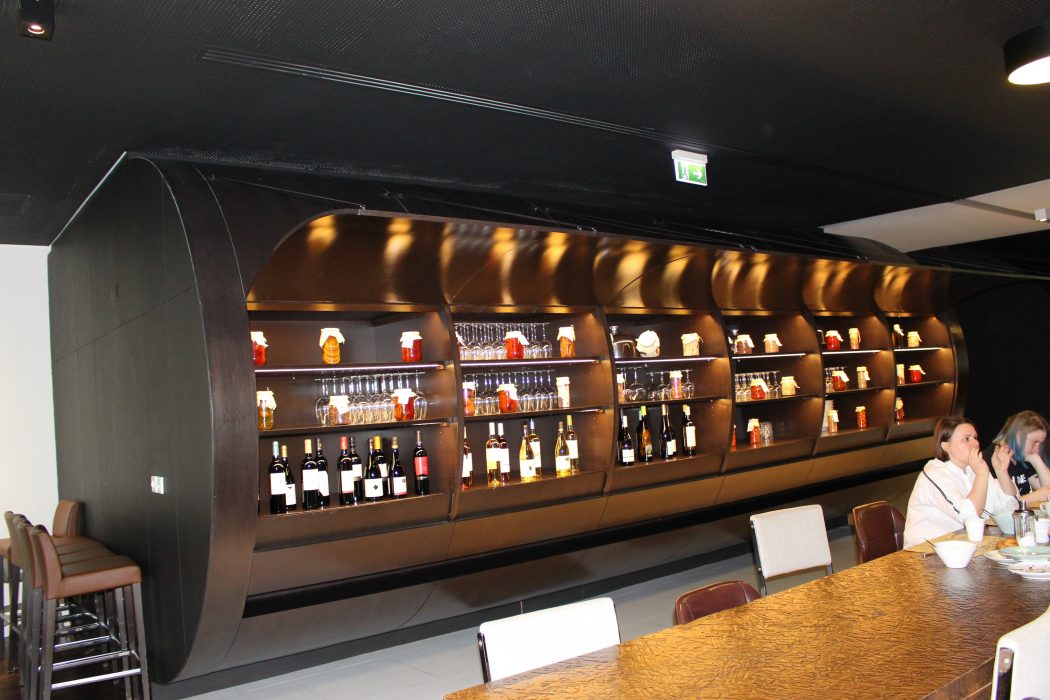 The restaurant's sarket-style decor
An island driving tour, with our local guide, Jaime Furtado, offered sights of Lagoa do Foga (Lake of Fire), a crater lake from a dormant volcano; Furnas Valley's spewing hot springs; and the national park da Ribeira dos Caldeiroes and waterfall.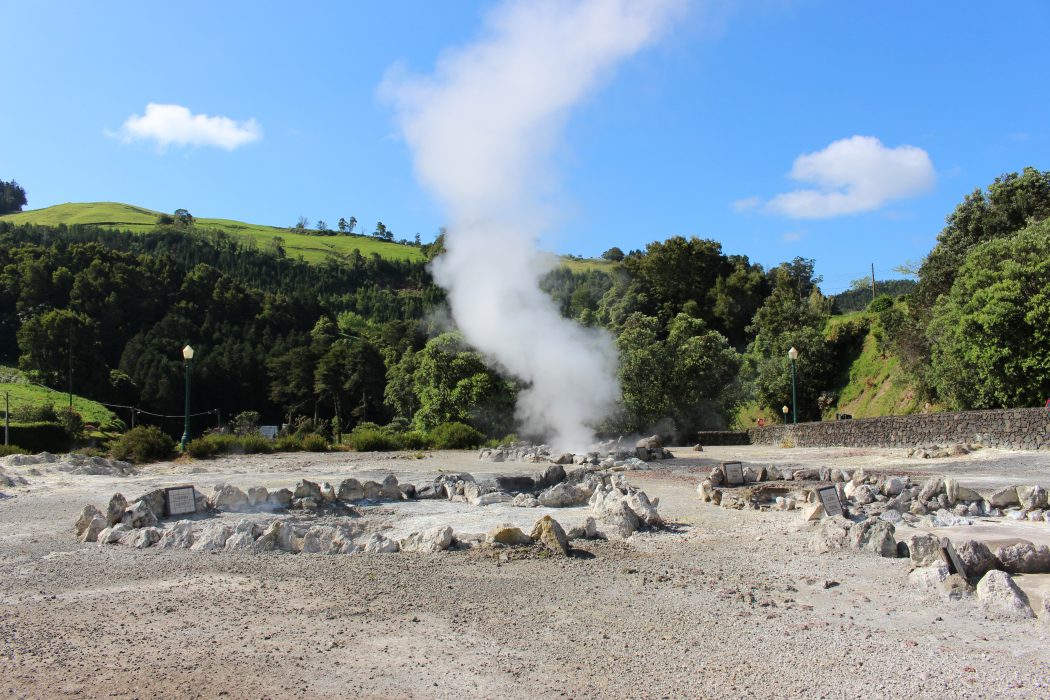 Furnas geysers 
We had lunch at a quaint family-owned restaurant, Cantinho do Cais, in a village (population 650) along the coast, the São Brás parish in the district of Ribeira Grande, and is popular with the locals.  I tasted Azorean soft cheese topped with picante sauce (very Azorean); grilled limpets; potatoes marinated in red wine; grilled fish; beans in a tomato sauce; a creamy vegetable soup; tomato and corn salad; and for desert traditional Portuguese custard tarts (pastéis de nata) . The meal was paired with Frei Gagante (2016) white wine from Pico island, where Azorean wine is produced.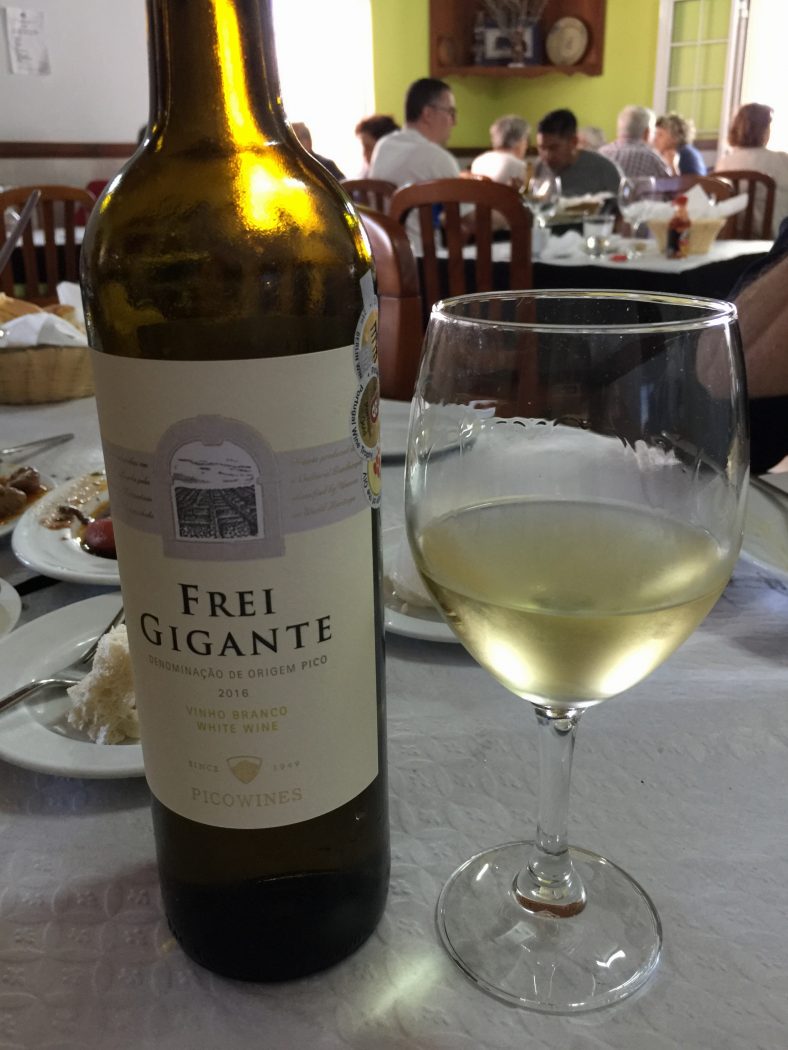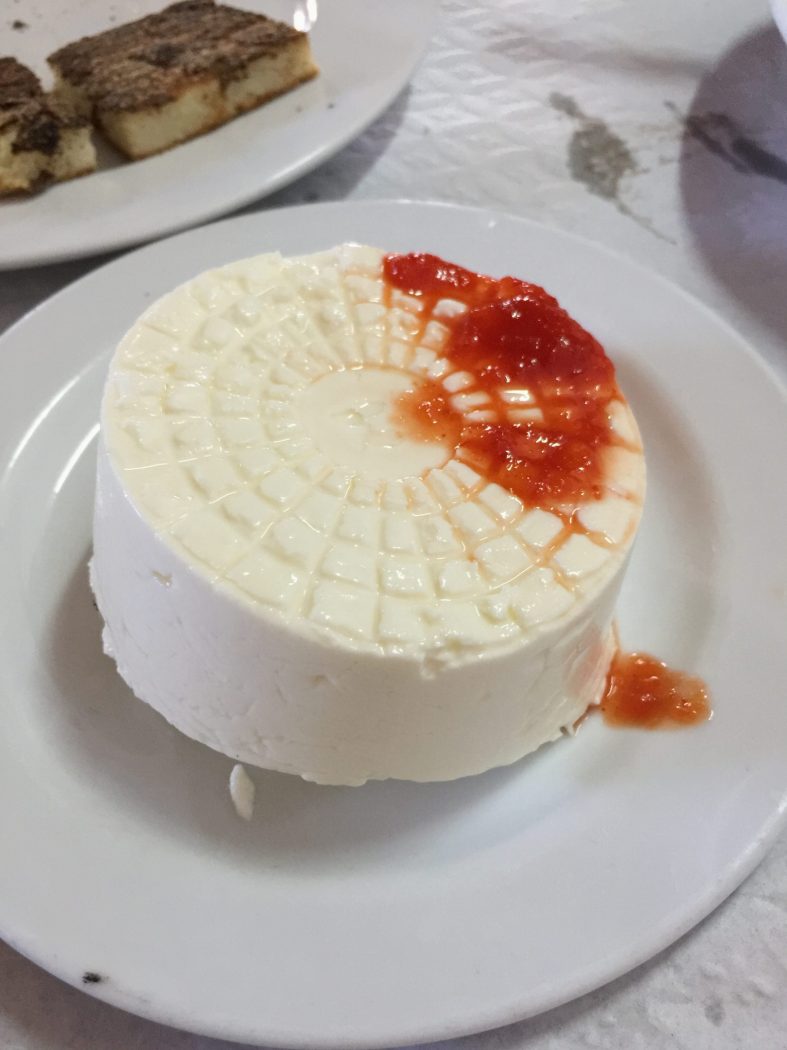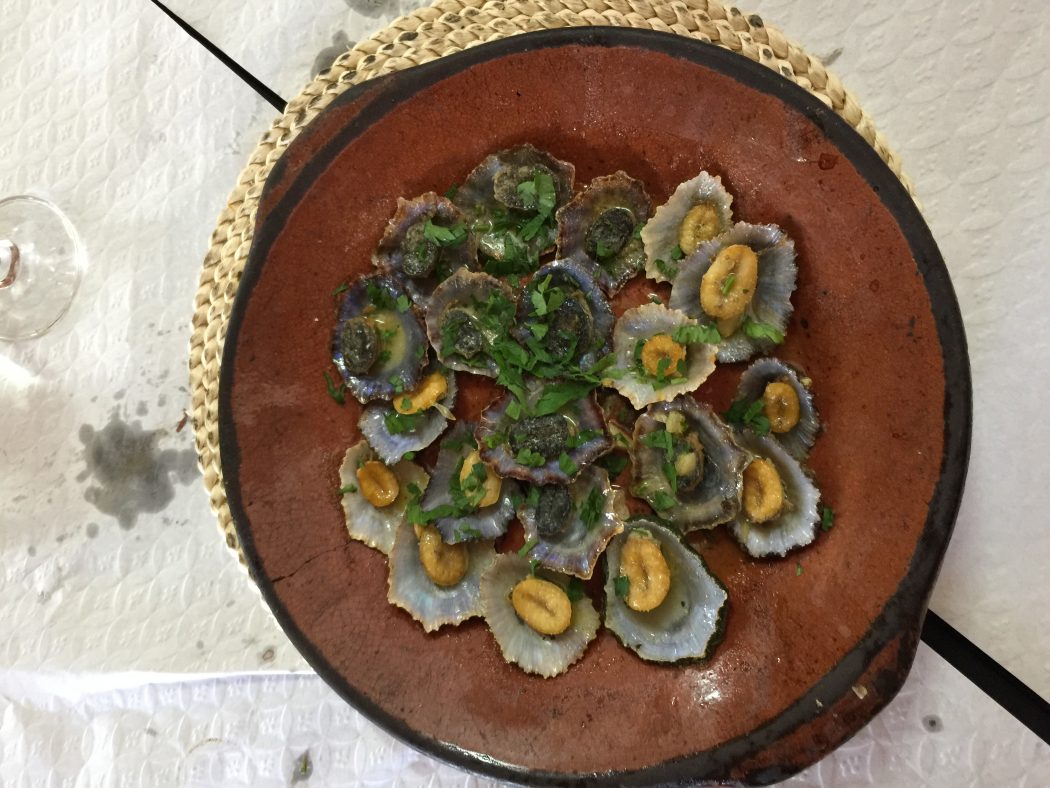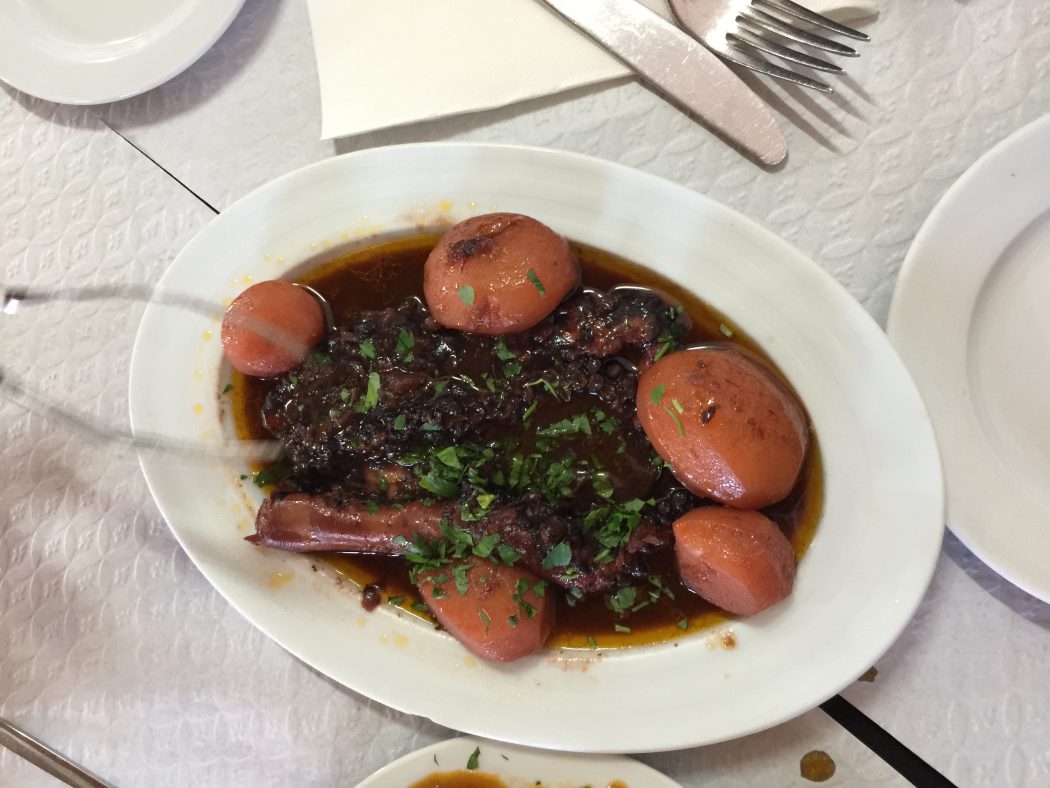 Potatoes cooked in red wine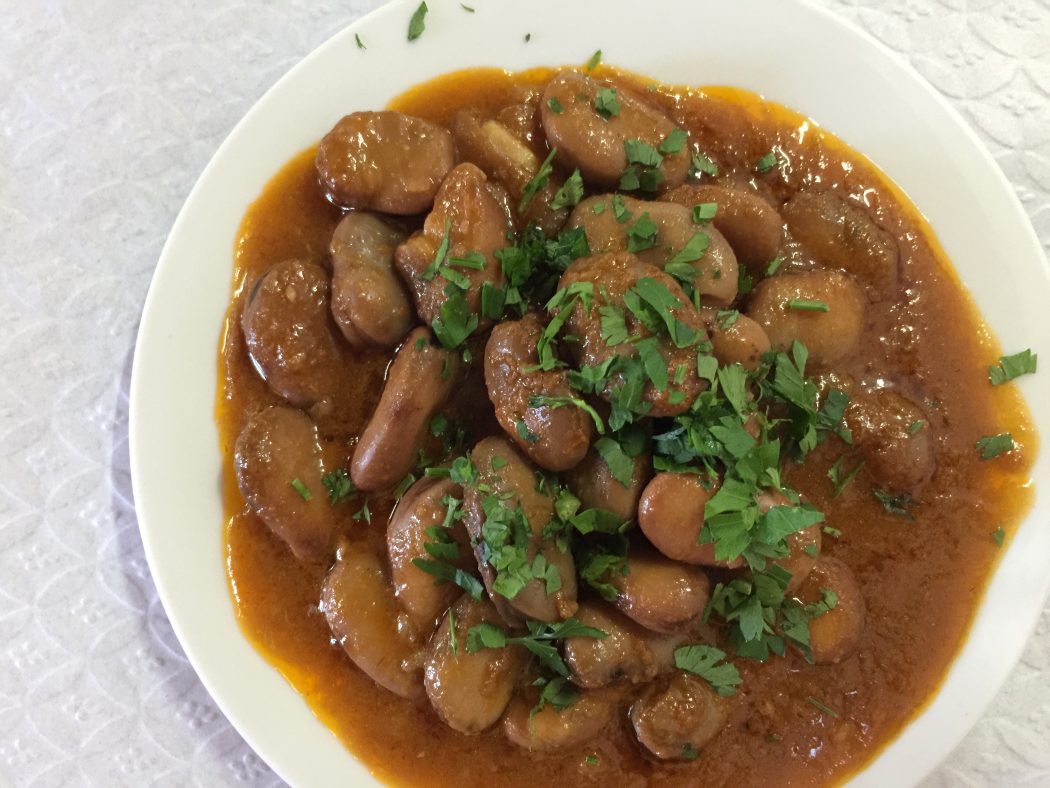 Beans in tomato sauce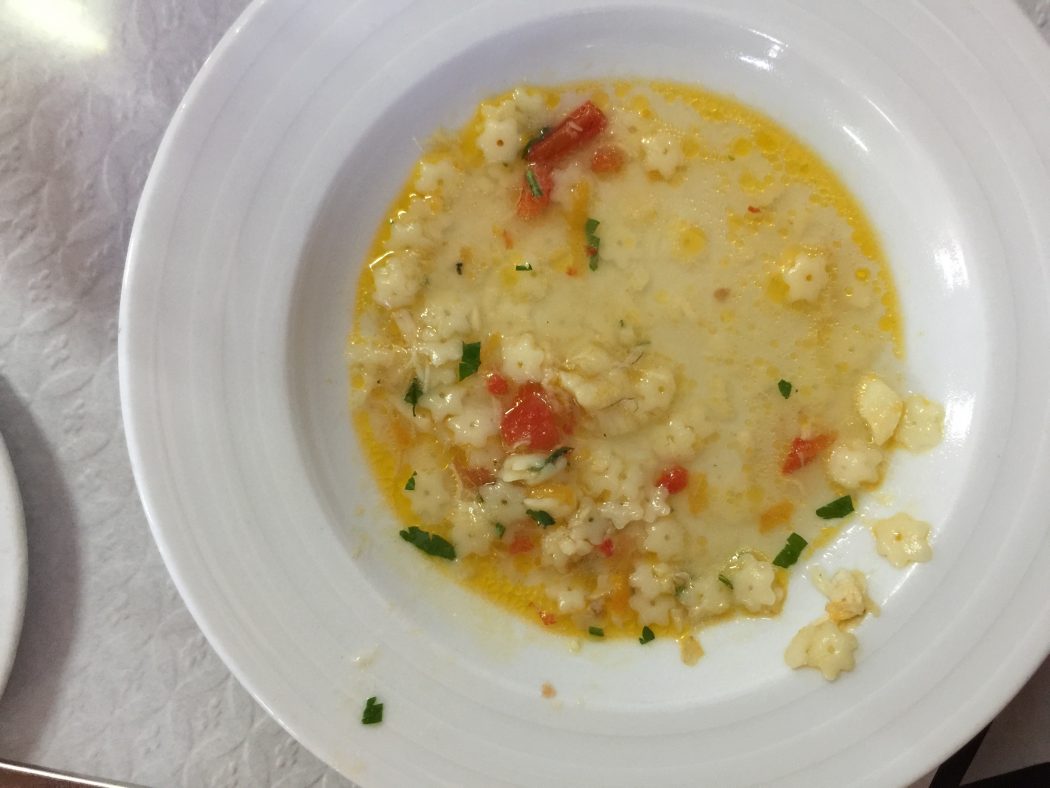 Soup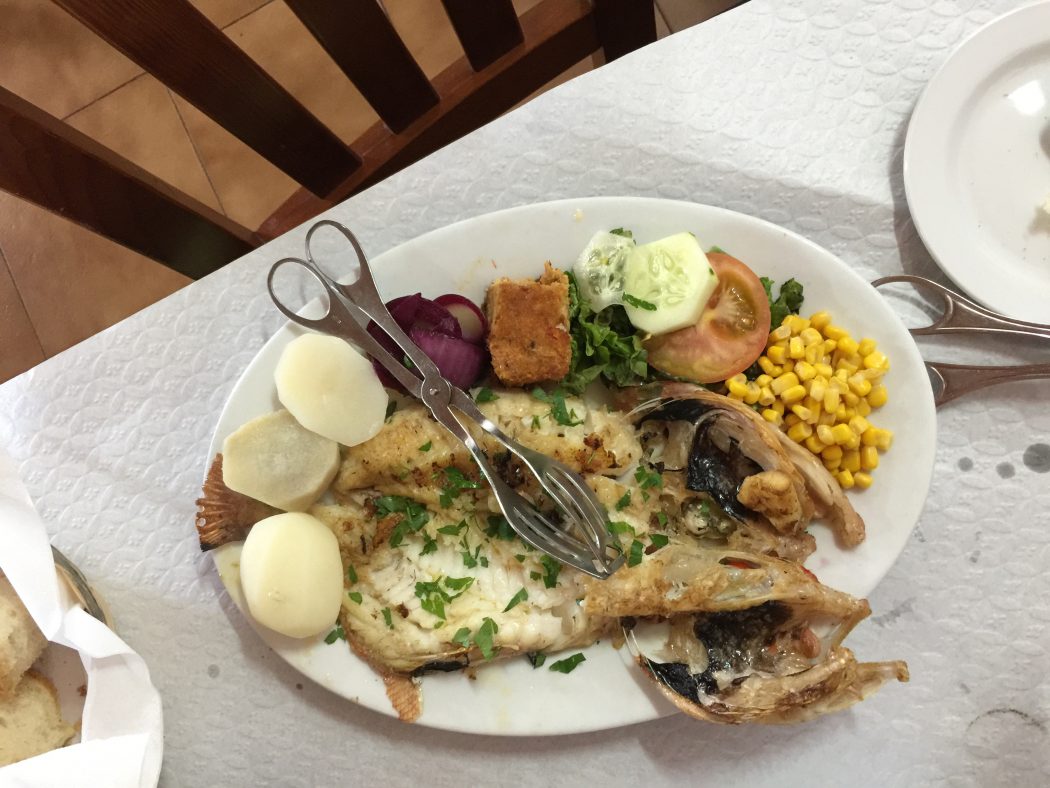 Grilled fish with vegetables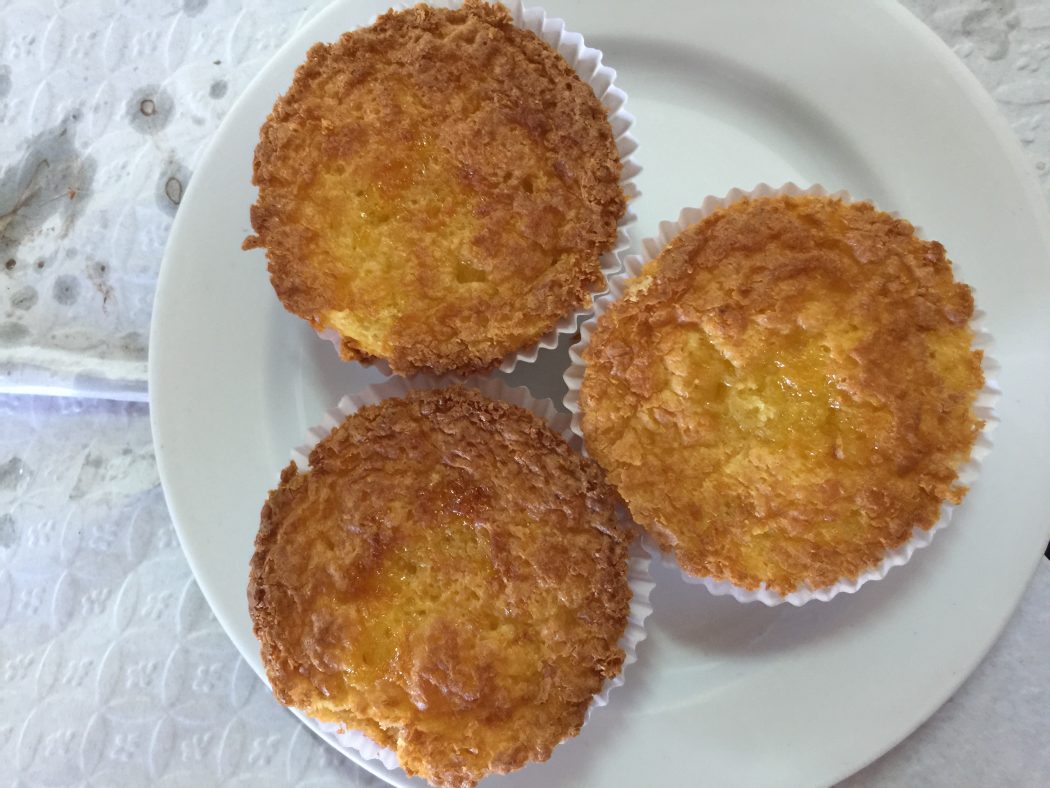 Traditional Portuguese custard tarts
After, we stopped in at Chá Gorreana, Europe's oldest and largest tea plantation, which had a birthday party going on in the tea room.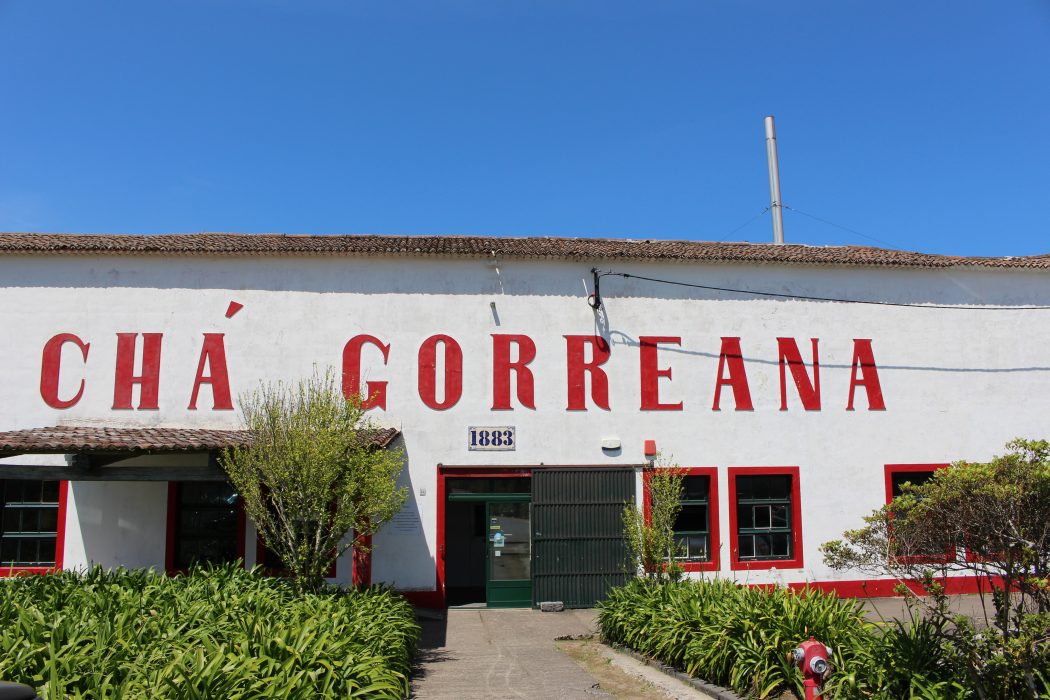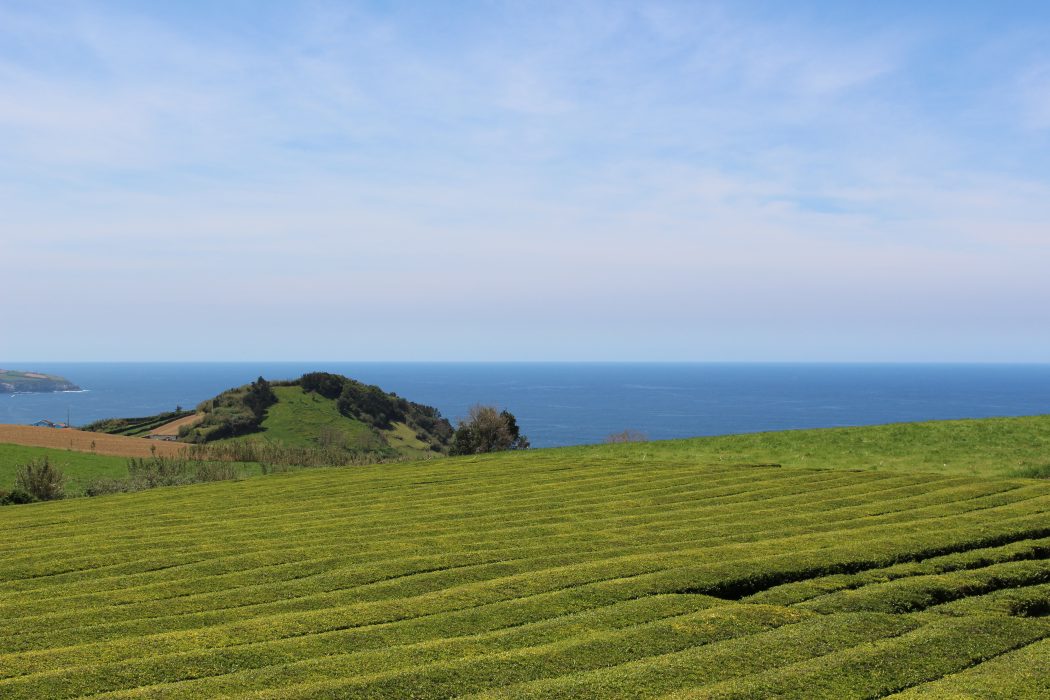 Tea plantation with the ocean as a backdrop
Then it was on to Caldeira Velha nature preserve with hot springs and waterfall, where people from all over the world come to swim in the therapeutic waters. (I dipped my feet, but chose to do photography instead with my limited time).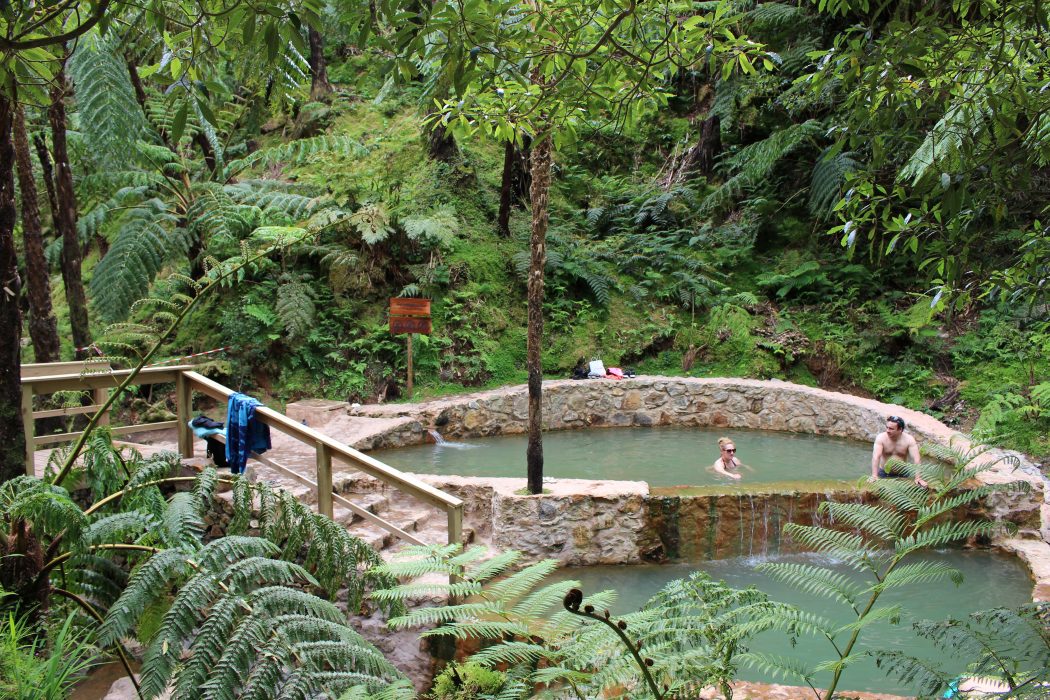 Hot springs
We checked-into the modern and chic Azor Hotel located near the marina of Ponta Delgada, which has a super deck with a view of the ocean where we watched for whales with a cocktail in hand.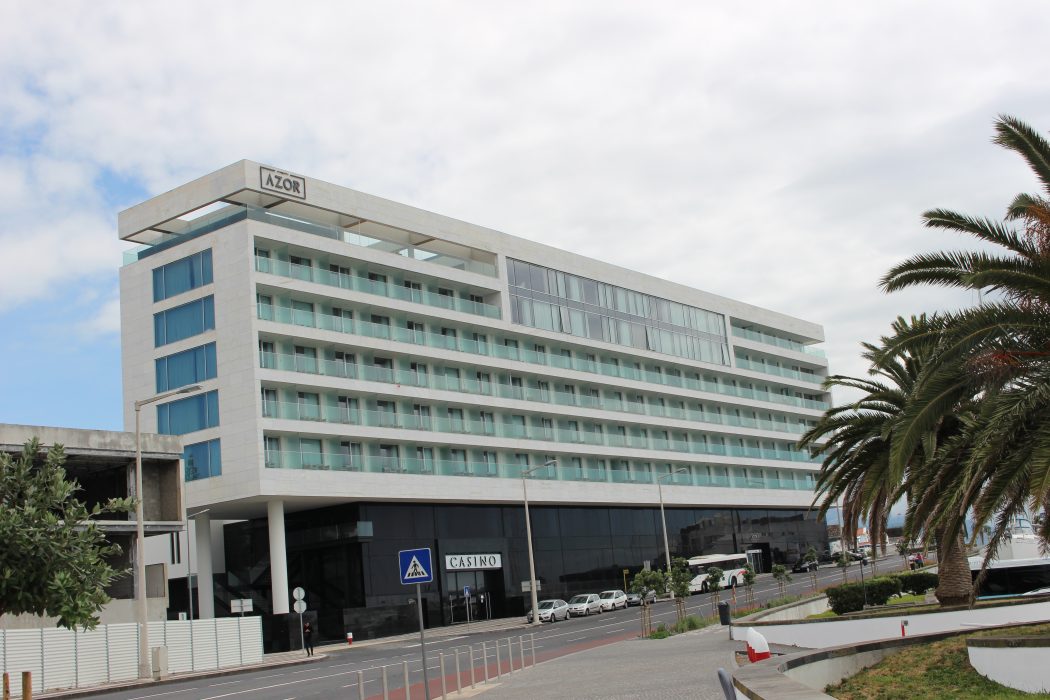 Azor Hotel in Ponta Delgado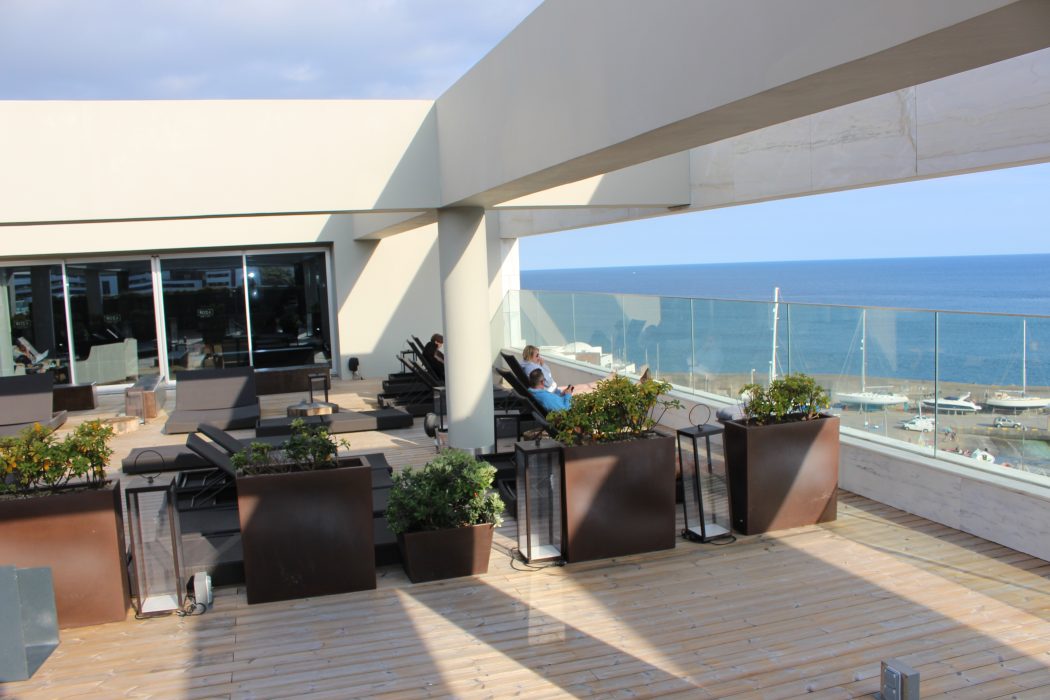 Rooftop deck, great for whale watching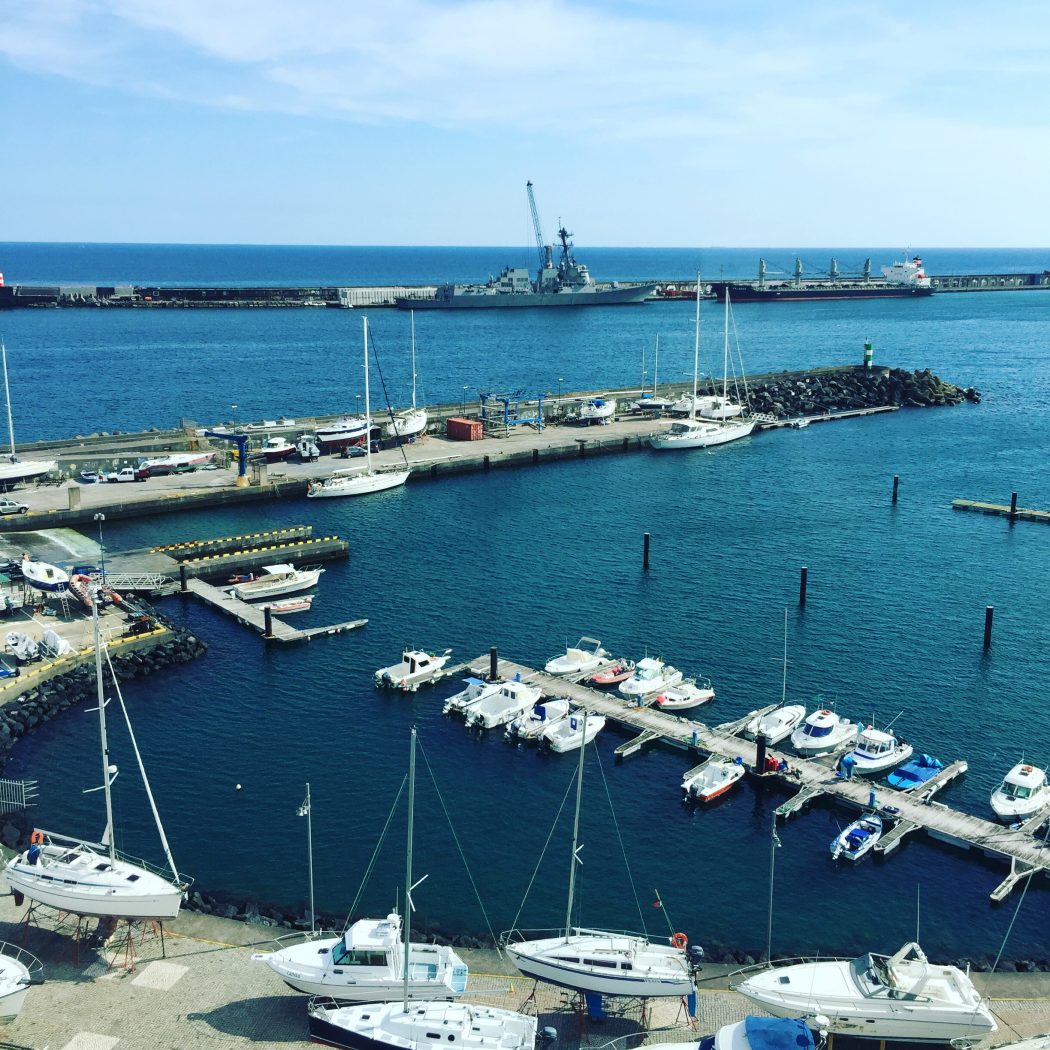 Marina view from my room
Dinner was at Saca Rolhas Taberna, where I enjoyed a stupendous meal of vegetable tempura; sautéed mushrooms;  a copious amount of delicious garlic bread, and a glass of Azoean Curral Atlantis 2016. Loved the establishment's decor; black and white photography, which gave it an artistic and cozy feel. The owner has quite a personal collection of wines.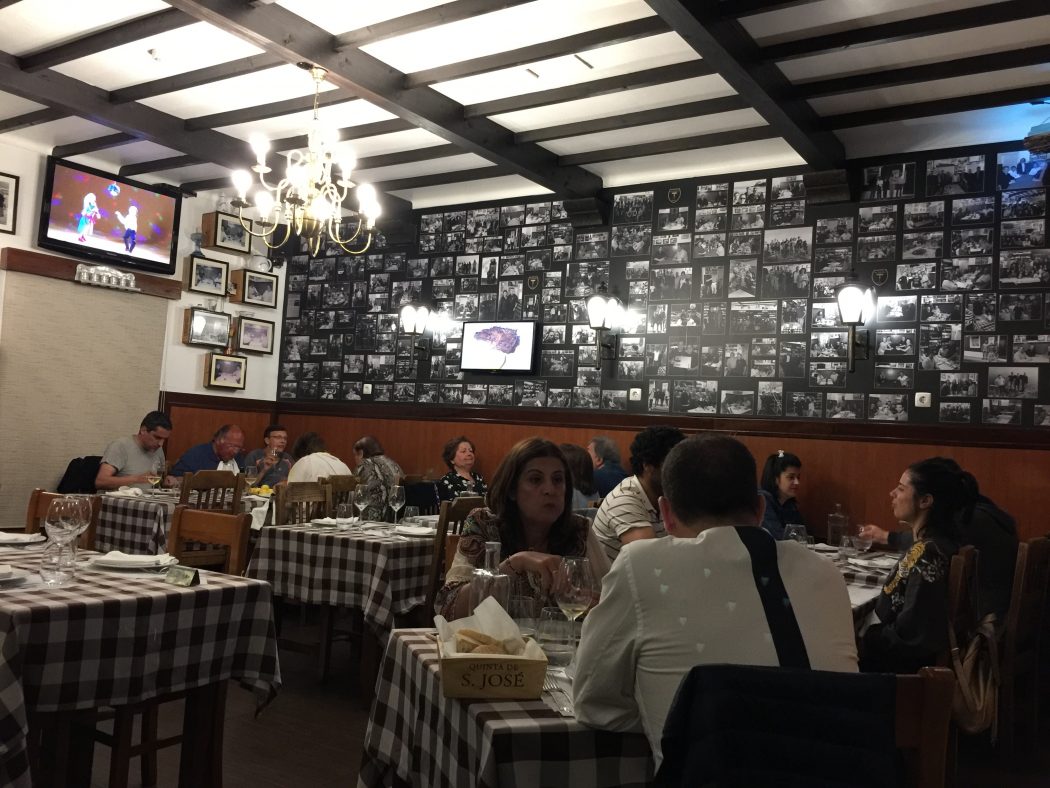 Wall of white and black photography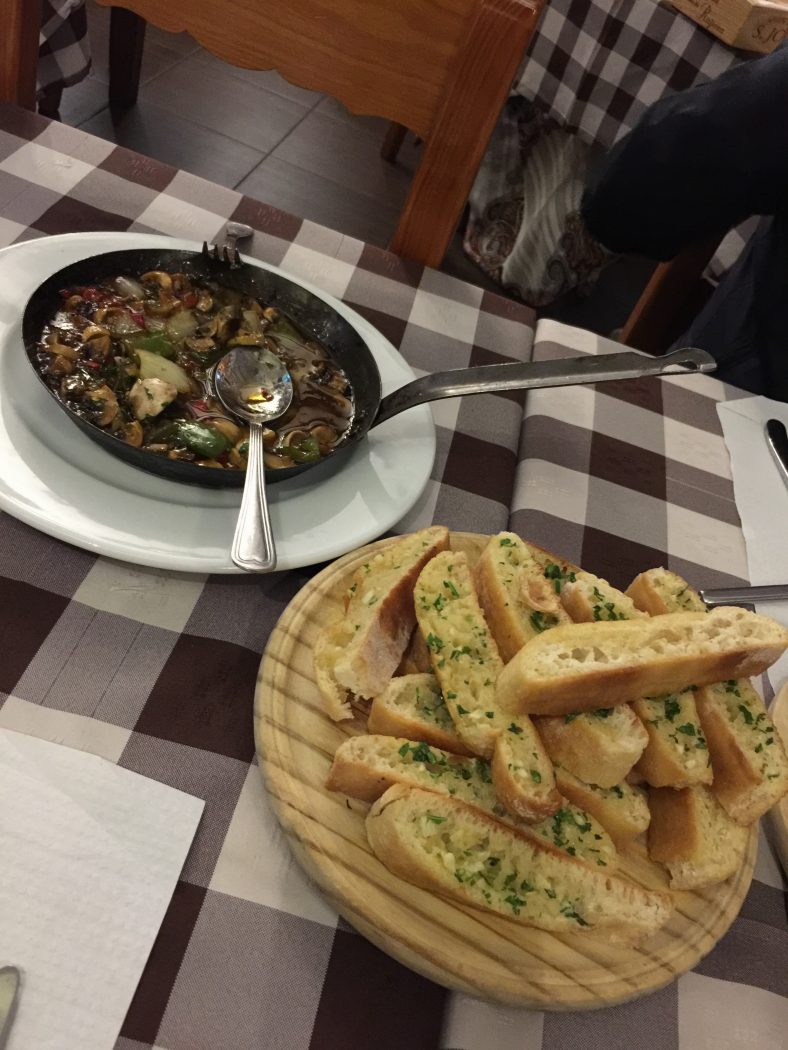 Sautéed mushrooms with mounds of garlic bread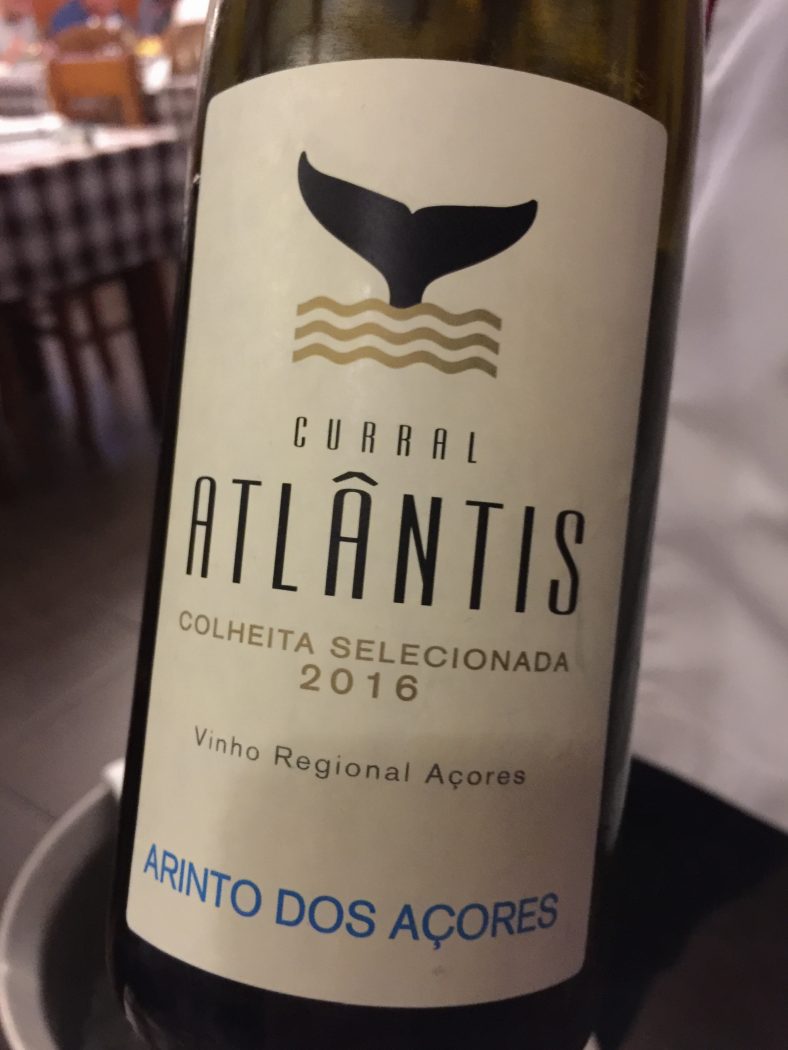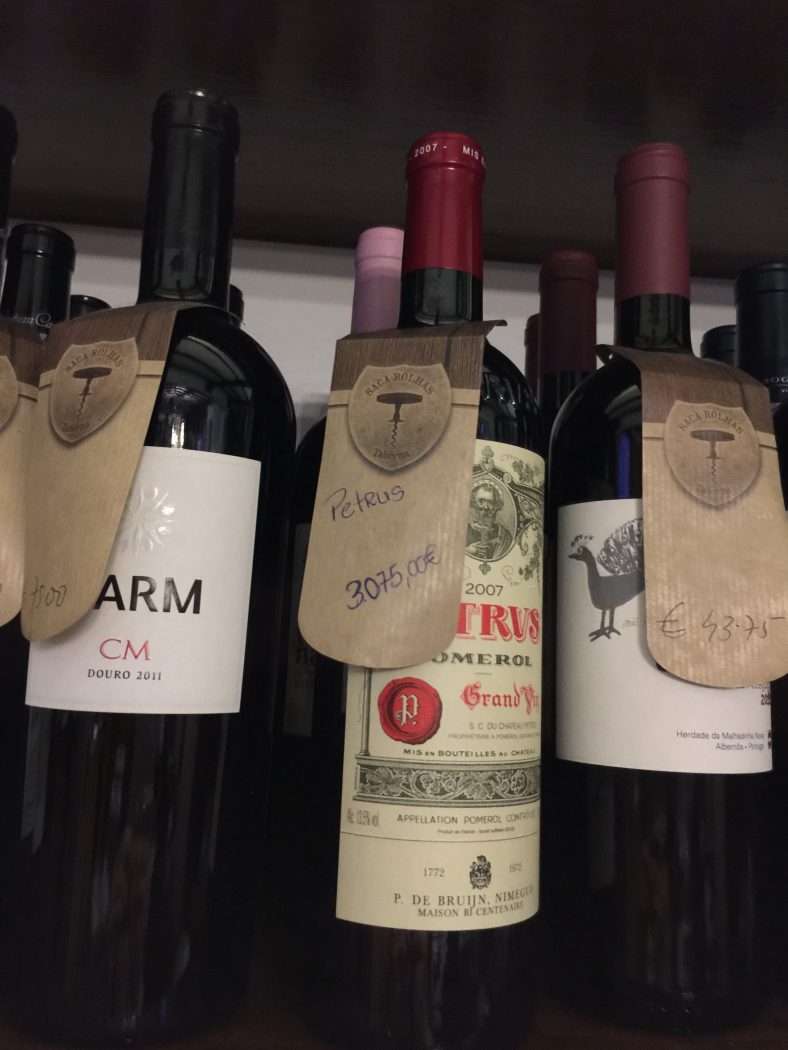 The owner's wine library; this bottle of Petrus (Pomerol) is 3,075 euros.
Later, walking through the streets of Ponta Delgada was lit with music and people celebrating annual Santo Christo Festival. With sort of a carnival atmosphere, there were food vendors, rides, games and, of course, bars.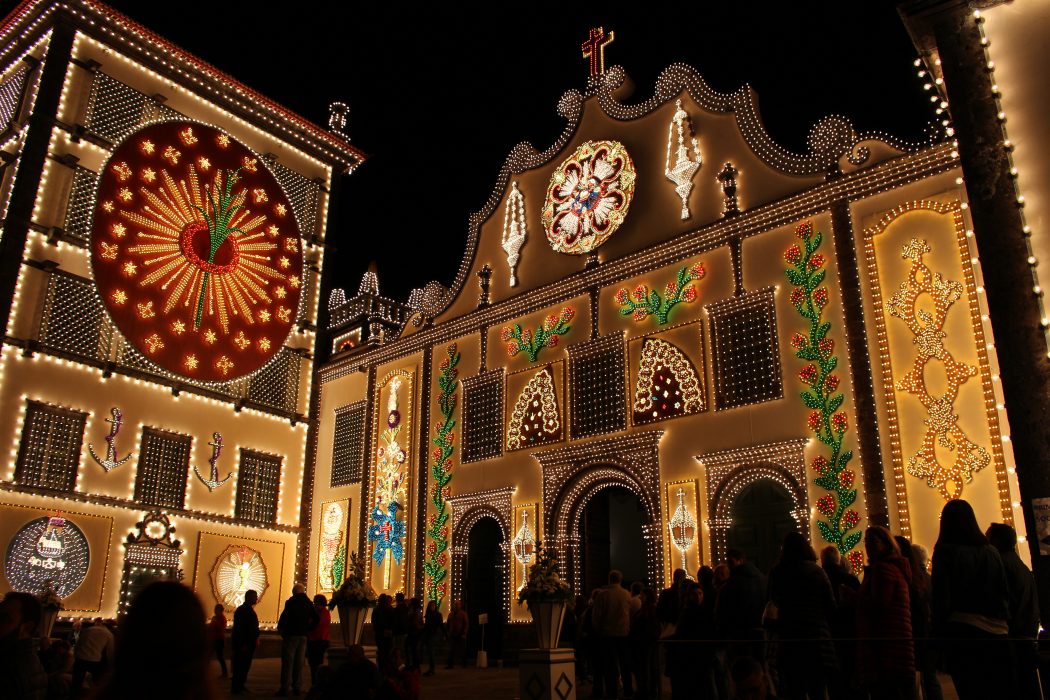 Church in town square lit up for festival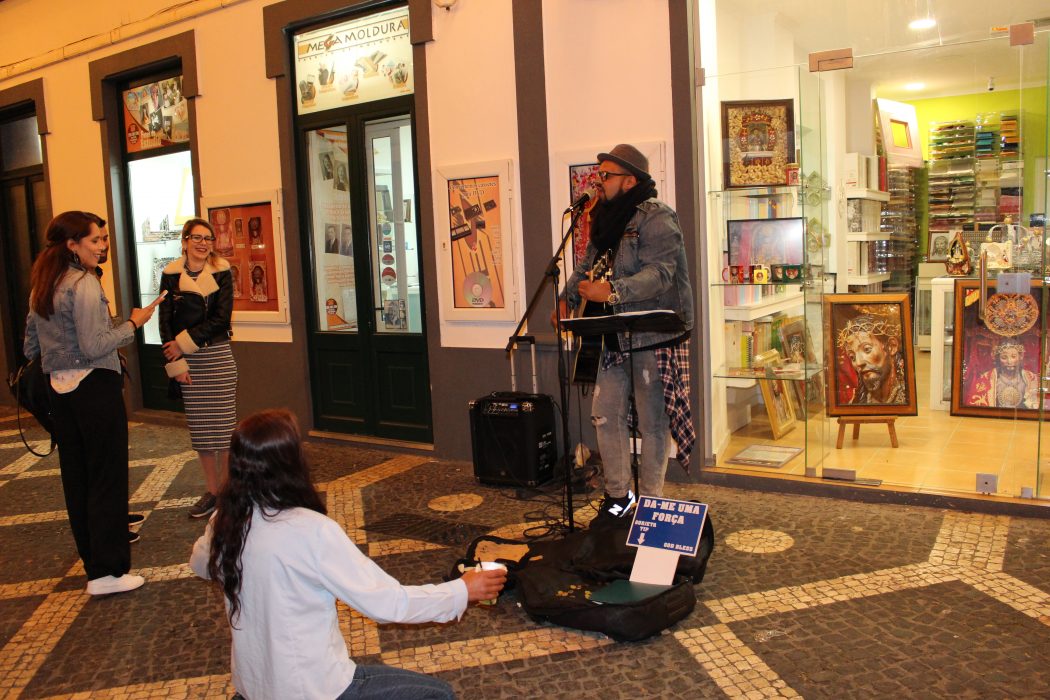 A little entertainment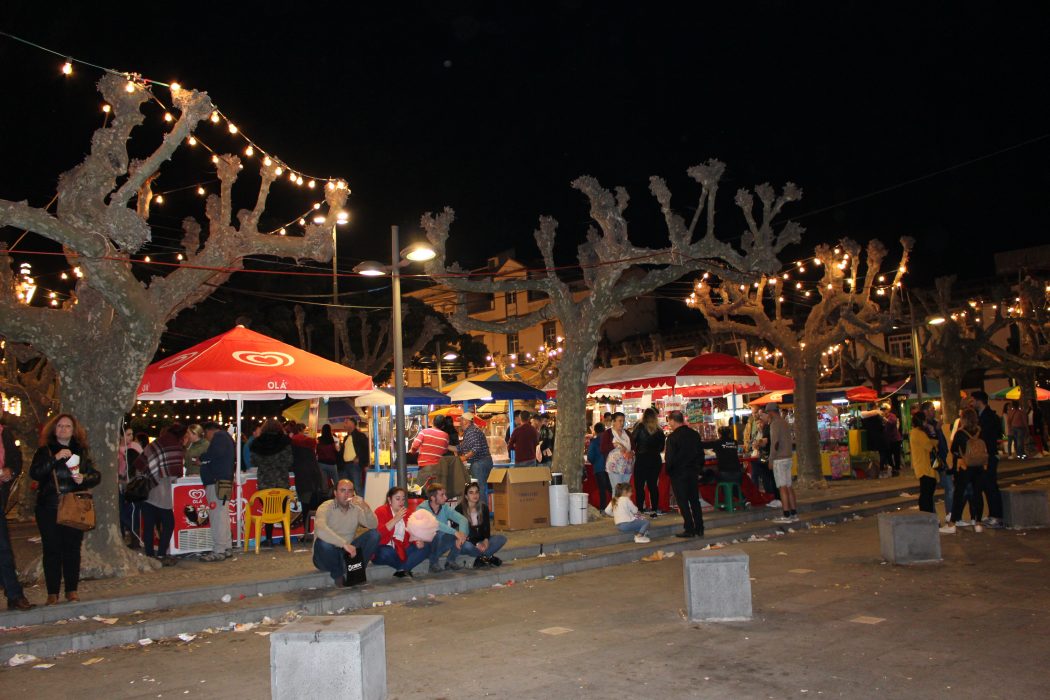 Town square with festival lights and music
Next morning, I went on a whale-watching excursion and was delighted with a spectacular show by a humpback whale and a school of dolphins.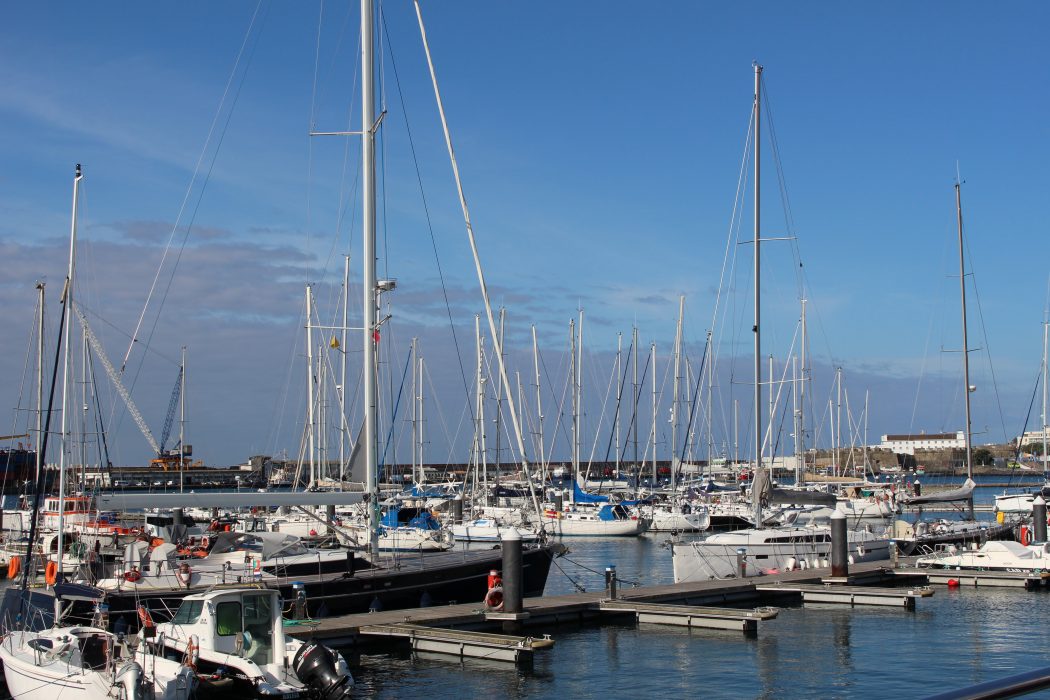 Ponta Delgada marina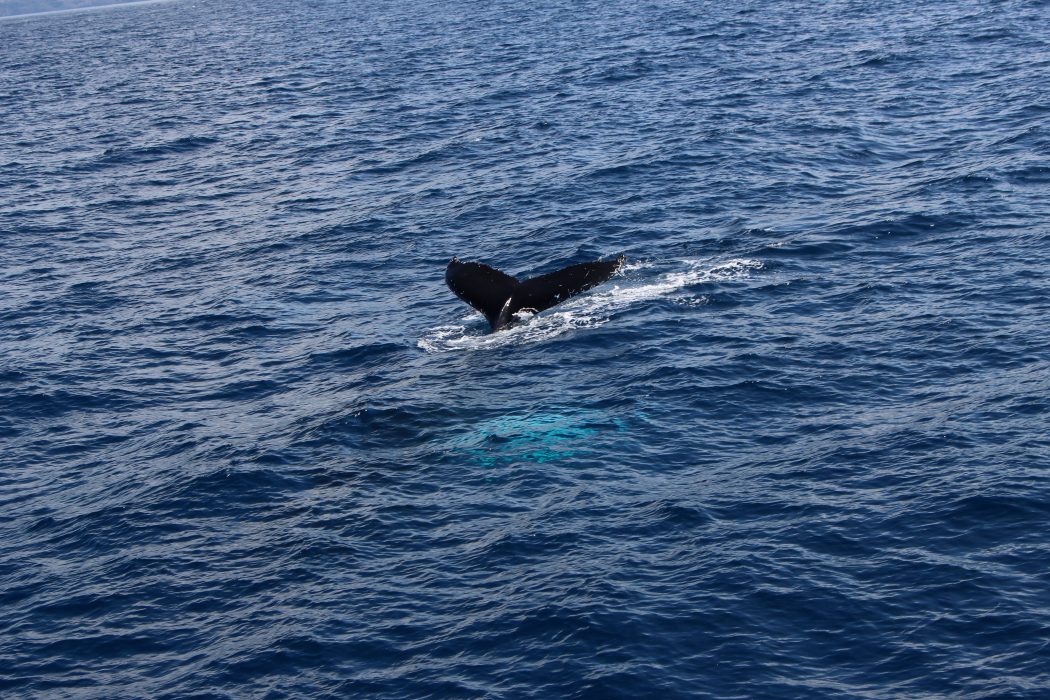 Humpback whale tail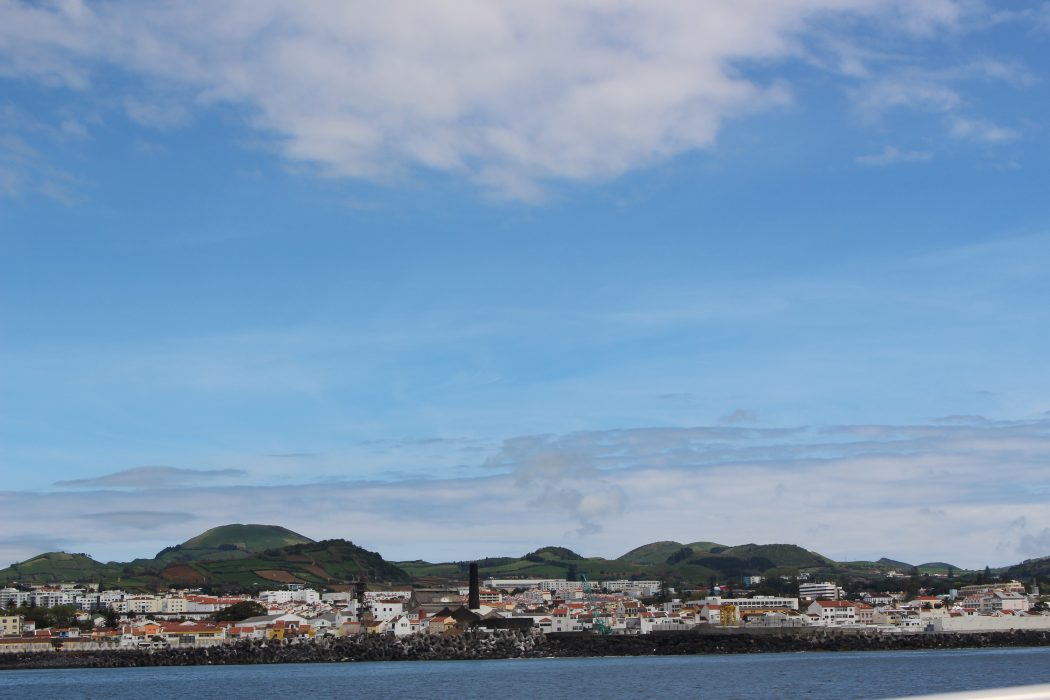 Ponta Delgada view from the boat
Then more touring the island.
Lunch at the Restaurant of the Agricultural Association of Sao Miguel in Ribeira Grande, a large and airy restaurant famous for its Azorean beef steaks located on the north side of the island, and popular with tourists. I had a soup and salad which included cheese and pineapple chunks; pineapple for dessert; and paired with a glass of excellent Duas Quintas Ramos Pinto from Douro (2015).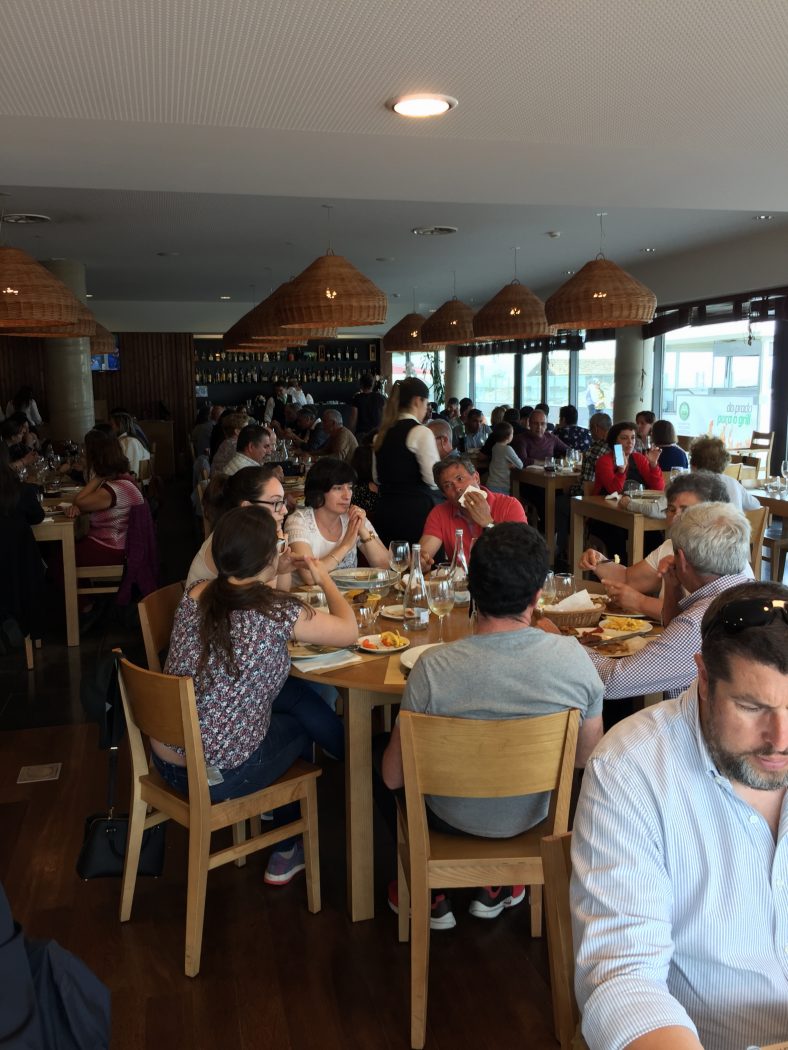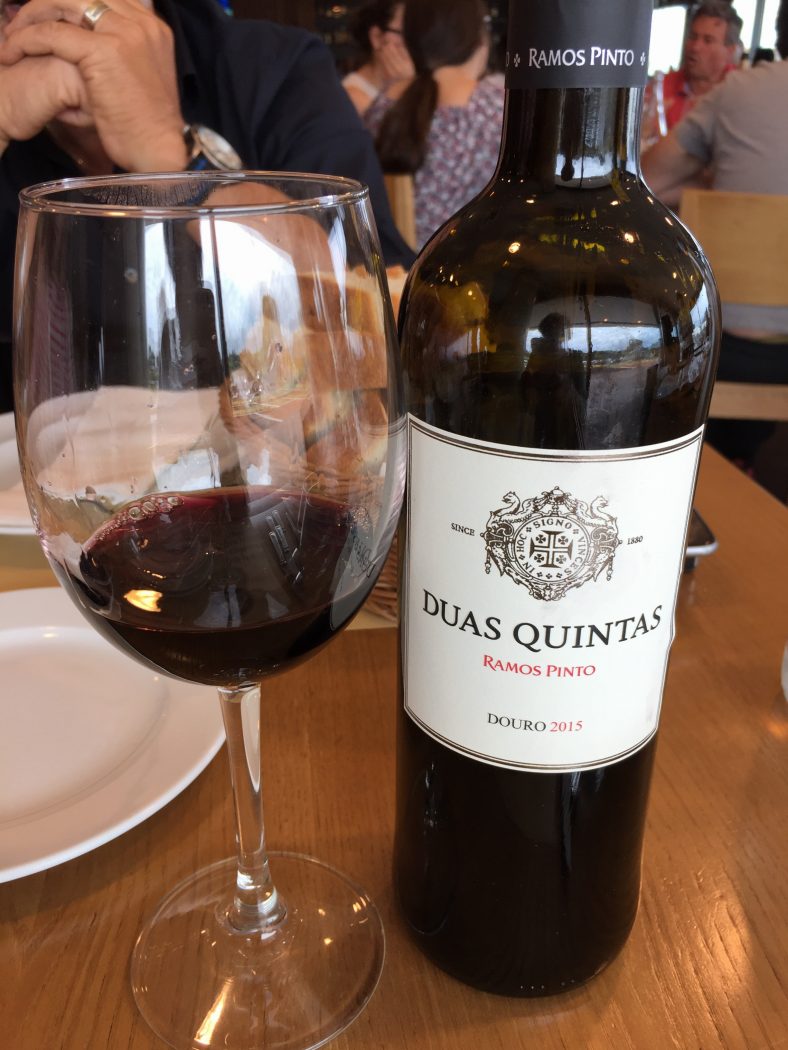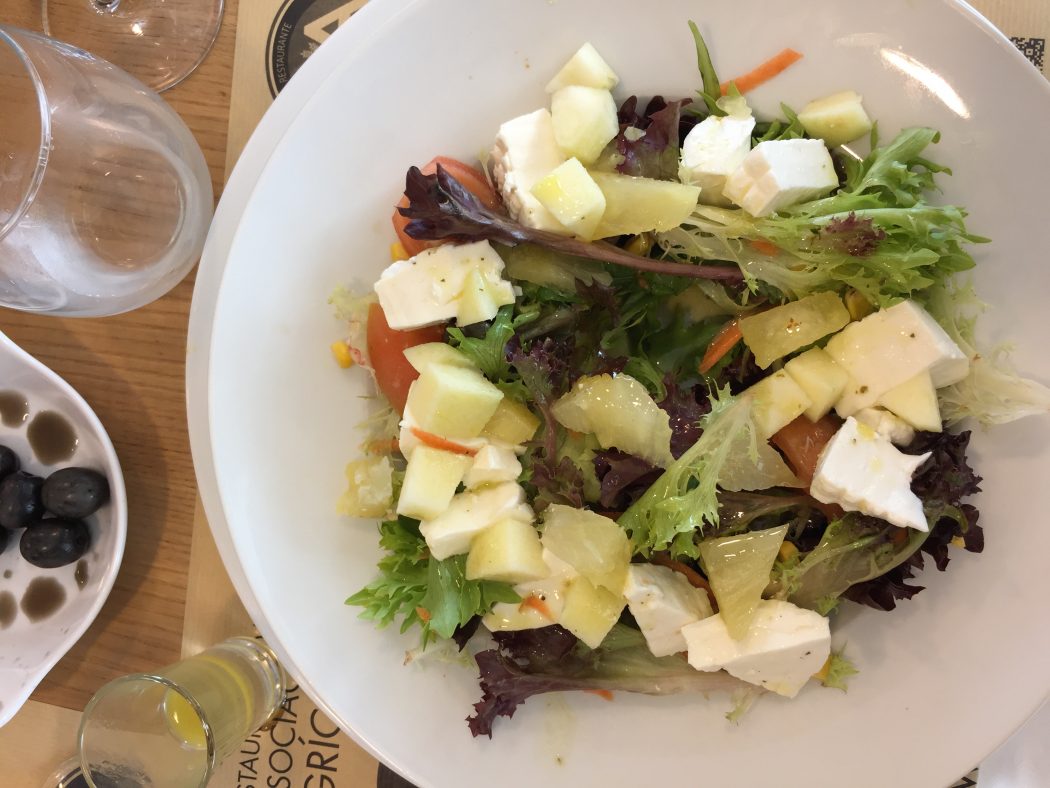 Salad with pineapple and cheese, both Azorean staples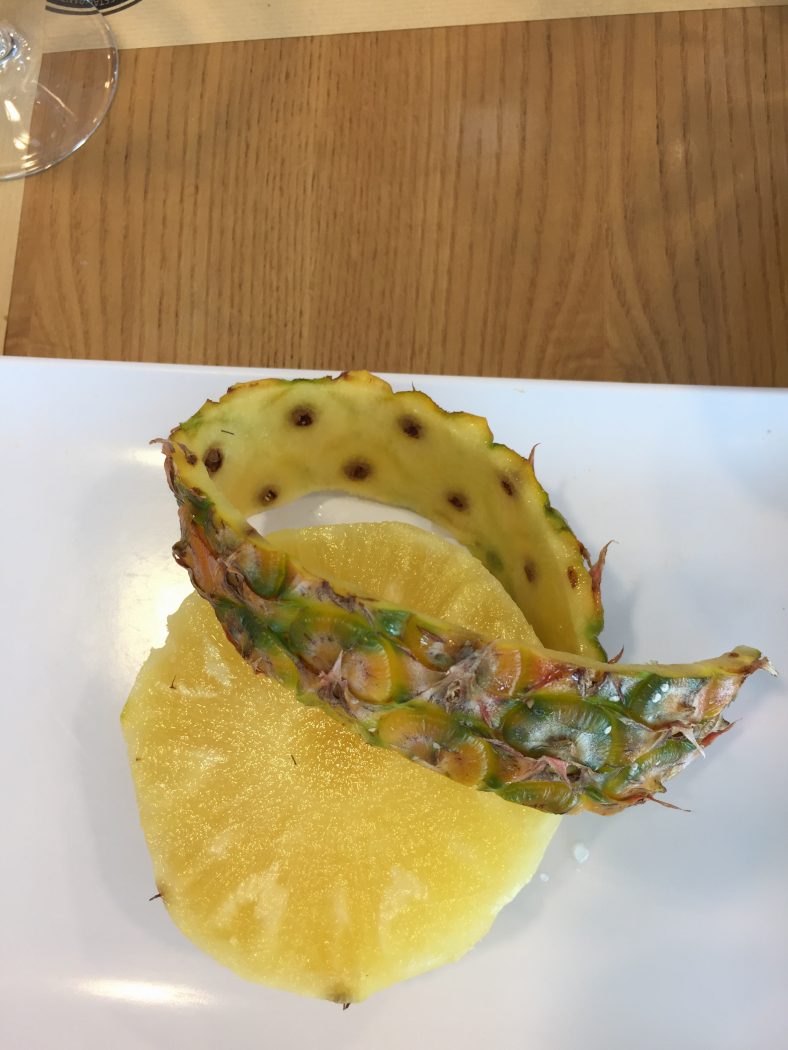 Pineapples are a major export of the Azores
Sights included the Sete Cidades (Seven Cities) twin lake – two lakes that are ecologically different and are connected, with one appearing green and the other, blue) – situated in the crater of a dormant volcanic crater.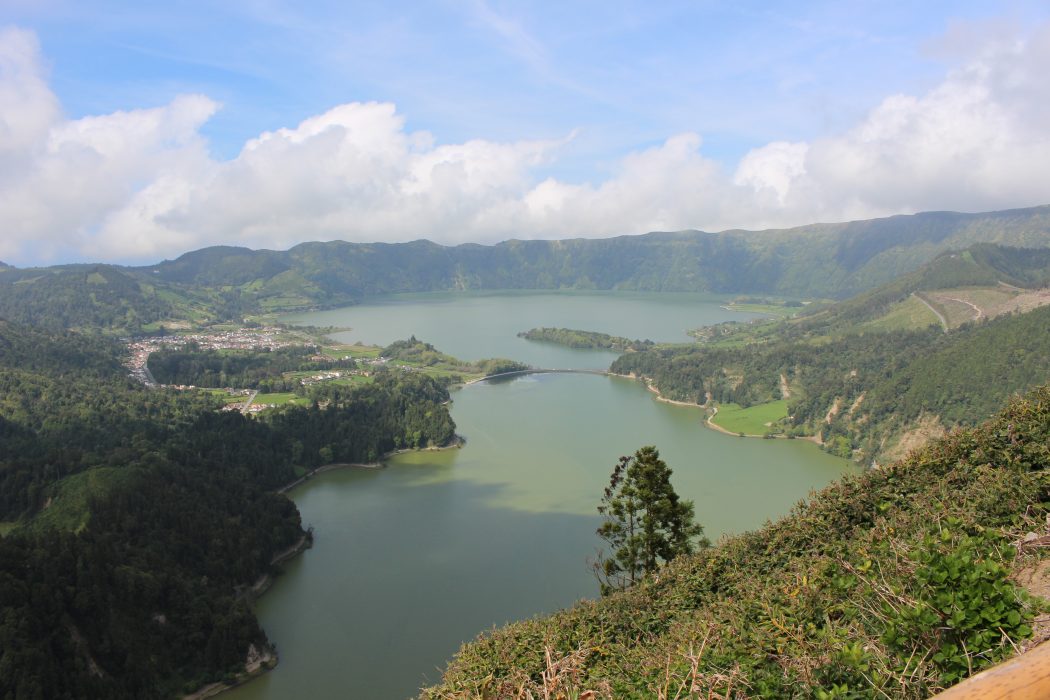 Sete Cidades twin lakes (one green, one blue)
Back in Ponta Delgada, I toured a cheese market. The Azores, the locals joke, have more cows than people. What I learned is that the Azores happens to produce excellent cheese and, in fact, the #1 rated cheese in the world.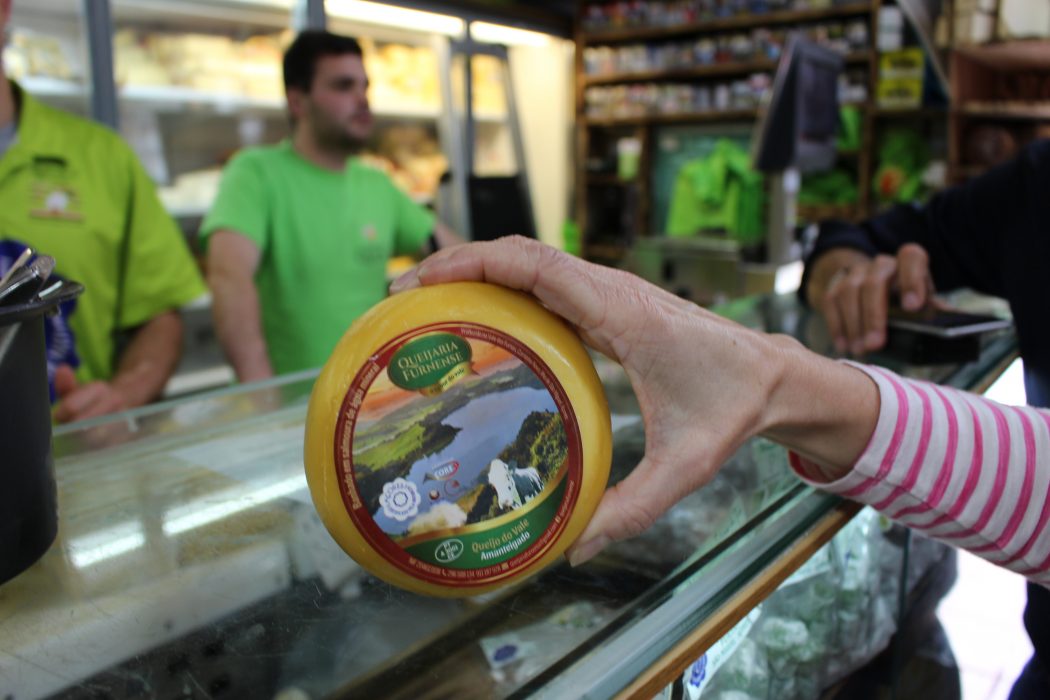 The #1 cheese in the world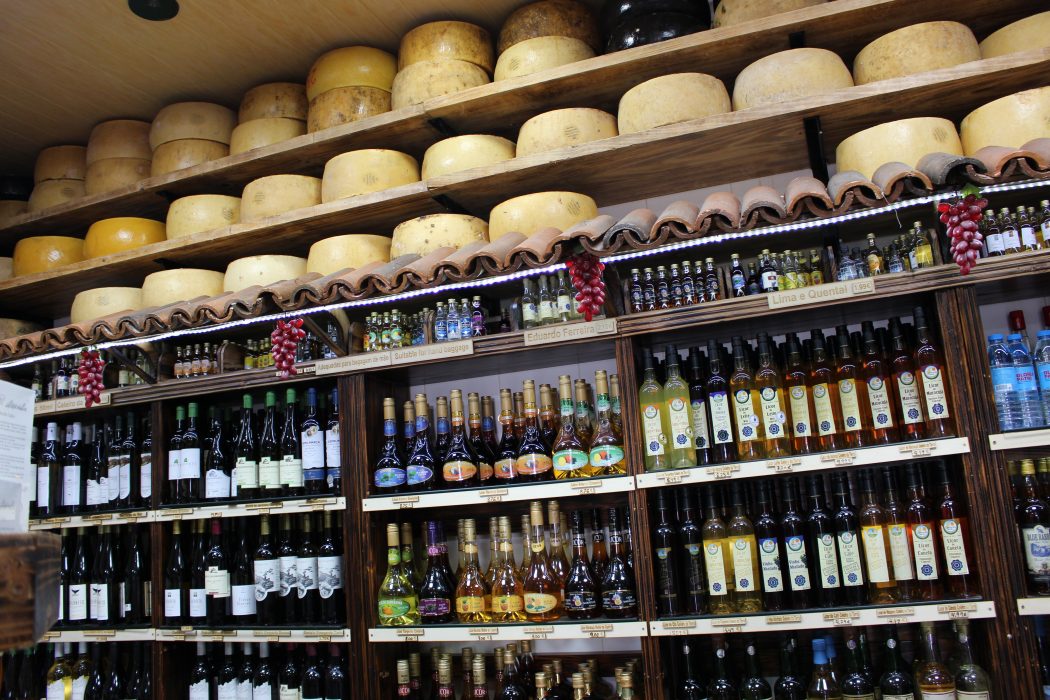 Cheese market (and wine and vinegar)
Final dinner at St. Peter restaurant, cozy and buzzing, in the heart of Ponta Delgada, where I had vegetarian curry, tasted grilled calamari; and paired with the local Jardinet white wine.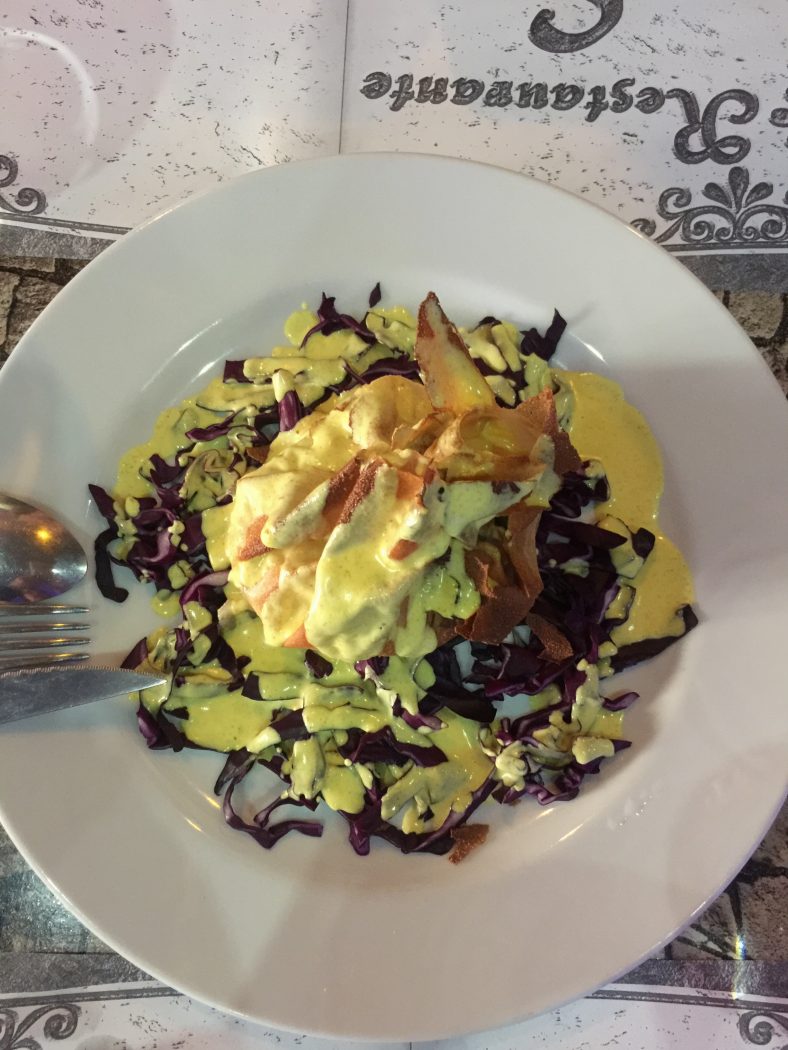 Curry vegetable with a modern twist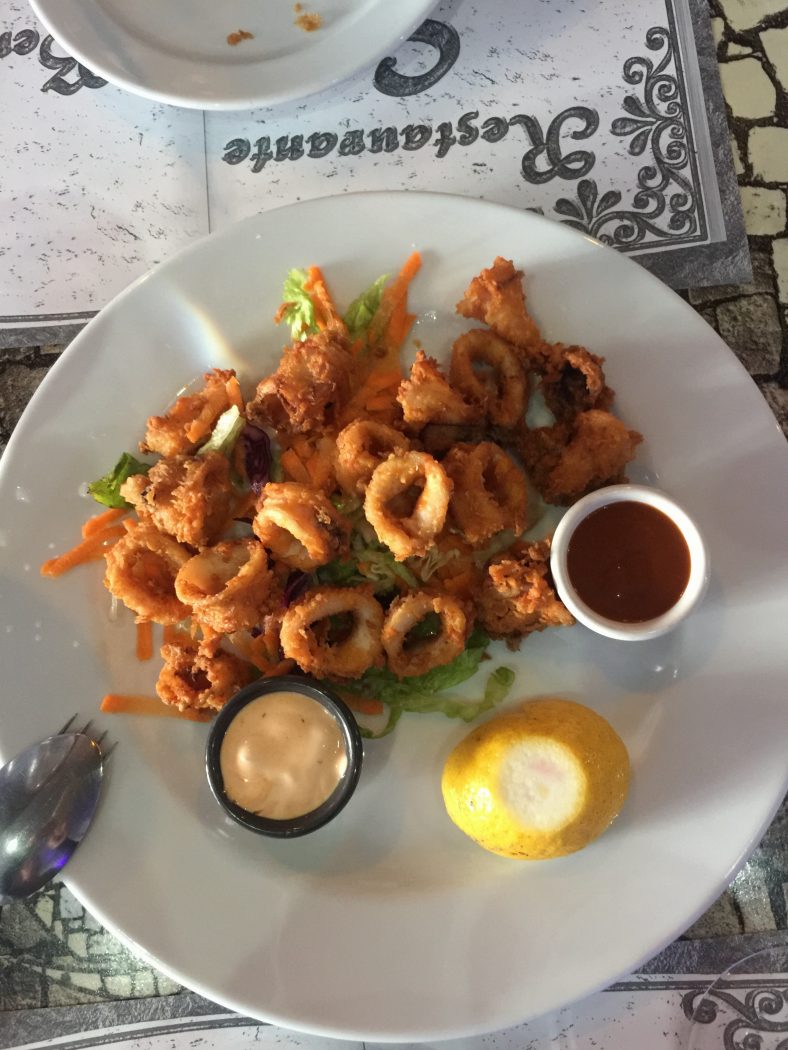 Fried calimari in a spicy batter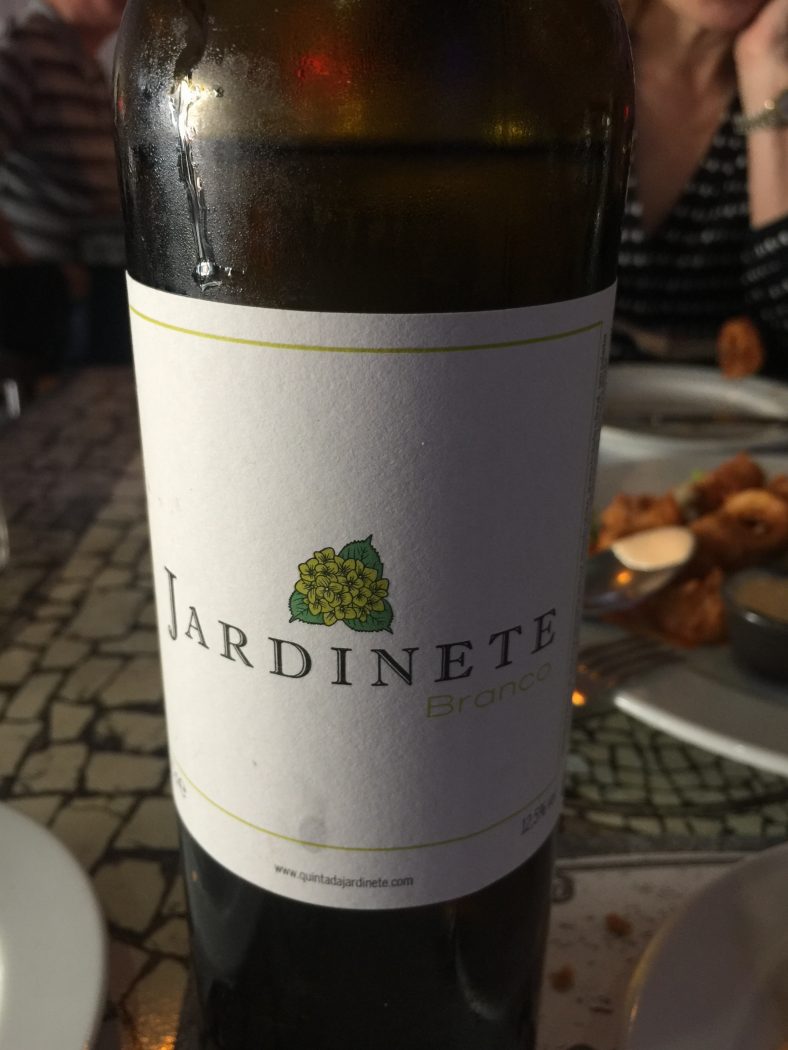 Then it was a quick 2-hour flight to Funchal, Madeira, off the coast of Africa. You can read about that in an upcoming post.
Watch my video highlights:
Shannon Skinner is the creator/host of ExtraordinaryWomenTV.com, radio host, author,  international speaker and travel writer. Tweet to her @Shannon_Skinner and Instagram @Shannon.Skinner.