This past week, I was in Isla Mujeres, Mexico, attending the We Move Forward 2012 International Women's Day event. The reason this event was so significant is its location: Isla Mujeres means "Woman Island" in Spanish. The event brought together dozens of women from across Canada, the United States, Mexico and other destinations, to hear some incredible speakers and storytellers, share their visions, and celebrate being a woman.
I attended representing "Extraordinary Women TV with Shannon Skinner," the event's media partner. When I first heard about this event several months ago, I wanted to be involved, since I had been to Isla Mujeres and fell in love with it, and resonated with the concept of bringing women together for IWD.
The event, which had a spiritual retreat flavour, took place at the wonderful Avalon Reef Club resort and focused on the central theme: moving forward.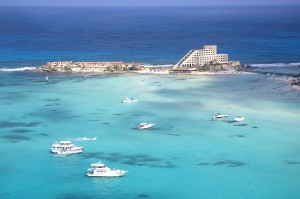 (photo: courtesy of Avalon Reef Club Isla Mujeres, Mexico)
It was a success!  So many people involved deserve a special thanks — far too many to be named individually in one blog post. So I will say KUDOS to ALL involved. And one big round of applause for Janeen Halliwell, who conceived and spearheaded the event.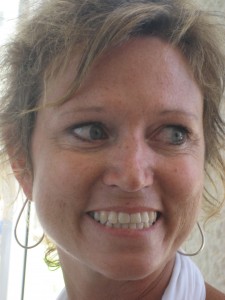 (photo: Janeen Halliwell)
The event kicked off with cocktails at CoMoNo ("Why Not?"), owned and operated by Canadian Penny Deming. Each day started with a mindful movement session conducted by wonderful practitioners, followed by a yummy, healthy breakfast (sponsored by Barlito's), then a day filled with speakers and storytellers.The featured speakers really touched hearts – thanks to: Monica Parker, Kristin Crowe, Judith Jenya and Elizabeth Mahon.
The facilitators were amazing: Janeen Halliwell, Christie Andrus and Cathy & Ed McKenzie.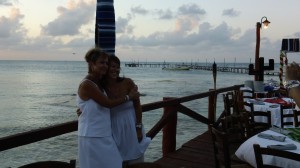 (photo: Janeen and Katie, closing ceremony dinner)
The storytellers added another layer of depth and entertainment – kudos to: Alison Sawyer Current, Molly Fisher, Pamela Maddox, and Lorna Tychostup. One of the highlights was a special ceremony conducted by Mayan Elder, Mary Coba, who took us through a traditional Mayan ceremony, honouring the earth and elements.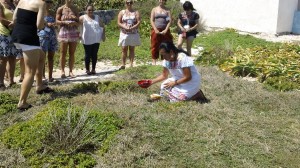 (photo: Mary Coba, Mayan elder, conducting traditional Mayan ceremony)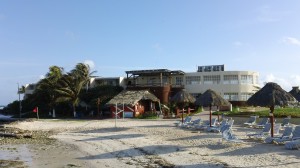 (photo: the room where the event was held at the Avalon Reef Club Isla Mujeres)
There was a fiesta in the town square, dancing and a wonderful closing ceremony and dinner. And, of course, a little time to enjoy the sights.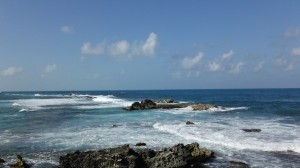 (photo: the waves are soothing)
Hats off to the Avalon Reef Club for outstanding service, and especially the hotel's general manager, Diana Arriaga.
Many women had breakthroughs during the event.  I gleaned some of my own personal insights that I will share over the next while, but in the meantime, here's something to whet your appetite:
1. It's not always about business, even when it is business: Even when we attend events to network and potentially land business for ourselves, sometimes the gift you get from a business association may not business-related at all. Sometimes it is as simple as an idea of a way of life for yourself, or a new friend.
2. Everyone is needed: No matter what your background is, what clothing size you wear, what preferences you have, or what job or career you have, everyone has a role in society and we need everyone to make it happen.
3. Sometimes you just need to rest: Unfortunately, I caught a nasty cold mid-way through the week on Isla Mujeres. I did something unusual while traveling: I rested, so I could let my body heal.
Overall, my personal take-away from the event is this: I'm moving forward, using all my breath (as sung by Modern English) … I have a bigger dream and vision for myself, and having attended this event and gleaned some extraordinary insights, I will put all my energy into those forward steps.
Give this a whirl: so what steps will you take this week to move forward with your dream?
Stay tuned for more to come in the series.
© Shannon Skinner 2012