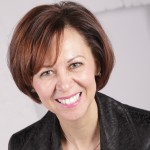 SHANNON'S TRAVEL BAG: travel tips for women
Shannon Skinner visits Mandarin Oriental, Geneva, a luxury 5-star hotel offering lovely view, modern design and acclaimed dining, peaceful city-centre location, close to the historical Old Town.
The first time I visited Geneva, Switzerland, I was in my early twenties and back-packing across Europe one summer with a group of friends. Returning more than twenty years later, I am enamoured with this small yet vibrant and charming city that is surrounded by natural beauty. This time, I visited during the month of December with the purpose of experiencing a European Christmas Market and other Geneva gems — and the Mandarin Oriental, Geneva happened to be one of those gems. Here, I felt right at home.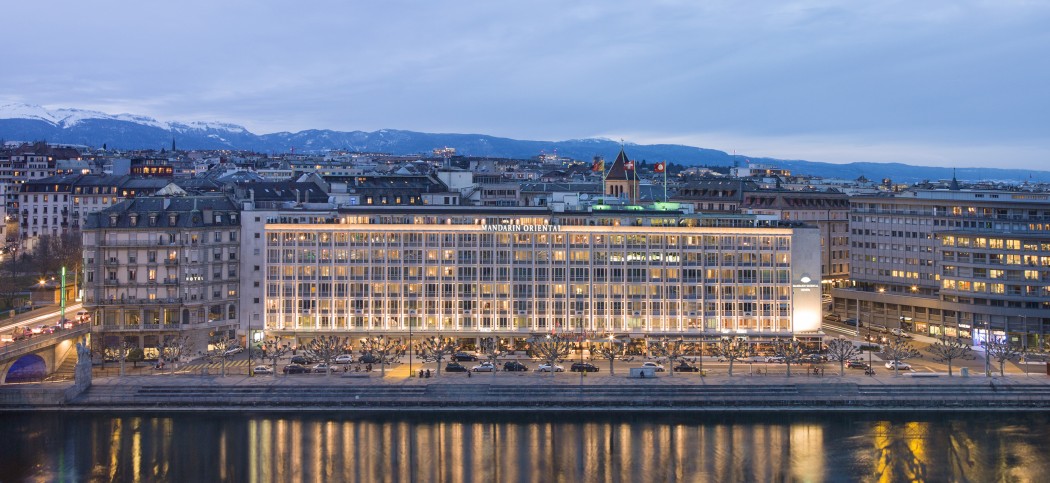 (Mandarin Oriental Geneva on the banks of the River Rhône) 
Located on the banks of the famous River Rhône, which flows into the mouth of Lake Geneva, and short walking distance from the downtown core and historical Old Town, the hotel was easy to get to from the Geneva airport. Geneva transit offers free (yes, free!) train transportation from the airport to the city centre, (a train departs every 15 minutes to Geneva's train station "Cornavin," and it only takes 7 minutes), an offering that is convenient and most welcoming for a traveller. Once at Cornavin station, you can take the tram or bus for 2 short stops or walk about 10 mins to the hotel (note: there is a slight hill you have to walk on the way back, a bit tricky with luggage, so the tram is best).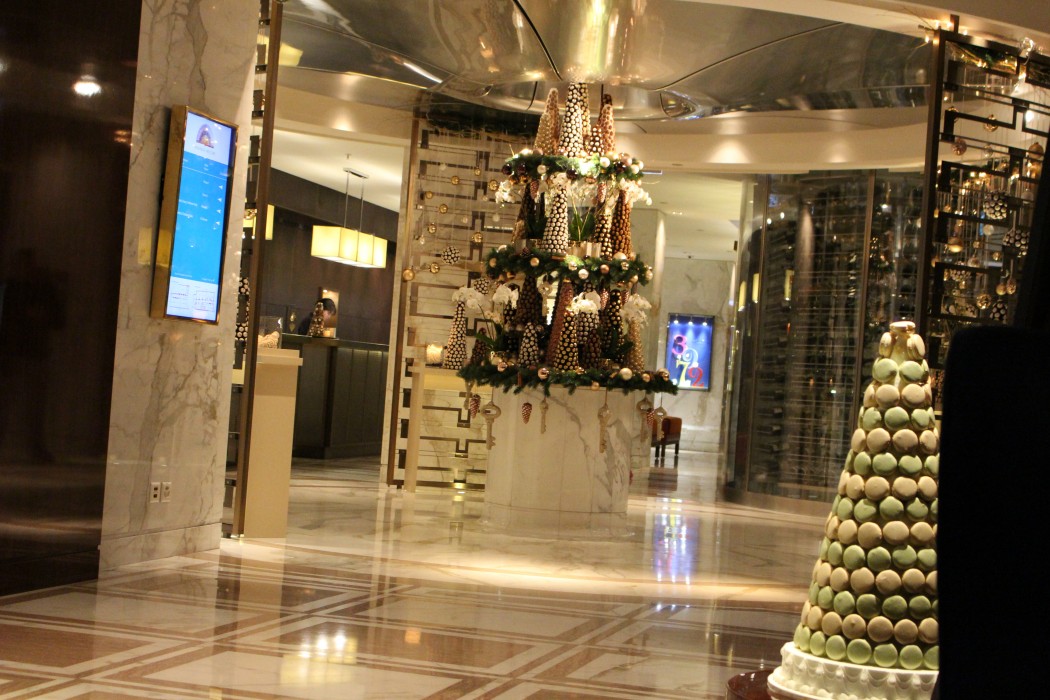 (Lobby, Mandarin Oriental Geneva)
The hotel lobby's decorations of flowers and fragrances (e.g. scented candles) are changed frequently throughout the year. Since it is Christmastime, the decor is colourful with softly flickering candles and cones of macarooms and pinecones, and such, giving it a warm ambience. They looked so good it took all the restraint I had not to eat the decorations!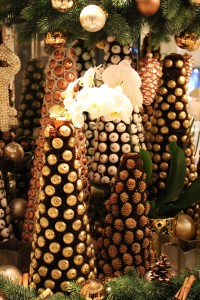 (Lovin' this Christmas decor detail)
Located on the 4th floor overlooking the river, my room had a walk-in closet and large working desk, with a sofa and king-sized bed. The bathroom was quite large and spotless, with a separate bathtub and walk-in shower with glass doors (again, spotless). Heated towel rails are a nice touch; the towels were nice and warm when using them after a shower. I made use of the Nespresso coffee machine and take-making set in the room. A large flatscreen hangs on the wall. Housekeeping service is twice per day and I actually wore the slippers they provided.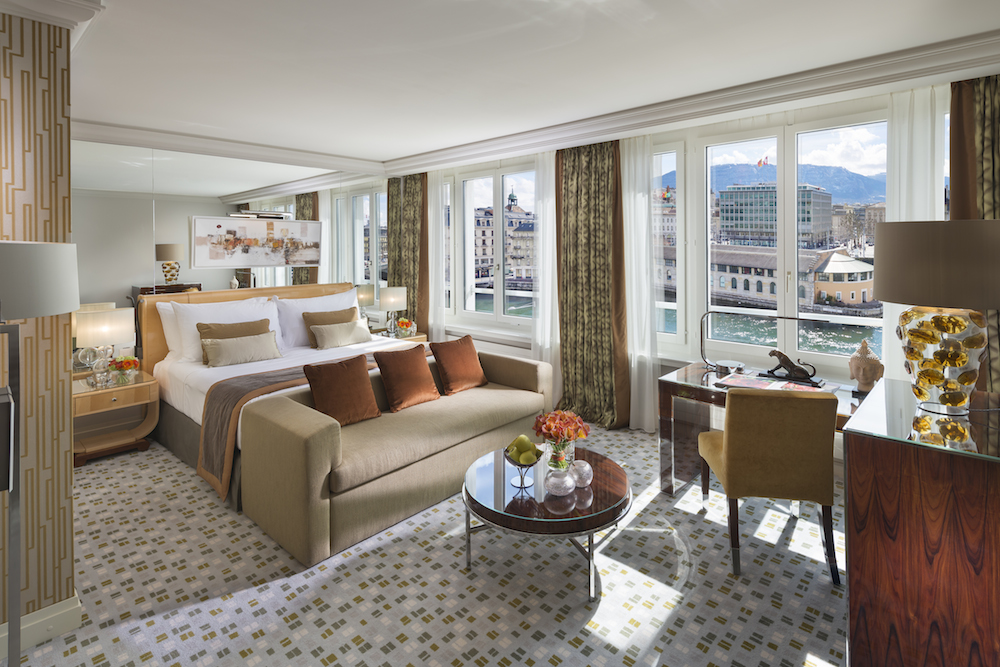 (River-side room)
When I arrived, there was a lovely fresh flowers arrangement on the coffee table and a bowl of mandarins, which I consumed with gratitude, and a spare umbrella for my use. The street below was quite at night, but some noise inside the room that I believe came from the heating system woke me a few times.  I did not hear a peep from other guests in the rooms next door during my entire stay. The only drawback I could come up with is the WiFi is not complimentary in the room, although it is free in the lobby.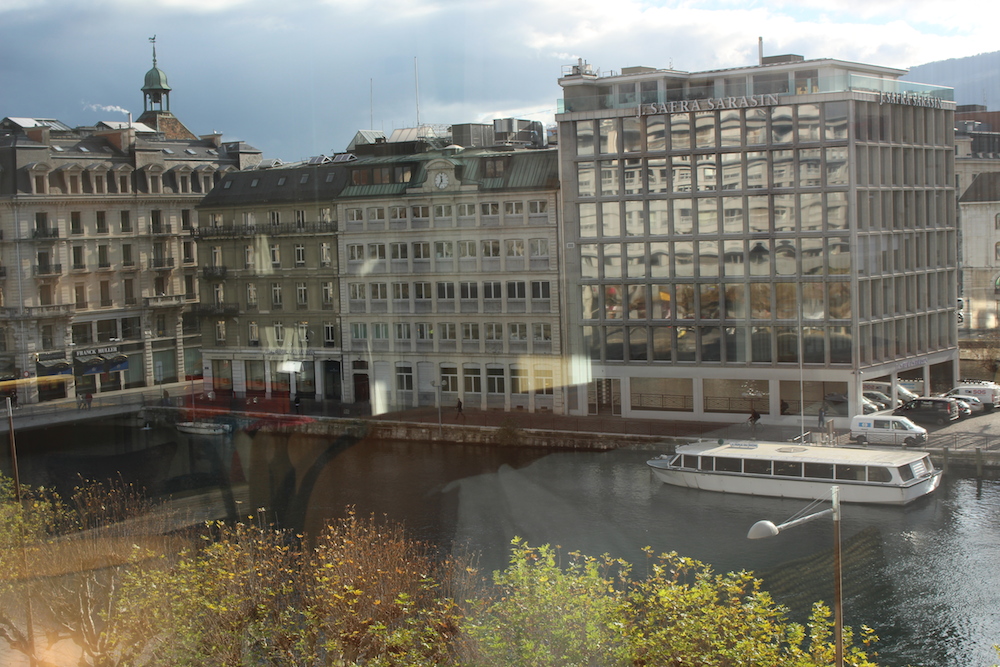 (View from my window)
In terms of amenities, the business centre is conveniently located off the lobby and next to the lounge/bar. The fitness centre has every cardio machine and weights you need for a quick work-out, as well as a sauna. There is a beauty studio offering treatments geared to wellness and spa treatments, and also a hair salon, as well as several conference/meeting rooms for functions.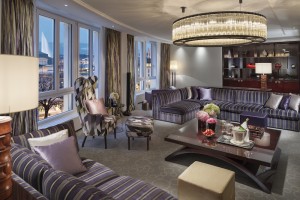 (One of the many modern, comfortable suites offered)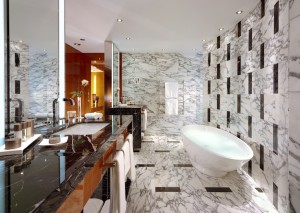 (Lovely bathroom of one of the suites)
The best hotel experiences often have to do with the people and their service. One doorman pleasantly surprised me by handing a bottle of water to me upon returning from an early morning jog. Another noticed one evening I wasn't carrying a second bag that I had when I walked in, but had accidentally left behind in the lounge. One staff member at the desk went to great lengths to help me with a reservation change to my Air Canada flight, which was a glitch in the airlines reservation system. And the marketing and communication manager, Alexandra Caron, provided insight into life in Geneva over a lovely dinner she hosted at the restaurant, Rasoi by Vineet, where I had one of the best meals, ever (I love Indian cuisine).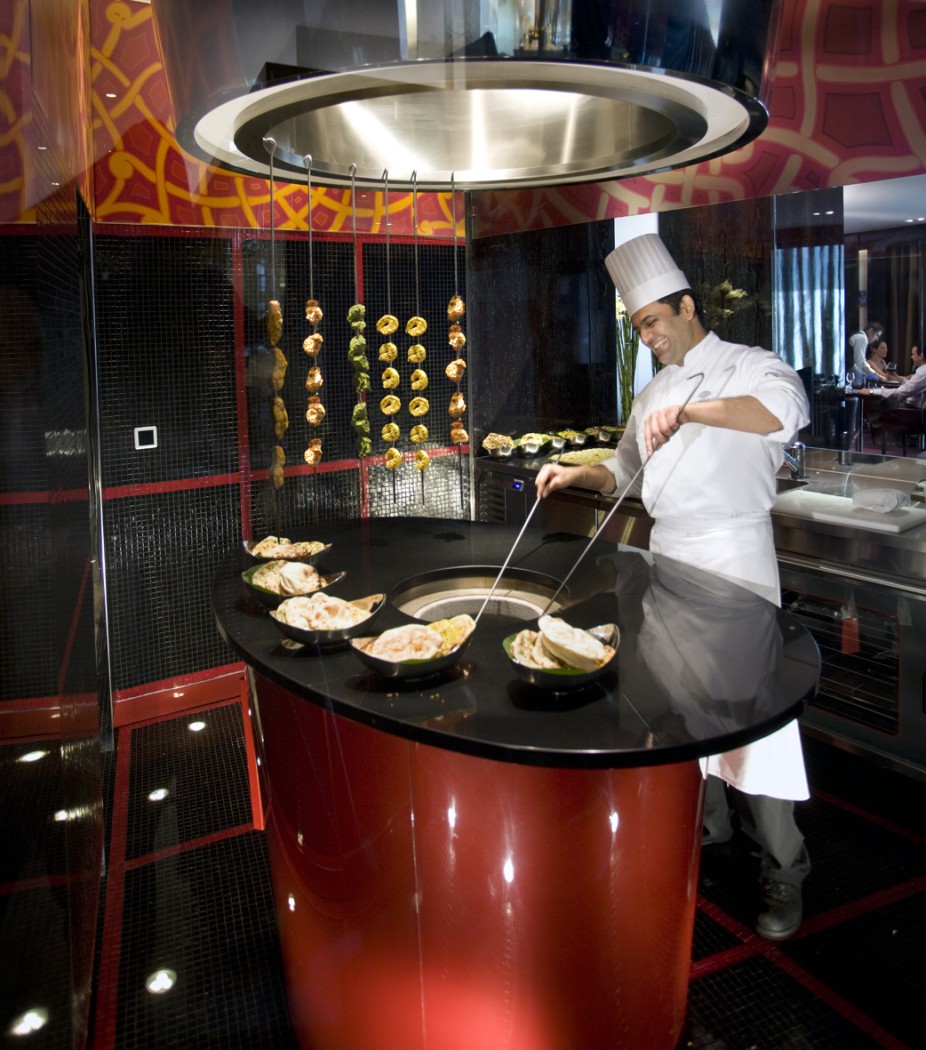 (Rasoi by Vineet's tandoori oven and the chef himself, Vineet Bhatia)
For solo women: Since safety is usually at the forefront of the minds of women traveling solo, I always like to share my experience because my female readers want to know. I felt perfectly safe at the hotel and walking around Geneva alone at night, and also jogging early in the morning when it was still dark outside. The streets are relatively quite and calm in the evenings.
—
DETAILS:
Price From: $780-$1,100 Cdn for rooms; and $1,400-$23,600 Cdn for suites (inquire about rates and specials)
Who goes? Considering Geneva is particularly a business-oriented city, it seems it would attract guests of all walks of life, especially business travellers, as well as couples, singles and families.
Style/Character: A stylish, luxury hotel, 5-star, modern with an Asian flare to it. It is part of the larger Mandarin Oriental Hotel Group.
Service/Staff: Friendly, resourceful and professional staff, and excellent service all around, as you would expect with a 5-star hotel. The restaurant staff were extremely organized, knowledgeable about pairing of wines with food, and swift with delivery of meals.
Rooms: 196 renovated rooms and suites; all elegant, stylish, luxurious and geared for comfort. All suites (there is a range) offer magnificent views of the Old Town and snow-capped mountains; Junior Terrace Suites have a private top-floor terrace. Heated towel rails in the rooms' washrooms are a nice touch. All rooms have a small Nespresso coffee machine, twice-daily room cleaning service, large working desk, large bathrooms (some have separate bath/walk-in shower combo), cozy terry-towel bathrobes and plenty of closet space. Suites obviously have larger living areas. As well as high-quality entertainment technology, including a Bang & Olufsen television, interactive entertainment system which allows integration of iPod or MP3, and audio system. Some come with yoga mats and umbrellas. The only draw-back is the WiFi is not free in the rooms for guests, though it is free in the lobby.
Food/Drink:  There are three on-site options: Café Calla, all-day dining; Rasoi by Vineet, Indian gourmet and contemporary cuisine, one-Michelin star, created by renowned chef Vineet Bhatia (also has the acclaimed restaurant Rasoi in London); and MO Bar, offering drinks and light fare. Excellent wine lists with plenty of Swiss wine options.
Amenities:  On-site salon, beauty studio, fitness centre (24 hr), business centre, 4 conference rooms (for weddings & other events) and 6 meeting rooms. Considered one of the best event locations in Geneva. Catering is available.
Women traveling solo-friendly: Yes.
Family-friendly: Yes
Disabled Access: Yes
Local shopping: Nearby are lots of shops and boutique stores, and the historical Old Town centre, just walking distance.
What not to miss: Rosoi by Vineet, the food and wine are excellent.
Nightlife: The bar gets relatively quiet by 11pm or so, so if you are seeking an exciting nightlife, you may need to find a downtown club or bar.
Value for Money: At a minimum room cost of $780 Cdn, you get a lot of excellent services, comfort and convenience that comes with the central location.
Reservations: https://www.mandarinoriental.com/geneva/
Location: Geneva, Switzerland, situated on the banks of the River Rhône, in the heart of the city centre. Address:  Quai Turrettini 1, 1201 Geneva, Switzerland | +41 (22) 909 00 00.
Resources: Geneva Tourism and Switzerland Tourism
* some photos courtesy of Mandarin Oriental Geneva, because they are so much better than mine.
Accommodation was provided courtesy of Mandarin Oriental Geneva and Geneva Tourism.