Before becoming a mother, Dana Florence was a primary school teacher with a passion for helping children reach their full potential. In her heart, she really wanted to start a family of her own. When she gave birth to triplets on Jan 1. 2008, life changed — dramatically.
The triplets were born 15 weeks premature and the fight for their lives began, enduring many tests, procedures and surgeries to keep them alive. Eventually, the children — all three of them — were diagnosed with severe cerebral palsy. Today, they all require equipment, such as wheelchairs and walkers, and constant care to help them with everyday tasks that many people take for granted.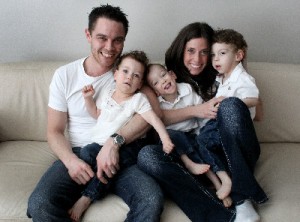 These children — Taylor, Cole and Brody — are the inspiration behind Three To Be, a Toronto-based organization that Dana and her husband, Jared, founded to help children with neurological disorders. Three To Be's mission is to advocate and raise funds to support and advance the development of innovative research, education and therapies for children with neurological disorders. So far, they have granted more than one million dollars to The Hospital for Sick Children and Holland Bloorview Kids Rehabilitation Hospital. Recently, they purchased a robotic device to help children with cerebral palsy learn to walk.
And this is just the beginning.
"If you don't go through difficult things in your life, you don't realize what you have to be thankful for."  ~ Dana Florence
At the heart of this story is a determined woman who has taken a difficult situation and made the best of it; moving beyond basic survival to inspiration — to making a difference in the lives of many children who need it the most. It is also the story about how the unconditional love of a mother can be powerful enough of a force to move a mountain.
I invite you to watch my in-depth interview with Dana Florence on my web TV show, Extraordinary Women TV with Shannon Skinner. I asked her about the organization's vision, and how she finds the strength and support to keep going. I also asked her if, reflecting back, she would change anything. Her answers — from the heart — provide insight into a woman who is nothing short of extraordinary.
To go to the interview, click here (VIDEO).