I met award-winning humanitarian, Judith Jenya, in March 2012, in Mexico, where she was speaking at the International Women's Day event, We Move Forward 2012. I was deeply moved by her compassion and courage. Her stories of working with traumatized children of war, and her own personal challenges — from a serious health issue to being on a airplane while it was shot at in Sarajevo — tugged my heartstrings.
The former attorney and California native was the first to arrange adoptions of Russian orphans with families in the United States. While in war-torn Croatia, she had created a safe haven for children. She ran similar programs in Northern Ireland for Protestant and Catholic children during the "Troubles." She created programs for children living amid gang violence in Los Angeles, and worked with children in Kosovo, Cyprus, and the Middle East. She was an advisor to Queen Rania of Jordan in the creation of the country's first Child Abuse Center. She has been a mediator and consultant on conflict-resolution to many organizations.
Judith has been featured in the magazines Biography and TIME, and appeared on ABC, CBS, NBC, The Today Show, The Roseanne Show and CNN.
A life-threatening illness made her change course and fulfill a lifelong dream with a move to San Miguel de Allende, Mexico, where she is presently a full-time artist and writer, and, now in her early 70s, lives with her new husband.
Check out what she has to say in the following interview …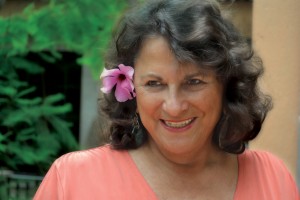 What is your heart's deepest desire?
My heart's deepest desire is to live in a peaceful world, free from hatred, intolerance, war, killing and suffering. To live in love and contentment with my chosen partner, Mark, and feel daily gratitude and fullness of living rightly, justly, with love and compassion, accepting all and being surrounded by love and beauty.
What was the moment you knew in your heart what your life's mission is?
In April 1993, I made my first trip to Croatia and visited for the first time refugee camps and displaced person's centers, as well as orphanages.
There, I met a young girl named Nada who reminded me of a girl, also named Nada, which means 'Hope,' who had shared my bed when she and her family arrived in California after being in a Nazi concentration camp and then a displaced persons center. The family were Yugoslav Jews who somehow had survived. After visiting an orphanage camp in Split, Croatia, where I was challenged to do something the children actually needed, I decided to create a summer camp to give kids a "break from the war." Flying over the beautiful islands of the Dalmatian coast of Croatia, I thought of my island home in Hawaii and how islands have always been sanctuaries, and had a vision of creating a safe haven — a place of safety and love — where children of this war could be "restored to childhood." In August 1993, with no backing or formal government, UN, or other assistance, we held the first "Island to Island" camp on Badija island. Badija means 'sanctuary' and we were in a restored 15th century Franciscan monastery that had been a sanctuary for centuries.
I had been raised with a heritage of knowing about oppression, holocaust, outrage, stories of revolution and the need to flee one's home and how people in my own family acted in similar situations at a different time and place. All of that was present when I was confronted by a new reality of horror in Europe and the words "never again" kept ringing in my ears, and I knew it was my time to take action.
As someone who has spent time in war or conflict zones, what was your biggest fear during that time – and how did you get beyond it?
When I was threatened, I usually felt anger, that these guys were bullies and trying to bully me. Then I took some sort of action. For me, being proactive enables me to get beyond fear. When there was actual physical danger, like a bomb, I did what was the most prudent thing to do at the time: following the lead of the residents. I also worried that my work was irrelevant and wouldn't really matter. I was alone and always facing people saying: "it won't work, it won't matter, you can't do that and it will do no good."
What is your greatest gift to the world?
My greatest gift to the world is engaging in compassionate action and active compassion, and linking the two. I believe that small actions matter, what I do matters and creating beauty matters. I also believe strongly in Tikkun Olam, the Jewish teaching that each of us has an obligation during our lifetime to make the shattered world a bit more whole and complete, to "repair the world."
What is the answer to healing the planet's most traumatized by war and conflict: children?
To heal the children of war is a lifetime's work. To begin, each child must experience hope for the future. A caring person who gives them shelter and care can begin the process. The children need someone who offers then hope for the future, and shows the child this possibility. I like to explore each child's personal strengths or resilience and work from there.
Can one person really make a difference in these kinds of war or conflict situations?
One person can make a difference person-by-person, not in terms of the political situation or institutions. For me, being from Hawaii, with no historical or family ties to the area, but choosing to be there to help them, made a big difference to the people I worked with. The situation on the ground does not change militarily or politically by my actions. But, for individual children, one person's caring action and love does make a difference. And the recipient person can multiply the effect. One person caring, taking the time, putting themselves at risk when they don't have to, makes a difference.
They can make a difference by changing the atmosphere, saying 'no' to violence as a way to resolving disputes, providing an alternative to the prevailing mode.
Of all the influential people you have connected with, who stands out in your mind as the most memorable – and why?
General Jovan Divak, who led the defense of Sarajevo through the siege, who was himself a Bosnian Serb and the primary target during the war of the Serbs who attacked his city. He was the founder of an organization to help children who lost parents after the war, and enabled them to go to school and create a new community. He is was a true hero and humanitarian.
Today, as a painter and writer, where do you draw your creative inspiration?
As a painter, I draw my inspiration from the beauty and color that surrounds me in San Miguel, and in nature. As a writer, I look inward to memories, feelings, incidents and my current life shared with my new love and husband, Mark.
If you could do it all over again, would you change anything?
I would not change my involvement with children in the Balkans, Northern Ireland, L.A. and working during the war. Or my involvement with gang violence. Or finding homes for orphan children from Russia. What I would change is spending more time with my own kids during their adolescence, when I was busy being a lawyer and the structures of my life were falling apart.
Is there anything left undone that you feel you need to finish?
I feel a need to write my memoir, publish more of my poetry and, most importantly, share a contented life with Mark. In one sense, everything is unfinished; my work is a piece in the ongoing puzzle of humanity of finding the scattered particles of light and goodness, and putting them back in the newly repaired shattered vessel that is life in this universe. My own children and grandchildren have lives that are unfinished, as is mine.
Is there one child who deeply impacted your life?
One child who deeply impacted my life is Sergei, a 7 year-old orphan from Russia, who was the first child I met and then placed for adoption. At the orphanage, before I was shown Sergei, the director of the orphanage told me: "No one will ever want this child because he is mixed race." I then saw the cutest little boy who looked like half the children in Hawaii, where I lived and worked. I was able to find him a wonderful family and home.
Eleven years later, a story that was written by his adopted mother, under her pen name, for Time magazine about my work with children living with gang violence in L.A., brought us together again by phone. When we discovered she was the adoptive mother of Sergei, she asked if he could possibly volunteer to work with the kids in L.A. When I interviewed him, he said: "None of those kids will want me as their counsellor." He became the most beloved volunteer/counsellor of the camp and was wonderful with little boys, since he could emphasize so well. He is now a young father with his own son in New Mexico.
Whenever I hear that an idea — or person — is unacceptable because of some trait, I think of Sergei. It reminds me of people telling me, "You can't do that because —." It was always untrue.
What is your key to success?
I think the keys for me are: being optimistic, tuning into my heart and acting from there. Also being resilient, persistent and never  accepting what others say are limits.