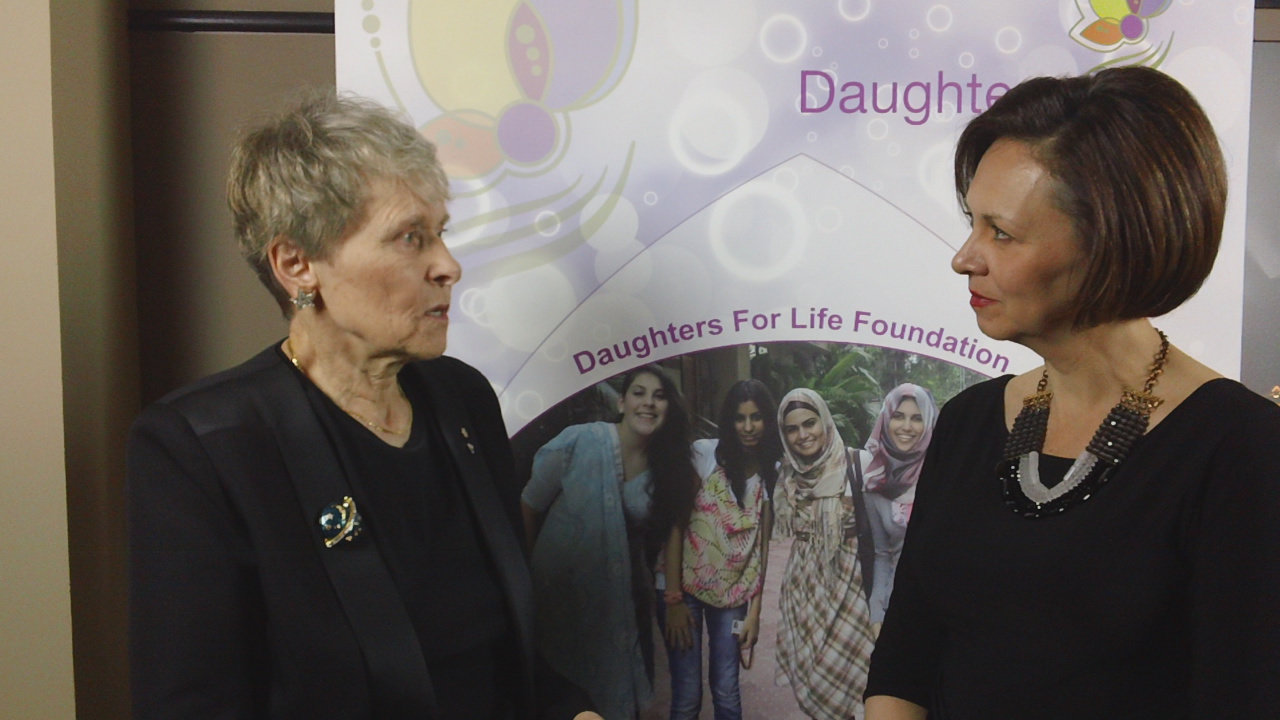 "I consider myself a cheerleader for women and a role model for men." – Dr. Roberta Bondar, Astronaut
On May 28, 2014, I had the honour and pleasure of interviewing my Canadian hero, Dr. Roberta Bondar, Canada's first female astronaut and the first neurologist in space. I caught up with Dr. Bondar while attending the Daughters for Life Foundation's Third Annual Gala Dinner at the Carlu in Toronto.
Dr. Bondar was in attendance to receive the Lifetime Achievement Luminary Award, presented by the Foundation for her outstanding career achievements as a pioneering astronaut and for promoting the professional advancement of women in neurology. Daughters for Life Foundation was created by Dr. Izzeldin Abuelaish after his three daughters were killed when their home in the Gaza Strip was shelled by an Israeli tank. Dr. Abuelaish turned his pain into an open heart, created the Toronto-based organization is dedicated to the education of girls and women in the Middle East
Other women honoured with awards at this year's gala included: CTV journalist, Lisa LaFlamme; and Captain Aysha Al Hamili, the United Arab Emirates' first female pilot.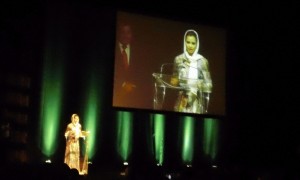 (Captain Aysha Al Hamili on stage)
My interview with Dr. Bondar was impromptu and therefore I did not have my camera crew on-hand, but I was able to sweet-talk a kind journalist into recording it for me with my trusted Bloggie (the audio isn't ideal, though, ugh).
I had 3 questions for Dr. Bondar. Her answers are paraphrased here for the purposes of simplicity. For the full interview, I invite you to watch the full interview (below):
1. What does this award mean to you?
I consider myself a cheerleader for women and a role model for men. It reminds people of the importance of education and that we can teach our girls to be astronauts. Remember that in Canada we have gifts that many other countries don't have; we can promote the health and education for girls, and this underlies it.
2. How do you want today's young girls and the future generation to remember you?
I always like to have people call me Dr. Bondar, because if someone calls me "Miss," they miss the point. I like to help get young girls and boy, and men, to see that women have an equal role play in society. I want to be remembered as someone who made a difference by getting people to believe in women.
3. Do you have a process to get past fear – and, if so, what advice to you have for girls to get beyond fear?
Being well-prepared is key. My background in sciences and medicine has helped me a lot to deal with fear. When we are educated, we are not as fearful. Fear comes from not knowing and being overwhelmed with a situation. My advice to support groups has always been move out of fear through education.
Check out my full video interview with Dr. Roberta Bondar, click here.