The moment we make the decision to pursue a dream or inner calling, we probably have no idea how long and far that journey will take us. Or how long the passion will last, given passion's "ebb and flow" nature. Besides, creating value in this world takes time and space. This morning, I was reminded of that because I realized it was one year ago when I first met, and subsequently interviewed, one of Toronto's iconic women entrepreneurs and hair stylists, Mary Tripi, who at 74 years of age was starting a new business adventure — and I was starting a new dream for myself.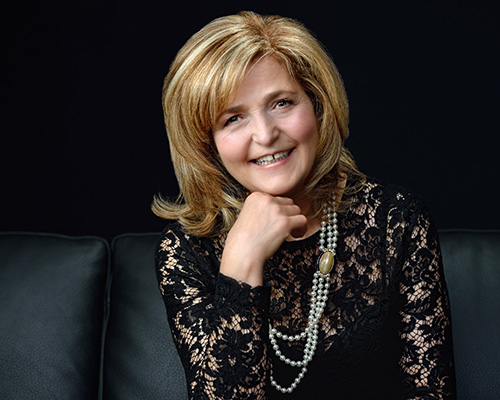 By the time most people reach their early 60s, on average, they begin winding down their work life in favour of retirement. But, at 74 years — more than a decade past the median retirement age for most women (61.4 years, according to the CBC), Tripi was gearing-up her business and opening a new salon in Toronto. In the time I had spent with Tripi, what I discovered was a woman who has no intention of slowing down any time soon, but has a vision for herself that is fully alive and crystal clear.
I discovered one other thing: what I want to be when I grow up.
Now I am not talking about starting an avant-garde and cutting-edge salon business — that's not my forte. Surely people would not pay me to give hair design advice. What I am talking about is continuing to live my passion with unstoppable energy and creativity, and maintain a youthful presence — well past the age of retirement.
Like Mary Tripi.
"Every person is beautiful." – Mary Tripi
Born and raised in Greece, it was at the young age of 14 when Tripi began her study of hair design. Three years later, she moved in Canada, bringing with her a unique vision forged from her European training and her personal creative energy. She launched her career in Toronto's Forest Hill neighbourhood before opening her first midtown salon in 1962, and quickly made a name for herself as an innovator in hair design. Constantly challenging herself as an industry leader, she is inspired by her clients to continue developing new creative approaches. Tripi has been named to several prestigious associations, including the Guild of Hair Design and Style Directors Committee, and she was honoured to represent Canada at the Intercoiffure in Paris.
Inspiring her son, Nicholas Vrettakos, who spent many days as a young boy in her salon absorbing the creative energy and vision, Nicholas learned the tricks of the trade, becoming a leading colorist in his own right, and eventually joined Tripi's business, The Private World of Mary Tripi (the name is inspired by a friend's New York-based salon many moons ago).
When the opportunity arose this past year to move her Yorkville salon, The Private World of Mary Tripi, to another location (also in Yorkville), she used that opportunity to innovate, again. True to her visionary and forward-thinking nature, the new salon includes the addition of Studio Beauty 890, a chic and modern full-service beauty boutique, in partnership with beauty expert, Cheryl Gushue.
Upon delving into Tripi's business philosophy, in a world where fashion and lifestyles are constantly shifting, it became apparent that it reflects her personal inner values. Says Tripi, "Your hair expression should reflect these changes and move in parallel with them. I believe there is beauty and style to be found in every woman. The stylist's final decision should be a mirror image of your individual personality and lifestyle. I create a look designed to bring that out in each of my customers."
As Tripi continues to impact the lives of many women and men in Toronto, and creates her legacy, at the heart of her passion is a desire to inspire our city's youth to not only look and feel their best, but also to be empowered and follow their dreams.
I want to be like Mary Tripi when I grow up.
To learn more about Mary Tripi and the keys to her success, check out my interview with her on Extraordinary Women TV.