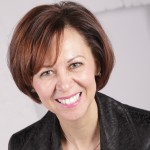 SHANNON'S TRAVEL BAG: travel tips for women
Shannon travels to India. This is part 2 in a series of articles.
In Pictures: Rongali Bihu Festival in Assam, India
I've just returned from an amazing 2-week trip to India. As I wrote in my previous post, the first stop on my journey was attending the Rongali Bihu Festival in Assam, the north-eastern state in India that is located south of the eastern Himalayas – and where "Assam tea" comes from. Rongali, meaning "colours," is a special celebration of the Assamese New Year and coming of spring, with the hopes of peace and prosperity. Rongali is one of three Bihu festivals that take place throughout the year, with Rongali being the biggest in Assam.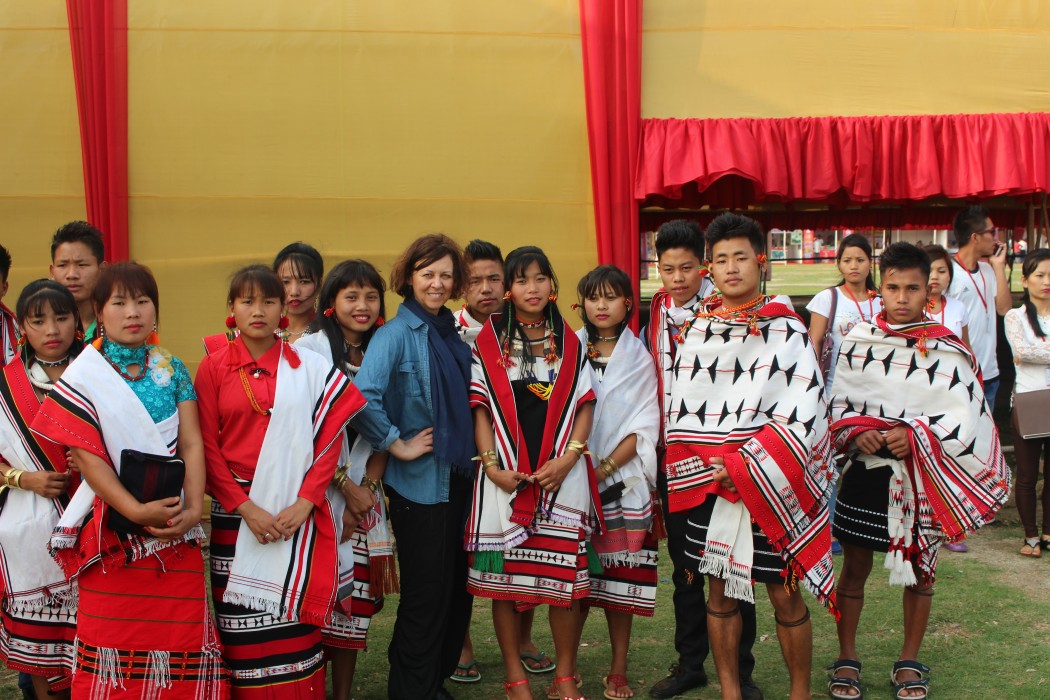 On April 3-5th, 2015, the community in Guwahati, Assam, held a multifaceted Bihu festival highlighting the arts and culture of the Assamese communities and tribes. This included folk dance, rock and Bollywood music (including Bollywood star, Papon), handicrafts, fashion, traditional sport-games and oh-so-yummy food.
Assam, the gateway to the northeast, is unexplored – and more than ready for tourism. The festival was designed as a much-needed tourist draw that, under one platform, features the essence of Assam, a state which boasts the biggest river in the world and a number of wildlife sanctuaries, and is large tea-growing region. "This is a springtime Bihu where there are a lot of festivities, and people are singing and dancing, and making merry," says Rongali Festival organizer, Shyamkanu Mahanta." This is a typical way of focusing on our own culture to promote tourism."
Here are some highlights: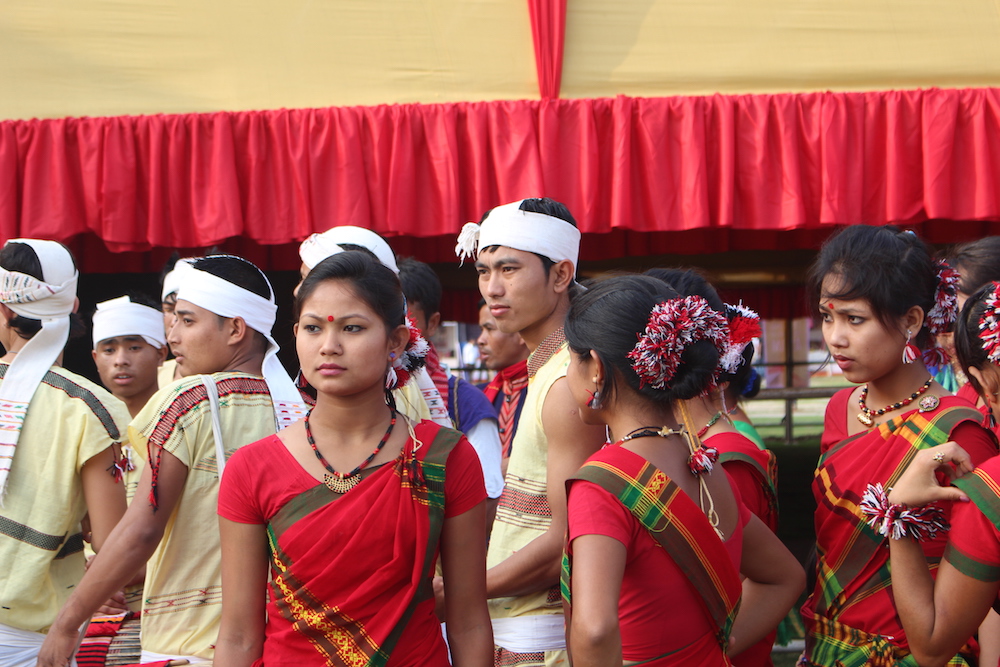 Several Assam tribes prepare to perform Bihu dances in competition (50+ dance forms)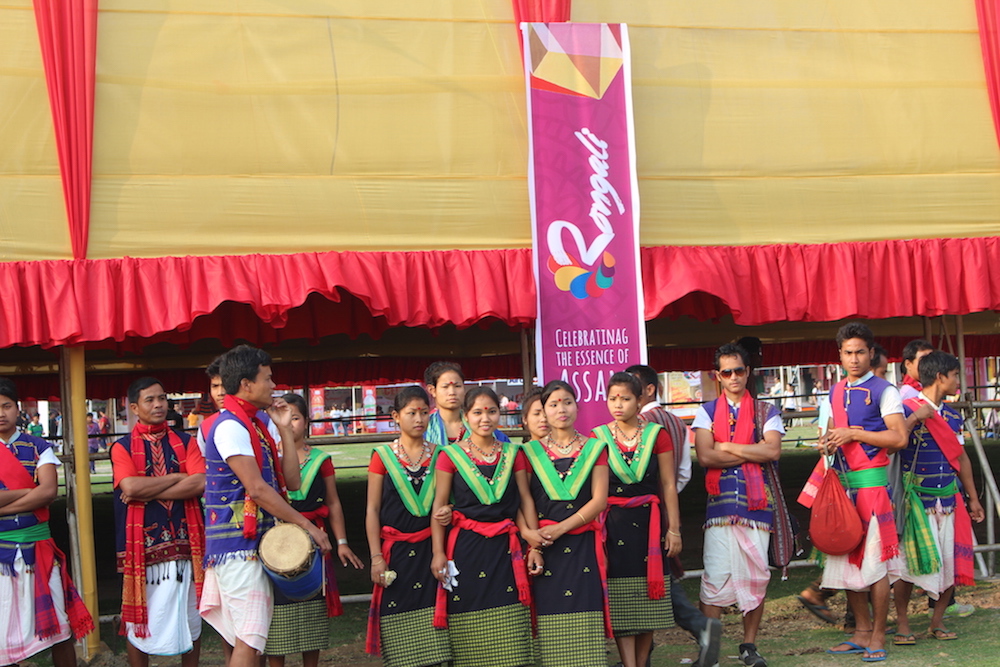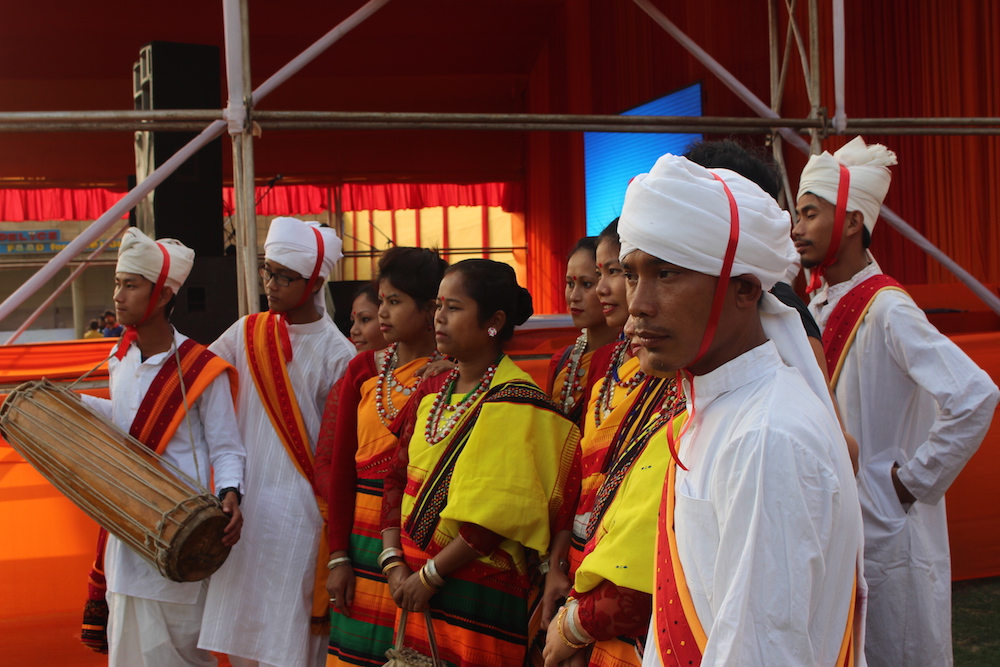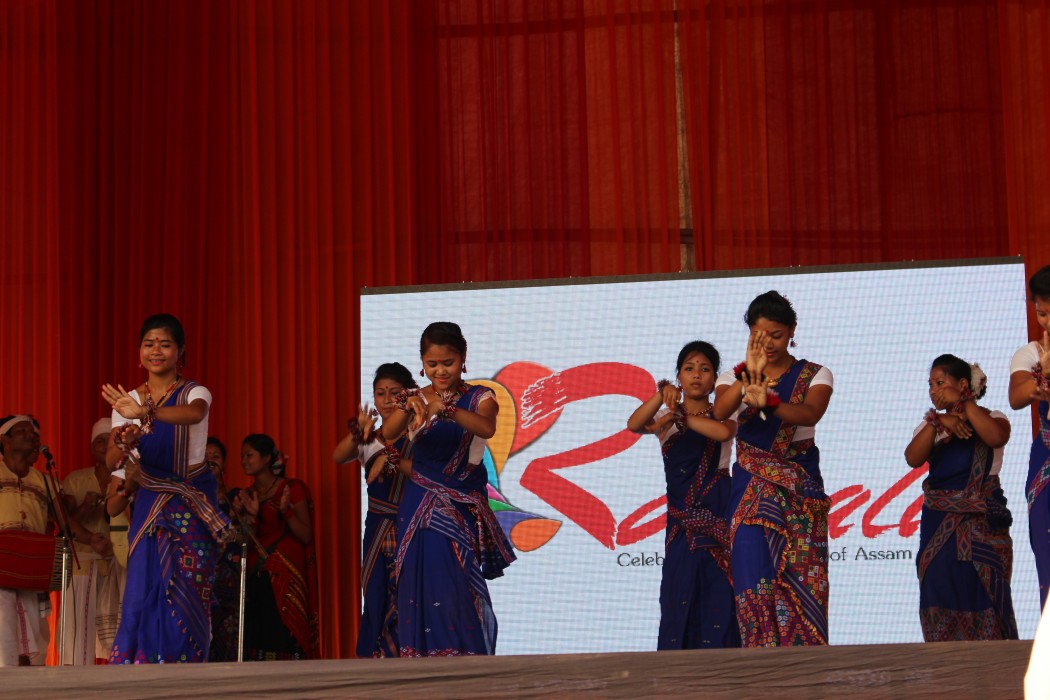 On stage…all dance groups had their own distinct costume and dance form. Truly amazing.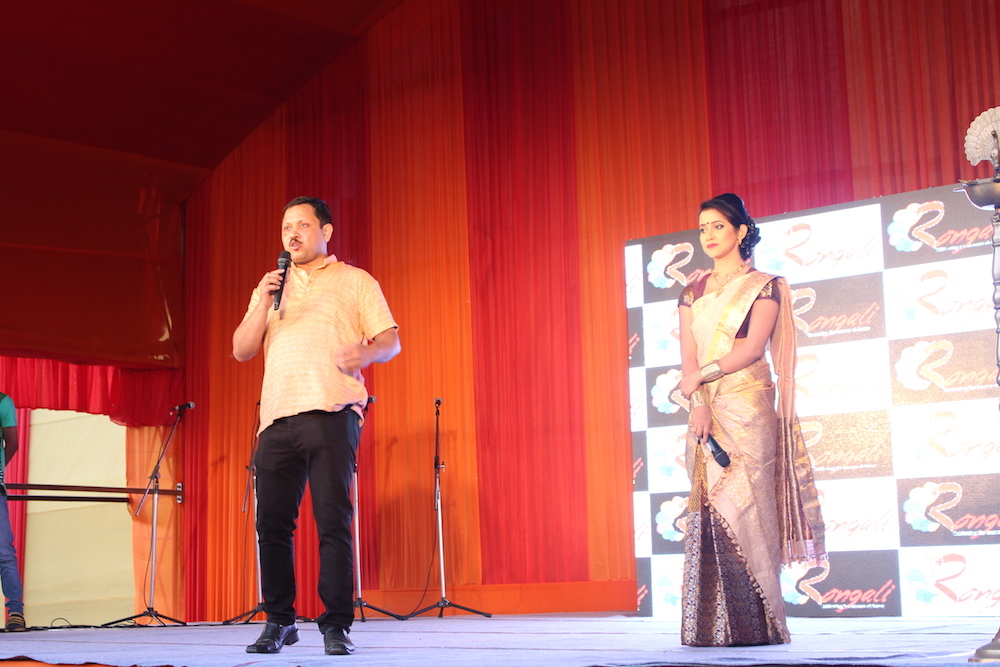 Festival organizer, Shyamkanu Mahanta, and emcee, a famous Assam actress/dancer, Barasha Rani Bishaya.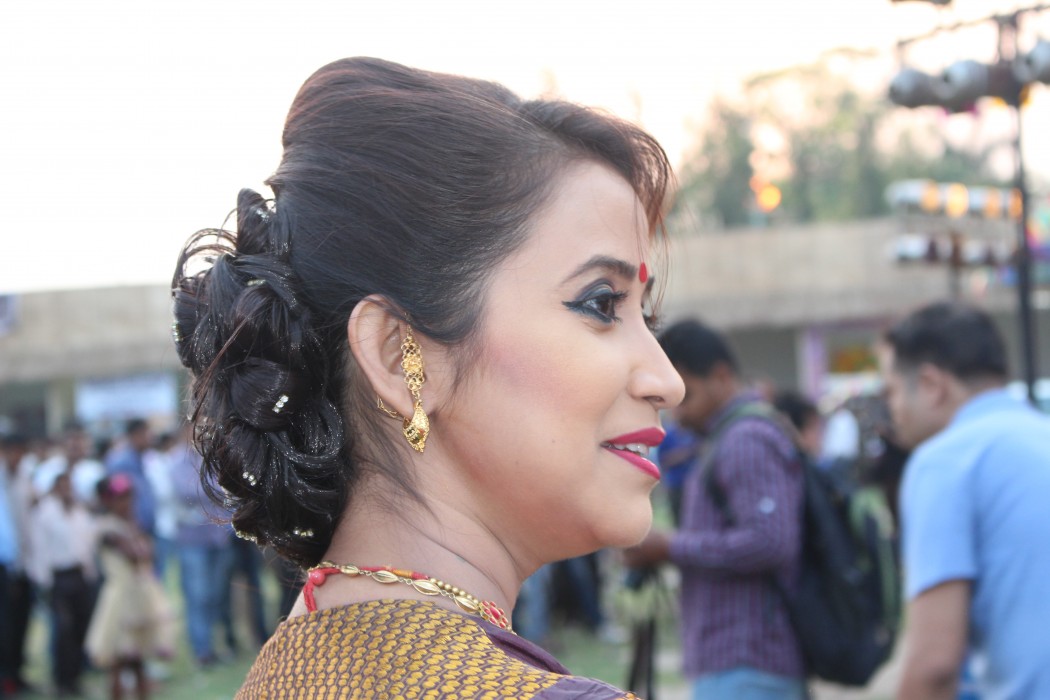 A closer glimpse of the lovely star emcee, Barasha Rani Bishaya.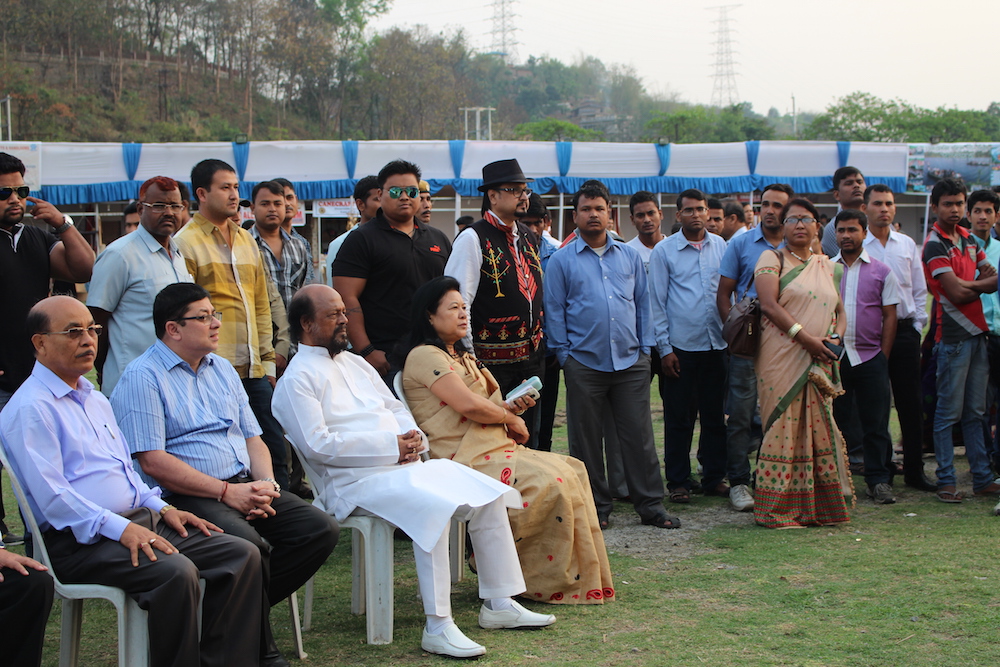 Dignitaries in attendance.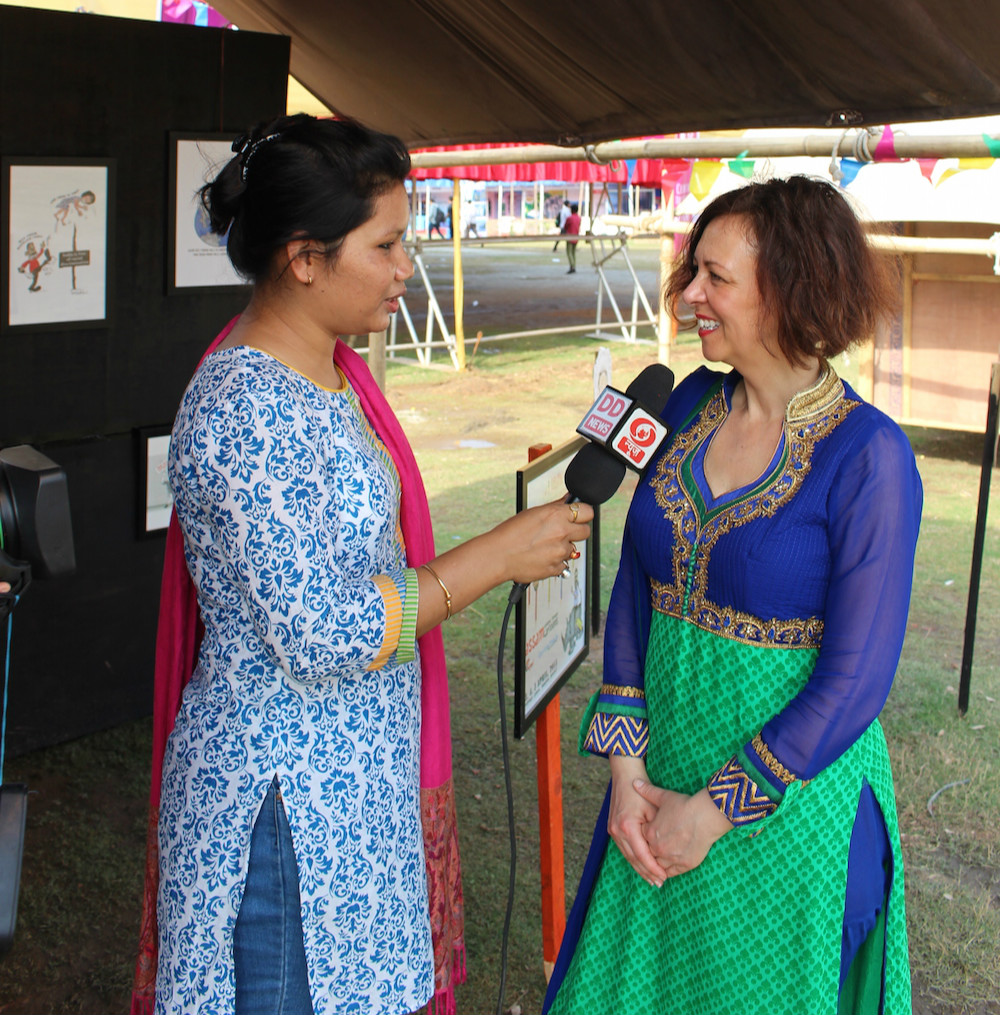 Then this happened…I was interviewed by "DD News" TV Delhi. I was also in a number of Indian newspapers – read more about it). The traditional dress I am wearing actually came with me from Toronto!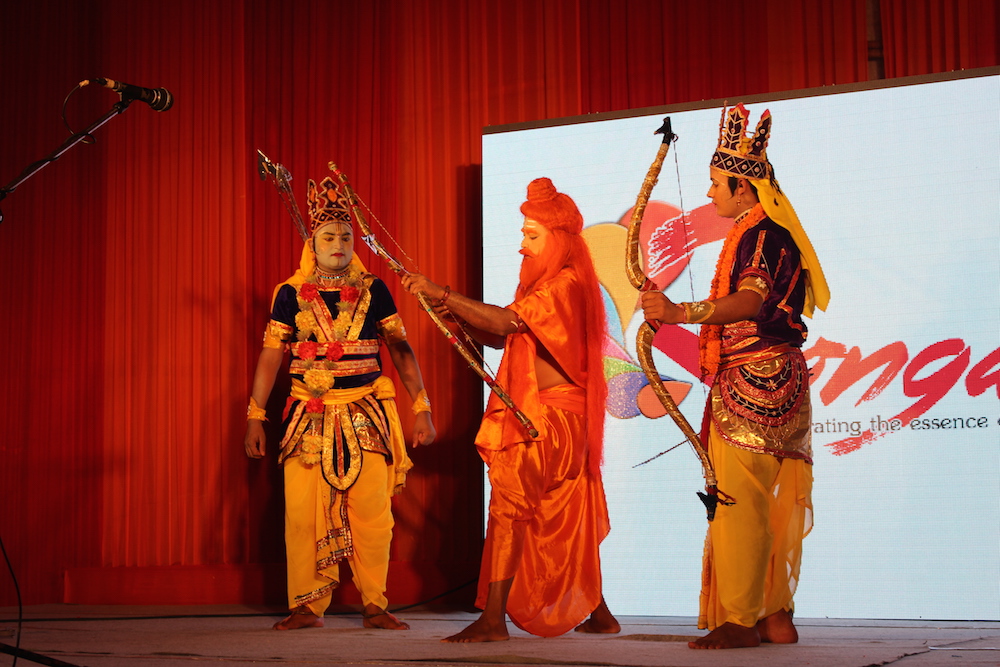 This drama, Ram Vijay Ankia Bhaona, has been performed in India for 500 years. All actors are male, including female roles.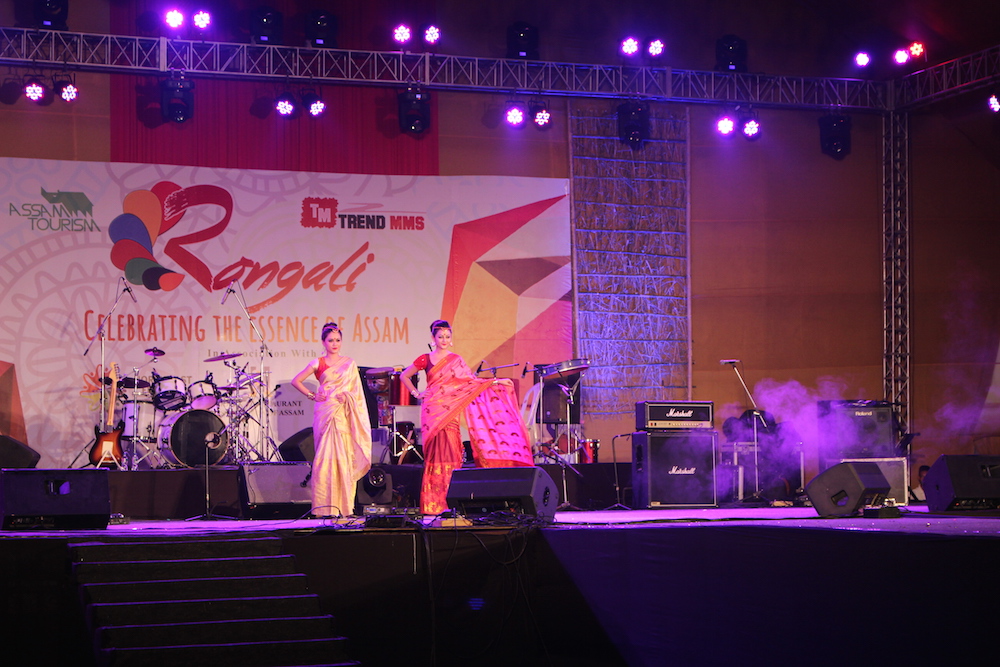 Fashion show of saris by a local Assam designer. Loved this!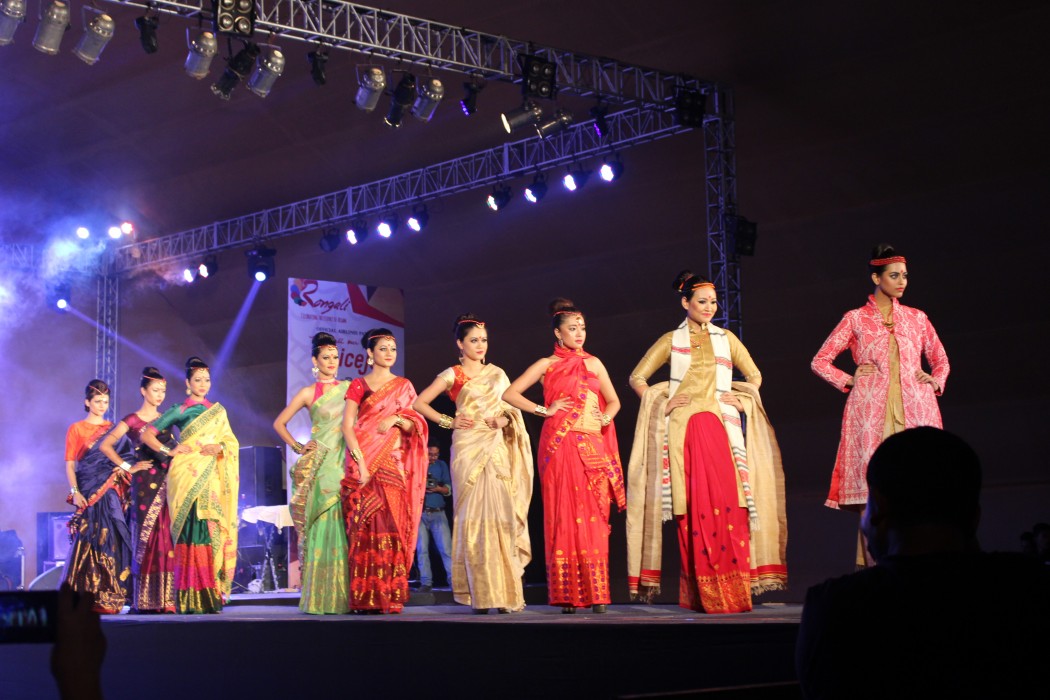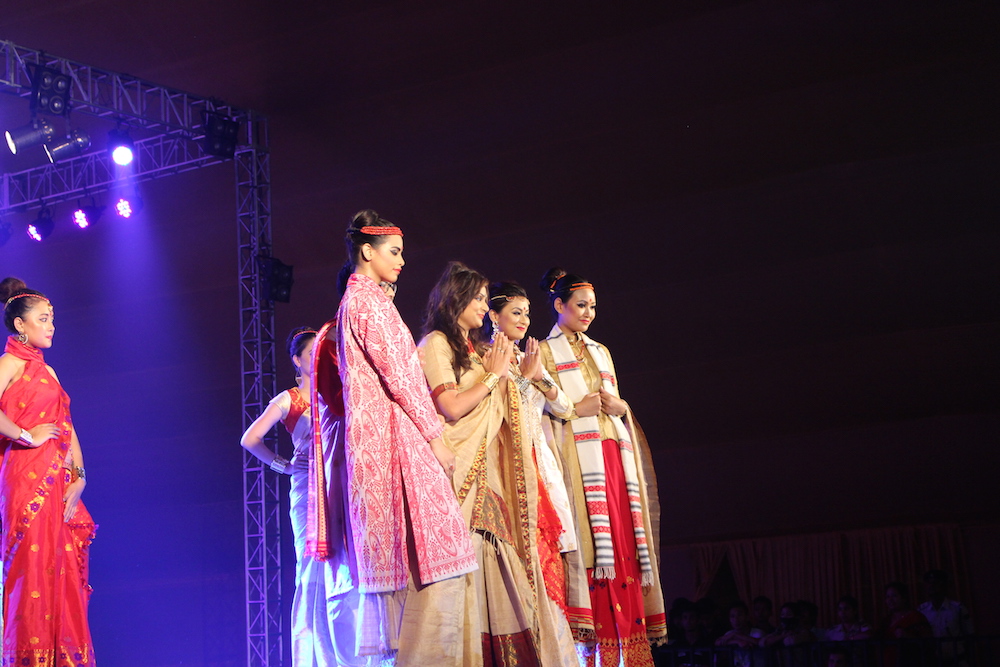 Designer Mehzabin Ershad reacts to the roaring cheers of the crowd.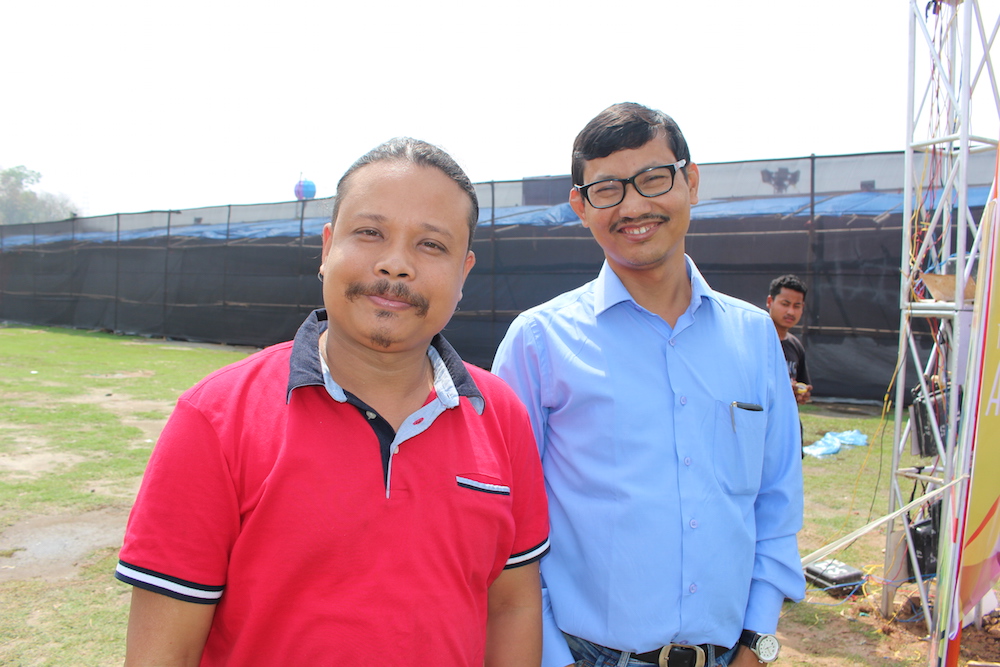 Famous Assam singer, Manas Robin, one of several artists who performed; with a former TV journalist attending.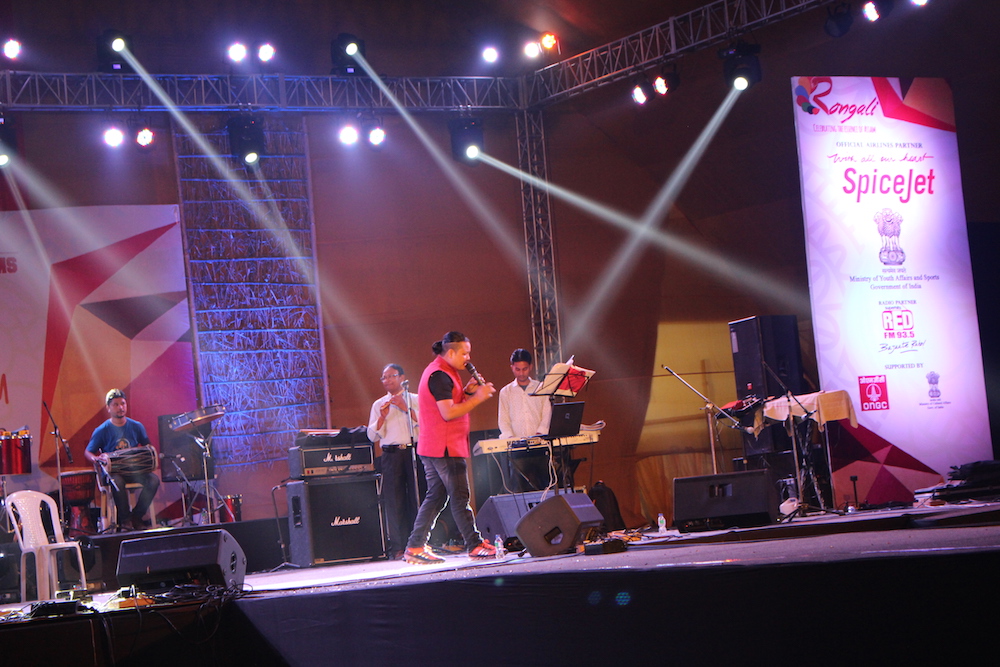 Manas Robin rocked the house. I really enjoyed his music.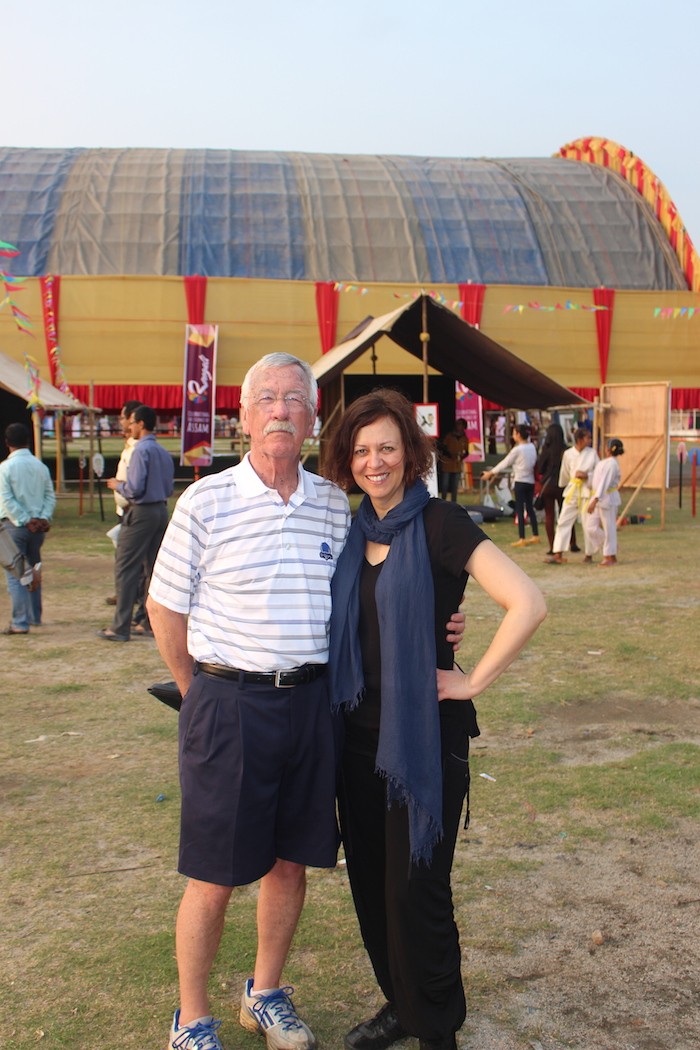 My new travel friend, Tom Peters, former editor of a major Canadian newspaper. I had pitched him many news stories over the years, though never met him until the flight from London to Delhi (lesson: never burn bridges!)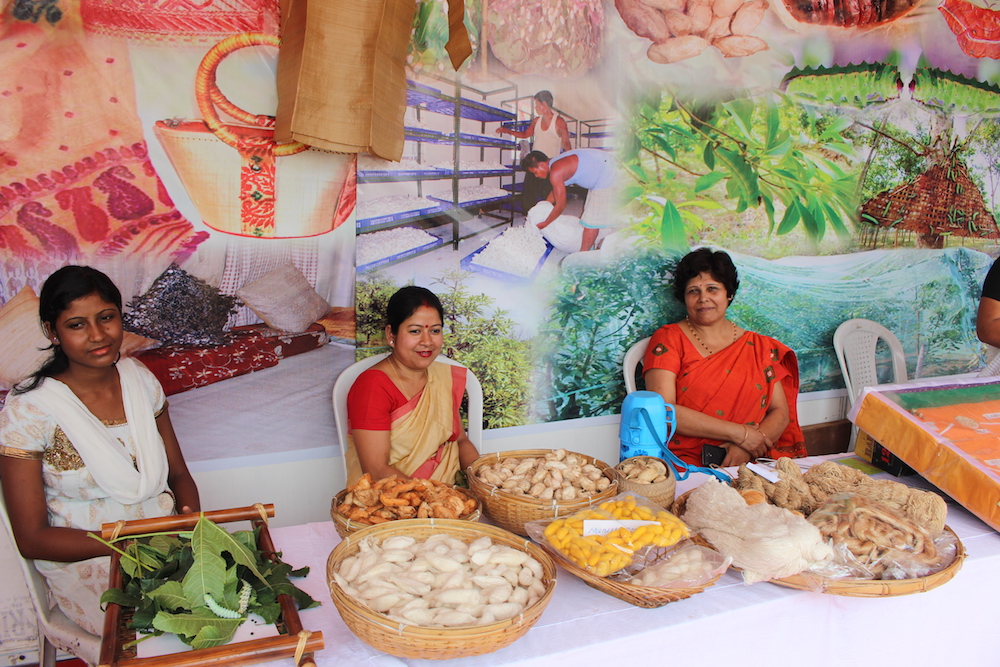 Some of the vendors… above is an exhibition on how silk is created from worms.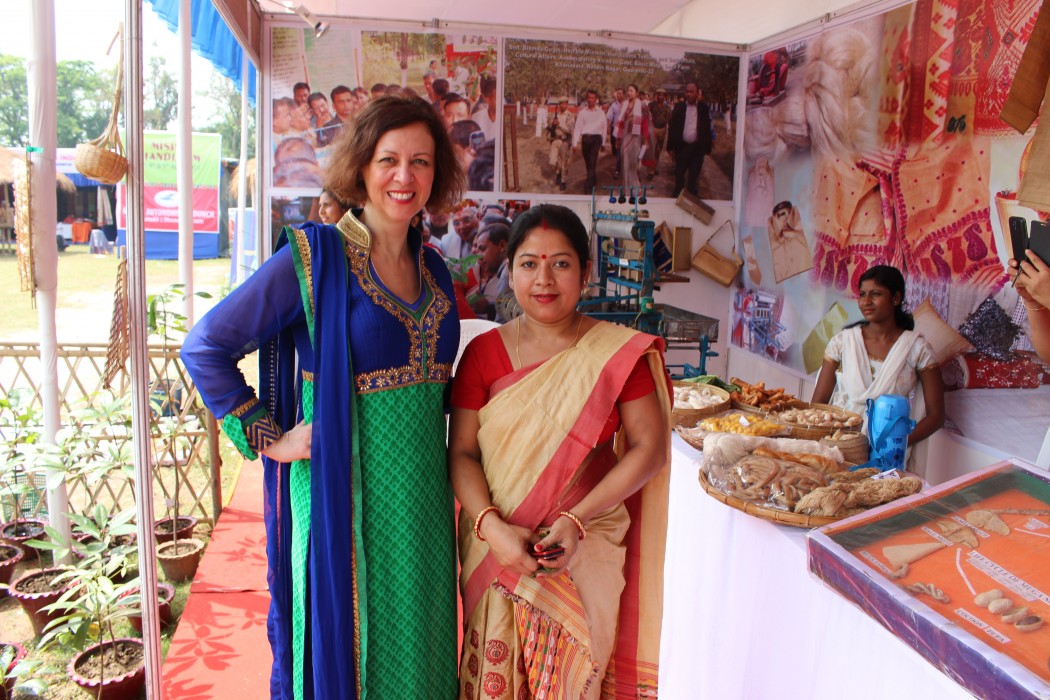 To my surprise, I became somewhat of a celebrity, with locals wanting to take photos with me.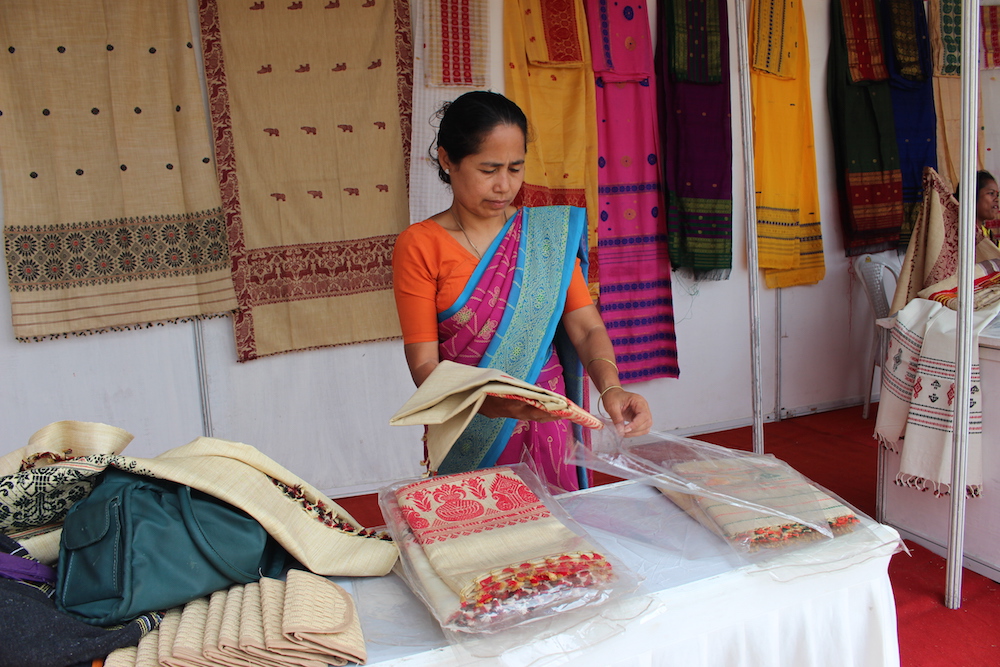 Assam is known for its silk.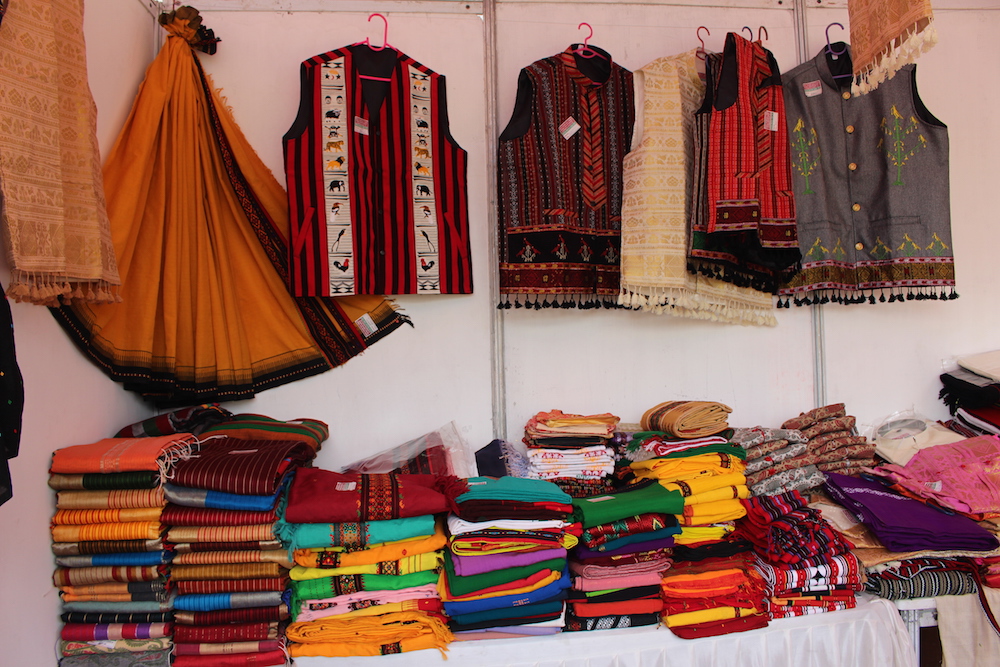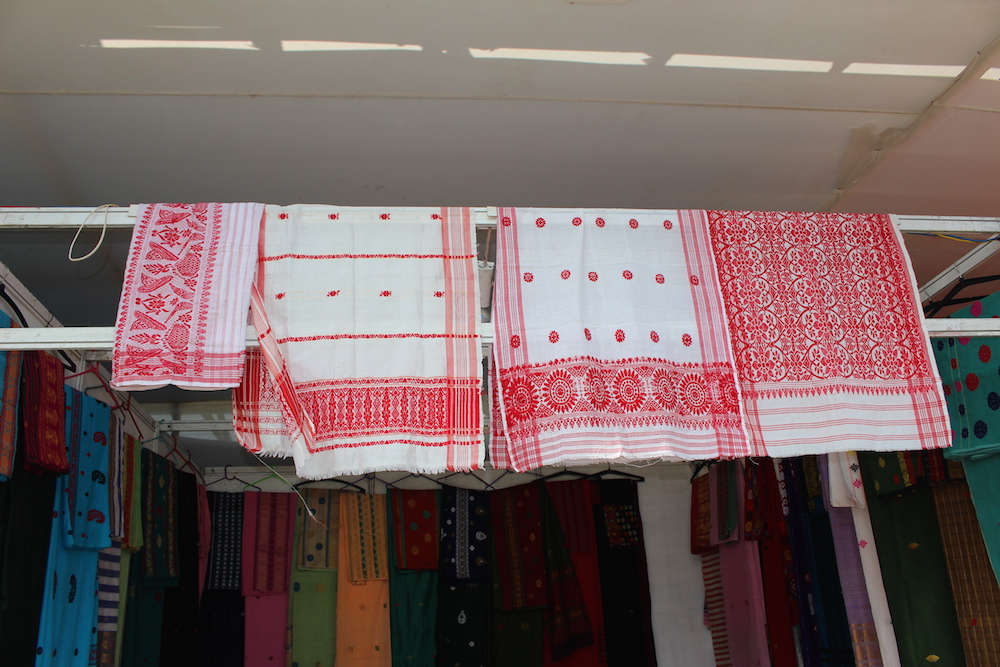 "Gamochas" Assamese traditional hand towel and fabric.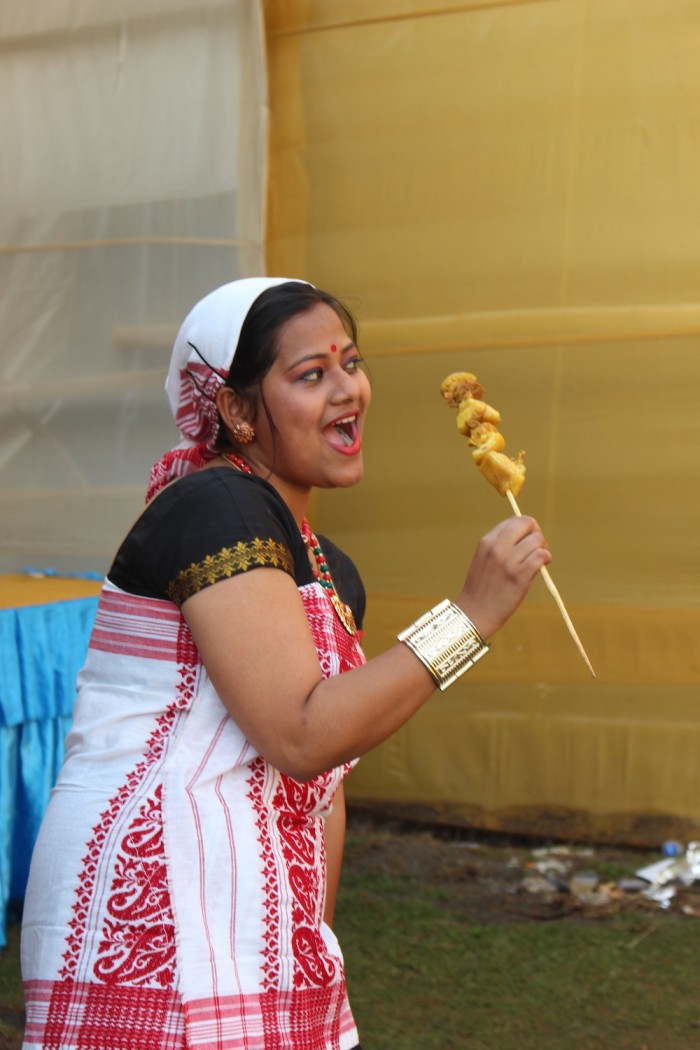 This girl is donning traditional Assamese fabric.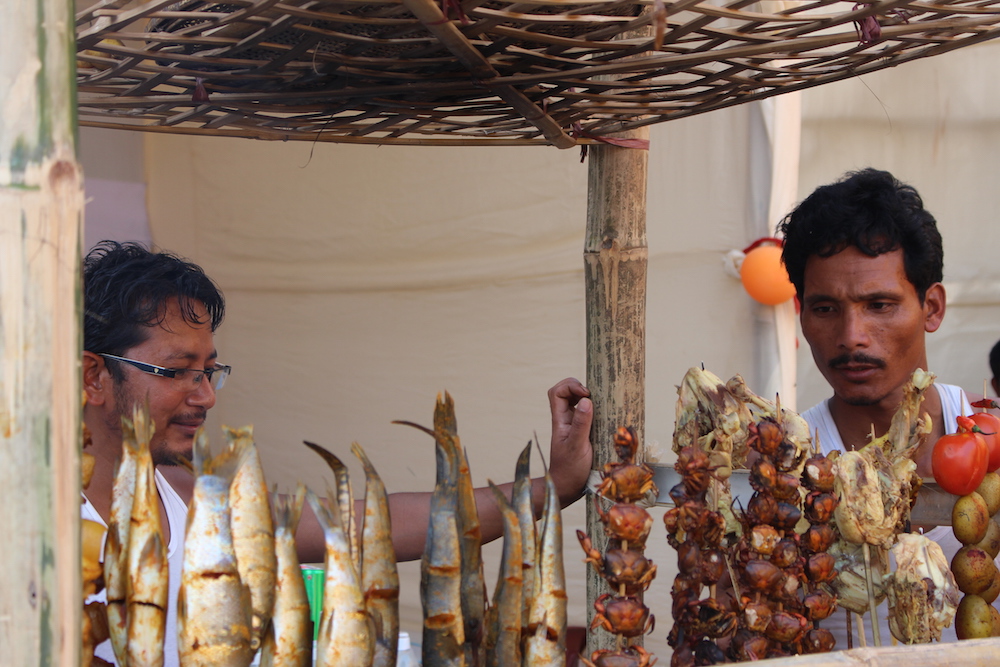 Smoking meat, fish, veggies the Assamese way.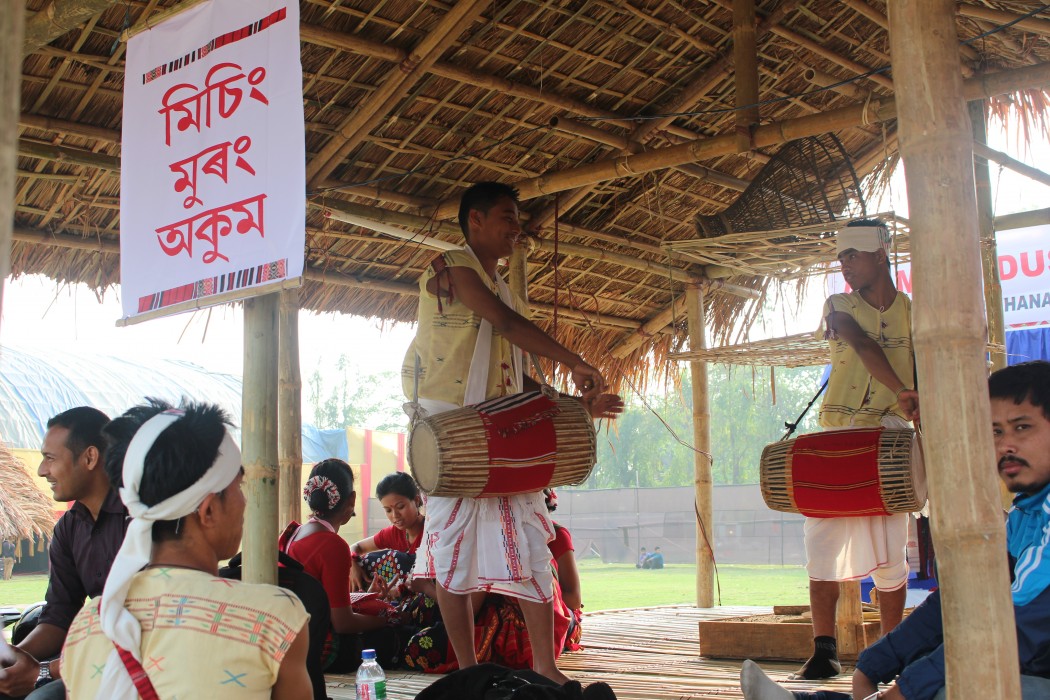 Drummers from the Meishing Tribe.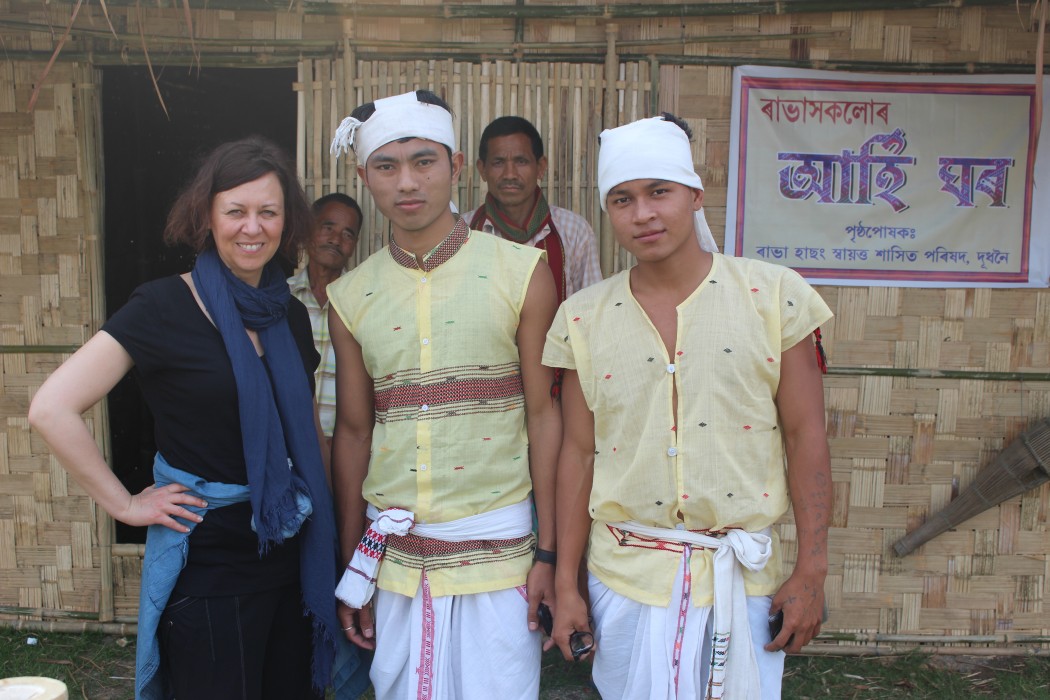 Yeah, I'm a groupie.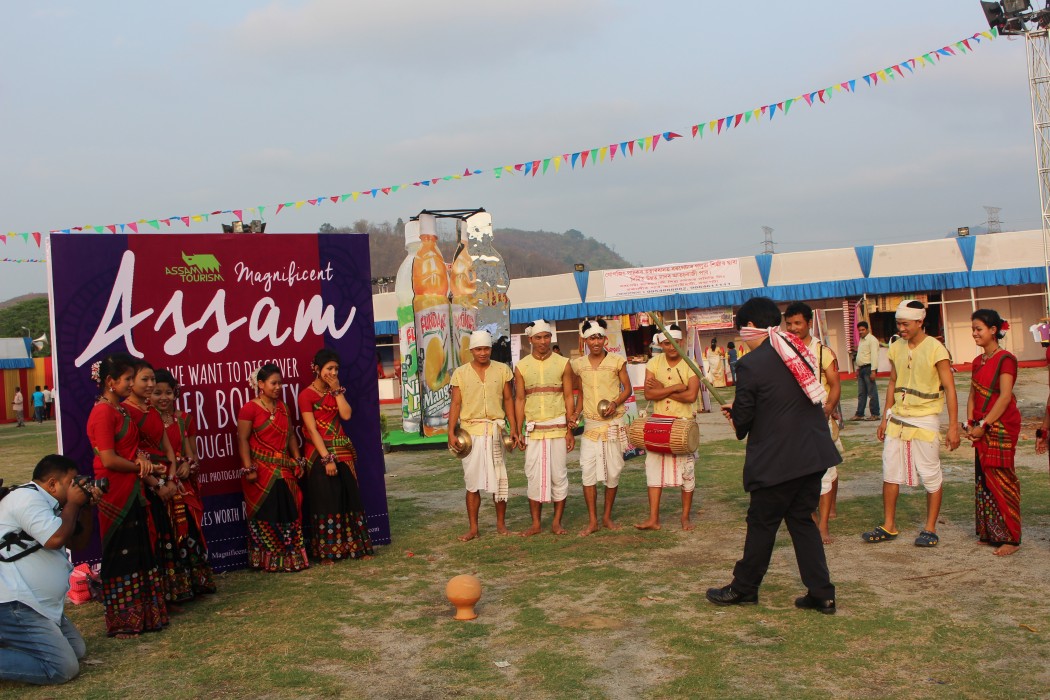 Tourist plays a traditional Assamese game. You are blindfolded, spun around a few times to disorient, and then you have to guess where the pot is – and hit it once with a stick. Great for laughs (yes, I did it, too)!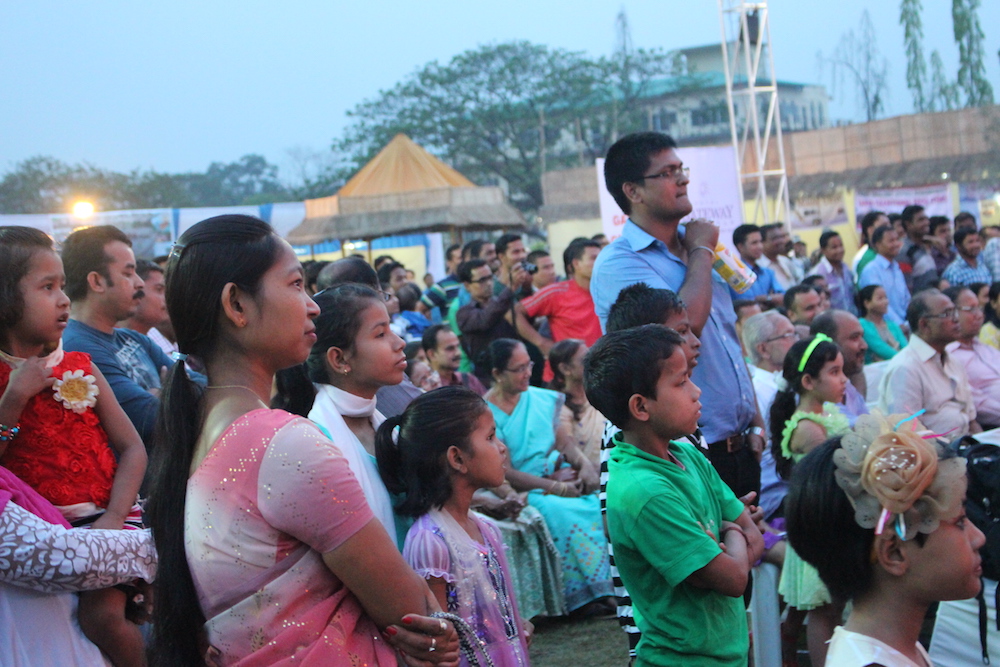 Towering over crowd is my fabulous and trusted guide, Dipankar Borkakati, who took good care of me. Thank you, Dipankar.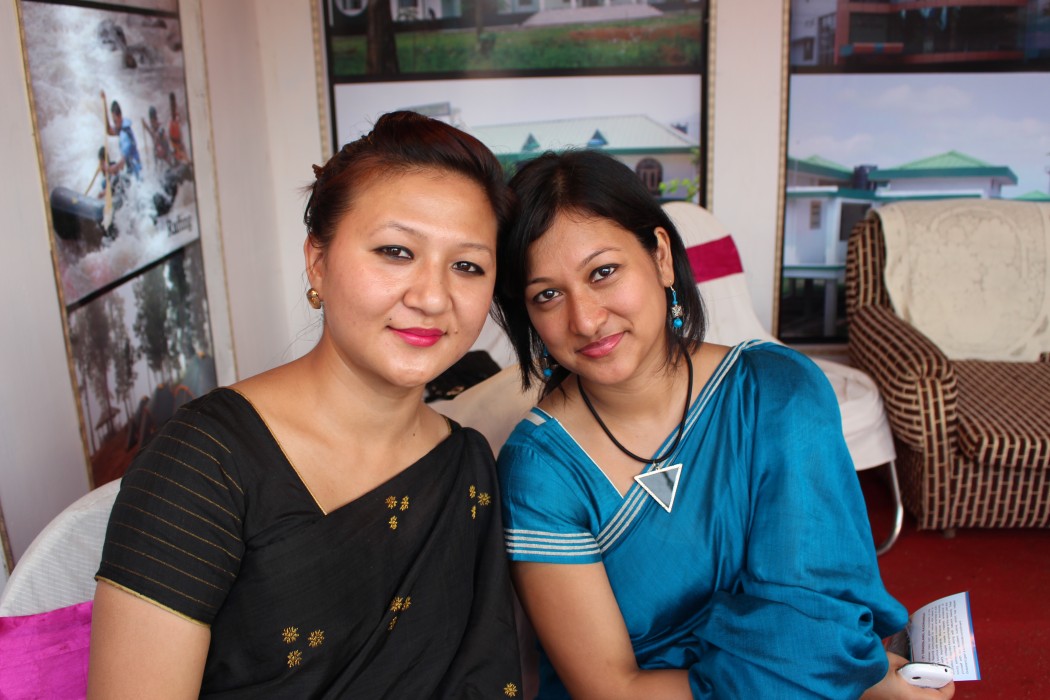 Lovely women from Assam Tourism managing the heat and humidity better than me.
Where to Stay: Hotel Dynasty (4 star) is situated on the banks of river Brahamputra, and in the business centre of Guwahati, Assam, with facilities including a spa, health club, bar and restaurant, and more. Rooms from $106 CDN and up (www.DynastyHotel.in).
***
Read my first article about my India travels here.
Read my Q&A with India travel expert, Vikas Abbott from Vasco Travel.
Stay tuned for the next article in my series on India…
***
For more information about Rongali Festival and 2016 plans, visit www.RongaliAssam.com.
Traveling to India? Vasco Travel (www.vascotravel.net), based in Delhi, is the industry leader in in-bound travel to India (in Canada, Vasco is represented by Canadian Travel Services www.CanadianTravelSerices.ca). For flights, visit Air India (www.airIndia.in), a Star Alliance Member (my route was Toronto-London-Delhi-Guwahati). Resources: India Tourism (www.IncredibleIndia.org) and Assam Tourism (www.AssamTourism.gov.in).