I'm really looking forward to speaking at Trey Anthony's The Millionaire Artist Workshop tomorrow, Saturday, Feb. 2nd. So if you are an artist wanting to make money doing what you love, and live in the Toronto area, please join us!
Here's a teaser of what I'll be talking about: Shannon Skinner on The Value of Personal Branding.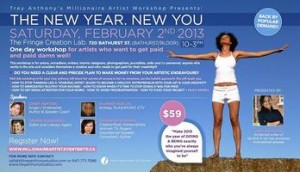 Event Details (presented by Trey Anthony):
The Millionaire Artist Workshop series will give you the tools to take your career and life to new levels. Join Trey Anthony, creator, writer, producer and actor of the hitplay/show 'da Kink in My Hair, and top industry leaders and inspiring speakers for this one-day empowering workshop designed to equip you with the tools to go after your dreams with confidence.
Topics include:
Discover your deepest passion and live an intentional life
Connect with the right people and network effectively
Don't talk about it, be about it – claim who you are, and create a success plan to become exactly that
How to ask for and get paid for the stuff that you love to do
Speakers:
Denise Bukowski, Editor and Literary agent at the Bukowski Agency
Cindy Ashton, an all-around renaissance woman – singer/entertainer, speaker & author
Oluniké Adeliyi, actress, performer and star of CTV's hit series FlashPoint.
Shannon Skinner, Inspirational Speaker, Consultant, Author, Creator/Host of Extraordinary Women TV –  on Rogers TV Toronto Cable 10 & 63
REGISTER: CLICK HERE