I never met her in person, but I feel as if I knew her.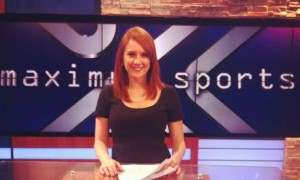 Jessica Ghawi, known professionally as Jessica Redfield, 24 years of age, was a Denver-based hockey blogger and aspiring sports broadcaster. She died in the Colorado theatre shooting, in which 70 people were shot or injured.
I've been in and around media for all my professional life; and even before that, going back to my childhood as I grew up in a broadcast family.  Whenever I hear news of a journalist being killed, it bothers me at my core because it feels close to home, so to speak. But this time, it was not a case of a reporter dying while covering stories from the front lines of war zones. It was someone who was in the wrong place at the wrong time: a movie theatre, where one goes, to use a term coined by poet Samuel Taylor Coleridge, have a willing suspension of disbelief and enjoy the magic of storytelling on the big screen.
Furthermore, the news of her death also touches close to home for me because I am one of many Torontonians who felt the pain of the Eaton Centre shooting, which, according to reports and her own blog, Ghawi narrowly escaped. She was in Toronto visiting her boyfriend, Jay Meloff, a hockey player who lives in the GTA, and was shopping at the Centre moments before the shooting began. It is so bizarre that, weeks later, Ghawi would find herself in yet another situation with a gunman who would, this time, end her life.
Some writers reporting on the event have referred to this as a "cruel twist of fate." Though this leads me to believe in the idea of destiny — and, more specifically, how we have only so much control over it — more than ever.
Jessica Ghawi had a dream. She had the courage to move toward it and fulfill it. It is not easy being in front of a camera and, especially, being a broadcaster on television. Those who have talent make it look almost effortless to the outside world, when, in fact, it is extremely difficult and requires a lot of skill.
If there is another cruel twist of fate at play here, it is that Ghawi's dream of being famous as a journalist came true, but perhaps not in the form she, or anyone else, had thought or expected it might.
I honour Jessica Ghawi for her inspired courage and motivation because she is an inspiration for many young women who desire following their hearts and dreams. My heart-felt condolences to her friends, colleagues and loved ones.
[photo: The Guardian]
© Shannon Skinner 2012