Canadians know how challenging the month of February is. March is not much better. After months of low light, shoveling snow and enduring frigid temperatures (unless you live in Vancouver, in that case, stick it!), we start to get cabin fever from hibernating.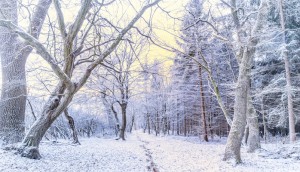 Something I have noticed in my own life is that after hanging up my downhill skiis more than a decade ago, I stopped enjoying winter. I tend to stay in more and by the end of February I'm going squirrelly. For exercise, I do walk my dog several times a day and jog on the days when my lungs and face won't hurt, but it is not enough. Going outside is a big effort. By now, I need an attitude adjustment. My guess is that others do, too.
Here are some ways to get over the February blahs and cabin fever, as we go into the last stretch of winter.
When it's cold outside, be warm and sunny from the inside: Go into your heart more. Do the things that warm your heart and make your light shine and radiate. Maybe it is helping out at a soup kitchen, or cooking a meal for your elderly neighbours, or a random act of kindness.
Create an inspiring space: Our environment directly impacts our creativity and productivity. Low light tends to create lower moods. So brighten up your interior, both literally and figuratively. Create an inspiring space where you do your creative work. Colour plays a huge role. Paint your walls vibrant colours such as red, yellow or orange – or calming ones like baby blue. Enhance your space in a way that is inspiring to you — and maybe it will inspire others.
Buy new art: If you already collect art, take stock of what you have. Consider trading or buy new art. Start a new collection of artifacts or other items that have meaning to you and place them in your creative space. Perhaps it is from your travels. Or make your own art to hang on the wall.
Listen to music to lift your spirits: Listen to the kinds of music that pick up your energy, spirit and mood. Music impacts our energy level. I personally love opera and, this weekend I, fought the snow to see the Canadian Opera Company's production Don Giovanni, at the Four Seasons Centre. The way the music made me feel was worth fighting the snow to get there.
Get outside to play: If you can't beat 'em, join 'em! I write this at the risk of being pelted with snowballs…Even if you are not athletic, get outside to play as much as possible. Go for walks, even if they are short. Play winter sports. Go tobogganing. Remember the fun you had as a kid and try to re-create that feeling.
Take a class: As a forever student, I am always taking a course of some sort. Taking courses forces us to get out of our spaces, meet new people, we learn something new – and it keeps us engaged. Consider taking a photography, cooking or language course.
Get some sunshine: We all crave fleeing from the Canadian cold into warmer, sunnier climates. So find a travel deal and go somewhere new, whether it is basking on a beach or a wellness retreat, or taking a course, such as Spanish, in a place that inspires you.
Photo credit: Andreas Krappweis
Shannon Skinner is an award-winning inspirational speaker, writer, and host and producer of the television and online series www.ExtraordinaryWomenTV.com.
This article was originally published at HuffingtonPost.com.