I was in awe yesterday watching Austrian extreme athlete, Felix Baumgarten, fall from the edge of space. What's more, it was so amazing to see it live, in real time, on the internet. As Felix stood for a moment on the platform outside of his innovative capsule, 38 kms up, we got a glimpse of what he saw: the world below.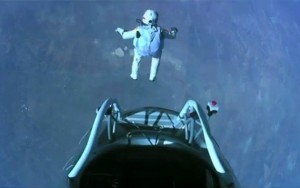 What a great fete for his sponsor, Red Bull, who had the, ehm, balls to create and fund this project.  This raises many questions for scientists and marketers alike: What does this mean for future sponsorship of companies promoting their brands? What does this mean for science? How will this extraordinary project change technology?
An interesting post in the Guardian touches on the subject of sponsorship.
While all this is interesting from a business standpoint, what incredible success for one young man who just found his place in the history books. He is an inspiration to us all. And I can tell you the next time I am afraid of doing something, I will think of Felix standing outside his capsule and looking down, and know that all it takes is courage.
Photo Source: yahoo news