Last night, I watched a TVO "semi-documentary" entitled, Farewell, about British-born journalist/aristocrat, Lady Grace Drummond-Hay, and her 1929 journey around the world in a Zeppelin air ship — the only female passenger and the first woman to do so.
While I was aware of this historic event, I had never heard of Drummond-Hay before. And I wondered why I had not. Her story is one of the most intriguing of a woman's adventurous journey that I have come to know. I learned that she had been mentioned in books, but it was not until the 2009 semi-documentary about her voyage that we learn more about her.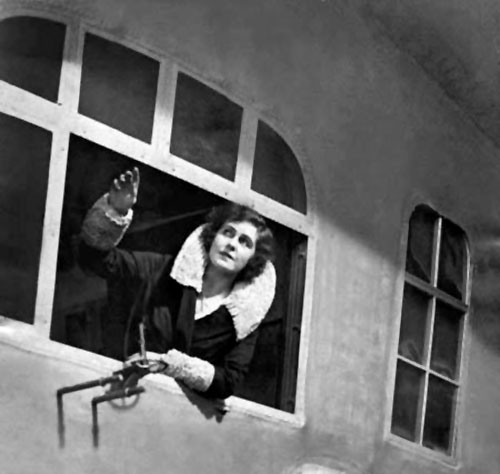 Lady Drummond-Hay was a star journalist for her time. She also happened to be beautiful and bright, and had been married to a man 50 years older than her (he died before her voyage). It was when newspaper king, William Randolph Hearst, asked her to be one of the passengers aboard the 1929 transatlantic flight of a civilian passenger Zeppelin air ship — the first trip around the world — and write about it, that she made history. Not only was she the first woman to circumnavigate the world by air in a dramatic voyage, at the of 34, she would go on to became the first female journalist to write about war and politics.
The semi-documentary (fact and fiction), is a travelogue and love story, comprised of actual newsreel footage from the voyage event, interspersing it with other footage of news events during the time. It included dramatic footage of Lady Drummond-Hay and other correspondents aboard the Zeppelin as they traveled 21 days from New York to Germany, over Russia, to Tokyo, then LA and back to New York. The film was narrated using the writings (articles and diary) of Drummond-Hay.
The backdrop of this story also adds intrigue. While she was a competent and celebrated journalist, women were only writing about society at that time. They were not taken seriously enough to write about war, politics – to have a authoritative voice. That was for the men. Therefore, while Hearst invited her to take the voyage, she had to do so under the supervision of a senior male colleague. But, as it would turn out, it was one whom the young widow had had an affair with,  Karl H. von Wiegand, and who had recently called off their relationship out of a sense of duty for his mentally ill wife.
The narration — her words — talk of her pain of being with this man she deeply loved, but could not be with, as they share tight quarters on the air ship — and her experience seeing the world from the air. She wrote about what it was like to be the only woman on board with the other men, mostly male correspondents who came from around the world, as well as the crew. They would stare at her and she would look back with a stern look, taking delight as she wrote about it. As they flew over Russia, the captain rationed water on the ship, except for Drummond-Hay who could wash herself because "it was not acceptable to sit at a table with an unclean woman." It's hard to imagine.
Shortly after the flight, Wall Street would crash and the free world would go into a dark time. Drummond-Hay would go on to write from war zones (in north Africa and China), alongside her former lover-journalist, would be captured and kept in a camp for some time, and would eventually be released, fall ill and die in her bed in New York City.
I can't get the dramatic footage of this film out of my mind this morning. What a courageous and adventurous woman. How thrilling it must have been for her, to be the first woman to travel the world by air. And yet, on the flip side, how terribly painful it must have been to be forced to travel and experience such a historic event with the man she loved, but could not be with him.
Today, I celebrate Lady Grace Drummond-Hay for her courage, determination and adventurous spirit — and brains and beauty. The world needs to hear more about her. I know that I want to discover more.
photo credit: www.pvhfilm.nl