Recently, I have noticed a growing number of women sporting exceptionally long, lush eyelashes. So I got curious and whenever I commented on their lashes, the women would admit, sometimes with great enthusiasm, to wearing eyelash extensions — one of today's biggest beauty trends.
What I noticed is that eyelash extensions create an illusion of the eye being more open and wider than it normally is, giving the eyes that "wow" factor. I secretly wanted to try them, but was reluctant. That is, until I sat down with Toronto-based PR guru, Shauna Ireland, over an insightful conversation about the essence of natural beauty. According to Ireland, who represents a number of clients in the health and wellness area, is a fashionista, yoga nut, and happens to flutter lovely eyelashes herself, women do not need to wear as much makeup as we think we do on a day-to-day basis. "Just having lovely eyelashes and healthy, glowing skin is all we need," says Ireland.
With that insight in mind, I decided to go for that magical optical illusion, adding a little pizzazz to my eyelashes — and not only for day-to-day, but also to give that little extra bit for when I'm on camera hosting my talk show, Extraordinary Women TV. And so, I booked an appointment with Elena Gaysinsky, an experienced and talented esthetician at The Private World of Mary Tripi salon, located in Toronto's Yorkville area; my favourite salon and a place that has become, in a way, a personal sanctuary.
The Procedure:
To start, my lower eyelashes were taped down to keep them out of the way for what would be about a two-hour procedure. I found it a bit odd at first, but within minutes I relaxed into it. My upper lashes were also taped and then an adhesive was applied to my lashes. I was given a choice of lashes: natural-looking or glamour-style. So I went for the gusto and chose glamour.
Then began the tedious procedure of gluing one false eyelash, made of synthetic silk, onto my real eyelashes — one-at-a-time. More than 100 eyelashes were added to each eye. At the end of the procedure, my esthetician ran an electric, heated eyelash curler (I had no idea they existed) through the lashes to give an upward curve for the final look.
The cost ranges from $175-$250, depending on what style you choose from.
The Look:
Here is the result: what my eyelashes looked like BEFORE and AFTER the procedure.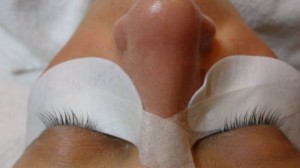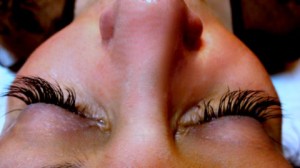 After Care:
Gaysinsky, who seems to genuinely enjoy what she does for a living because, she says, with a soft Ukrainian accent, she loves to see the transformation of her clients, advised me not to use any petroleum-based makeup products, avoid cotton, sleep with a satin pillowcase, if possible, and whatever I do, do not use a regular eyelash curler – but use a heated electric one instead. While the extensions should last about six weeks (they start falling out when your natural lashes do), I am to go back to have them filled after a few weeks.
For someone who could not live without mascara, I love my new lashes simply because when I wake up in the morning, I'm good to go. While I can use mascara (water-based) if I wish, it is not a necessity. And it's perfect for summer because that means no smeared mascara underneath my eyes in the hot, humid weather! If you choose to try the eyelash extensions, just be sure to go to someone who is trained and experienced.
The Private World of Mary Tripi is located in Yorkville, and they will soon be moving to a new location. So call first to book your appointment at (416) 968-3303 / https://marytripi.com/