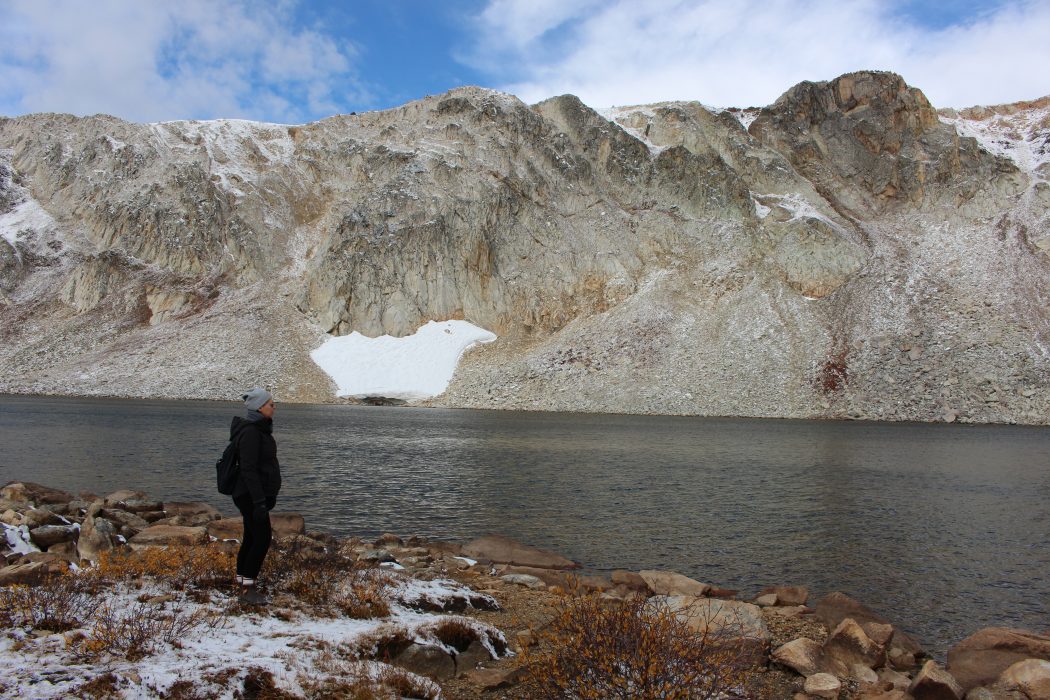 Me on the Medicine Bow Peak Gap Lake Trail
Wyoming is a vast and rugged playground with mountains and a sky as far as the eyes can see. Fondly known as the Cowboy State, there is another nickname, though, that is getting more buzz these days: the Equality State. That's because next year, Wyoming will celebrate the 150th anniversary of women's suffrage as the first territory in the U.S. – and the free world – to grant women the right to vote. It also happens to be a fabulous destination to visit.
On a 6-day road trip this month across Wyoming, I visited the historic sites honouring women's suffrage and pioneering women who made an impact, and met many of today's trailblazers who continue in the same spirit. This is my journey.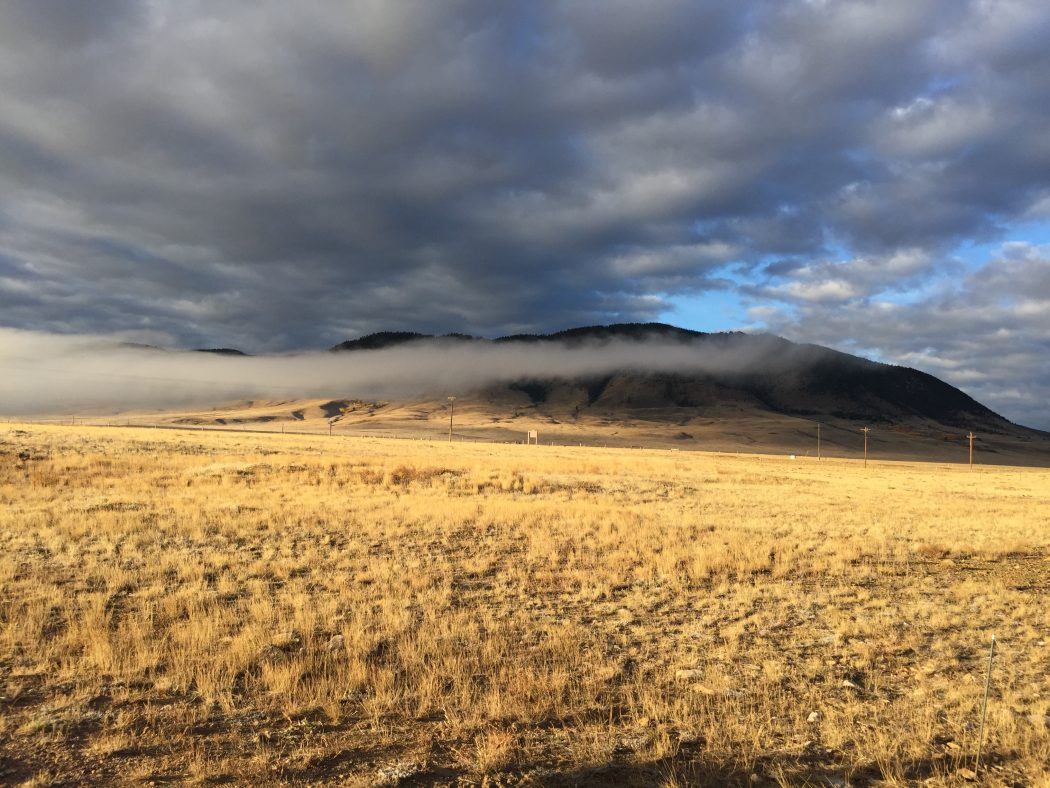 Low-hanging clouds over the plains
Day 1
I fly from Toronto to Denver, Colorado to meet a group of 13 women I would travel with for the next 6 days, and together we drive (2 hrs) to Cheyenne, the "magic city of the plains." Our first stop is a tour of the national historic landmark, State Capital building (built 1886-90), which is undergoing a massive restoration project and expected to be completed next year. We are accompanied by Wyoming Senator, Affie Ellis, the first Native American to sit in the Wyoming senate.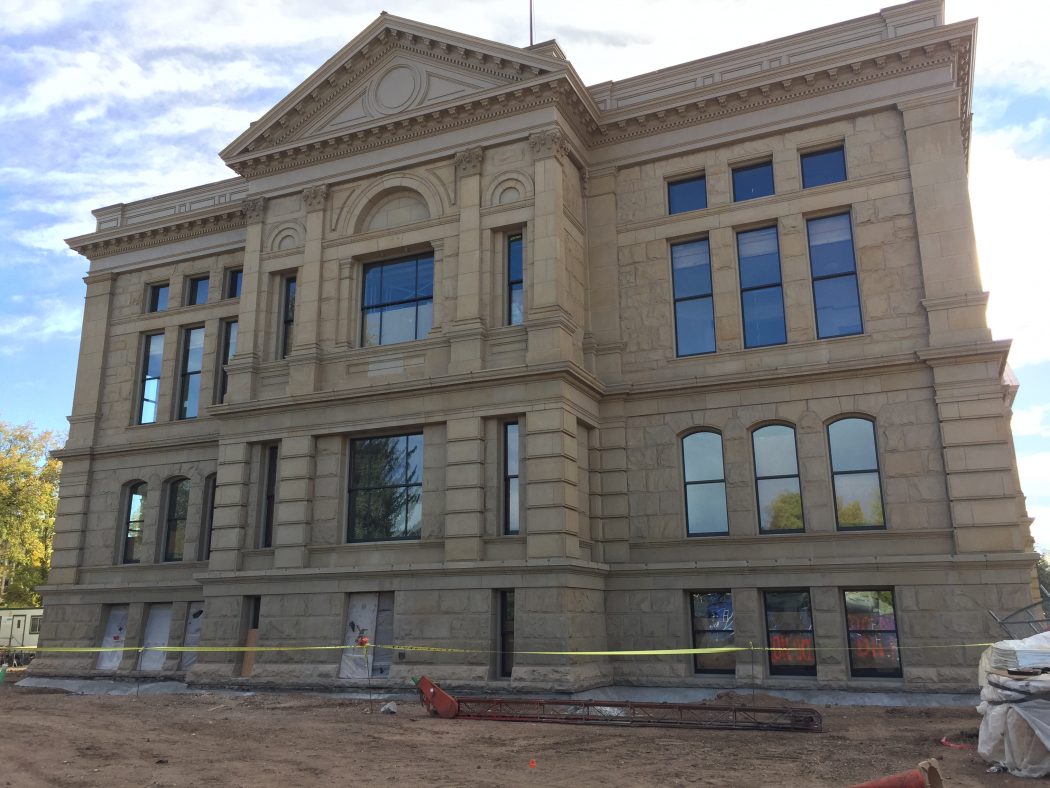 State Capitol Building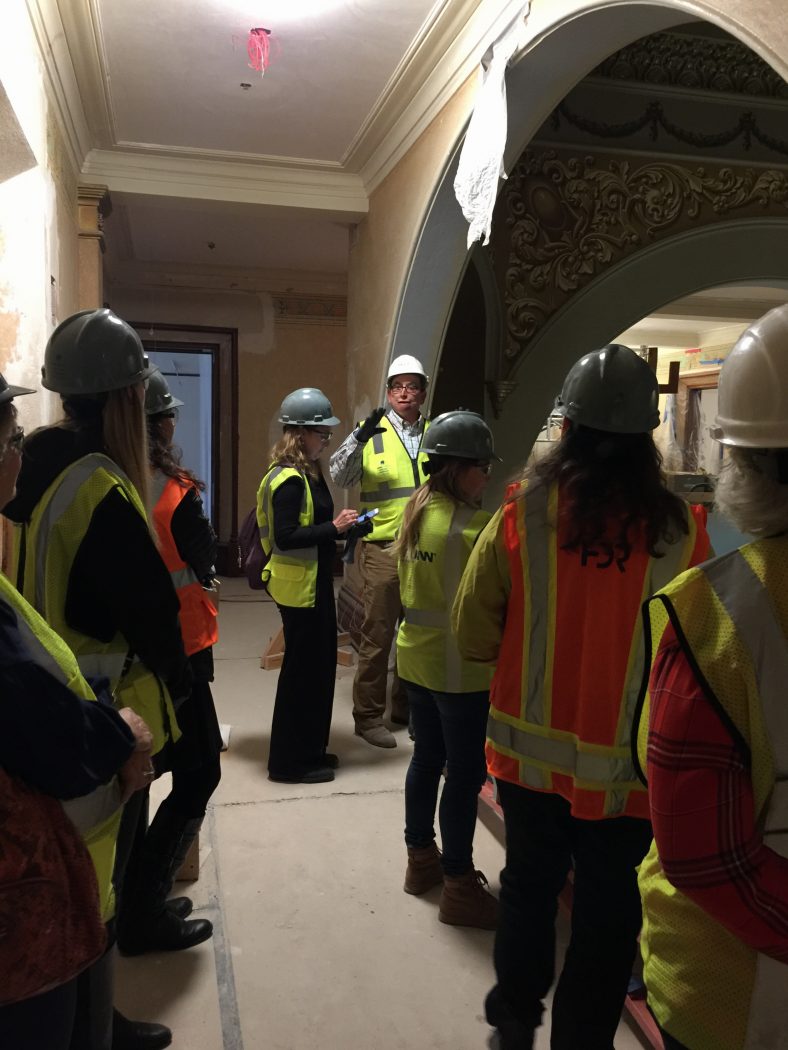 "Mike" gives us a tour
Dinner is at the historic house of suffrage pioneer, Esther Morris, who, in 1870, became the first female Justice of the Peace. She is also believed to have pushed, in 1869, for a change to the constitution that would give Wyoming women the right to vote. Esther's at the Morris House will soon open as a restaurant, and we get a preview from our hosts, John and Maria Kopper, who also own the pizza establishment, Bella Fuaco, across the street, where our meal comes from. Our group is joined by Wyoming Senators Affie Ellis and Tara Nethercott, and Diane Shober, director of Wyoming Tourism, who share their inspirational stories of Wyoming women.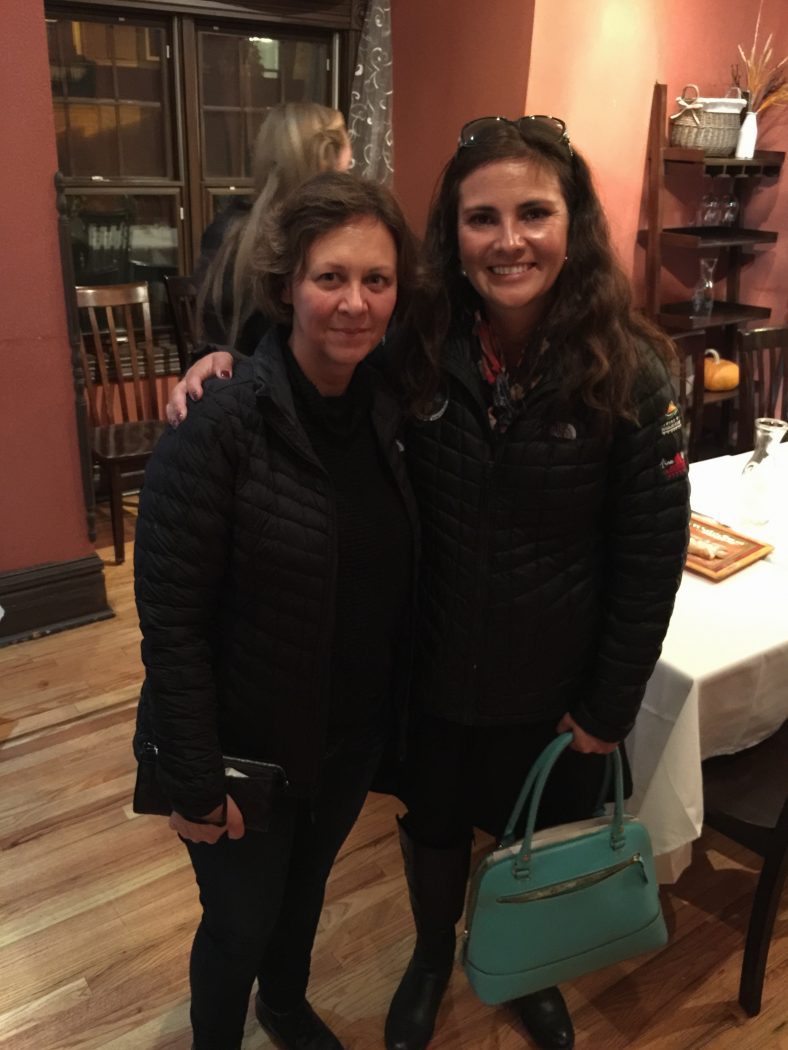 Senator Affi Ellis and me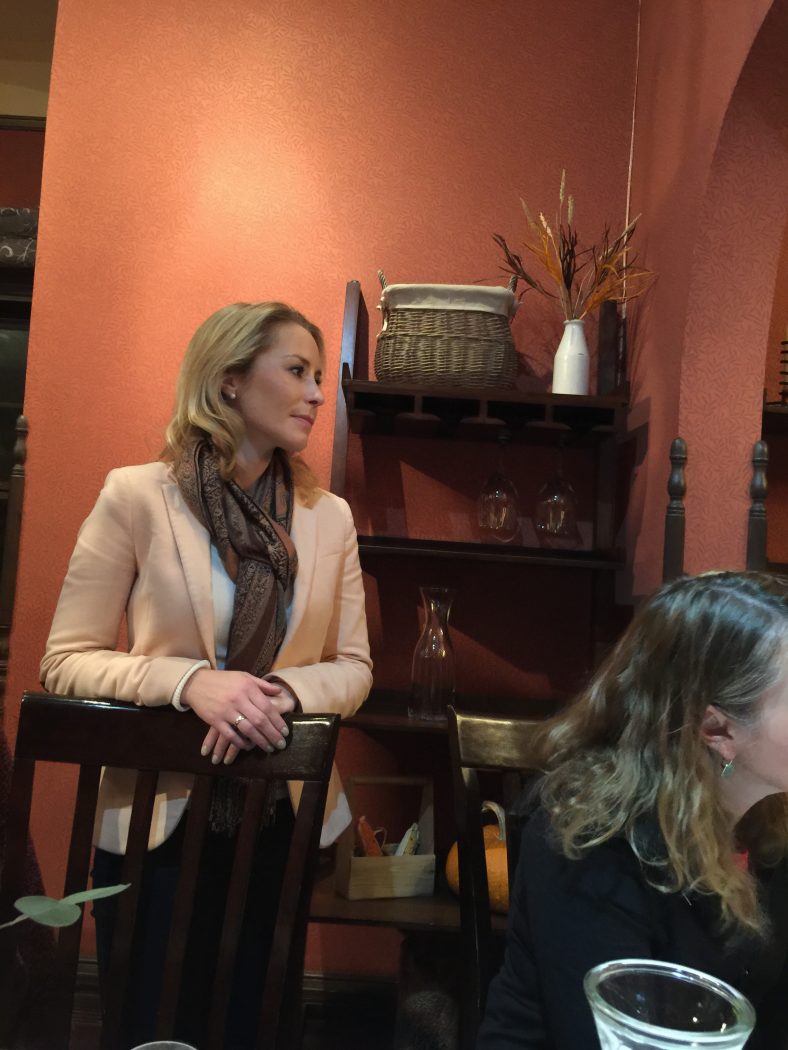 Senator Tara Nethercott welcoming remarks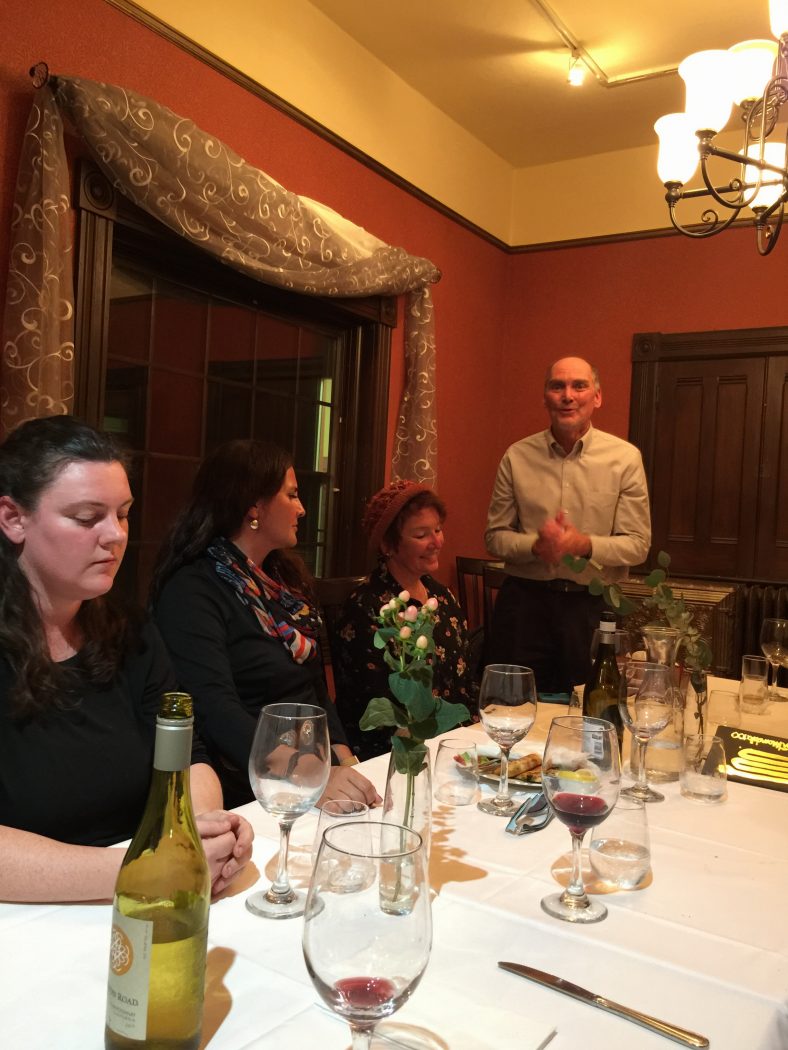 So grateful to the owners for this experience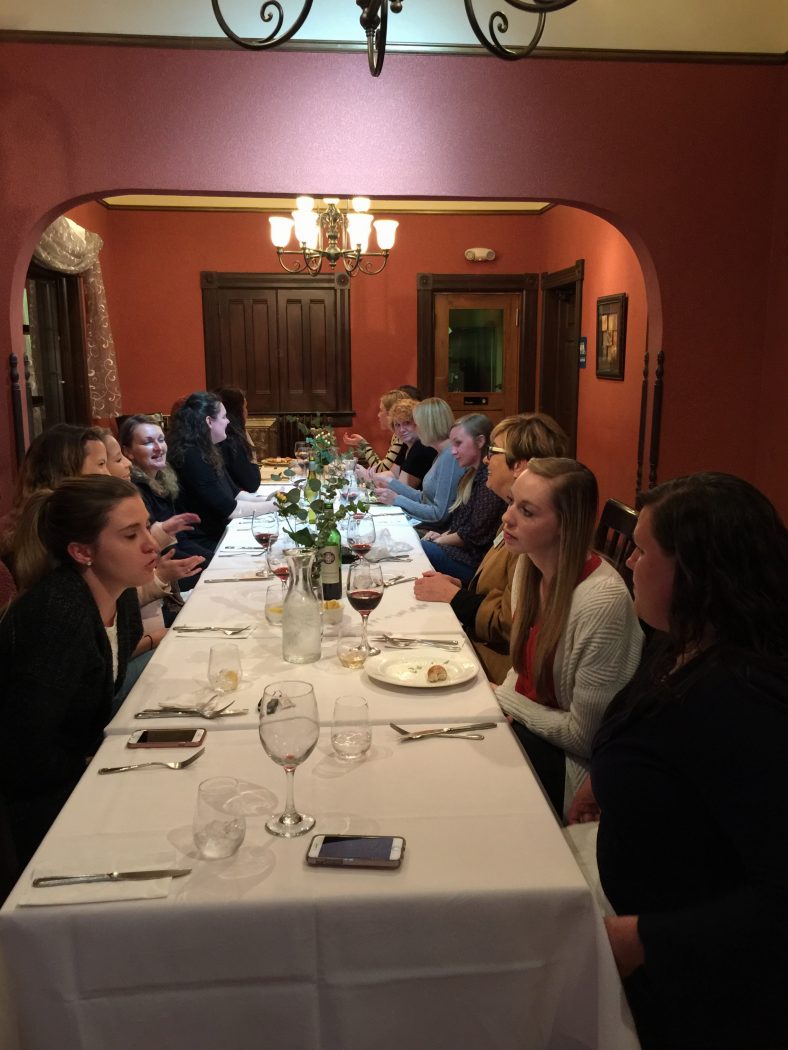 Later, I check into Little America Hotel and do some light yoga in my spacious room.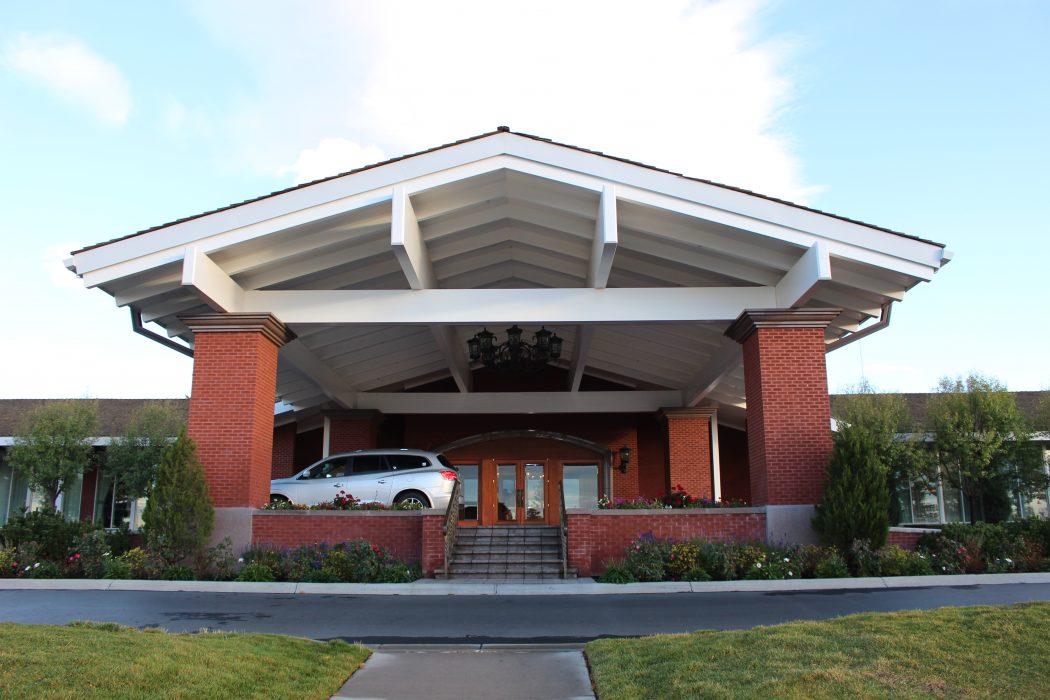 Little America Hotel
Day 2
Off to the Paramount Café for a breakfast bean burrito. Followed by a Cheyenne Street Railway Trolley Tour, with stops including: the Cheyenne Frontier Days Old West Museum, with its exhibits about early rodeos and its many stagecoaches; the Cowgirls of the West Museum;  and Wyoming State Museum, featuring Wyoming's history and culture.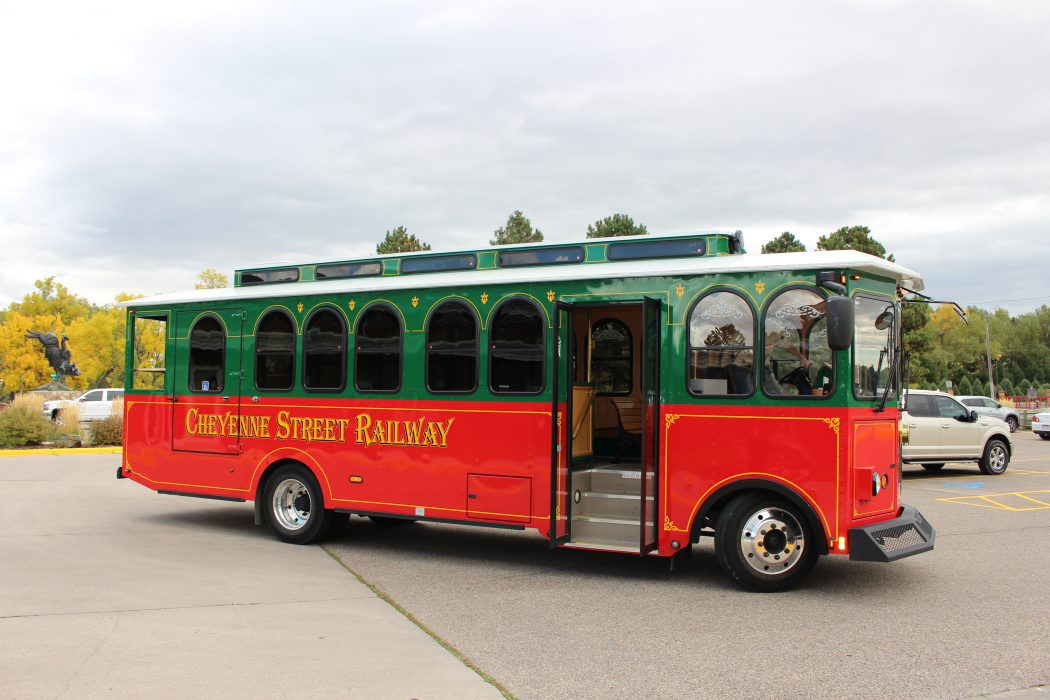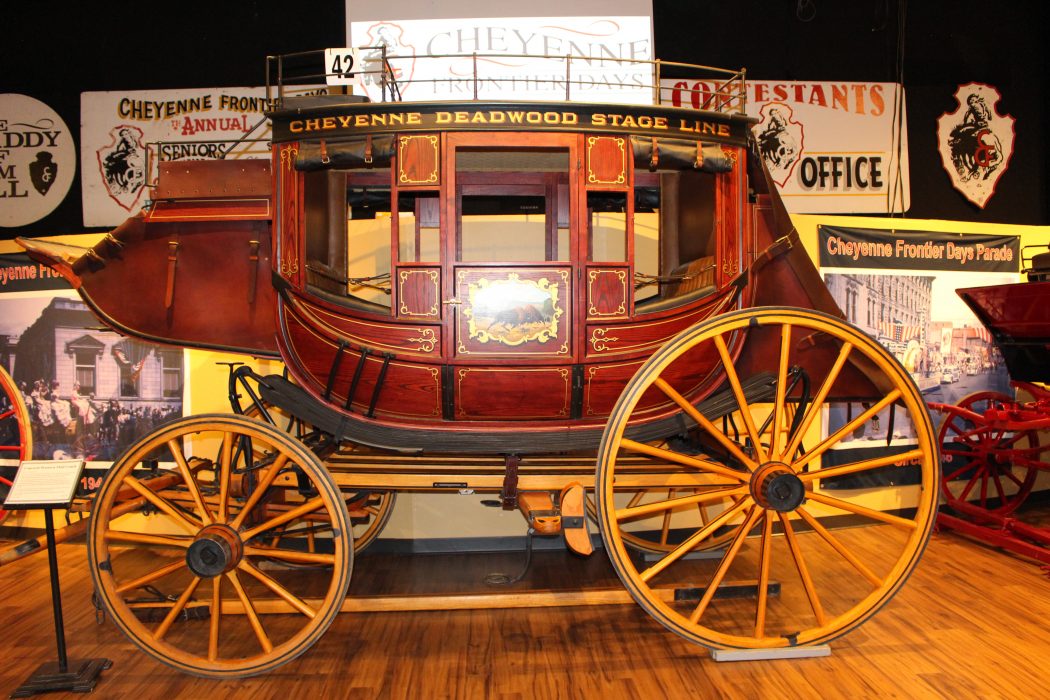 Cheyenne Frontier Days Old West Museum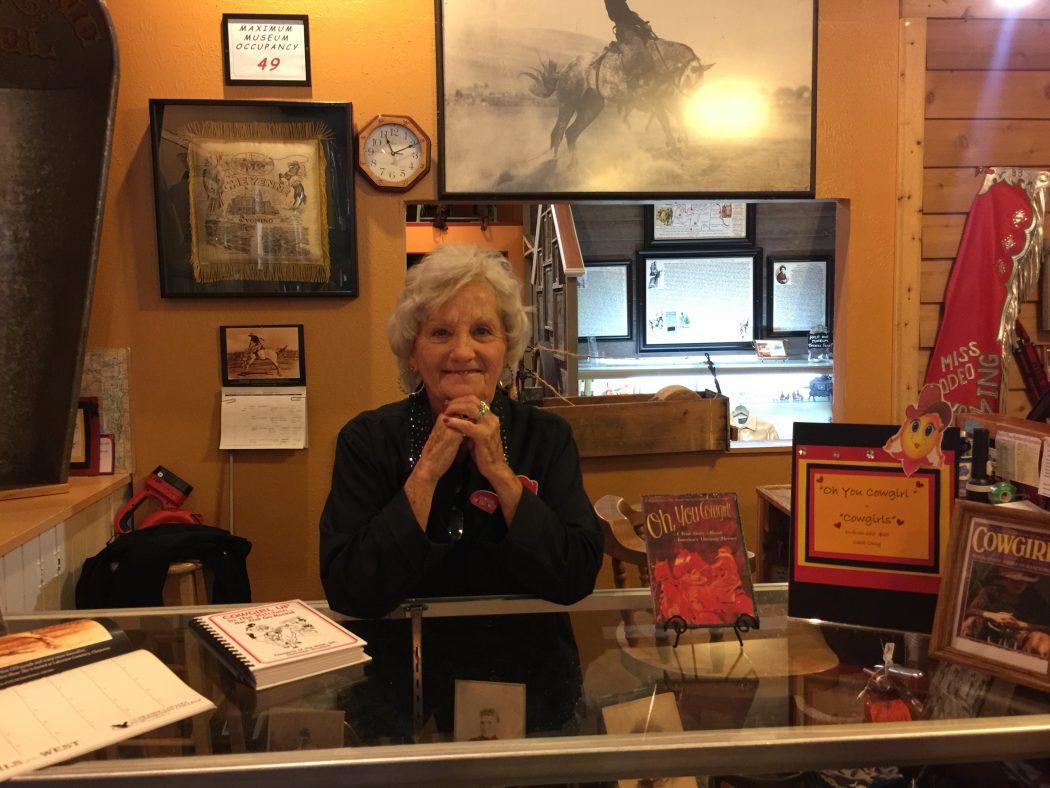 A real Cowgirl volunteer at the Cowgirls Museum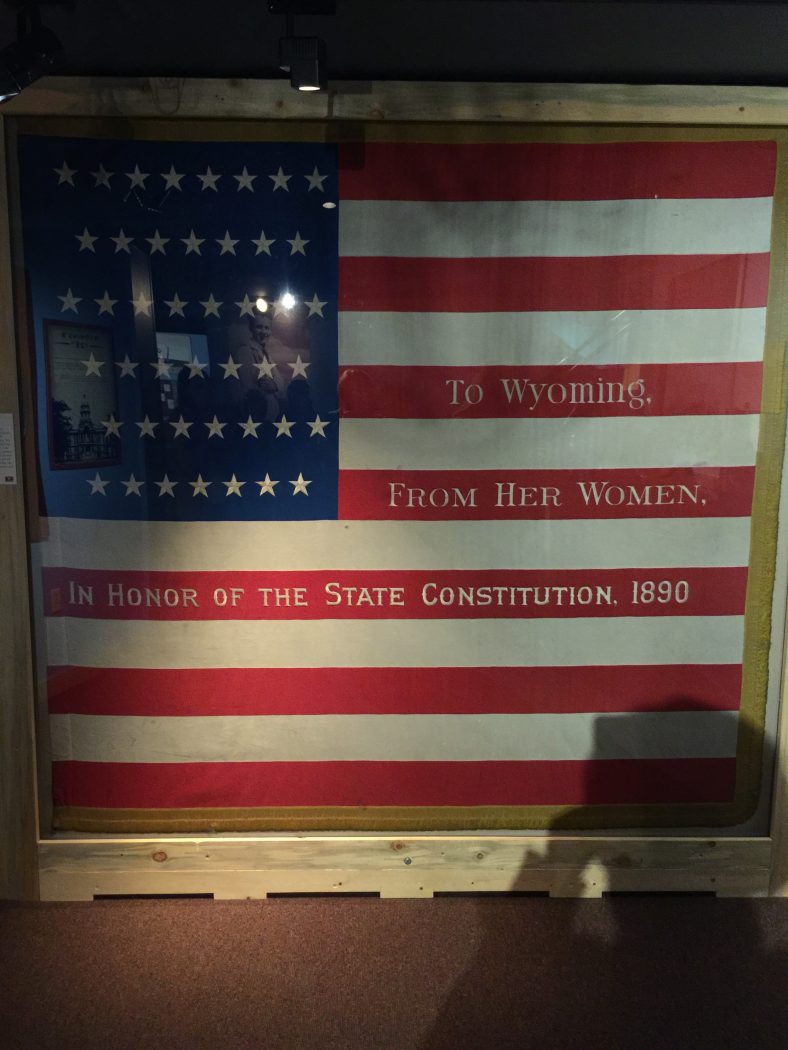 Historically significant flag
A drive to the city of Laramie (45 mins) and lunch at Sweet Melissa's, where Melissa herself drops by. We visit the Laramie Plains Museum and the Wyoming House for Historic Women.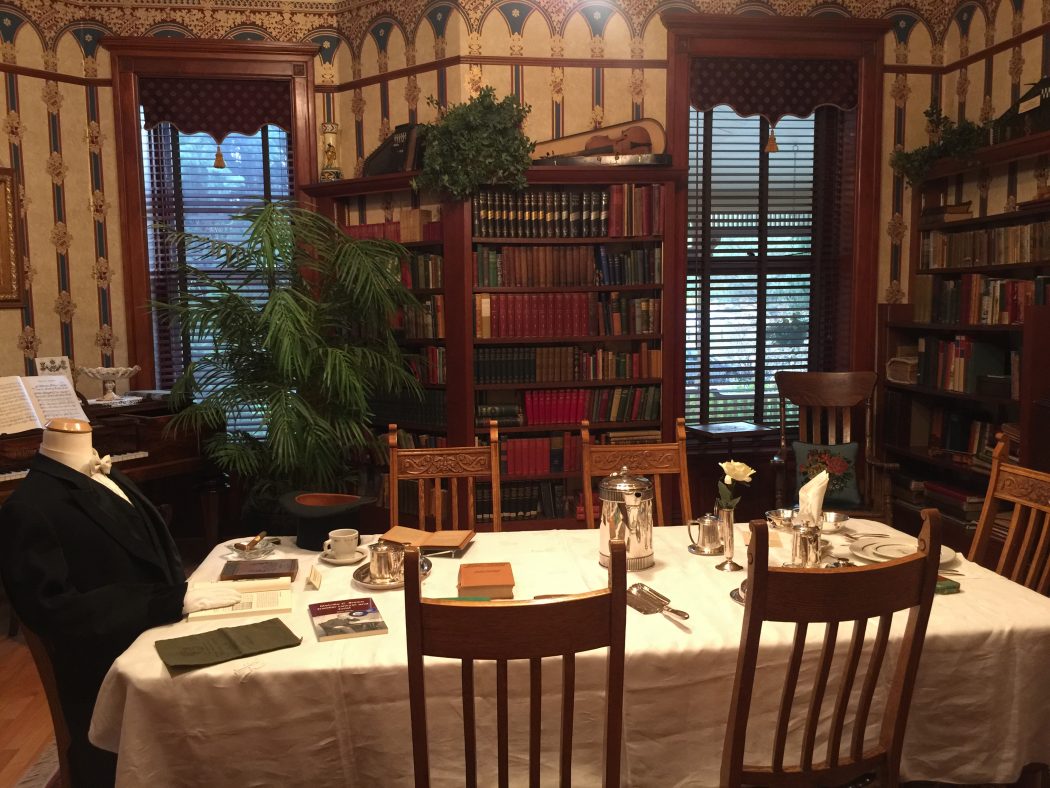 Laramie Plains Museum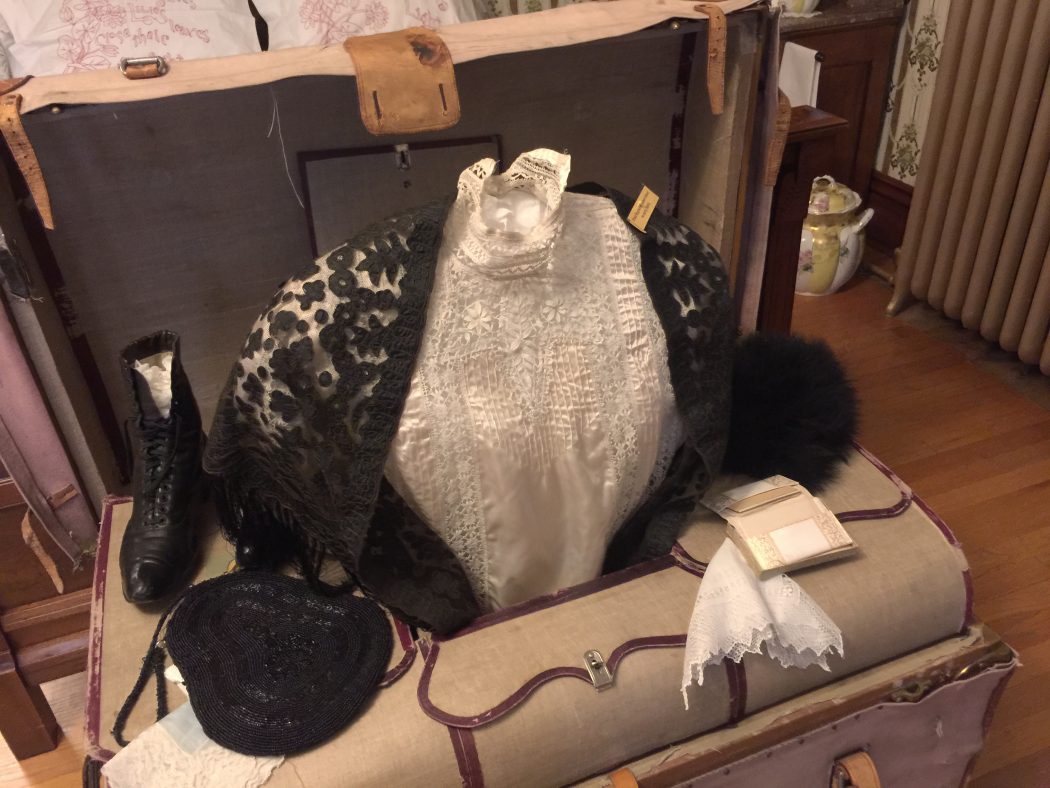 Laramie Plains Museum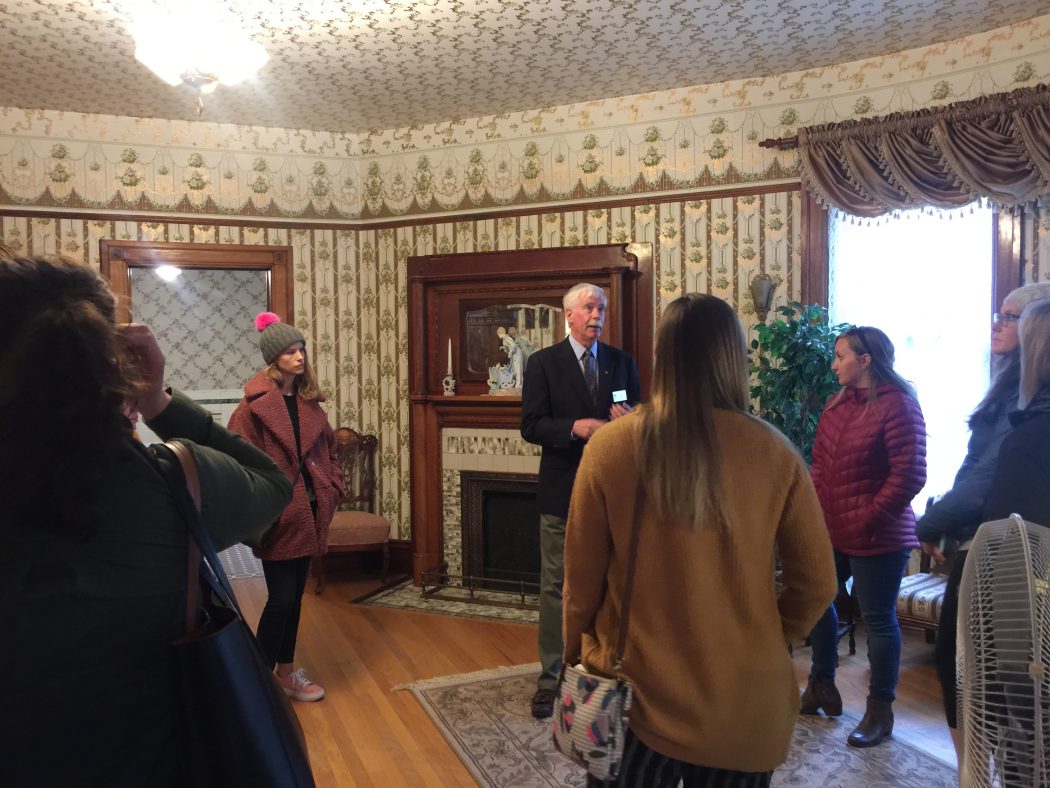 History lesson at Laramie Plains Museum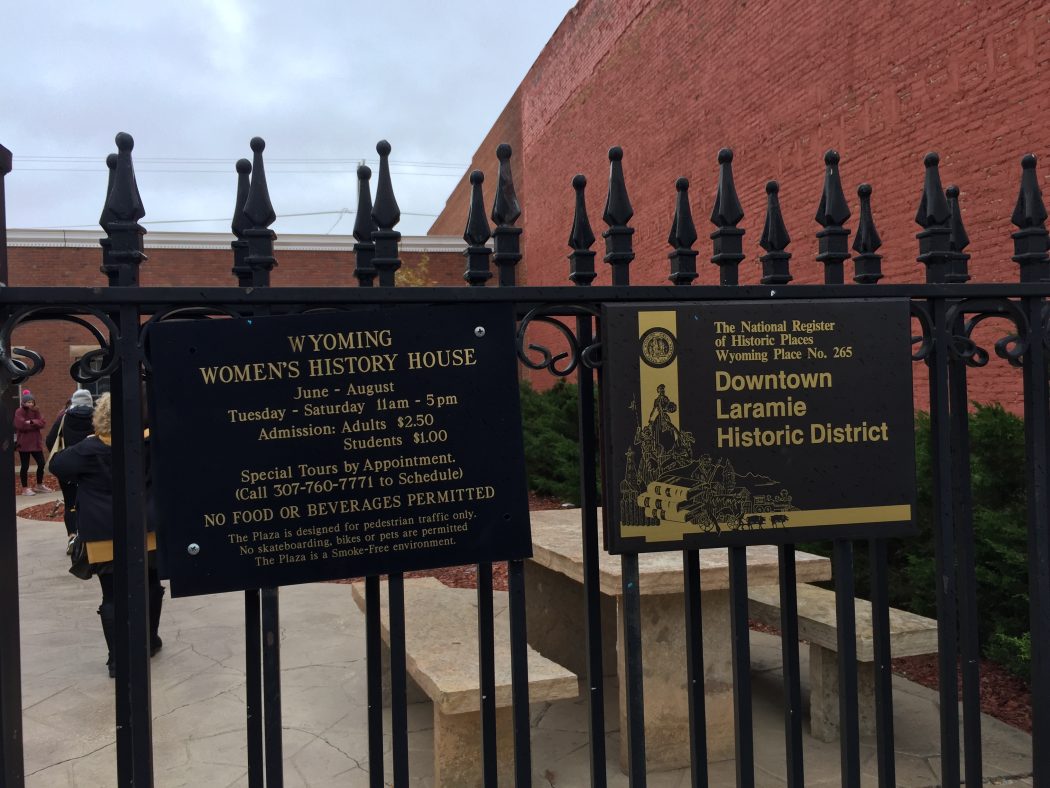 We explore the downtown and drop by the largest craftsman co-operative in the U.S., The Bent & Rusty, where founder, Billie Eckhardt, gives a talk about their business and furniture-making workshops.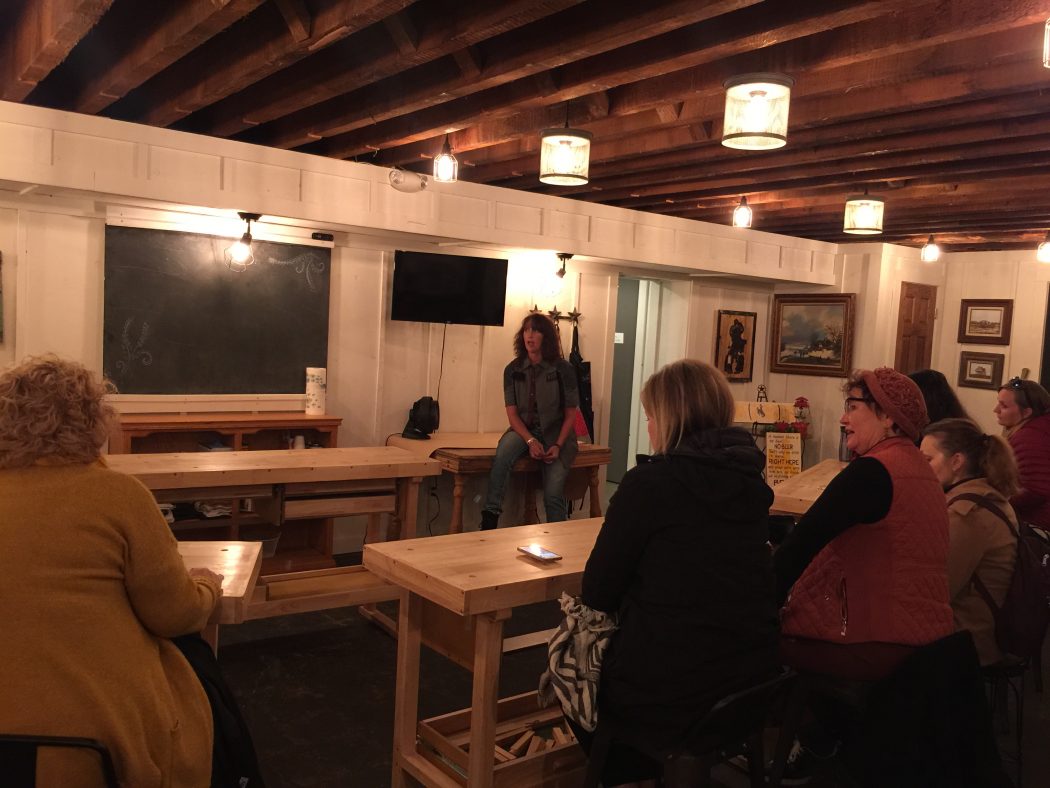 Billie Eckhardt talks Bent and Rusty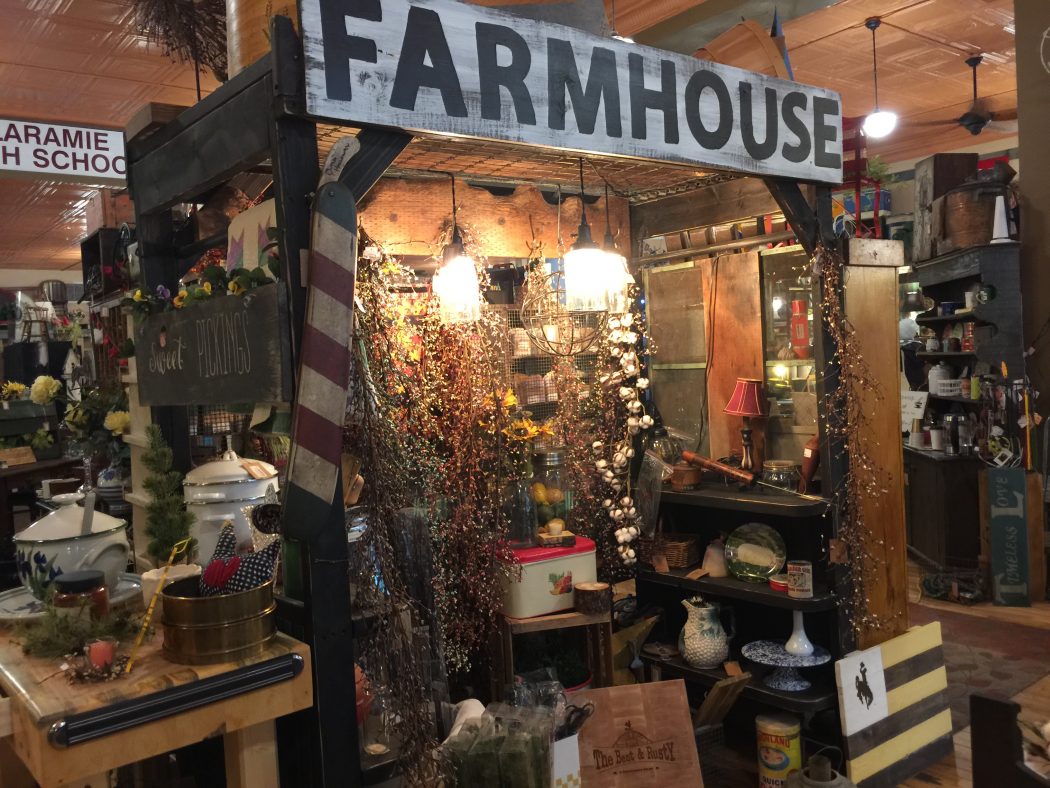 Bent and Rusy
Then we drive to Vee Bar Guest Ranch (30 mins), once a stage coach stop and post office, which has 5 historic buildings, like the John Wayne saloon, a cozy and comfy lodge, and guest cabins. After a tour of the barn and meeting some horses with owner, Kari Kilmer, we sit down for a buffet-style dinner in the lodge's dining area. Then, with a grateful heart, I slip into my quaint room upstairs in the lodge.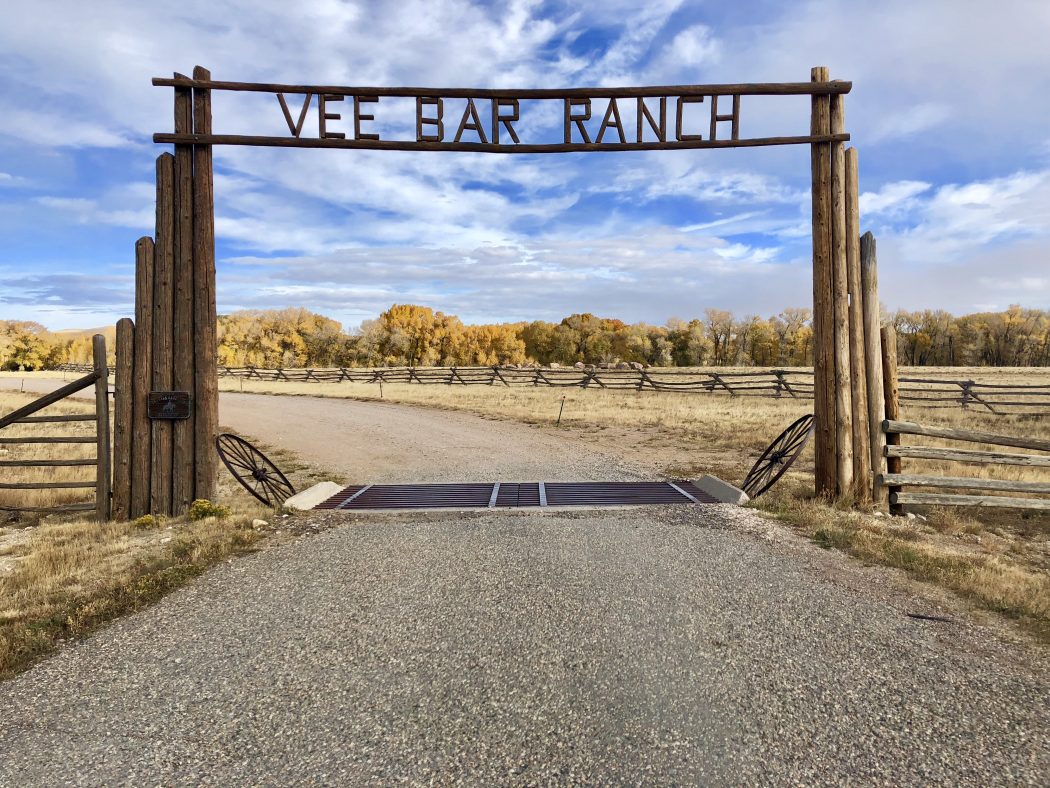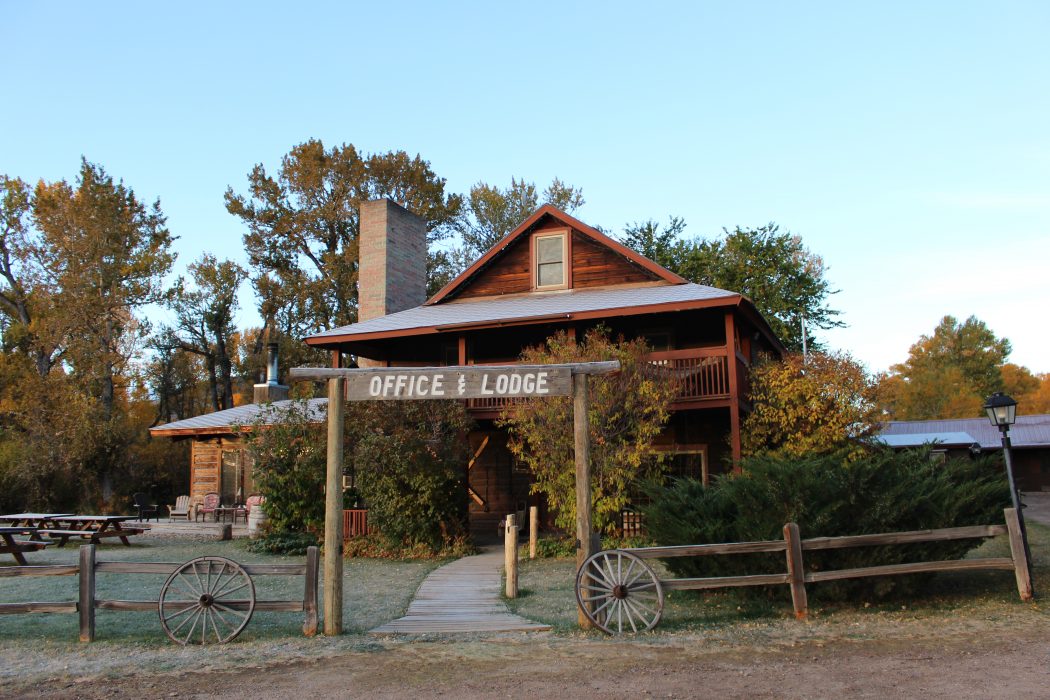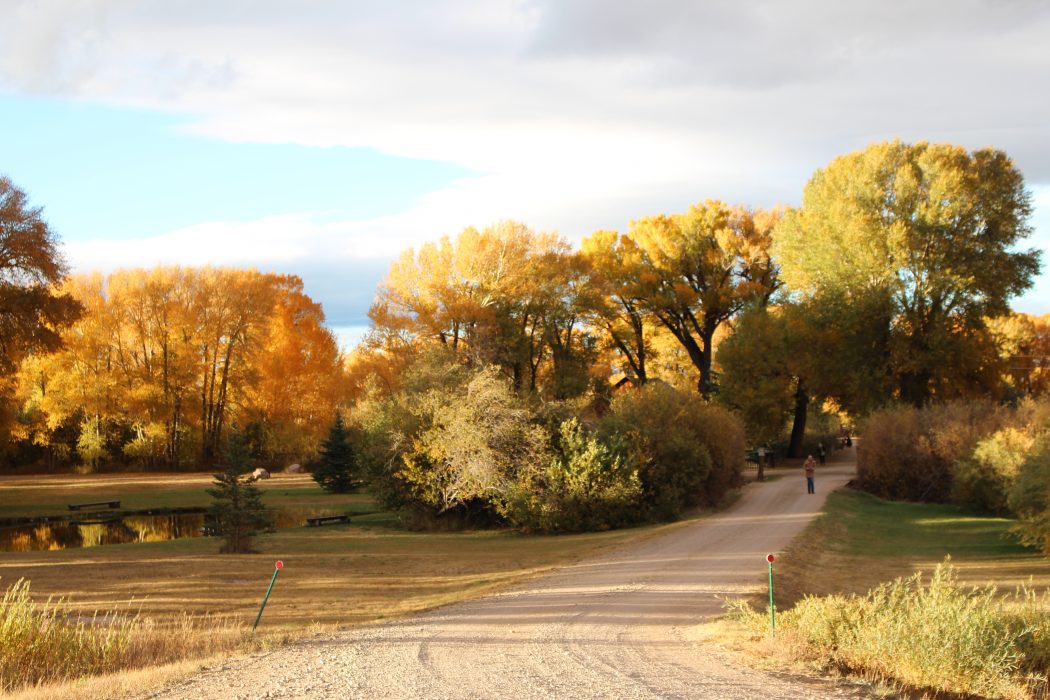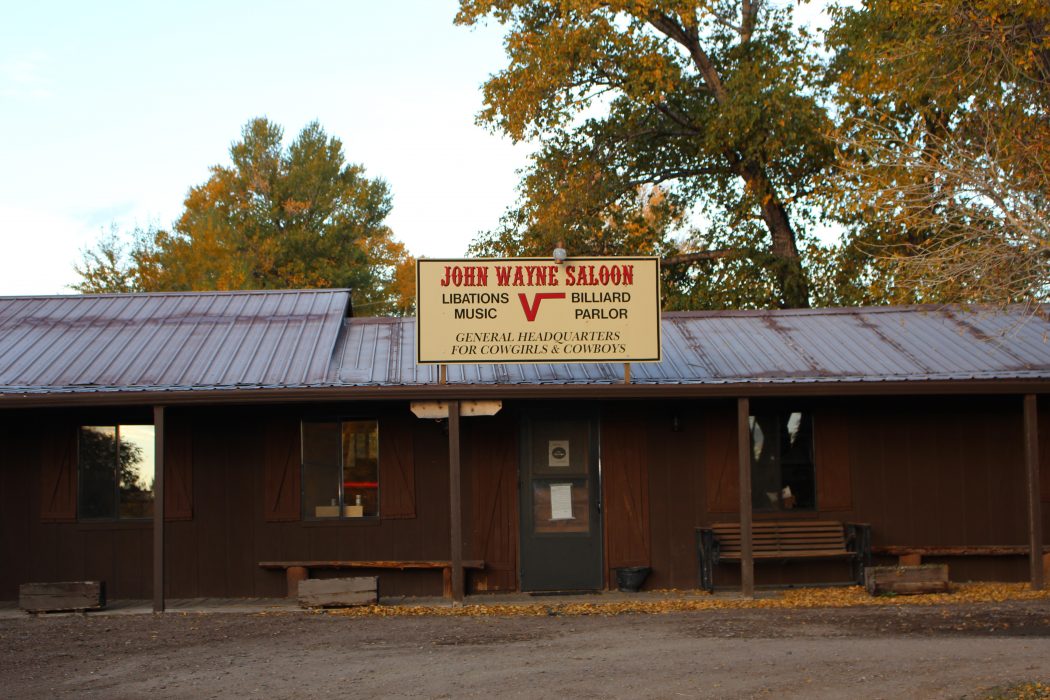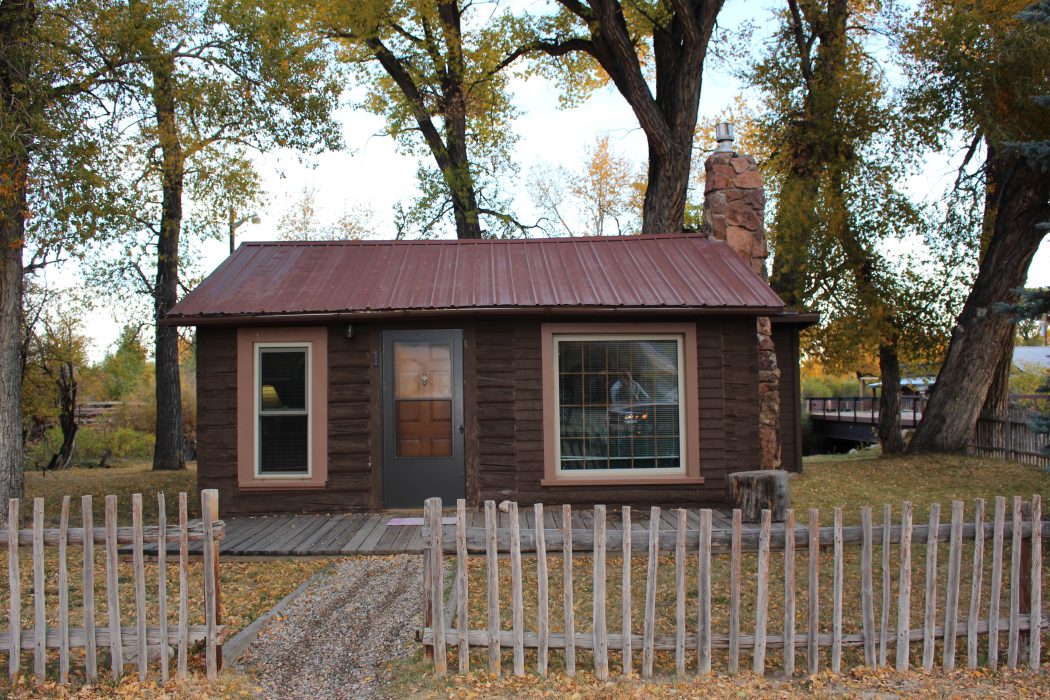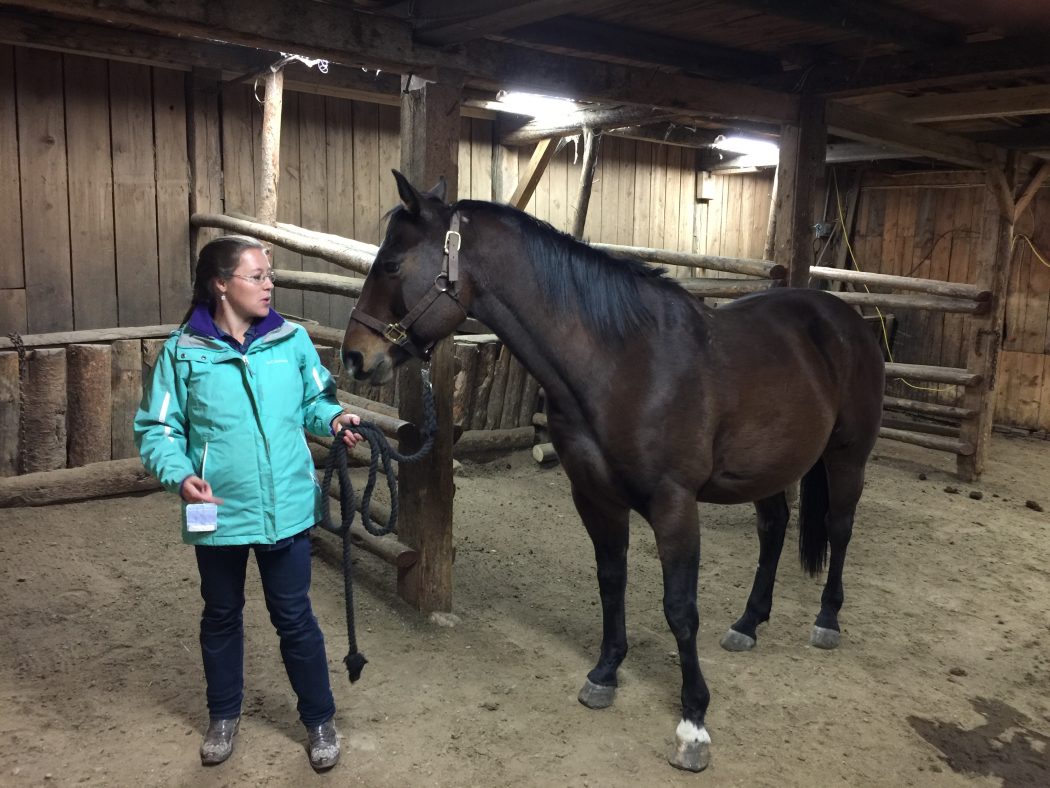 Kari Kilmer, manager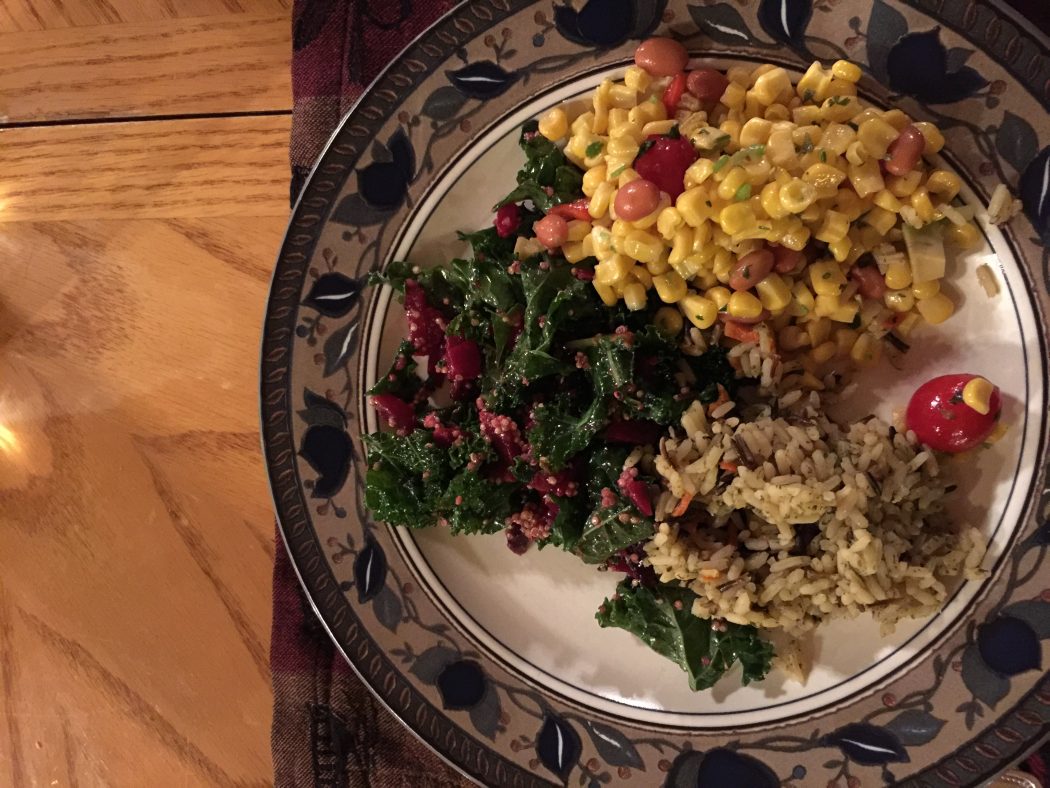 Cowboy caviar for dinner
Day 3
We are hiking today, so it is an early drive to the village of Centennial (40 mins), with a stop for breakfast at the Mountain View Hotel and Cafe, where we meet our hiking guide, Rebecca Walsh, founder of HikeLikeaWoman.net. Then on to Lewis Lake (20 mins) where we hike Medicine Bow Peak Gap Lake Trail (5.5 kms) for 2.5 hrs. The air is crisp, a light dusting of snow covers the ground, and the scenery of the Snowy Mountain range is stunning.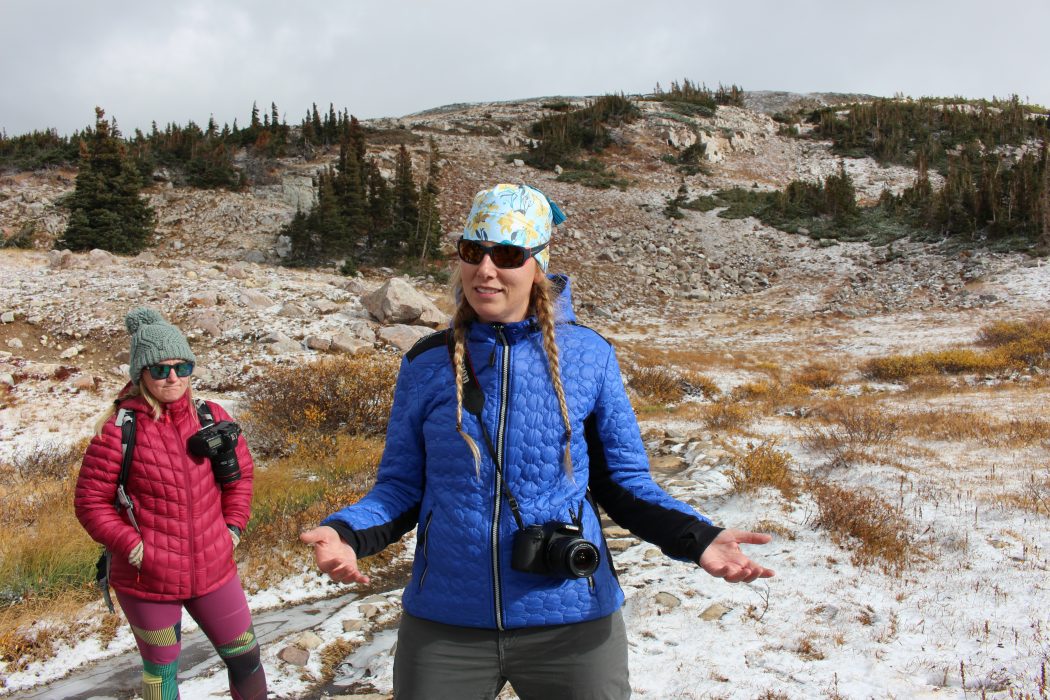 Hiking Guide Rebecca Walsh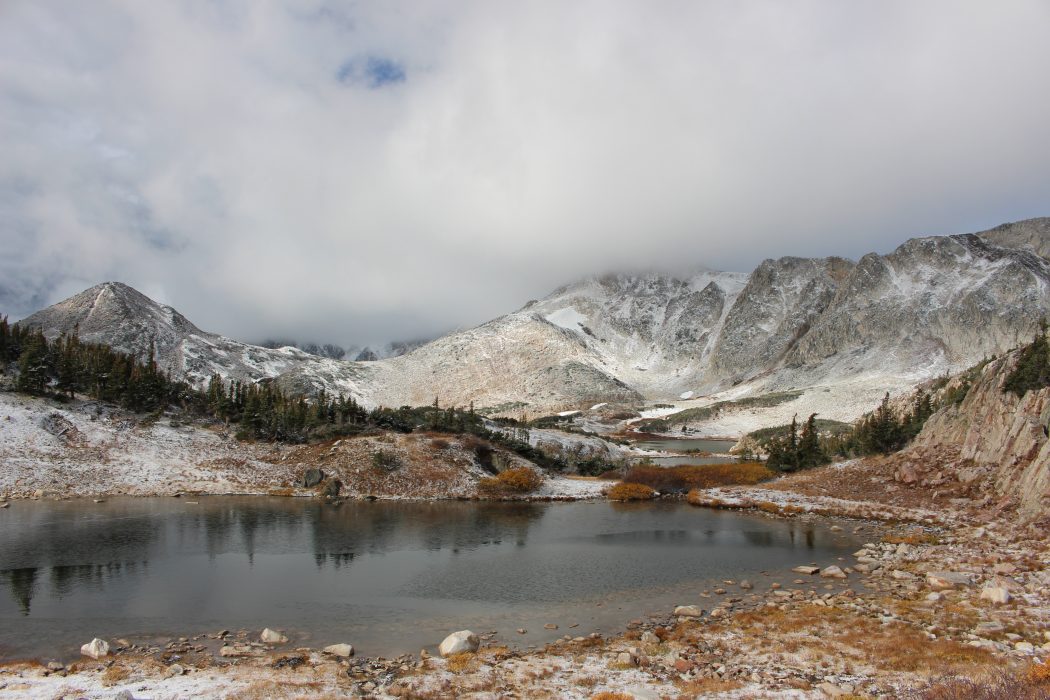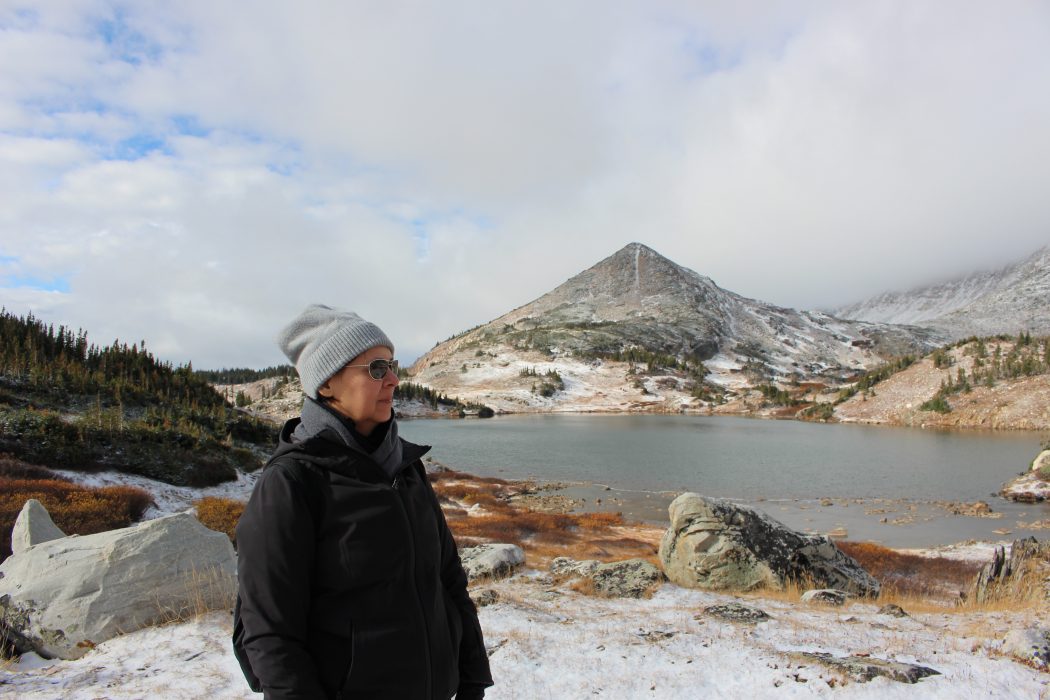 Then, on to city of Lander (3 hrs) and, after checking in at the Shoshone Rose Casino Hotel, we are hosted to a reception by the local women from Wind River Country at The Mill House, a beautiful property owned by entrepreneur Jill Hunter. An enjoyable evening listening to the stories of local women.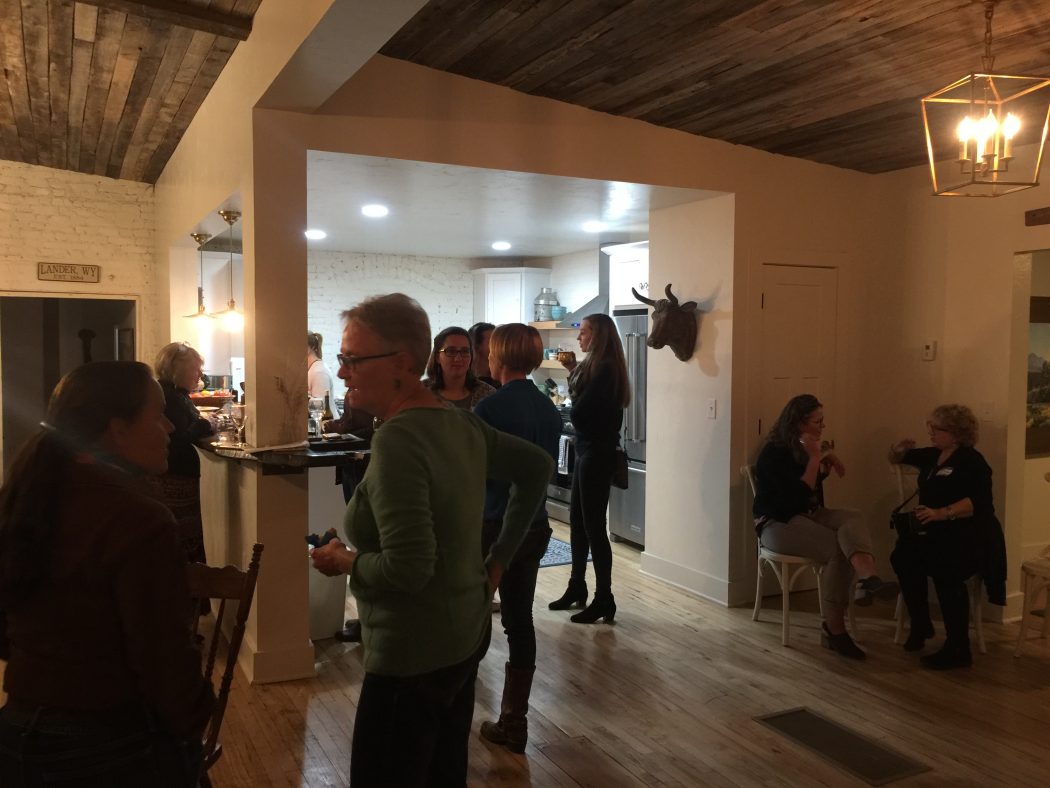 Reception at The Mill House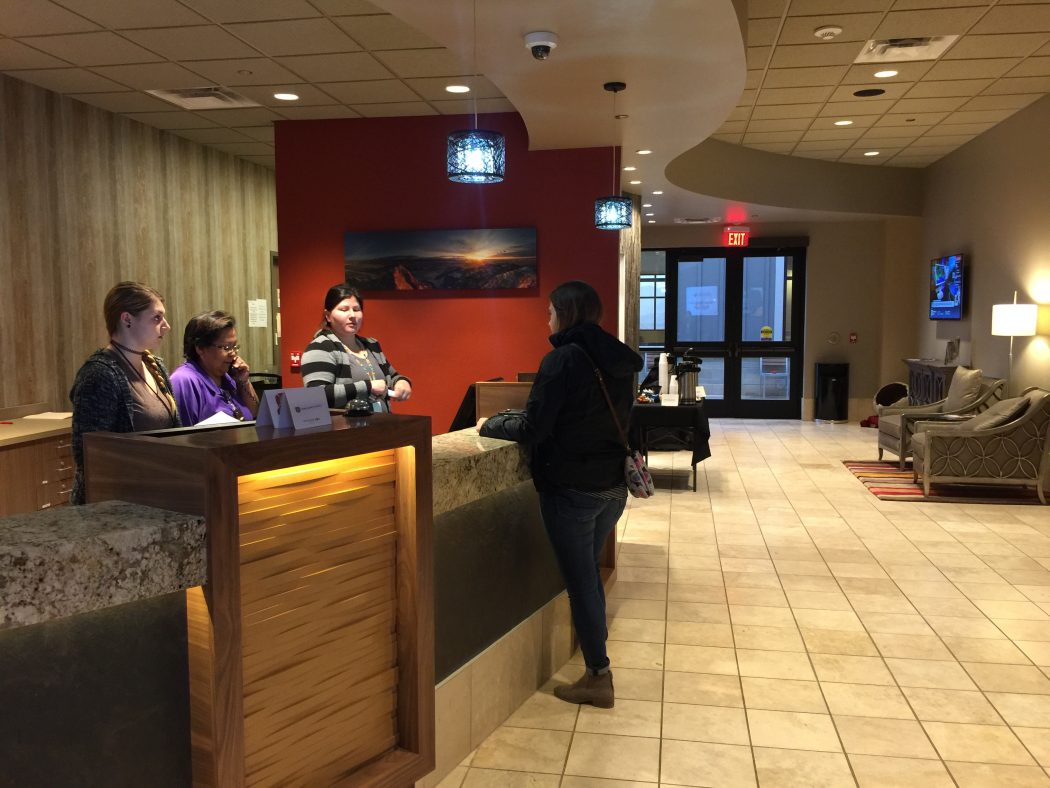 Lobby of Shoshone Rose Casino Hotel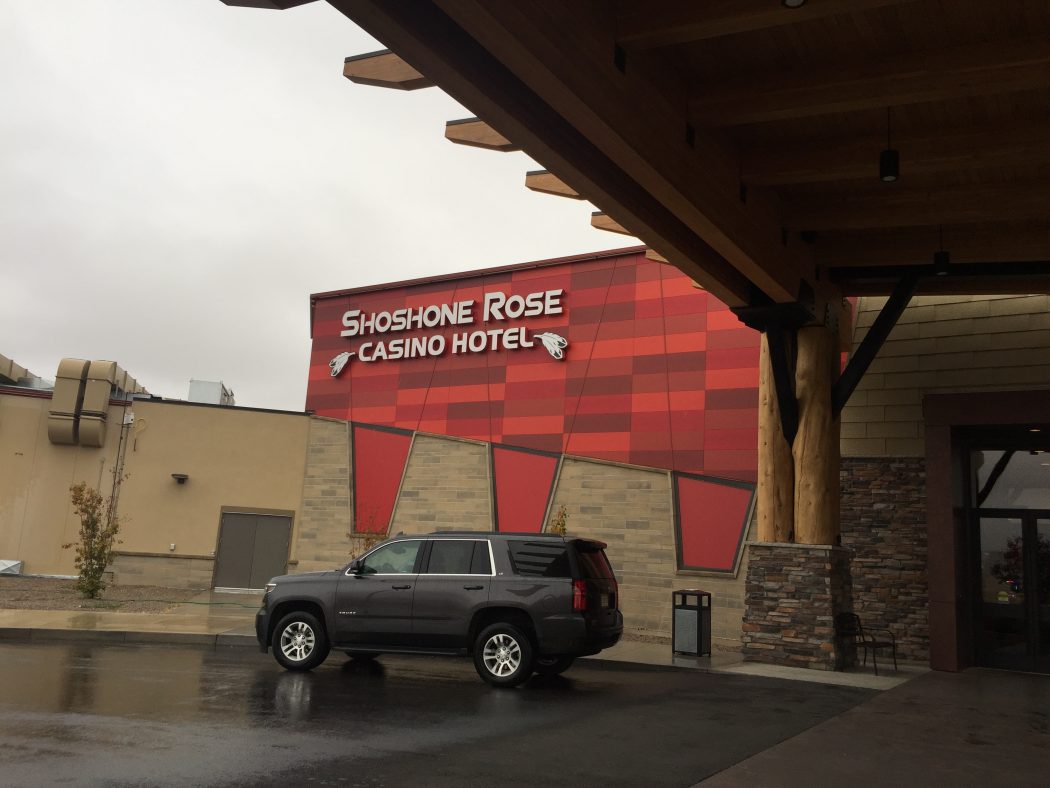 Day 4
Breakfast is at The Middle Fork, where I enjoy lemony ricotta pancakes, and we have a visit from owner Jenna Ackerman.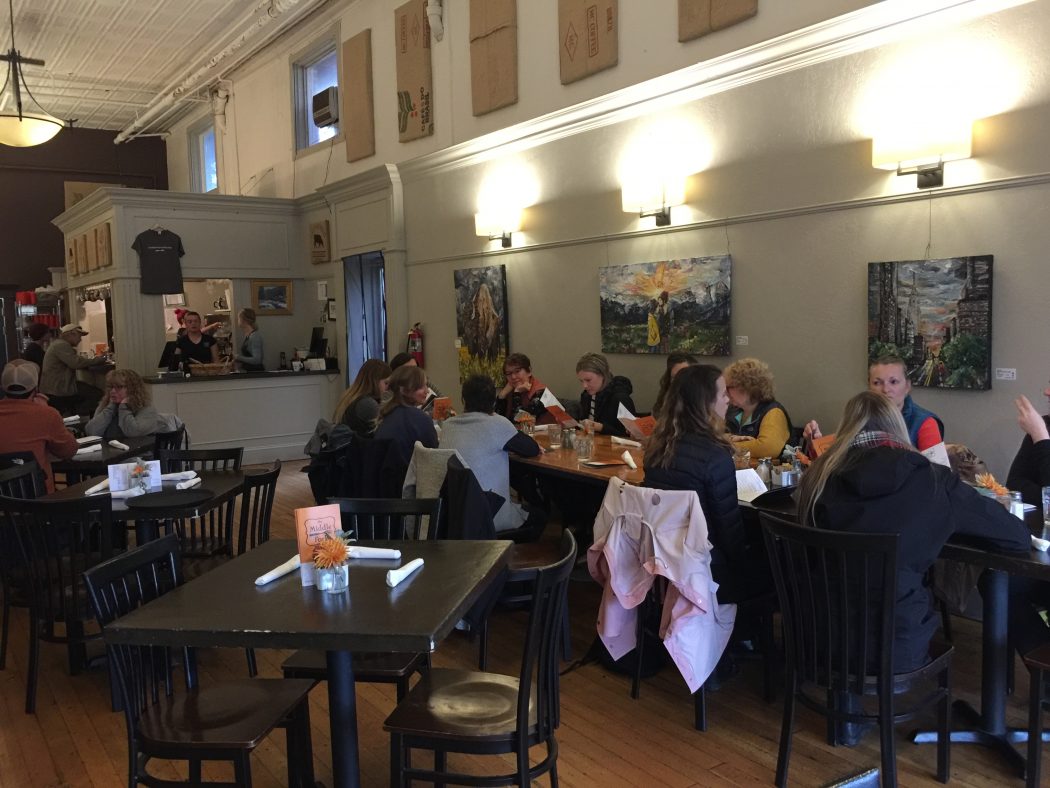 The Middle Fork is modern and bright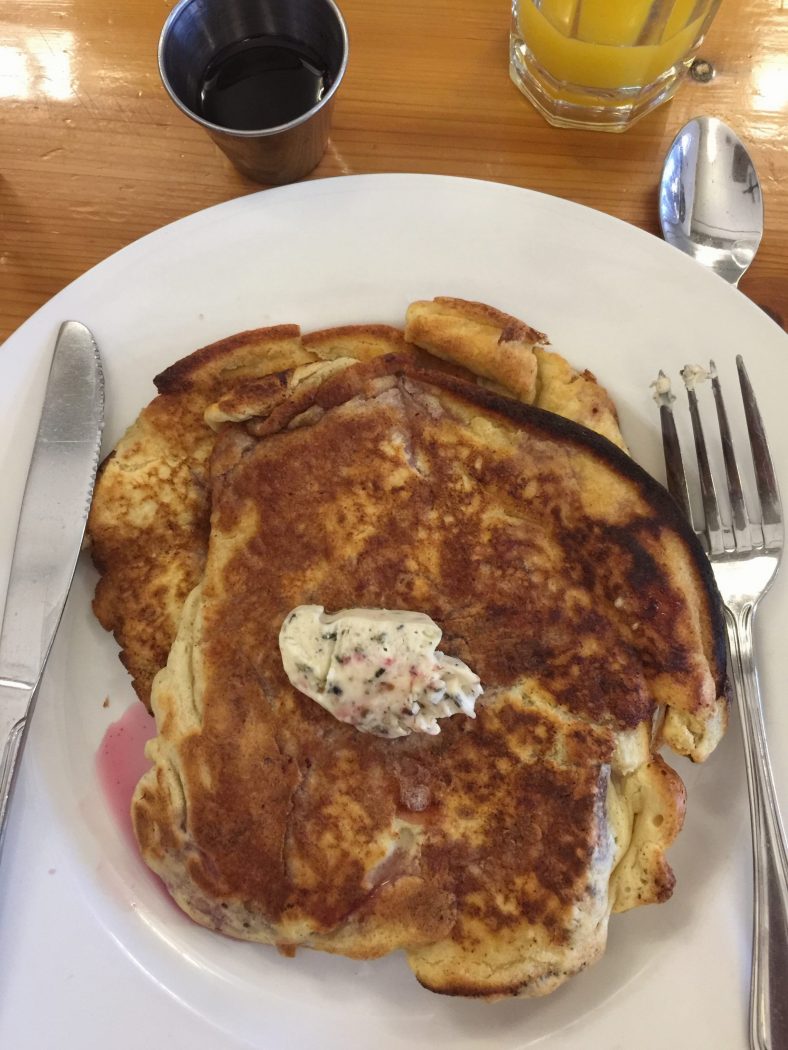 Best pancakes ever
Then we depart Lander for South Pass City Historic Site, which was once a station on the Oregon Trail, but became a ghost town after the gold mines closed. What remains are some 30 historic structures from the 1860/70s, including the Carissa Mine. We sit for an history session with park superintendent, Joe Ellis, and architect, Pam Spencer Hockett.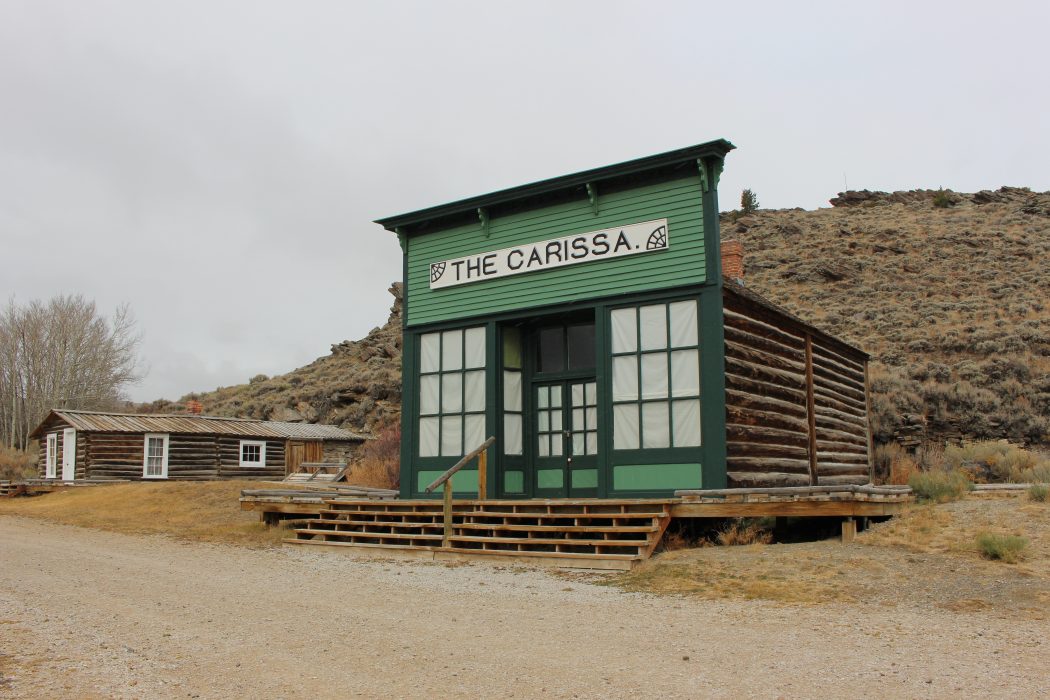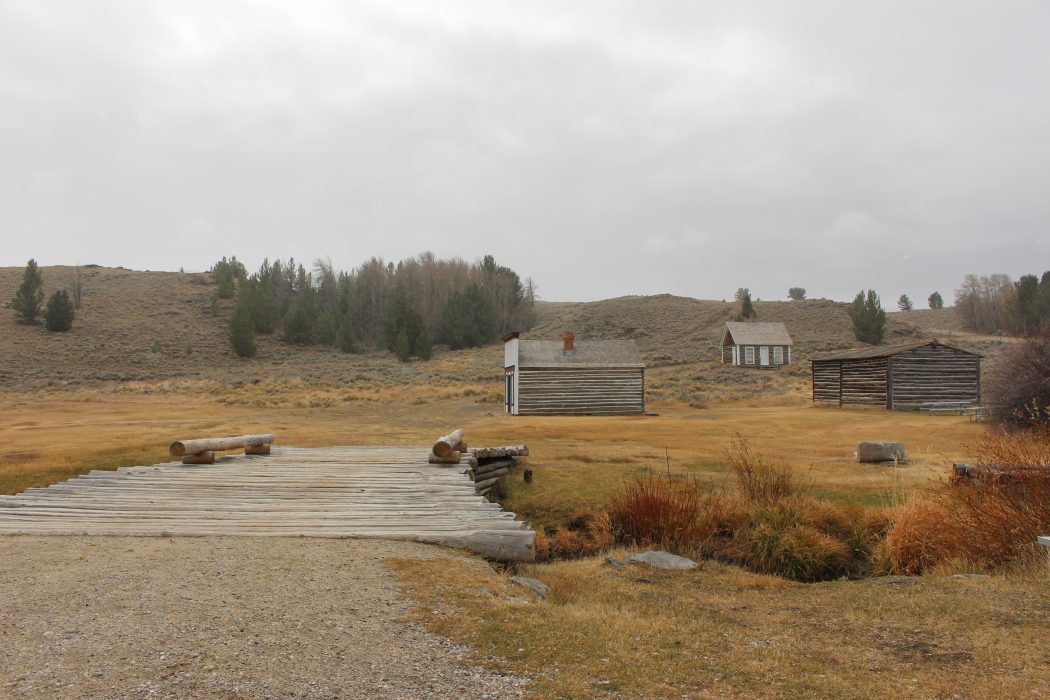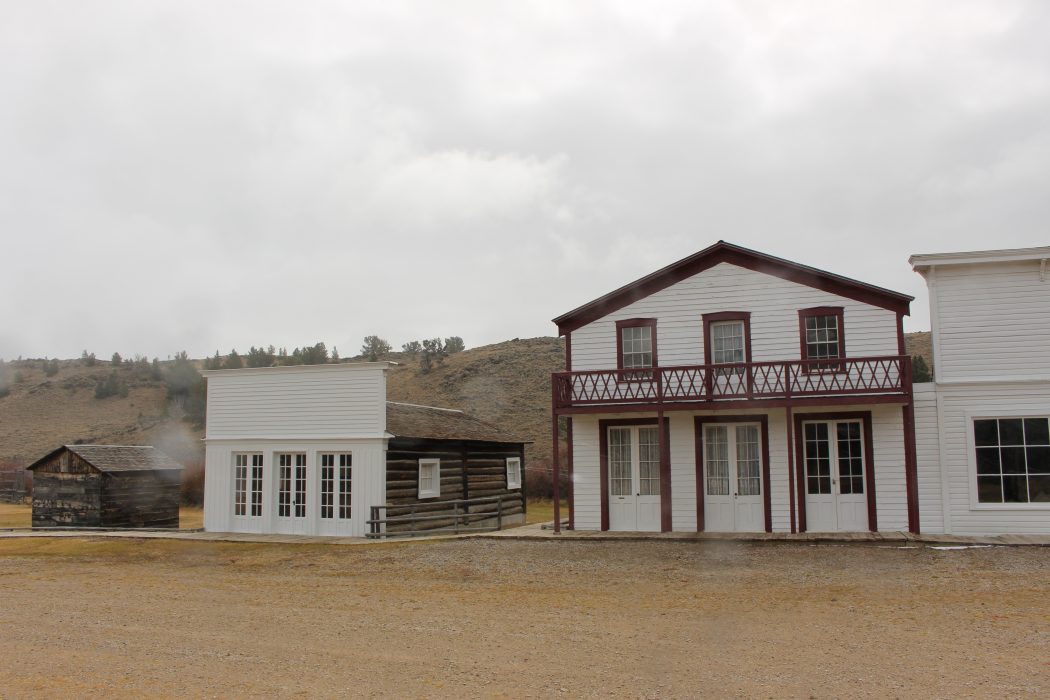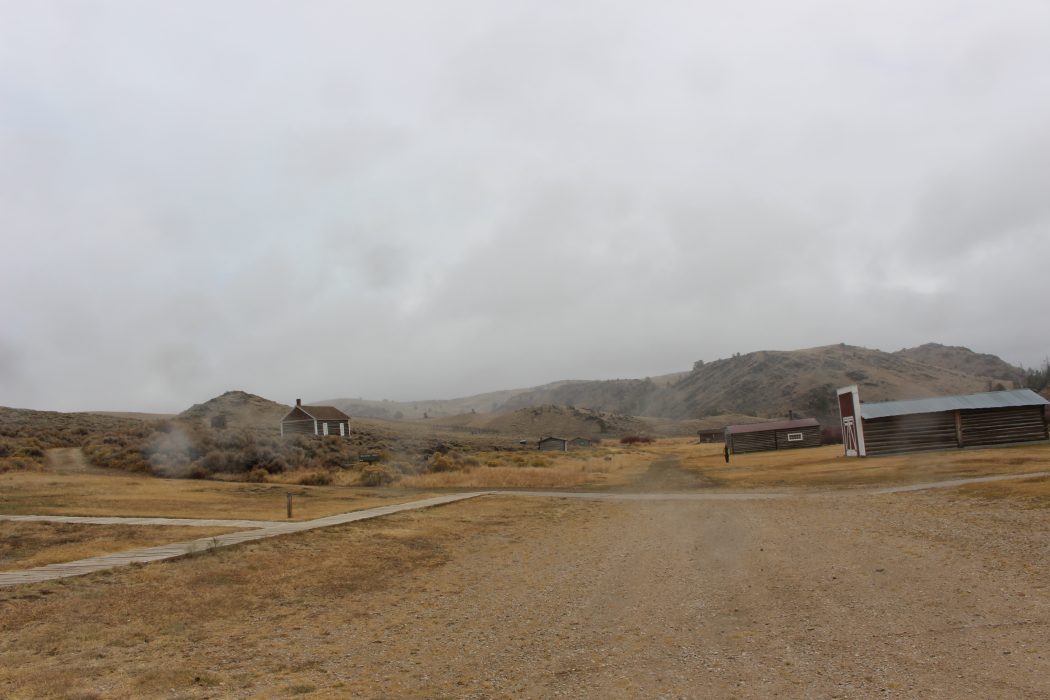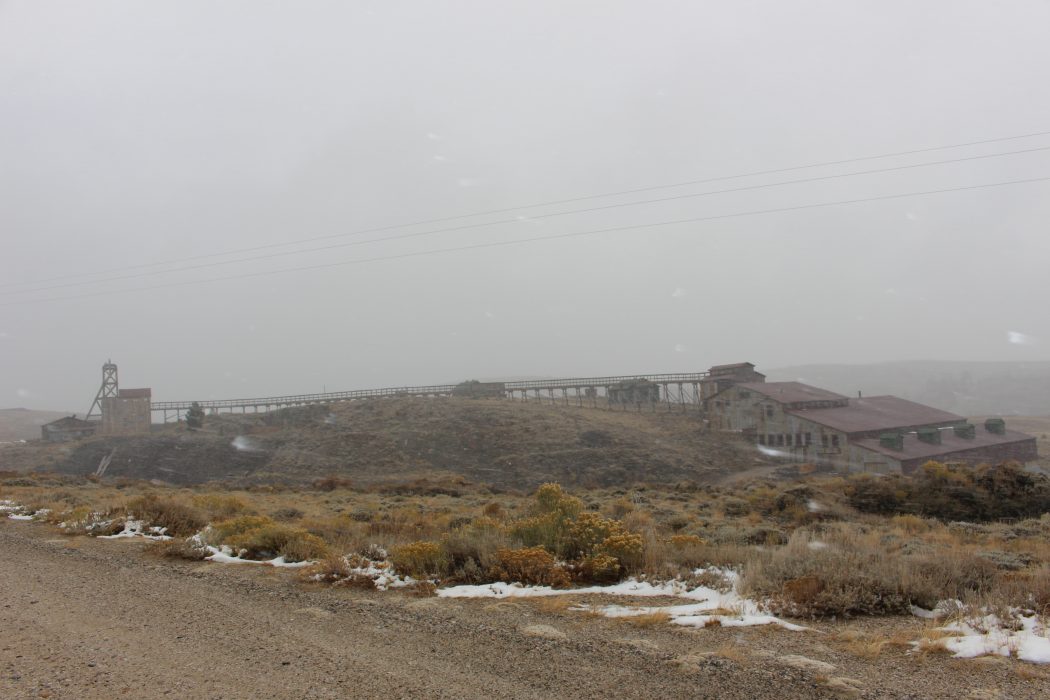 Carissa Mine in the distance
Leaving South Pass and along the highway we see signage for the "Wyoming Women's Suffrage Pathway," an initiative driven by Wyoming Senator Tara Nethercott.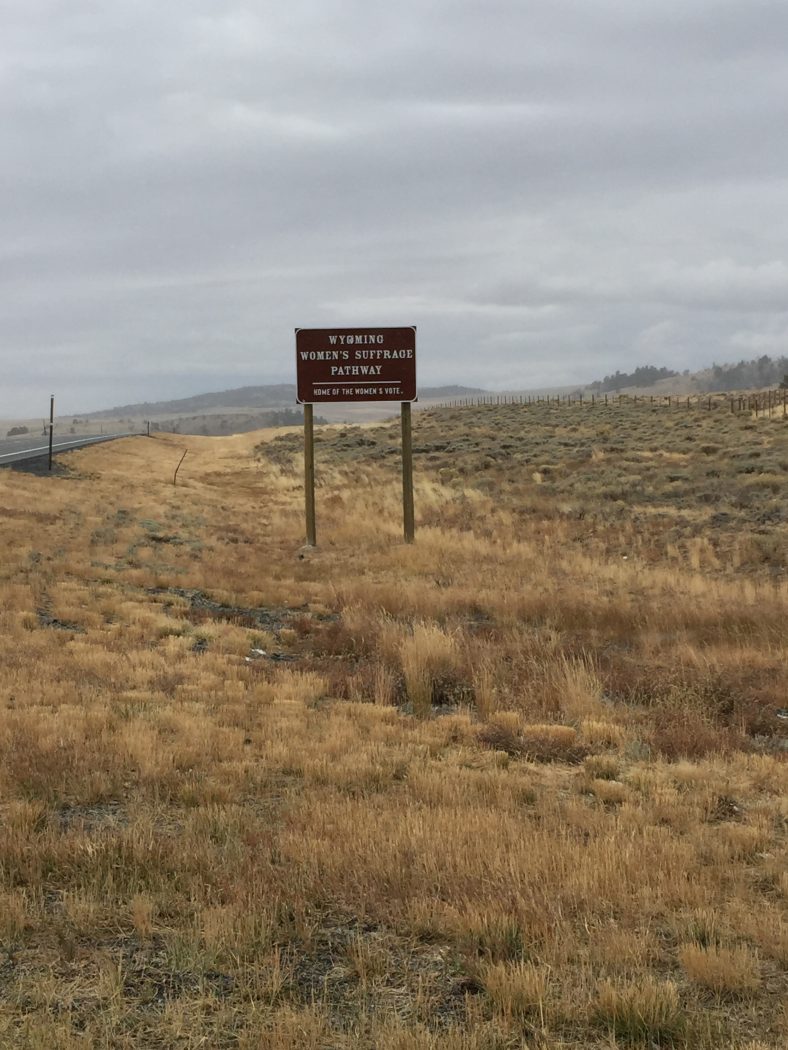 On to the Shoshone Tribal Cultural Center and are treated to a delightful hoop dance performance by two local dancers. We also meet reps from the Wind River Hotel to learn about their property.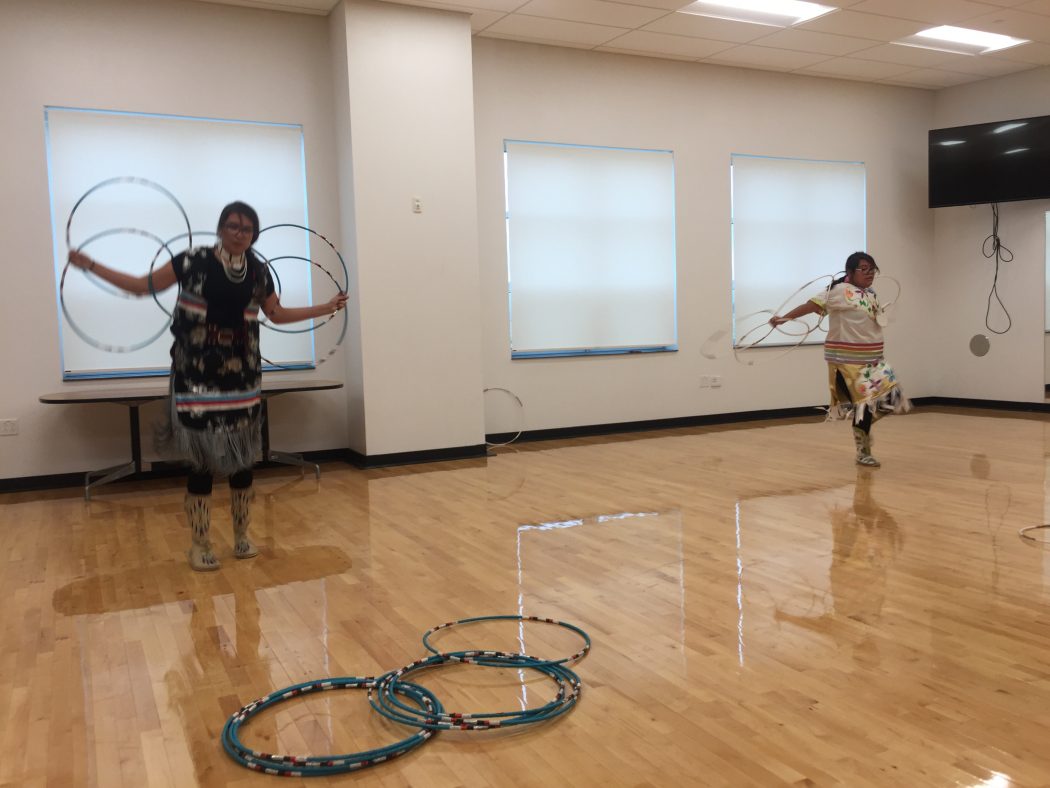 Hoop Dance performance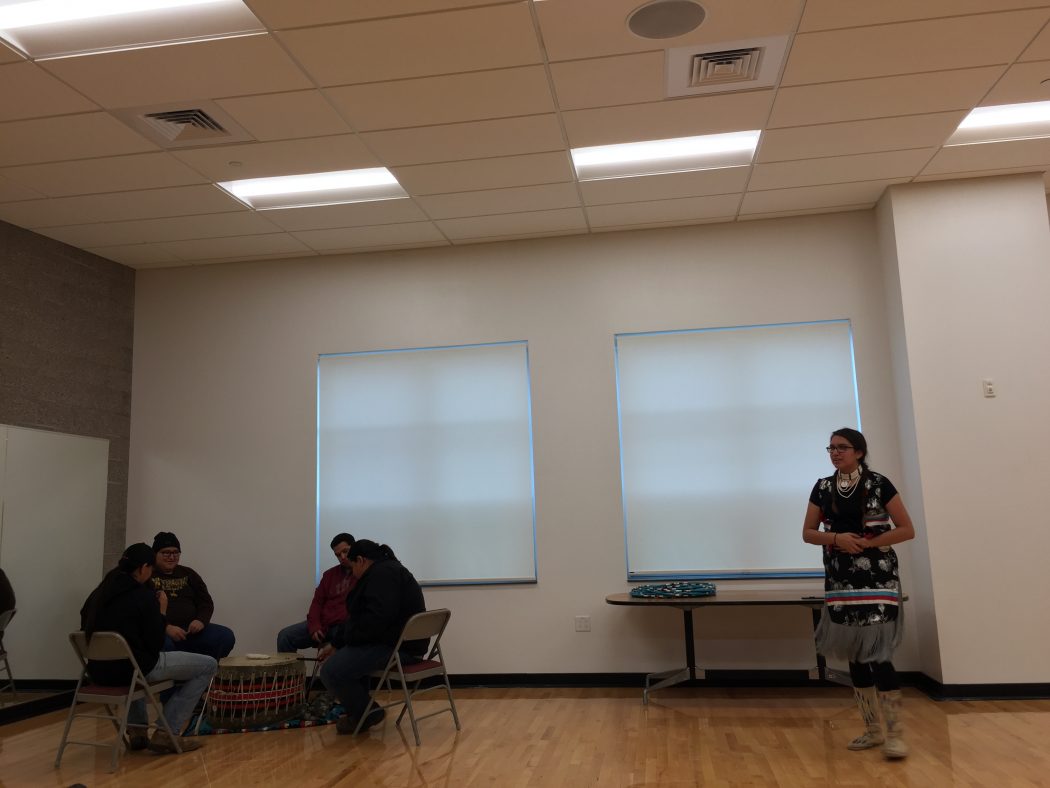 Drummers
Now on to Casper, the second largest city in Wyoming (2 hrs). Our first stop is the cool and whimsical Backwards Distilling Company where owners Amber Pollock and wife Mallory mix some fun cocktails, and give us a tour of the facility.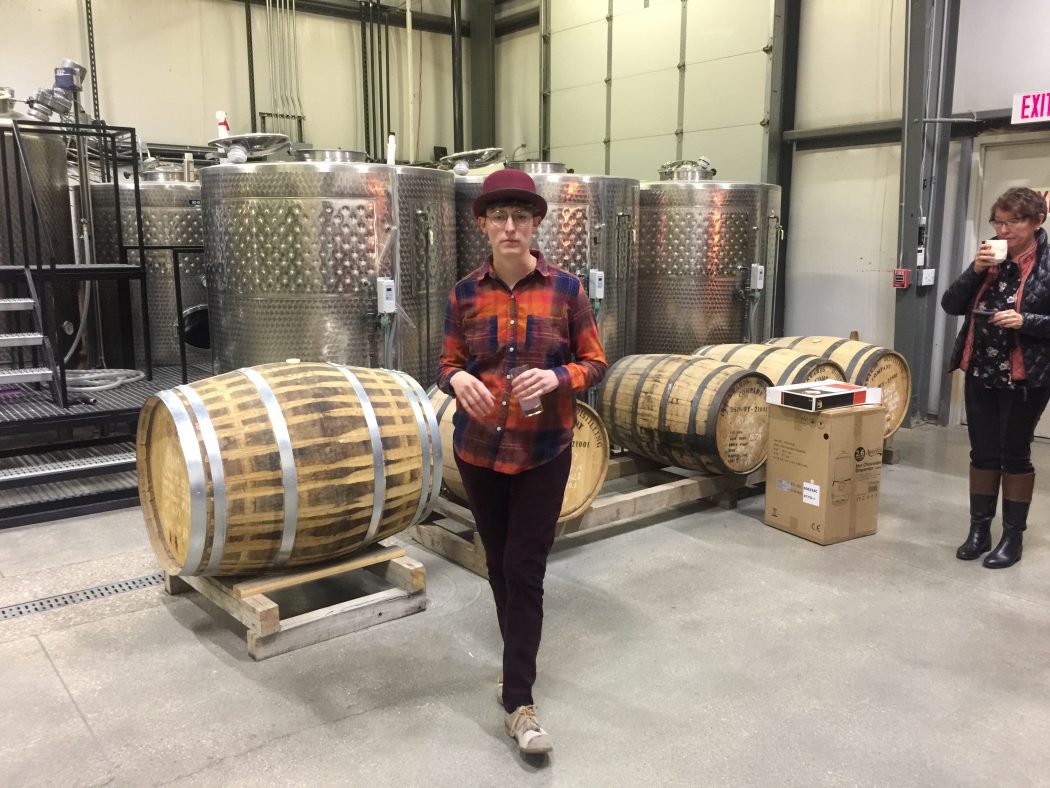 Amber Pollock, owner, gives us a tour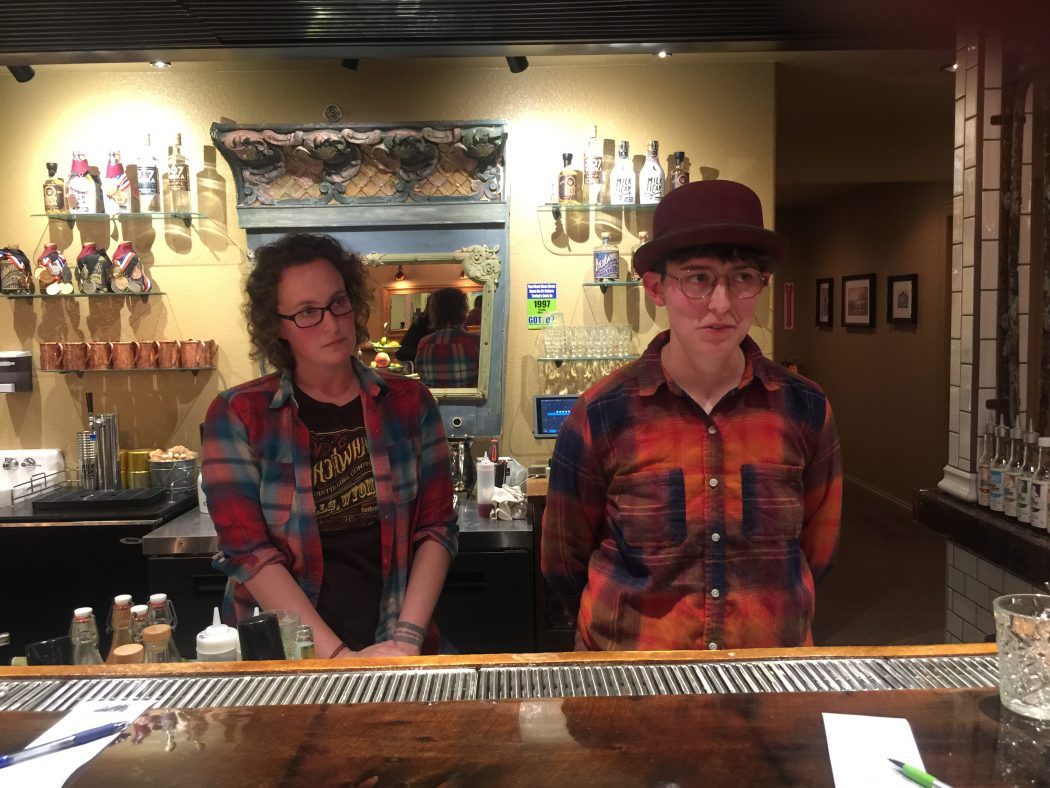 Amber and wife Mallory make us cocktails
Dinner is at the new Grab and Go Gourmet where we meet founder, Maggie, and am treated to delicious vegetarian fare.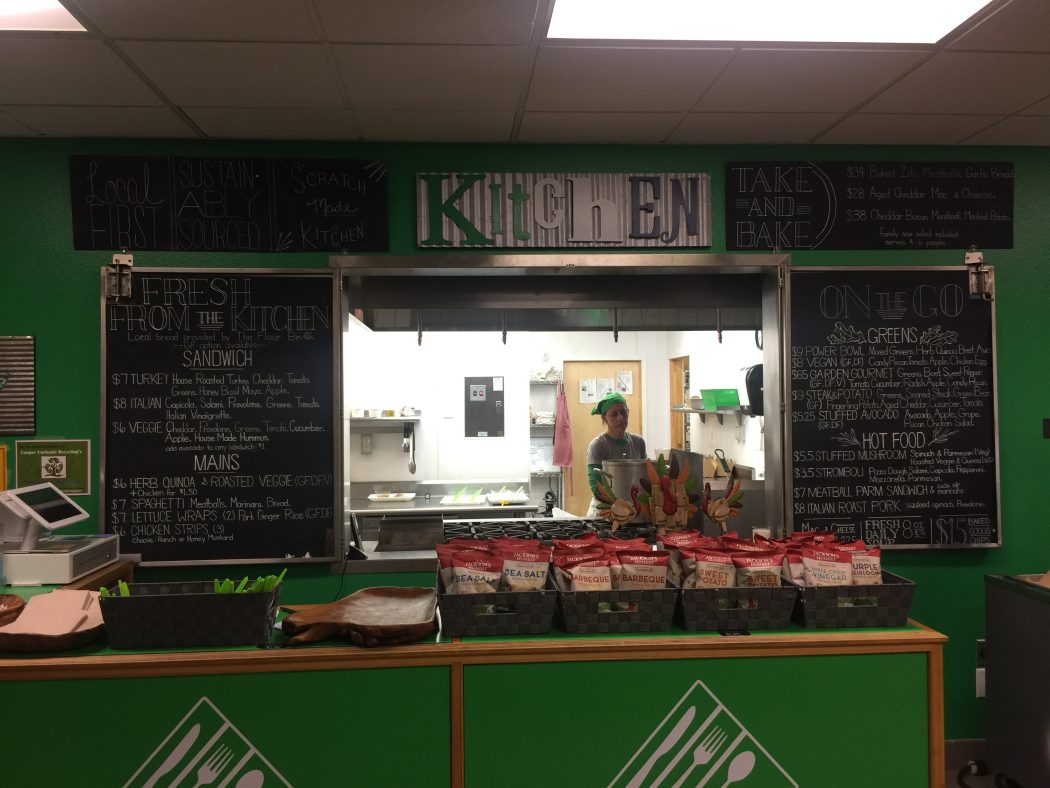 Maggie working hard in the kitchen preparing our dinner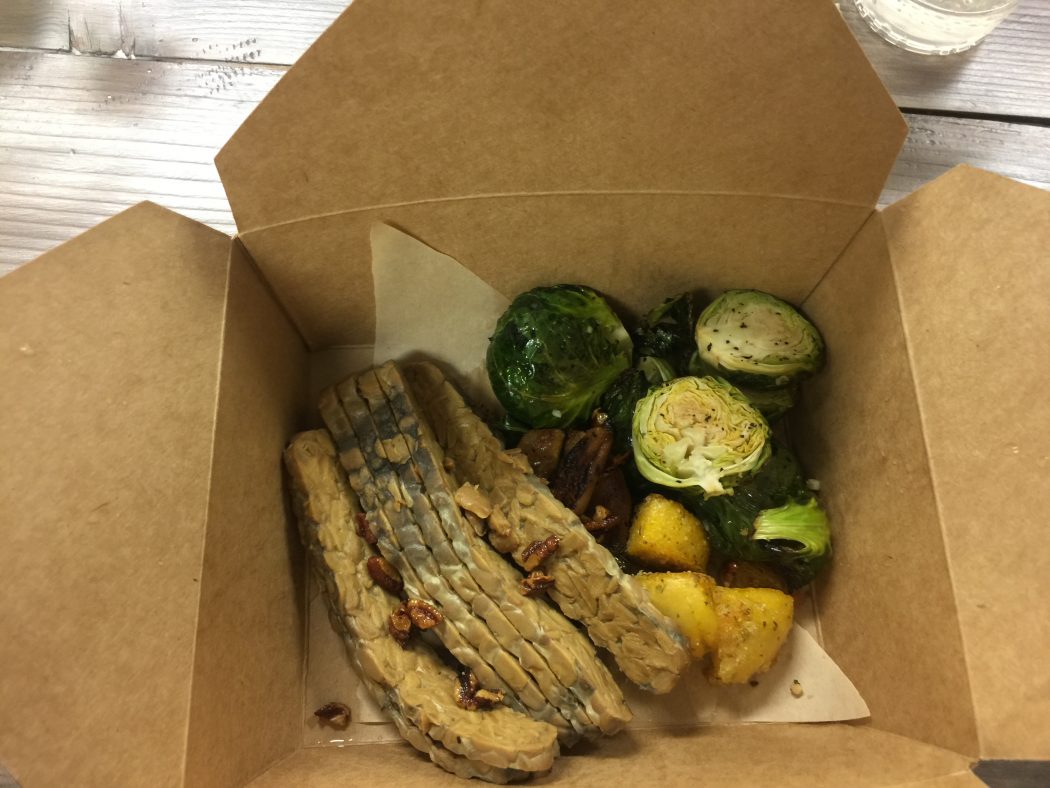 Love Brussel Sprouts and tempeh
Then time to check-in at the Ramkota Hotel, with it's wild west-inspired lobby and spacious rooms.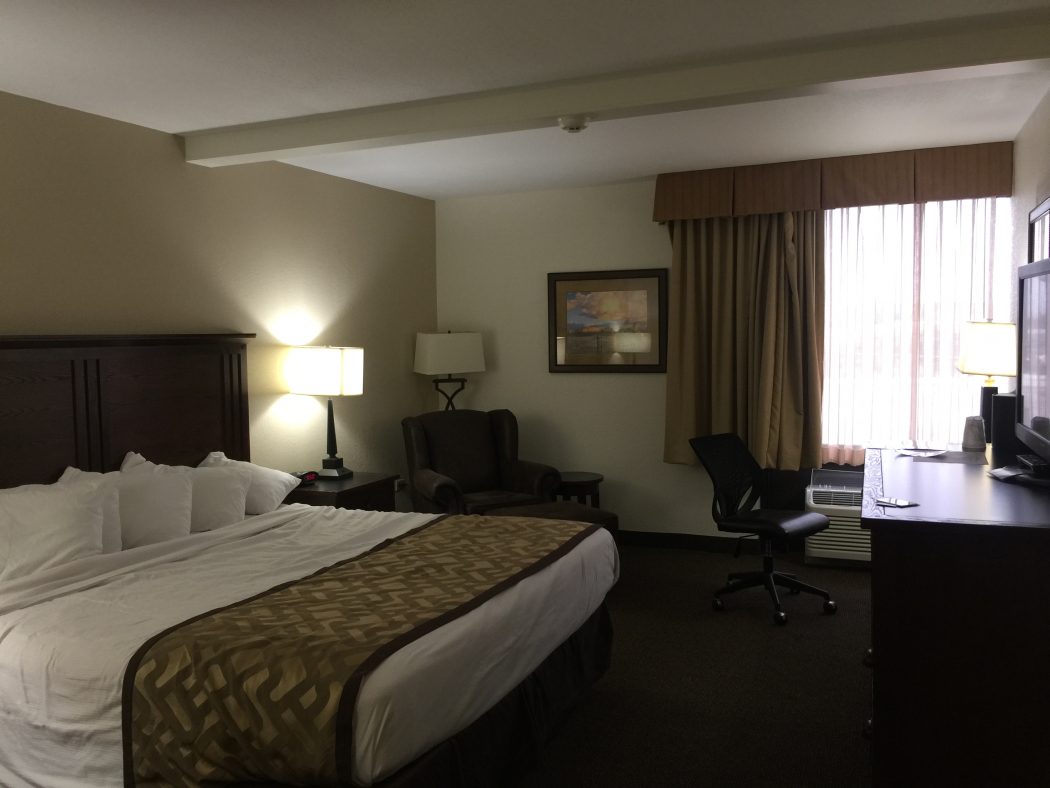 Day 5
Breakfast at the Cheese Barrel, where everything is made with cheese. Next is a private tour of the National Historic Trails Interpretation Center, which has fun interactive exhibits, like experiencing a ride in a wagon. Then we drive out to Casper Mountain (18 km), through snow, to tour the new Hogadon Basin Ski Area Lodge, and sit for a presentation by two Biathlon Club reps, followed by lunch.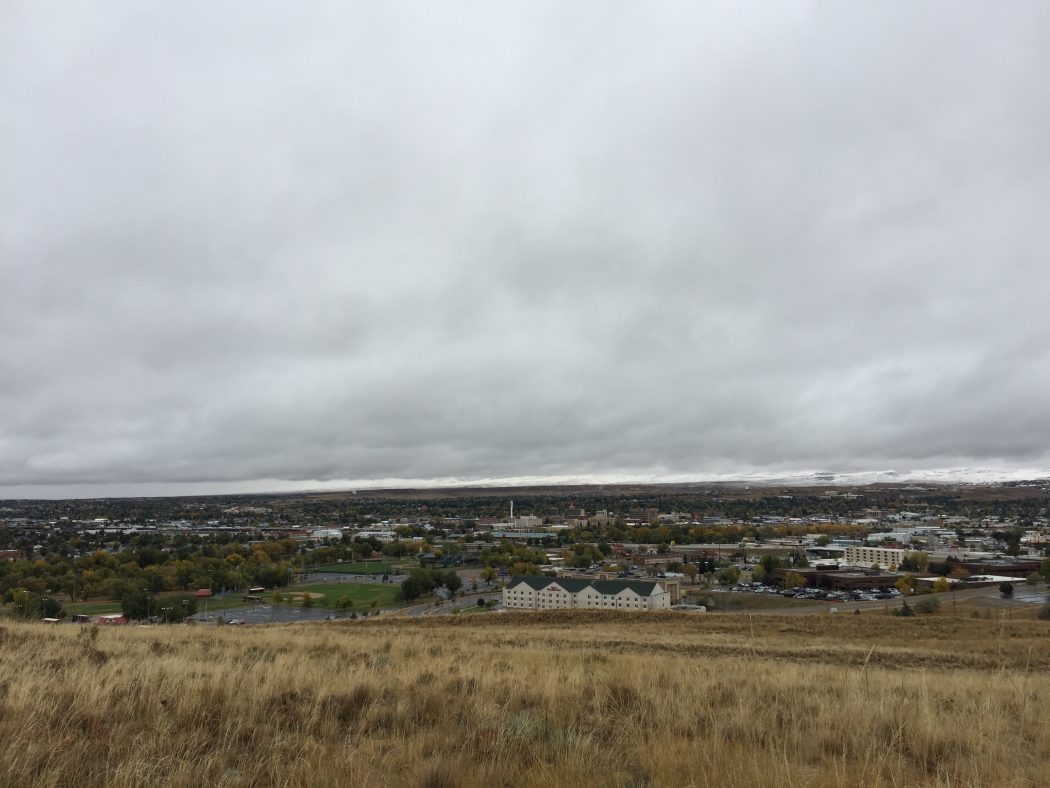 View of Casper from the National Historic Trails Centre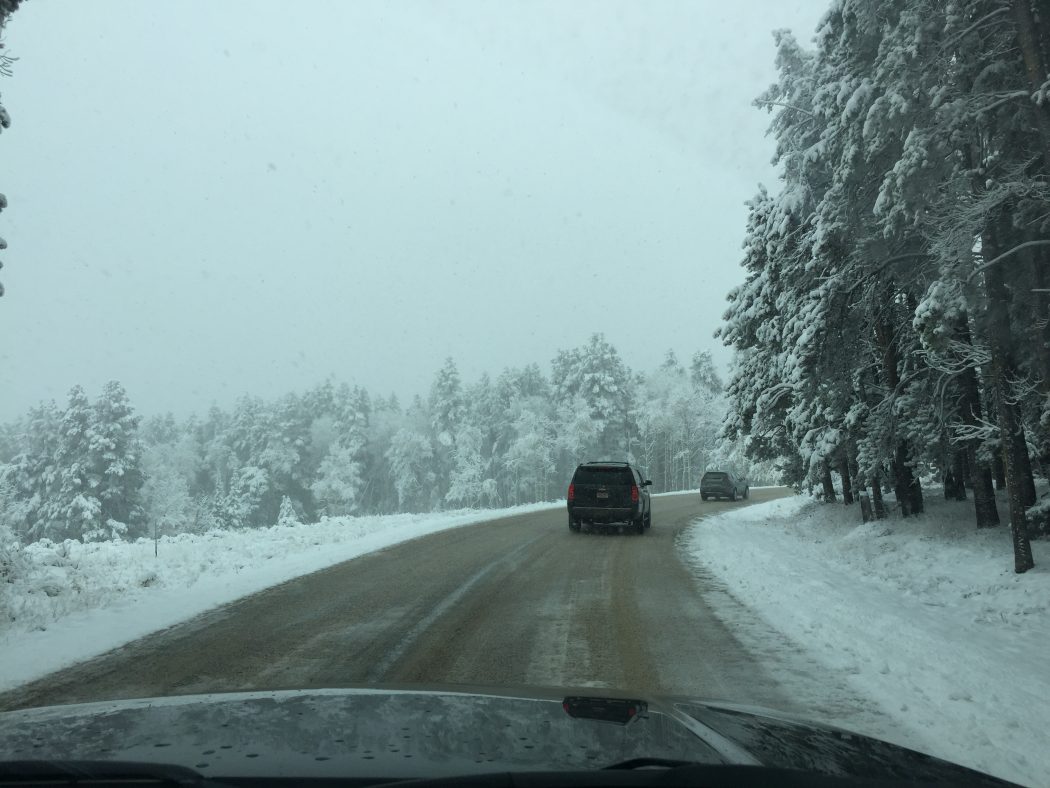 It's snowing on our way to Casper Mountain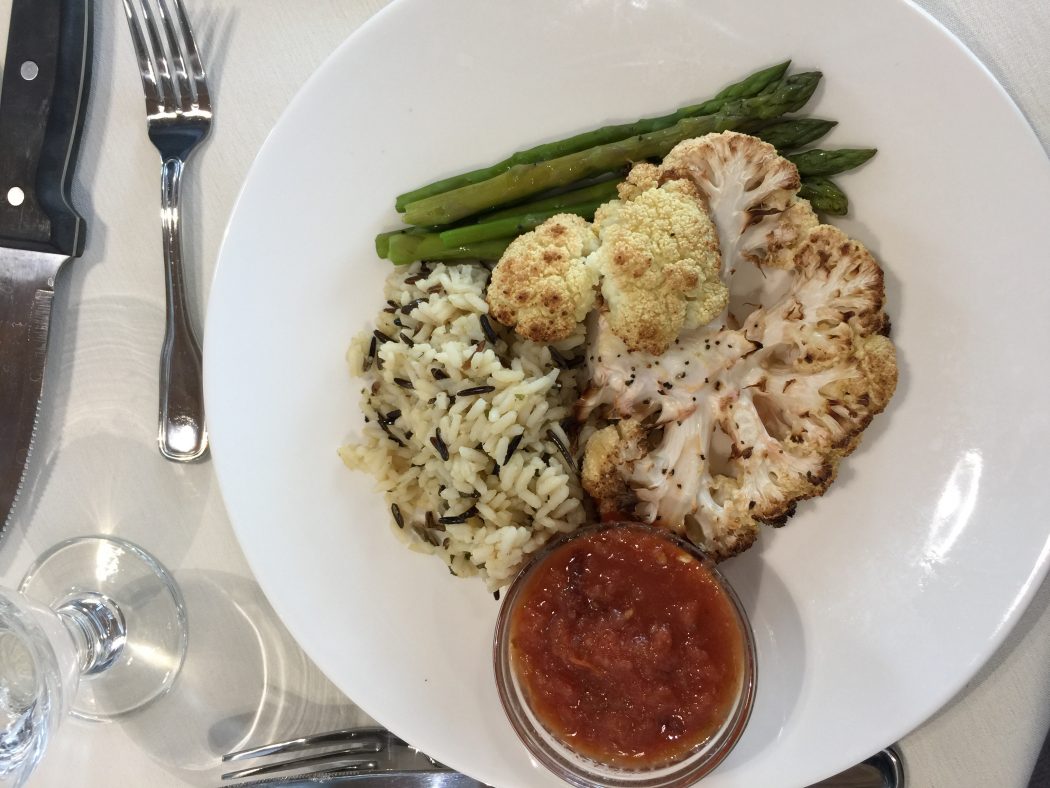 Cauliflower steak for me for lunch
Returning to Casper, we drop by the new Crescent Moon Café, owned by young female entrepreneur ("McKenzie"), for lavender-flavoured lattes (and other in exotic flavours). Then an exclusive tour of the Nicolaysen Art Museum's private vault with Wyoming's first and only female art curator, Amanda Yonker. The museum is planning an all-female themed show in 2020.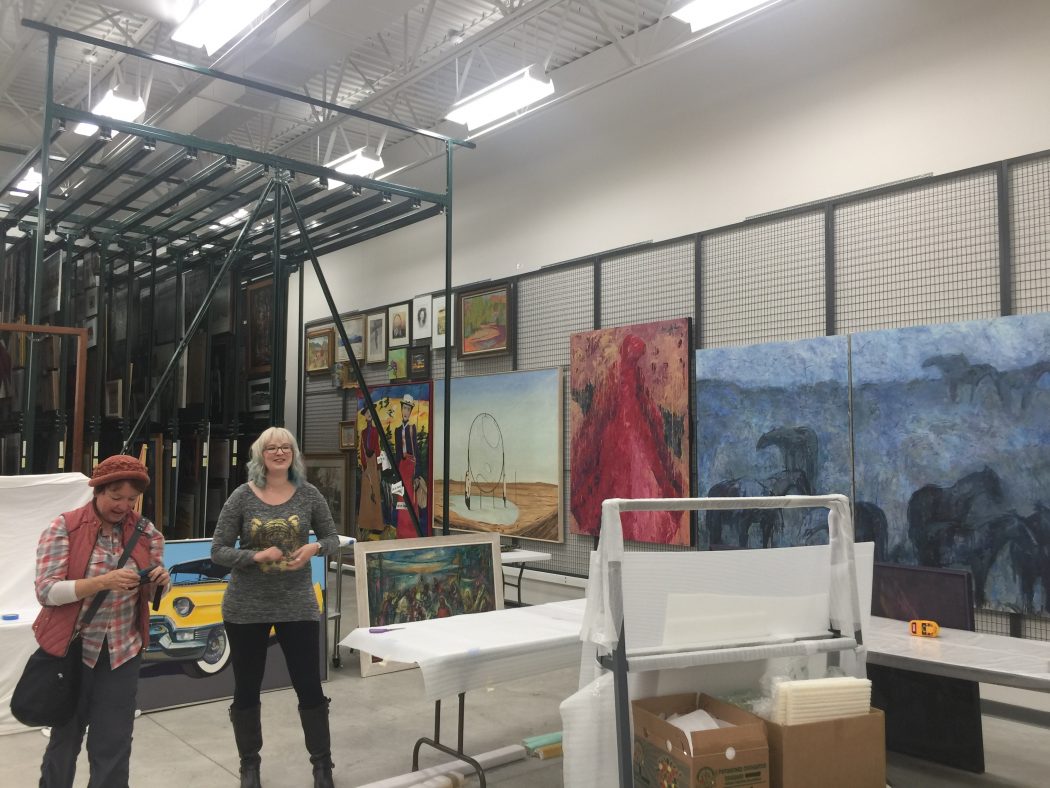 Amber Yonker showing us the Vault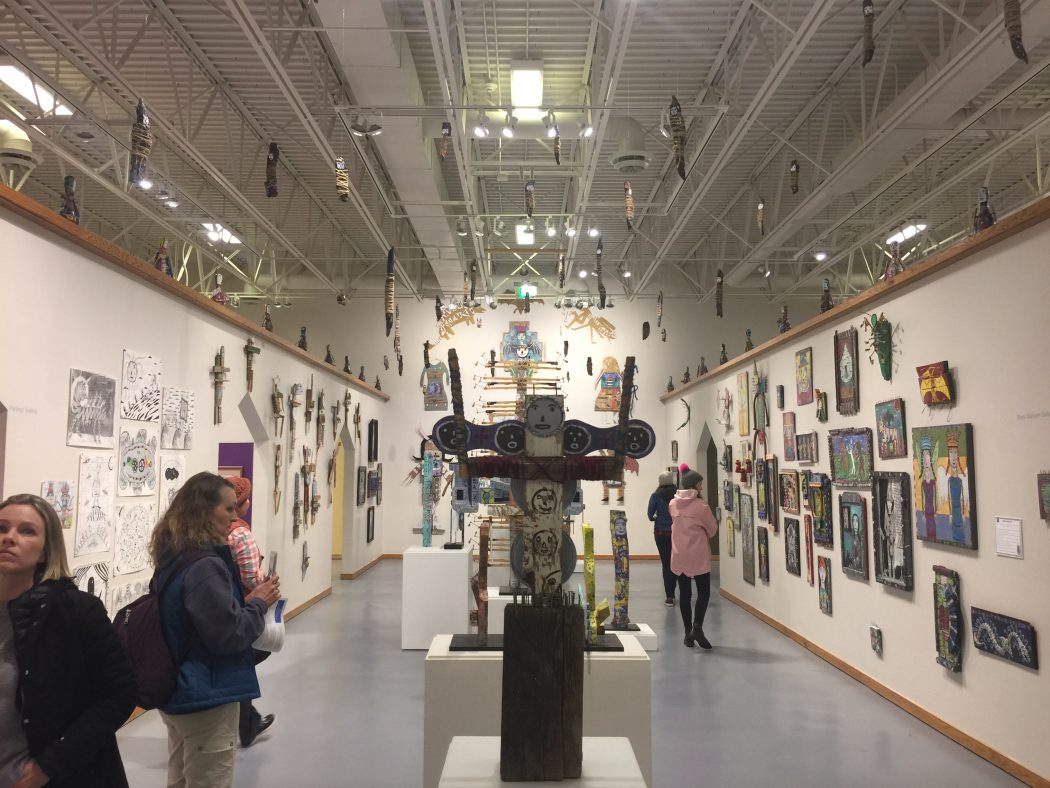 Gallery of playful art
Now, the unexpected fun: we arrive at the Ugly Bug Fly Shop for a "fly-tying" class combined with tasting local wine ("Crazy Woman"), with local fishing guides.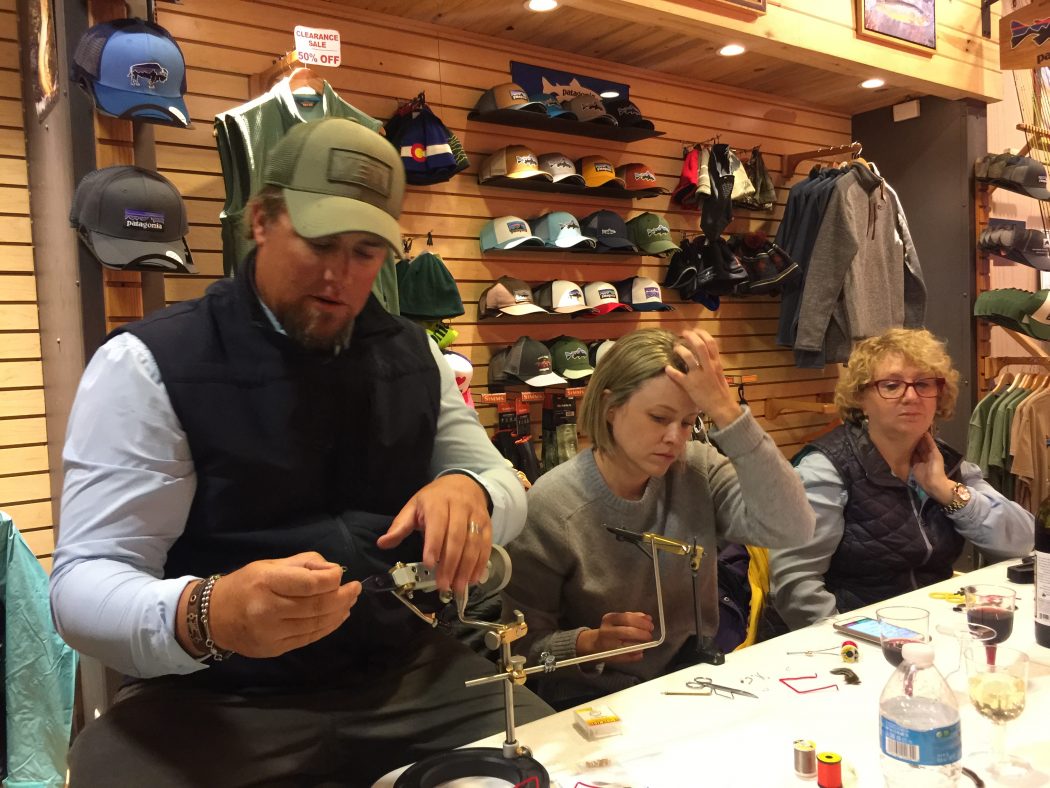 Shop owner giving us a fly-tying session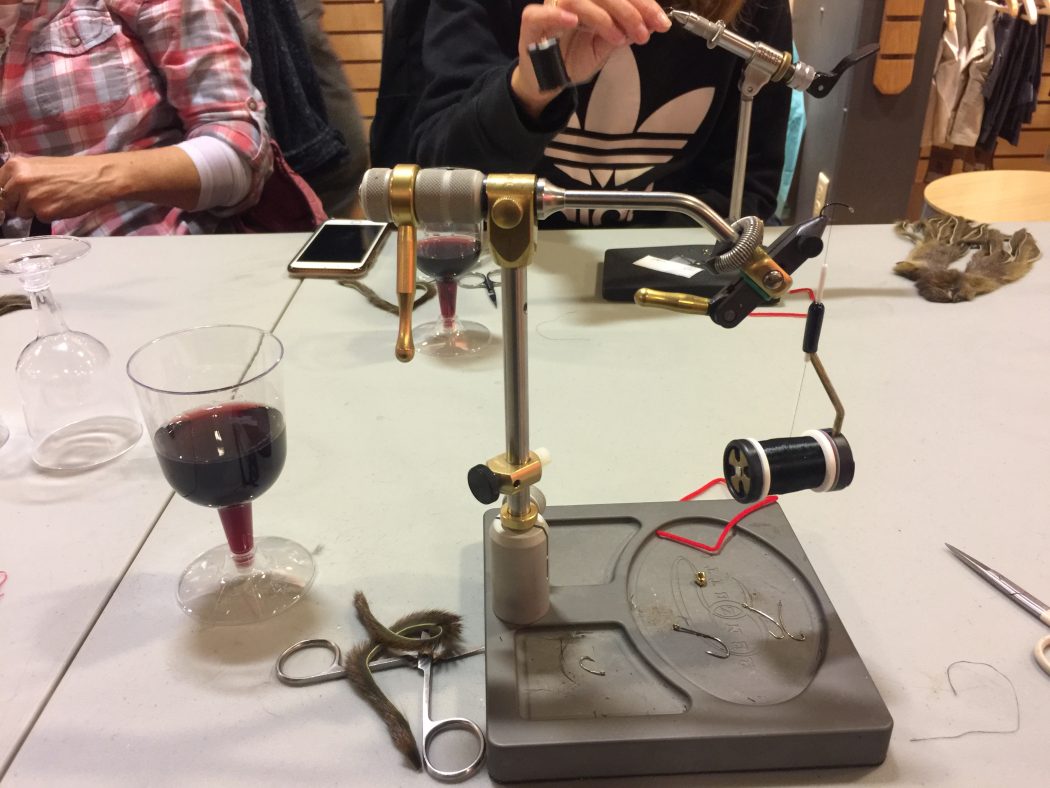 Starting on my masterpiece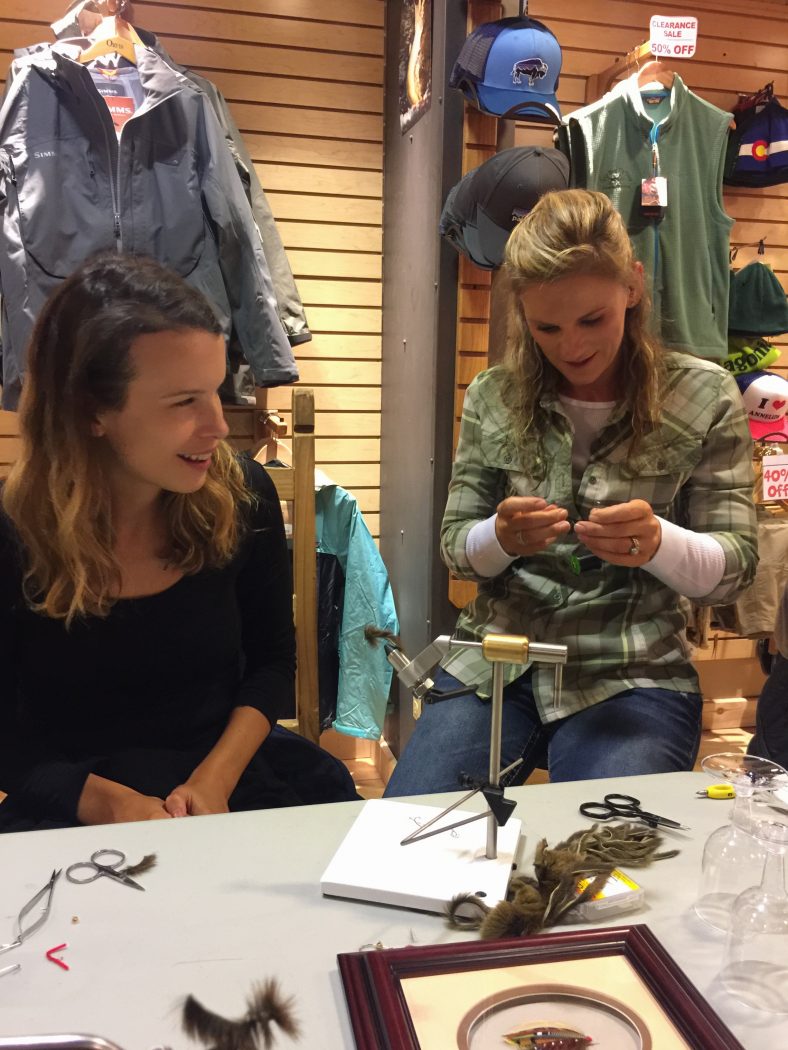 Help?! Female angler Addie Dees to the rescue!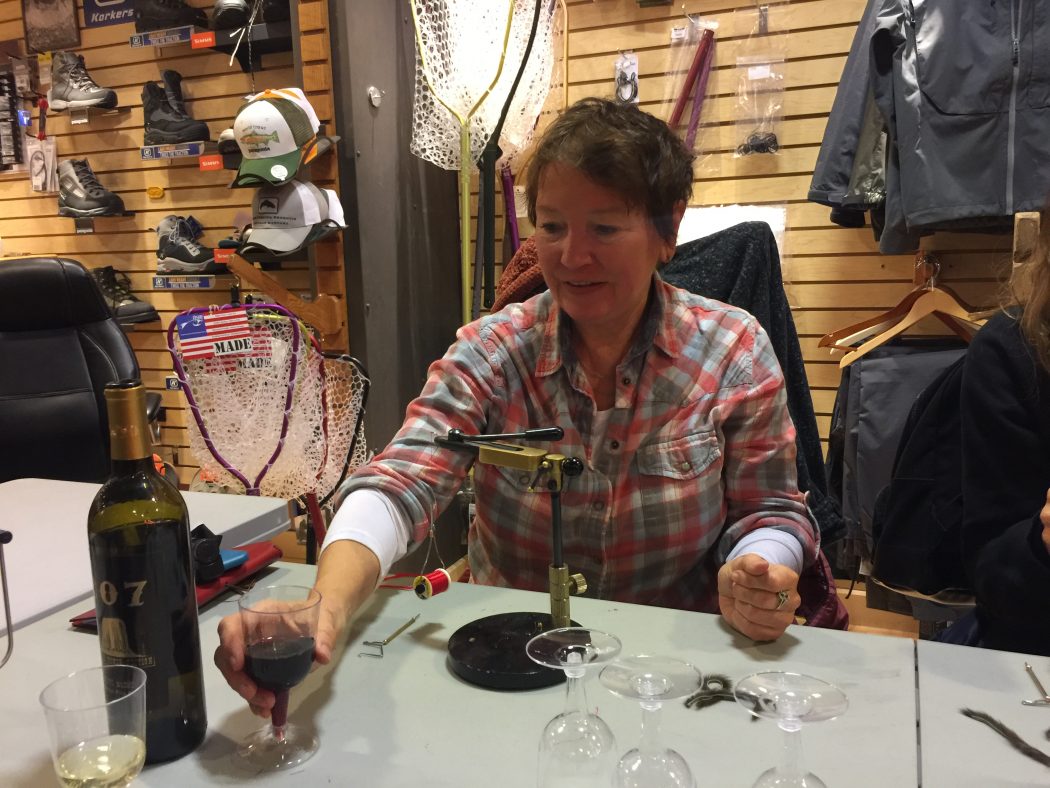 One of my travel pals, Elaine, trying to figure this thing out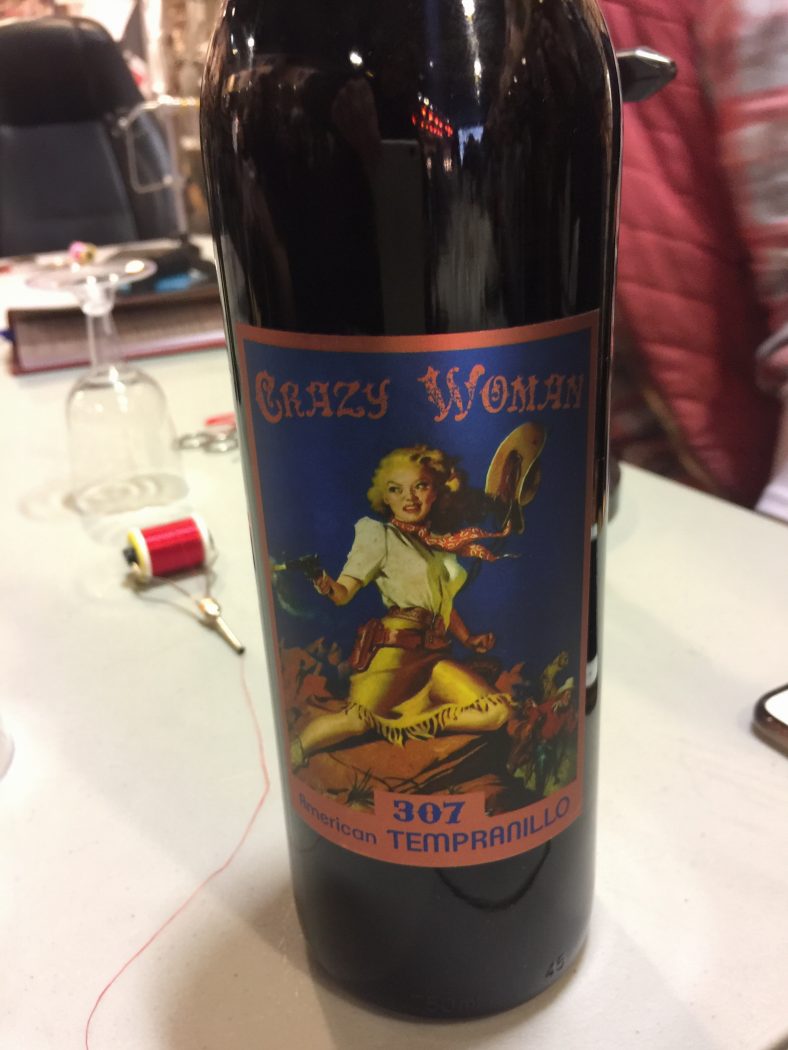 Crazy Woman wine. It just had to be so.
Finally, our last group dinner is at the Pump Room. Thankfully there is a fireplace we can sit next to, while I enjoy a Caesar salad and glass of Riesling.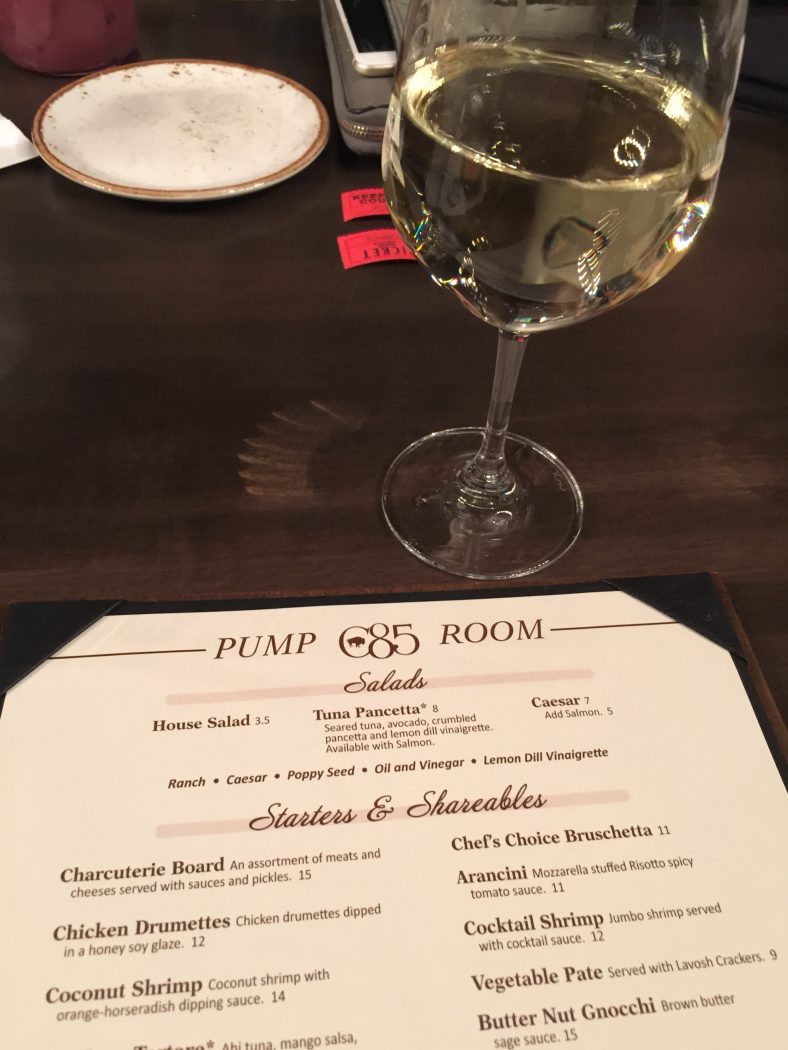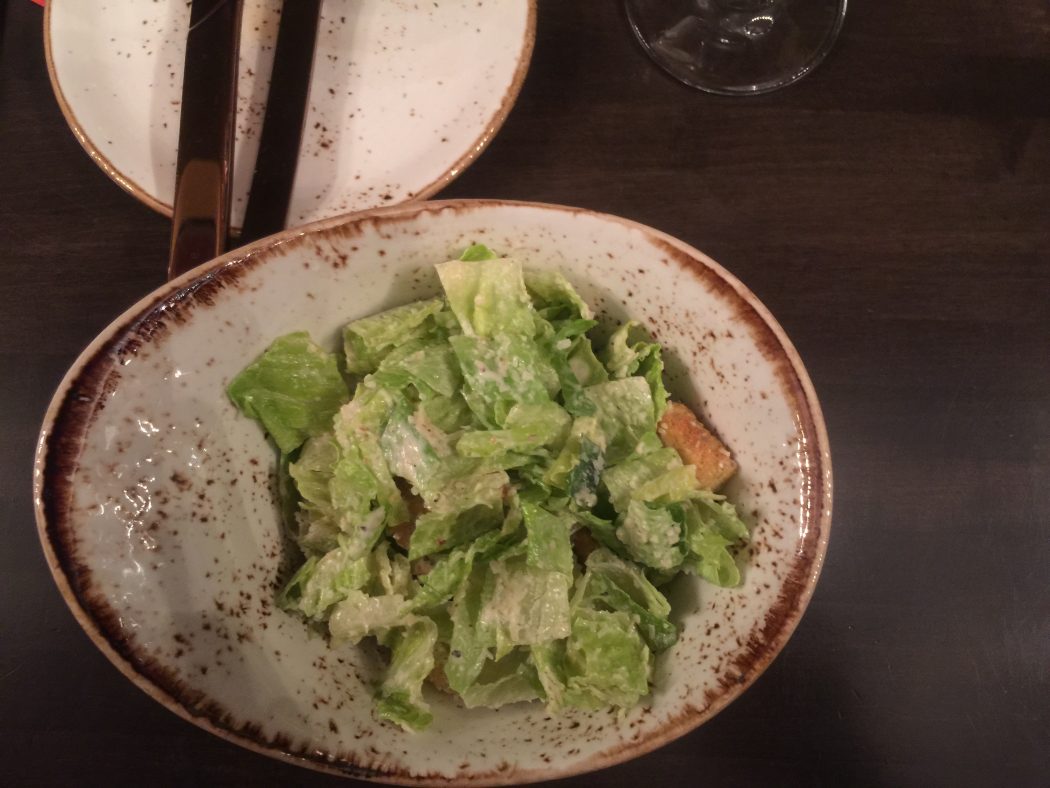 Then it is back to the Ramkota Hotel for a good night's sleep.
Day 6
Early morning drive to Denver (4 hrs) to catch a flight (Delta Airlines) to Toronto. Six days well lived.
* drive times are approximate
Resources: Wyoming Tourism
Transportation, accommodations, guides and meals provided/arranged courtesy of Wyoming Tourism.Opinions are my own.
Shannon Skinner is a Toronto-based travel writer, author, radio host and creator/host of ExtraordinaryWomenTV.com. Tweet her at @Shannon_Skinner or Instagram: @shannon.skinner.